WilliamShoesOutlet.com is masquerading as a legitimate 'Williams Shoes' outlet, but all evidence points to it being a scam. With deceitful tactics and misleading promises, many unsuspecting shoppers may fall victim to their ploys. Before making any purchases, read our full review to understand the risks.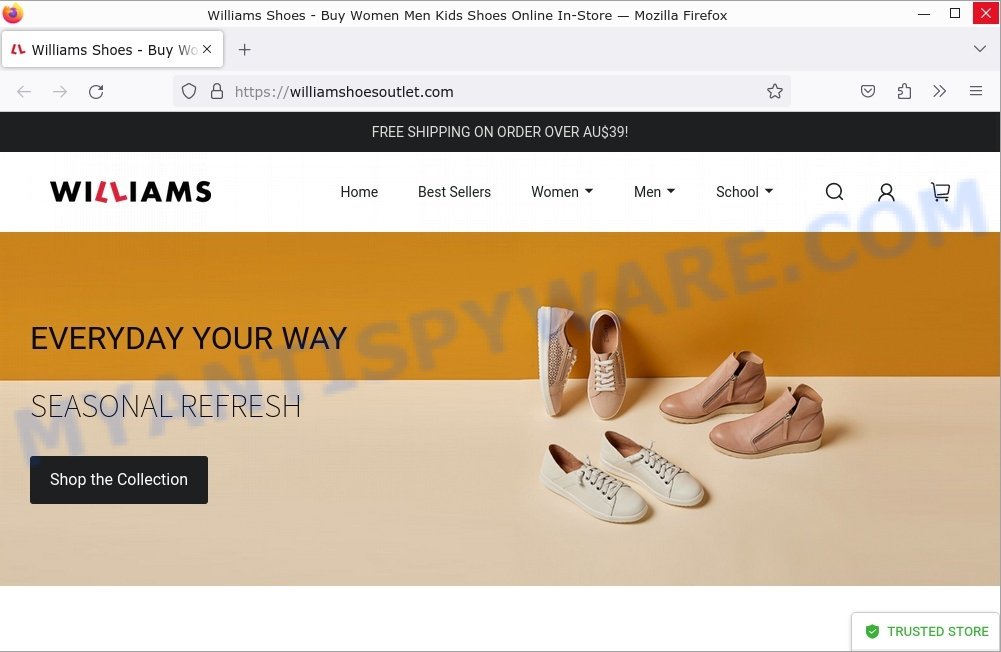 Quick links
Is WilliamShoesOutlet.com a Scam?
Absolutely. Here's why:
Recently (2023-08-11) created domain with hidden Whois contacts
Illicit use of texts, images, and logos from the official 'Williams Shoes' site
Limited contact information, primarily through a suspicious email: customer@mallhelpcenter.com
This email address is linked to other known scam shops
No genuine company info or transparency
No active social media presence or legitimate endorsements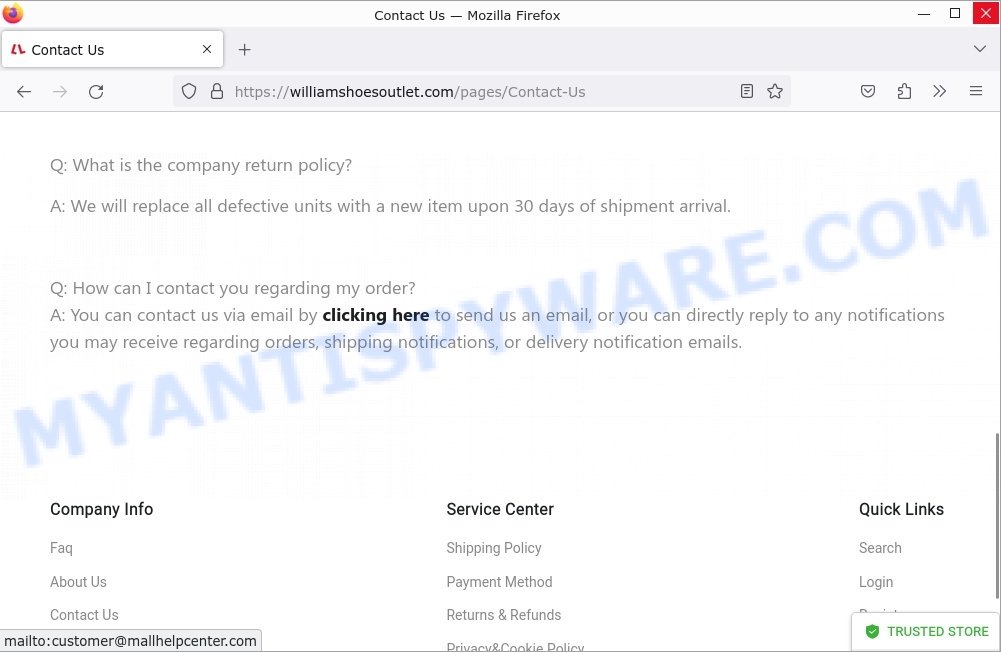 How the WilliamShoesOutlet.com Scam works
WilliamShoesOutlet.com is a craftily designed trap to lure in fans of 'Williams Shoes'. Using a striking resemblance in design, content, and logos, it may seem like a legitimate outlet of the renowned brand. This facade is further propagated through enticing ads on social media platforms. Unsuspecting customers are then led to believe they're getting genuine products at discounted prices. However, upon purchase, they either receive counterfeit items or, in some cases, nothing at all.
What to do if you become a victim of WilliamShoesOutlet.com
If you've been deceived by this fraudulent site, follow these steps:
Contact your bank or credit card company to report the scam and reverse any charges.
Change your passwords, especially if you used the same ones on other sites.
Report the site to online scam alert platforms to help warn others.
Avoid sharing the site on social media to prevent further spread.
Other Scam Online Shops to Avoid
As we strive to keep our readers informed, we've curated a list of other suspicious online stores similar to WilliamShoesOutlet.com. Staying aware can save you from potential scams. Here are a few examples of the scam online shops: Acstoreus.com DICK'S SPORTING GOODS Store Scam, KingCrabStore.com King Crab Store Scam, and Babyjoynewyork.com Buy Buy BABY Store Scam.
Summary table for WilliamShoesOutlet.com
| | |
| --- | --- |
| Name | WilliamShoesOutlet.com |
| Type | Fake Online Shop |
| Damage | Financial loss, personal data risk |
| Distribution | Social Media Advertising |
| Tactics | Deceptive branding, enticing ads |
| Contacts | Email: customer@mallhelpcenter.com |
| Prevention Tips | Cross-check with official websites, research reviews, avoid too-good-to-be-true deals |
| Reporting Info | Online scam platforms, Bank or Credit card provider |
Conclusion
WilliamShoesOutlet.com is a blatant scam, exploiting the reputation of 'Williams Shoes'. Potential buyers should be wary of such deceptive sites, as they not only pose financial risks but also threaten personal data security.
FAQ About the WilliamShoesOutlet.com Scam
Q: How can I verify if an online store is legitimate?
A: Always check for customer reviews, cross-reference with official brand sites, and be skeptical of deals that seem too good to be true.
Q: Can I get my money back if scammed by WilliamShoesOutlet.com?
A: While it's challenging, reporting to your bank or credit card provider can help in potentially reversing charges.
Q: What are the signs of a scam online shop?
A: New domains, copied content from legit sites, too-good-to-be-true deals, limited or suspicious contact information, and negative reviews are telltale signs.