Abrazebra.com is rapidly gaining attention due to its aggressive Facebook promotion. Many potential buyers might be lured by its enticing offers and deals, but is it too good to be true? Let's dive into the details of Abrazebra.com and reveal its authenticity.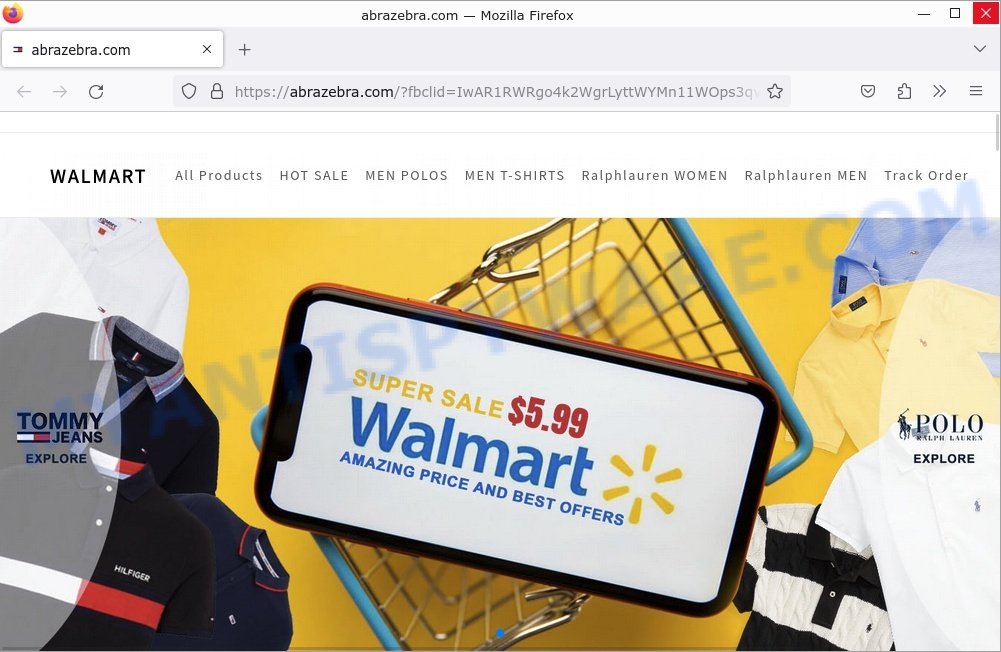 Quick links
Is Abrazebra.com a Scam?
It's crucial to approach online shops with a critical eye, especially when certain red flags are present. Here are some of the alarming signs associated with Abrazebra.com:
Recently created domain: An indicator that the store hasn't been around for long, which can sometimes signal a temporary scam site.
Lack of contact information: Only provides an email address, support@koronacide.com, which is linked to other known scam shops.
Whois details are hidden: A genuine online shop usually has transparent whois contacts, while scammers tend to hide this information.
Unbelievable deals and incredibly low prices: All items advertised at a flat rate of $9.99, regardless of the brand or product.
Enticing slogans: Using slogans such as "SUPER SALE" and "All 9.9" to lure customers.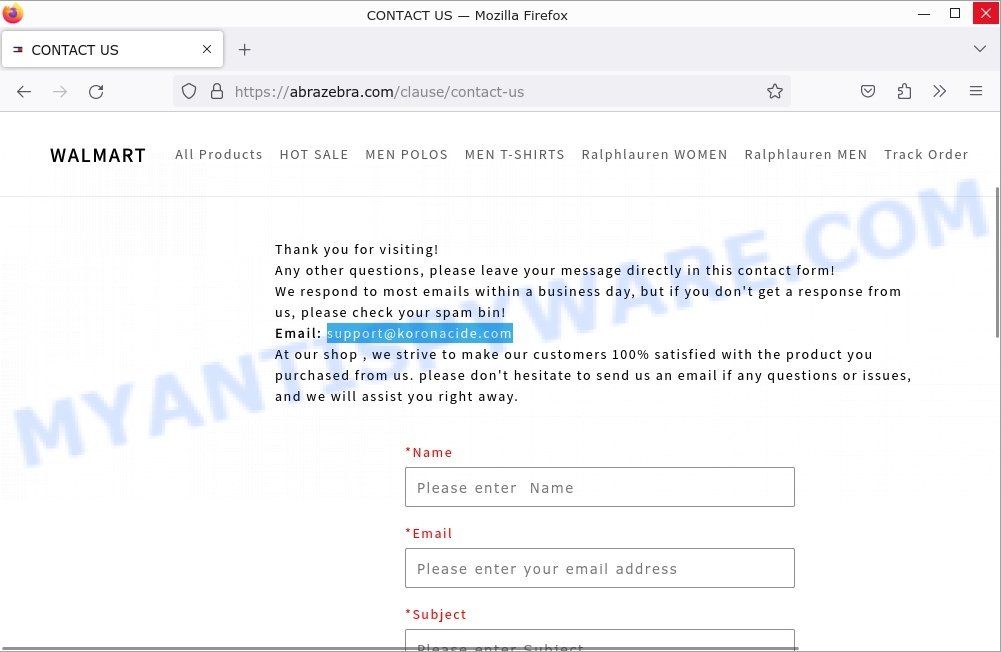 How the Abrazebra.com Scam works
Abrazebra.com is heavily promoted on Facebook with over 20 ads, presenting itself as a "Walmart discount store" and advertising products from popular brands like TOMMY HILFIGER for unbelievably low prices. This could entice unsuspecting users to click through and make a purchase.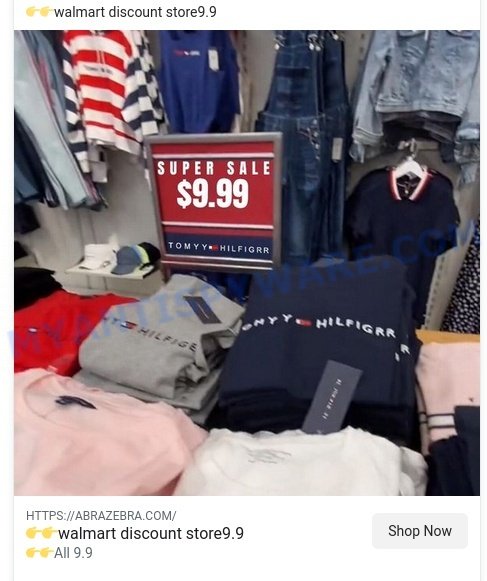 After payment, either the buyers don't receive the products at all, or they get items vastly different from what was advertised. The scam primarily thrives on the trust that potential customers have for big brand names and the false sense of urgency created by low prices.
What to do if you become a victim of Abrazebra.com
If you've fallen for the Abrazebra.com scam, take these steps immediately:
Contact your bank or credit card company and explain the situation. They might be able to help you with a chargeback.
Change your passwords for online banking and shopping accounts, especially if you used the same password on Abrazebra.com.
Report the scam to local law enforcement and consider reporting to online platforms where the scam was promoted.
Other Scam Online Shops to Avoid
As we strive to safeguard our readers from potential scams, we've identified other online shops that resemble Abrazebra.com in their scam tactics. It's paramount to be cautious when shopping online and be cognizant of scam red flags.
Here are a few examples of the scam online shops:
Acstoreus.com DICK'S SPORTING GOODS Store Scam, Bedbathbeyondclose.com BED BATH & BEYOND Store Scam, Tv-homeshopping.shop Bed Bath & Beyond Store Scam.
Summary table for Abrazebra.com
| | |
| --- | --- |
| Name | Abrazebra.com, Walmart Discount Store Scam |
| Type | Scam Online Shop |
| Damage | Potential financial loss and compromised personal information |
| Distribution | Heavily promoted on Facebook |
| Tactics | Unrealistic discounts, association with popular brands |
| Prices | Advertised flat rate of $9.99 for all products |
| Contacts | Email: support@koronacide.com |
| Prevention Tips | Always research online shops, avoid deals that seem too good to be true |
| Reporting Info | Report to local law enforcement and online platforms |
Conclusion
Abrazebra.com is a deceptive online shop that lures customers with the promise of unbelievable deals, only to deliver disappointment. Always be vigilant and conduct thorough research before purchasing from unfamiliar websites.
FAQ About the Abrazebra.com Scam
What makes Abrazebra.com suspicious?
The site uses tactics like unrealistically low prices, hidden whois details, and is linked to an email associated with other scams.
Can I get my money back if I've been scammed by Abrazebra.com?
Contacting your bank or credit card company immediately can increase the chances of a successful chargeback.
How can I protect myself from online shopping scams in the future?
Always research the credibility of online shops, avoid sharing personal details on suspicious sites, and be wary of deals that seem too good to be true.