Watersport-Sale.com is quickly gaining attention, especially on social media platforms like Facebook. Presented as an enticing offer from Bed Bath & Beyond, it promises remarkable deals on inflatable water slides. If this has caught your eye, and you're considering making a purchase, you'll want to read this full analysis before proceeding.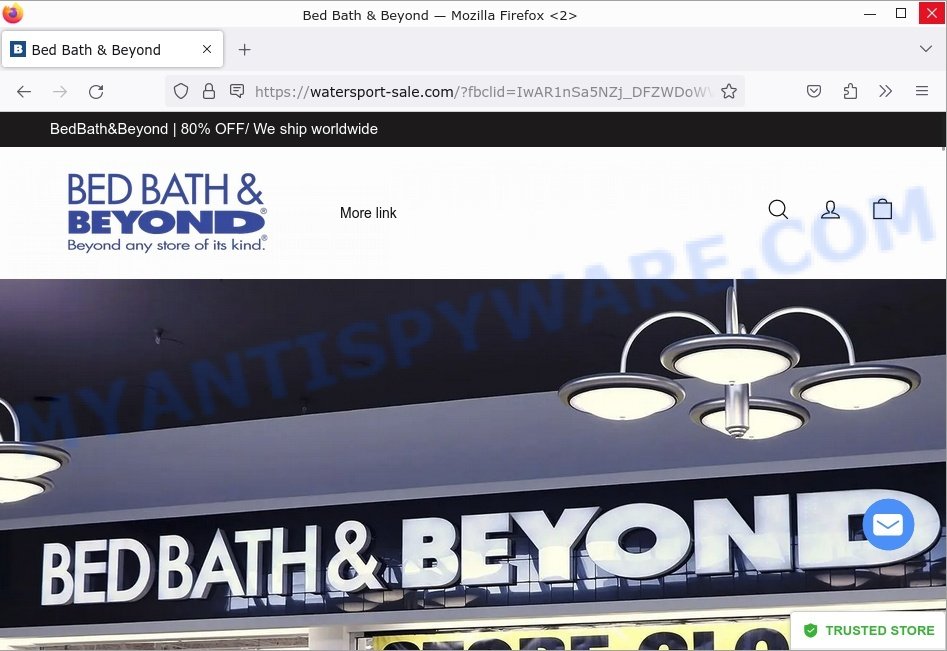 Quick links
Is Watersport-Sale.com a Scam?
Indeed, several red flags around Watersport-Sale.com point towards it being a deceptive scam:
It is associated with a recently created domain.
The primary mode of contact is just an email address: service@watersport-sale.com.
There's a lack of genuine information about the company behind the site.
The unbelievable deal of a water slide park at just $16.98.
Use of enticing slogans like "Clearance Sale" and "Limited Time Sale".
Although it presents itself as Bed Bath & Beyond, no official endorsement is available.
The contact email and company details are linked to other known scam shops.
Hidden Whois contact details.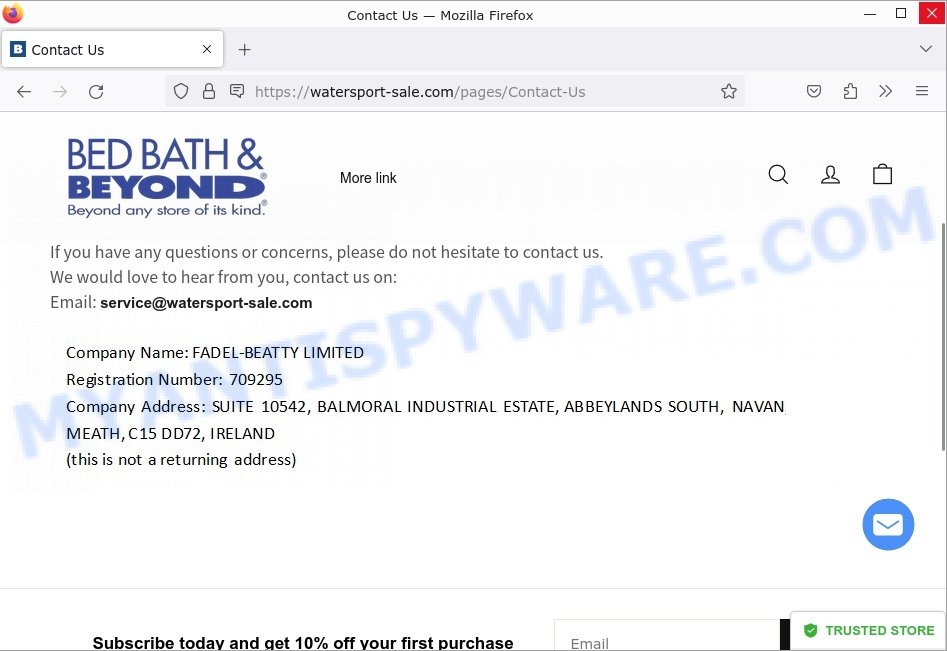 How the Watersport-Sale.com Scam works
Watersport-Sale.com leverages social media platforms, particularly Facebook, to draw in potential victims. By advertising inflatable water slides under the guise of a Bed Bath & Beyond clearance sale, unsuspecting users might be tempted by the alluring prices and product offerings.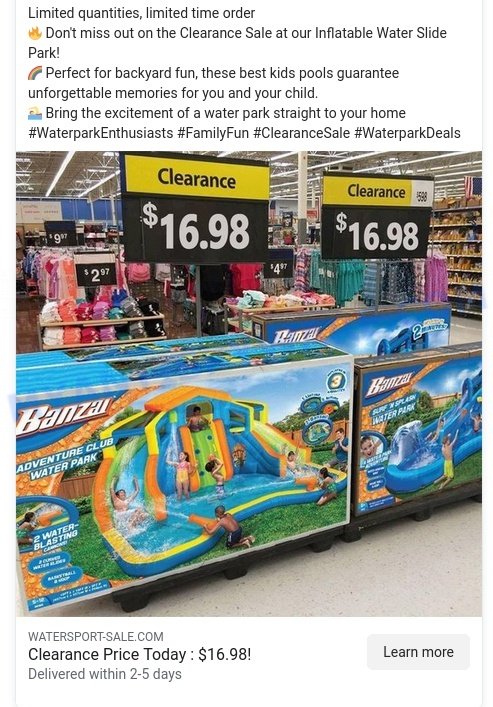 Once an order is placed, customers might receive counterfeit products, substandard items, or nothing at all. The connection of the provided contact email and company to other scam shops further validates the deceptive nature of this site.
What to do if you become a victim of Watersport-Sale.com
If you've been unfortunate enough to fall for this scam:
Contact your bank or credit card company immediately to report the fraudulent transaction.
Change your passwords if you used any familiar ones on the website.
Monitor your financial statements for any suspicious activities.
Consider placing a fraud alert on your credit report.
Report the scam to the relevant authorities to help prevent others from being defrauded.
Other Scam Online Shops to Avoid
As part of our ongoing effort to safeguard our readers from potential scams, we've curated a list of other dubious online shops you should be cautious of. These shops display similar red flags as Watersport-Sale.com. Staying informed and recognizing these warning signs is essential for a secure online shopping experience.
Here are a few examples of the scam online shops: Bedstockclearance.com, Wilukhome.com, and Bedbathbeyondclose.com.
Summary table for Watersport-Sale.com
Name
Watersport-Sale.com
Type
Fake Online Store
Damage
Potential financial loss and identity theft
Distribution
Primarily through Facebook ads
Tactics
Deceptive advertisements, unrealistically low prices, and false association with known brands
Prices
As low as $16.98 for water slide parks
Contacts
Email: service@watersport-sale.com
Company: FADEL-BEATTY LIMITED
Prevention Tips
Stay vigilant, double-check domain authenticity, and avoid impulsive online shopping decisions based on too-good-to-be-true prices
Reporting Info
Report to local authorities and cybercrime units
Conclusion
Watersport-Sale.com is a crafty scam, operating under the illusion of being associated with Bed Bath & Beyond. With tempting offers and incredibly low prices, it's crucial to approach such websites with skepticism. It's always recommended to shop from authentic and recognized online platforms.
FAQ About the Watersport-Sale.com Scam
Why are the prices so low on Watersport-Sale.com?
This is a common tactic used by scam websites to entice customers into making quick purchases without doing adequate research.
How did they get the Bed Bath & Beyond name?
Scammers often misuse well-known brand names to gain trust and credibility. While they claim association, there's no official connection to the actual brand.
How can I differentiate between a genuine and a scam website?
Look out for red flags such as recently created domains, lack of genuine contact details, suspiciously low prices, and the absence of proper security measures on the website.