Cesarias.com is a suspicious online shop claiming to revolutionize bras. The store has been heavily promoted on Facebook, enticing customers with alluring advertisements. However, appearances can be deceptive. If you've come across Cesarias.com and you're wondering about its legitimacy, read on.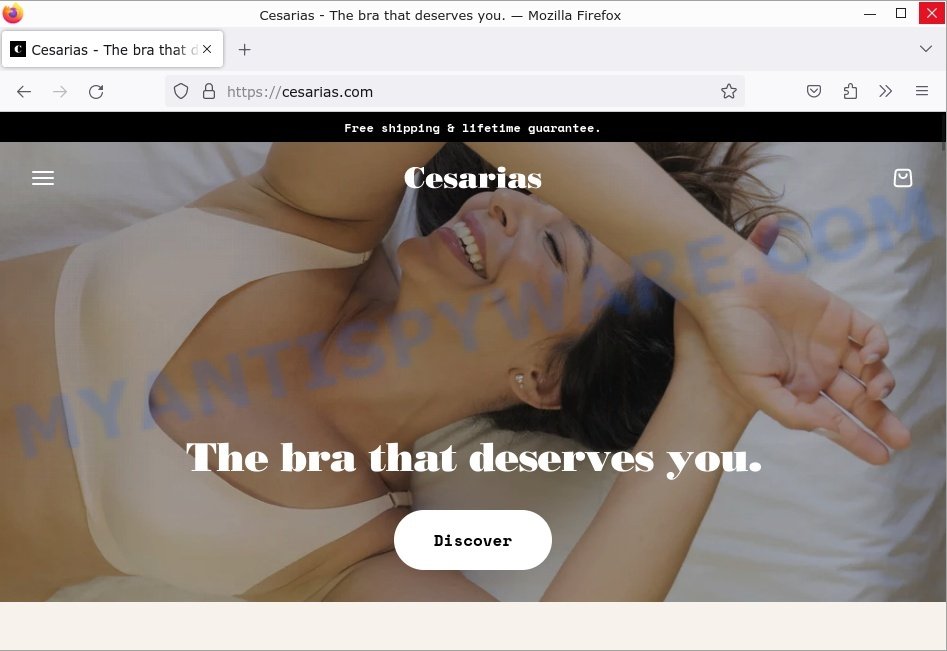 Quick links
Is Cesarias.com a Scam?
While Cesarias.com presents itself as a legitimate online store for bras, there are various signs indicating that it's potentially a scam. These signs include:
Recently created domain. Cesarias.com was created on 2023-08-08.
Lack of comprehensive contact information. The only available contact is an email: hello@cesarias.com.
No tangible details about the company behind Cesarias.com.
Content, images, and descriptions are taken from other sites.
Similar content (content, images, and descriptions) found on another suspicious websites, nichonade.com and bosomia.com.
Customer complaints and negative reviews found on ScamWatcher and TrustPilot.
How the Cesarias.com website works
Cesarias.com is presented as an online store revolutionizing bras. The website is promoted extensively on Facebook with the slogan "We're revolutionising the bra. The bra that deserves you".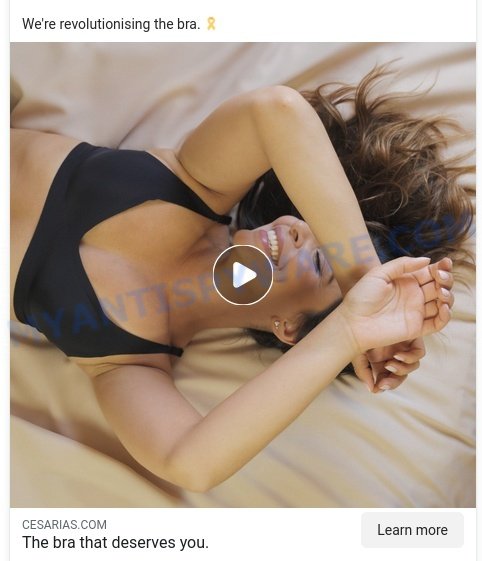 However, upon further inspection, it appears that much of the site's content is lifted from another suspicious site, nichonade.com. Many images are found to be duplicates from other online sources. Furthermore, their limited contact information and recent domain creation add to the suspicion. Most notably, the site has been called out on platforms such as scamwatcher.com, indicating a potential scam in operation.
What to do if you become a victim of Cesarias.com
If you've made a purchase on Cesarias.com and believe you've fallen victim to a scam, follow these steps:
Contact your bank or credit card company and explain the situation to them. They may be able to reverse the charge.
Change any passwords associated with the email or payment methods you used on Cesarias.com.
Leave a review or report on platforms like Trustpilot to help others become aware of the potential scam.
Scam Online Shops to Avoid
With the rise of online shopping, there has been a surge in online scams. It's vital to remain vigilant when shopping online and be aware of the red flags. To help our readers, we've compiled a list of scam shops that have been flagged as potential scams.
Here are a few examples of the scam online shops: KingCrabStore.com, Hokafacviponlinestore.com, Acstoreus.com.
Summary table for Cesarias.com
| | |
| --- | --- |
| Name | Cesarias.com |
| Type | Online Bra Shop |
| Damage | Potential Financial Loss |
| Distribution | Facebook Promotion |
| Prices | £24.90 |
| Contacts | hello@cesarias.com |
| Prevention Tips | Research before Purchase |
| Reporting Info | Scamwatcher.com, Trustpilot |
Conclusion
Cesarias.com is an online shop that raises several red flags when it comes to its legitimacy. With duplicated content, a recently created domain, and limited contact information, it's crucial for shoppers to proceed with caution. Always research before making a purchase.
FAQ About the Cesarias.com Scam
Why do people believe Cesarias.com is a suspicious store?
Due to multiple warning signs such as a recently created domain, copied content from other suspicious sites, and negative reviews on Internet.
Are there other similar shops online?
Yes, many other online shops have been flagged as potential scams, including nichonade.com and bosomia.com, which share similarities with Cesarias.com.
How can I ensure an online shop is legitimate?
Always research the shop beforehand. Check for customer reviews, domain creation dates, and ensure they provide comprehensive contact information and return policies.