Arcteryxmall.com is a recently promoted store on Facebook advertising "Arcteryx End Of Season Sale". It claims to offer an impressive 75%-85% off sitewide. If these deals sound too good to be true, it's because they might be. Dive deep into our comprehensive review to learn more about the potential risks associated with this store.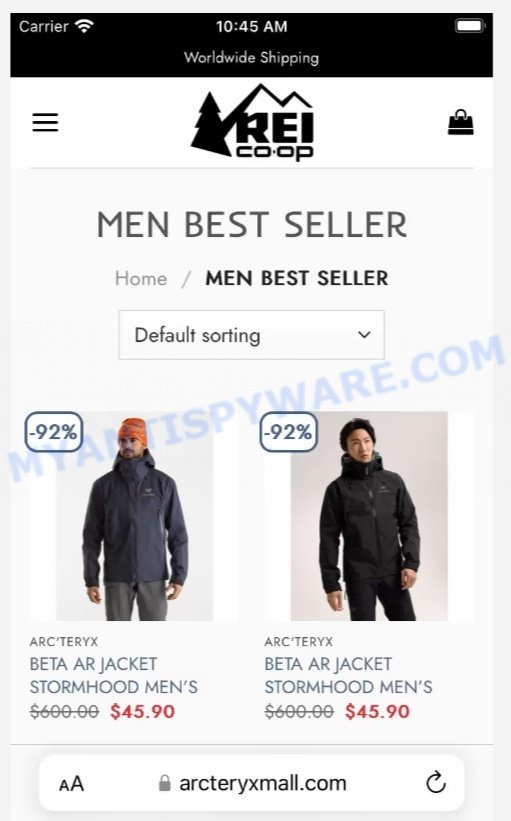 Quick links
Is Arcteryxmall.com a Scam?
Upon analyzing Arcteryxmall.com, we found several red flags commonly associated with scam stores:
Recently created domain: The Whois data reveals that Arcteryxmall.com is a recently established domain, often a common trait among scam stores.
Lack of genuine contact information: The only means of communication provided is an email address: customerservices@arcteryxmall.com.
Questionable company details: The site is linked to the company SAYHI INTERNATIONAL CO., LIMITED, which is connected to other known scam shops.
Unbelievable deals: Offering 75%-85% off sitewide raises eyebrows. Such steep discounts are often used by scam stores to lure in unsuspecting customers.
Stolen content: The store uses a stolen 'rei.com' logo, images, and texts which infringe on intellectual property rights.
Hidden Whois contacts: The contacts in the Whois database are hidden, a tactic often employed by fraudulent entities to evade detection.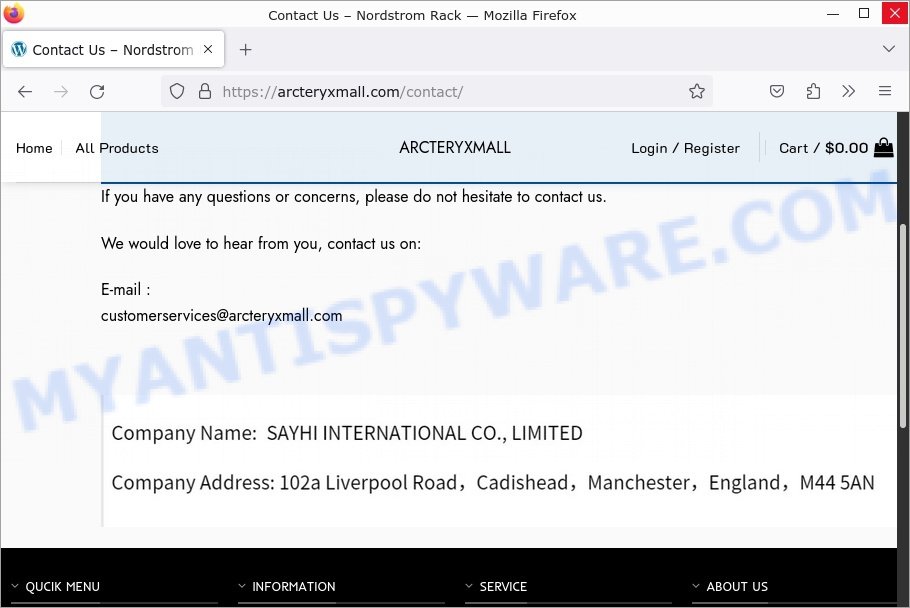 How the Arcteryxmall.com Scam works
Arcteryxmall.com is a deceptive site that cleverly uses the lure of heavily discounted Arcteryx products to attract potential buyers. The site primarily promotes itself on Facebook, where it showcases deals offering a staggering 75%-85% off on products ranging from jackets to pants. These ads emphasize that this is a "limited time offer" creating a sense of urgency.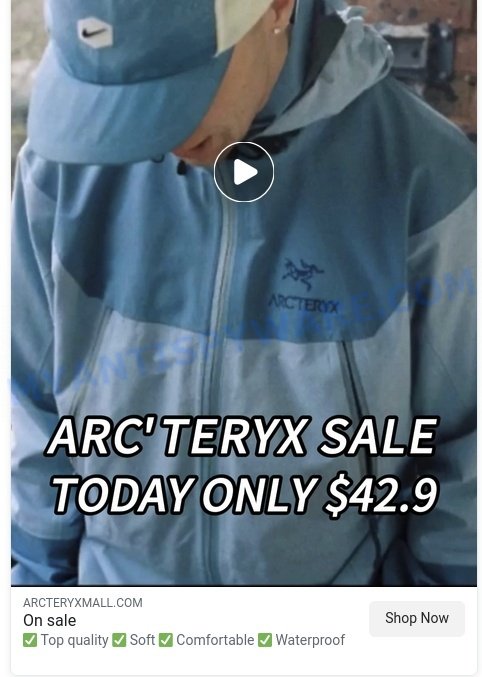 Upon visiting the site, unsuspecting customers are presented with the stolen 'rei.com' logo, images, and texts, making the site appear legitimate. However, after making a purchase, customers either receive counterfeit products or, in some cases, nothing at all.
What to do if you become a victim of Arcteryxmall.com
If you suspect you've fallen prey to the Arcteryxmall.com scam, take the following steps immediately:
Contact your bank or credit card company to report the fraudulent transaction and discuss the possibility of reversing the charge.
Change your online banking and shopping passwords.
Monitor your financial accounts closely for any unauthorized transactions.
Report the scam to the Federal Trade Commission at reportfraud.ftc.gov.
Leave a comment on this review, sharing your experience to warn others.
Other Scam Online Shops to Avoid
As part of our ongoing effort to protect our readers from potential scams, we have compiled a list of other suspicious online shops that you should be aware of. These shops share similar characteristics and tactics to Arcteryxmall.com, and they use deceptive practices to lure in unsuspecting buyers. To keep your personal and financial information safe, it's essential to remain vigilant when shopping online and recognize potential scam signs.
Here are a few examples of the scam online shops: Luggagebigsale.com, Bedbathbeyondclose.com, and Luvasti.com.
Summary table for Arcteryxmall.com
| | |
| --- | --- |
| Name | Arcteryxmall.com |
| Type | Online Scam Store |
| Damage | Potential financial loss, identity theft |
| Distribution | Facebook ads |
| Tactics | Heavy discounts, stolen content, fake branding |
| Prices | Discounts of 75%-85% off |
| Contacts | customerservices@arcteryxmall.com, SAYHI INTERNATIONAL CO., LIMITED |
| Prevention Tips | Always verify online stores, avoid unfamiliar sites with heavy discounts, and conduct due diligence before making any online purchase |
| Reporting Info | reportfraud.ftc.gov |
Conclusion
While online shopping has revolutionized the way we purchase goods, it has also paved the way for nefarious actors looking to exploit unsuspecting buyers. The Arcteryxmall.com scam is a classic example of how modern scams operate. They use the allure of heavy discounts, fake branding, and stolen content to deceive their victims. Always approach unfamiliar online stores with caution, and if a deal sounds too good to be true, it probably is.
FAQ About the Arcteryxmall.com Scam
Q: Is Arcteryxmall.com a legitimate store?
A: Based on our analysis and the red flags identified, it appears that Arcteryxmall.com is not a legitimate online store.
Q: What should I do if I've been scammed by Arcteryxmall.com?
A: Contact your bank or credit card company immediately to report the fraudulent transaction and explore the possibility of reversing the charge.
Q: How can I prevent falling for such scams in the future?
A: Always be cautious of unfamiliar online stores, especially those offering heavy discounts. Conduct due diligence by researching reviews and verifying the authenticity of the site before making any purchase.