Wilkosofficial.com is becoming increasingly prevalent online, catching the attention of eager online shoppers with its too-good-to-be-true deals. As enticing as their offers may appear, we strongly urge readers to delve into this article before considering a purchase.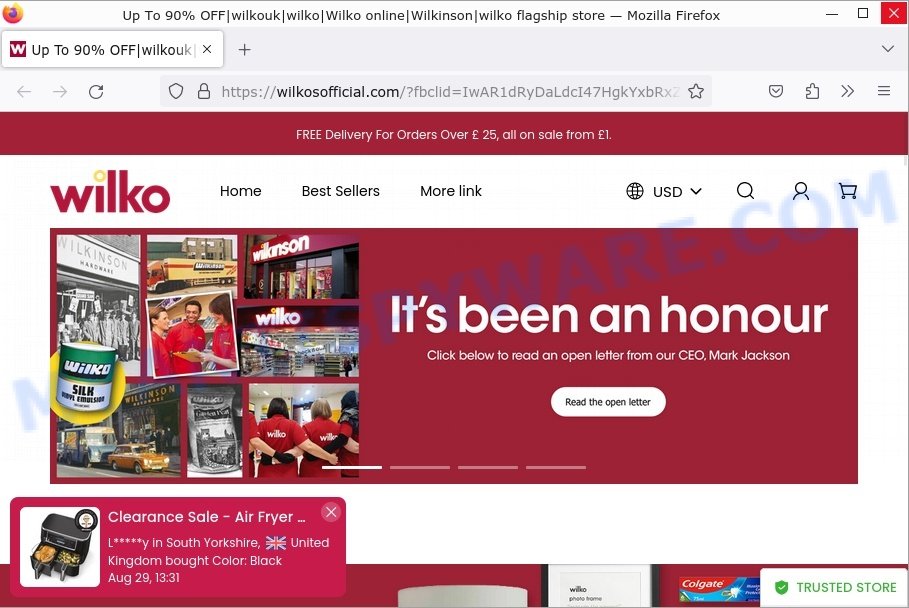 Quick links
Is Wilkosofficial.com a Scam?
Indeed, there are clear indications that Wilkosofficial.com is a scam. Key signs include:
A recently created domain.
Complete absence of contact information.
Whois details being hidden.
Unbelievable deals and incredibly low prices (e.g., 90% off).
Use of enticing slogans such as "Clearance Sale", "Free return", "Huge Discounts", and "Limited Time Sale".
No social media presence or legitimate links to any social media platforms.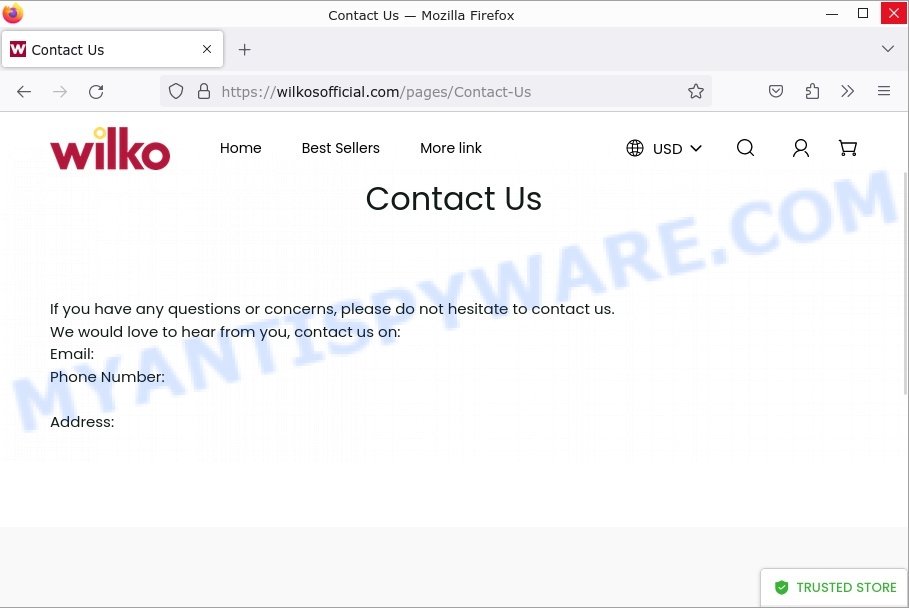 How the Wilkosofficial.com Scam works
Wilkosofficial.com capitalizes on the familiarity and trustworthiness of the known brand "Wilko". They promote their scam through Facebook ads, highlighting massive discounts of up to 90%. By doing this, they lure unsuspecting shoppers into their web of deceit. The promise of "24 Hour Delivery After Payment" and "30 Days Free Return" adds an illusion of security and legitimacy. However, once a purchase is made, customers either receive counterfeit goods or, more commonly, nothing at all.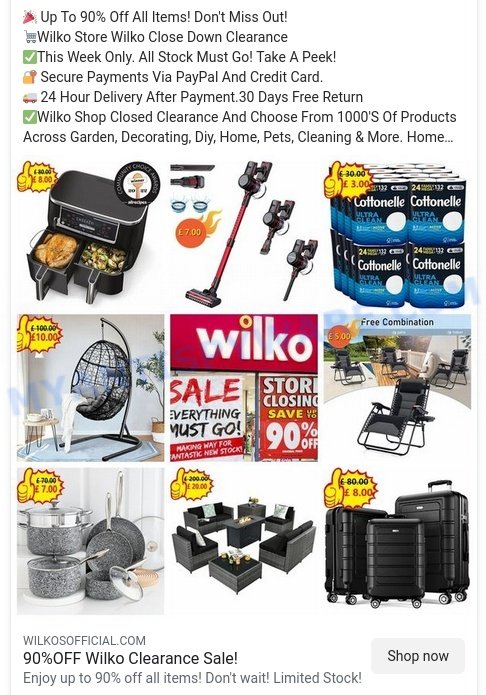 What to do if you become a victim of Wilkosofficial.com
Realizing you've fallen prey to a scam can be disheartening. If you've been duped by Wilkosofficial.com, follow these steps:
Contact your bank or credit card provider and dispute the transaction.
Change any passwords related to accounts used for the purchase.
Consider reporting the scam to FTC.
Leave a comment on this review to share your experience and help warn others.
Other Scam Online Shops to Avoid
Protecting our readers from potential scams remains a priority. Many deceptive online shops share striking resemblances in their tactics to Wilkosofficial.com. Being vigilant and recognizing warning signs is essential.
Here are a few examples of the scam online shops: KingCrabStore.com King Crab Store Scam, Wilukhome.com Review: Fake Wilko Store Scam, and Hokafacviponlinestore.com Review: Hoka Shoes Clearance Sale Scam.
Summary table for Wilkosofficial.com
| | |
| --- | --- |
| Name | Wilkosofficial.com |
| Type | Scam Online Store |
| Damage | Potential monetary loss and identity theft |
| Distribution | Primarily through Facebook ads |
| Tactics | False advertisements, huge discounts, no contact information |
| Prices | Up to 90% discounts on all items |
| Contacts | None provided |
| Prevention Tips | Always verify unfamiliar online stores, be wary of excessive discounts |
| Reporting Info | FTC |
Conclusion
Wilkosofficial.com is a deceptive online store attempting to capitalize on the trustworthiness of established brands. Consumers must exercise caution and perform due diligence before making purchases from unfamiliar online outlets.
FAQ About the Wilkosofficial.com Scam
Why are the prices so low on Wilkosofficial.com?
This is a classic scam tactic to lure unsuspecting shoppers. The unrealistically low prices are designed to entice customers into purchasing items without questioning the legitimacy of the store.
How did they get my Facebook details?
Scammers often use targeted ads based on user preferences and browsing history. Facebook's advertising platform allows businesses to reach a specific audience, which scammers exploit to their advantage.
How can I avoid such scams in the future?
Always research unfamiliar online stores, check for customer reviews, and be wary of deals that seem too good to be true. Trusting your instincts can also serve as a helpful guide.