Peachycoz.com is gaining attention due to its unbelievably low prices on jeggings and its aggressive promotions on social media platforms like Facebook. If you have encountered this store or are considering making a purchase, read this full review for insights into its legitimacy.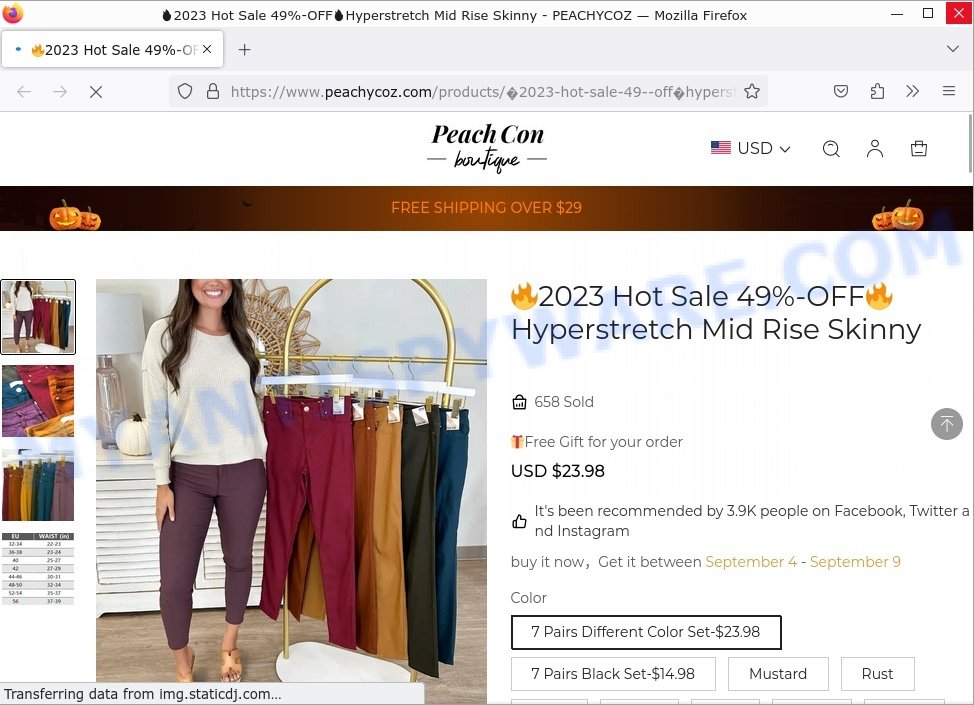 Quick links
Is Peachycoz.com a Scam?
Several red flags indicate that Peachycoz.com might be a fraudulent website:
Recently created domain, which often indicates that the site is not established and might be used for scam purposes.
Lack of contact information except for an email address: support@gynoce.com
Associated company, Meledo Company Limited, is linked to other known scam shops.
Unbelievable deals and incredibly low prices like "$23.98 for 7 pairs" of jeggings.
Enticing slogans such as "Hot Sale 49%-OFF" and "Free Gift for your order".
Hidden Whois contacts, which is a tactic to avoid accountability and is common among scam websites.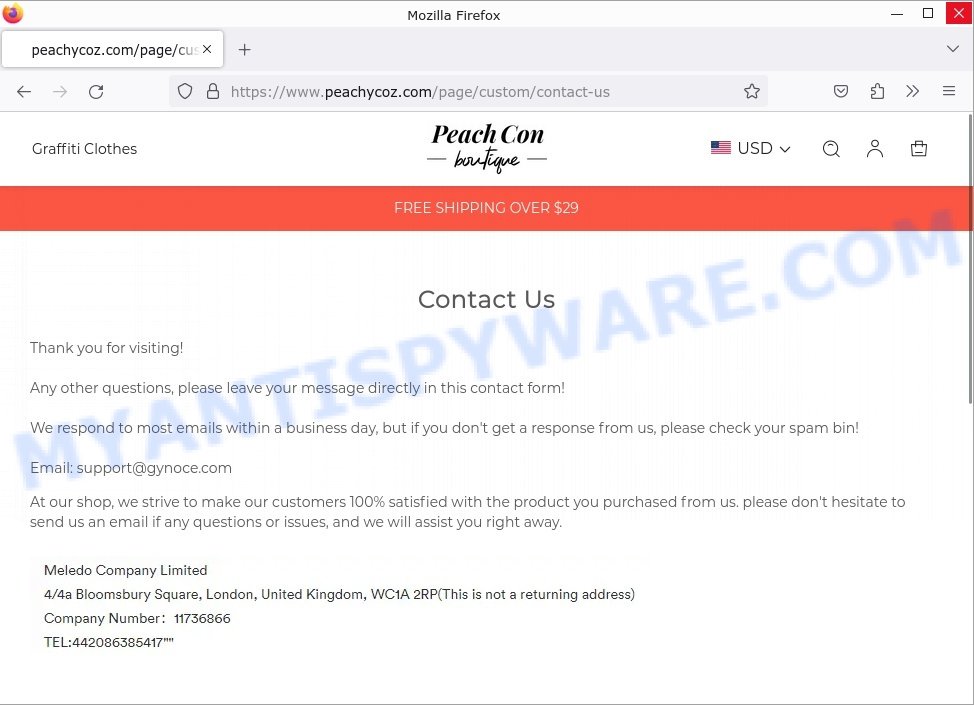 How the Peachycoz.com Scam works
Peachycoz.com primarily targets consumers through aggressive advertising on Facebook, enticing them with unrealistically low prices for jeggings. The site boasts that their product is recommended by thousands on social media, providing a facade of credibility.
Once users are drawn to the site, they are further enticed with offers like free gifts and limited-time sales, pressuring them to make quick purchasing decisions without verifying the site's legitimacy. Many users may not receive their orders, receive counterfeit or inferior products, or have their personal and financial information at risk.
What to do if you become a victim of Peachycoz.com
If you believe you've fallen victim to the Peachycoz.com scam:
Contact your bank or credit card provider immediately to report the fraudulent transaction.
Change your passwords for any accounts associated with the purchase.
Monitor your financial statements for any unusual activity.
Report the scam to FTC.
Leave a comment on this review to share your experience and warn others.
Other Scam Online Shops to Avoid
As part of our ongoing effort to protect our readers from potential scams, we have identified other suspicious online shops that share similarities with Peachycoz.com. Staying vigilant when shopping online and recognizing warning signs can help protect your personal and financial data.
Here are a few examples of the scam online shops: Wilukhome.com Review: Fake Wilko Store Scam, Bedstockclearance.com Review: Lowe's Stock Clearance Scam, and Hokafacviponlinestore.com Review: Hoka Shoes Clearance Sale Scam.
Summary table for Peachycoz.com
Name
Peachycoz.com
Type
Online Retail Scam
Damage
Potential loss of money, receipt of counterfeit or inferior products
Distribution
Social Media (Primarily Facebook)
Tactics
Aggressive advertising, unbelievable discounts
Prices
$23.98 for 7 pairs of jeggings
Contacts
Email: support@gynoce.com
Company: Meledo Company Limited
Prevention Tips
Research before purchasing, look for genuine reviews, avoid deals that seem too good to be true
Reporting Info
FTC Report Fraud
Conclusion
Peachycoz.com is a potentially risky online store that uses enticing offers and aggressive social media advertising to lure unsuspecting buyers. Always exercise caution and conduct thorough research before making purchases from unfamiliar websites.
FAQ About the Peachycoz.com Scam
Why are the prices on Peachycoz.com so low? This is a common tactic used by scam sites to entice potential victims into making purchases without verifying the site's legitimacy.
How can I determine if a website is a scam? Look for red flags such as too-good-to-be-true deals, recent domain creation, hidden or minimal contact information, and association with known scam companies or emails.
Can I get my money back if I've been scammed? It's crucial to contact your bank or credit card provider immediately. They can guide you on the next steps, which might include reporting the fraudulent transaction, disputing the charge, and monitoring your account for any suspicious activities.