Nike Factory Store scams have recently proliferated on social media, particularly Facebook. These stores lure customers with unbelievable deals on popular Nike products. If you've come across such stores and their too-good-to-be-true deals, you might be dealing with a scam. Read on to uncover the details.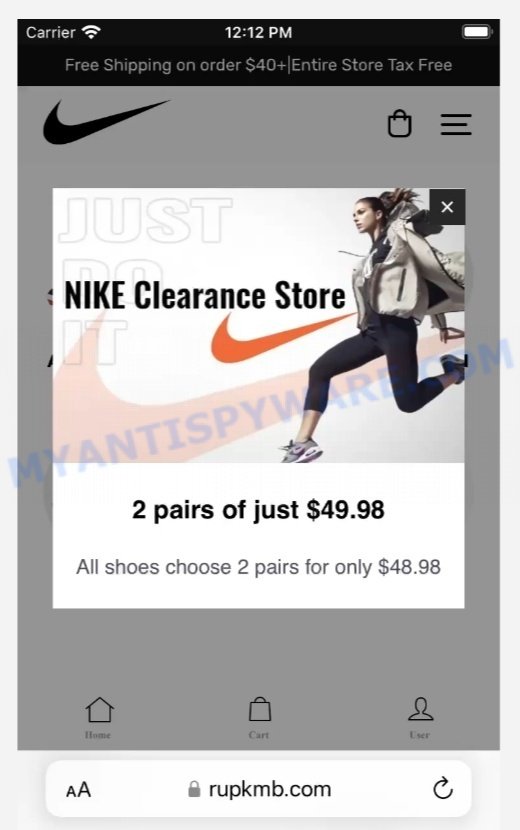 Quick links
Is Nike Factory Store a Scam?
While online shopping offers convenience, it's also a breeding ground for scams. The so-called "Nike Factory Store" shops are classic examples. Here are the red flags:
Recently created domain, indicating that these shops haven't been around for long.
Lack of contact information, save for some purported official Nike customer support phone numbers.
Absence of a physical address or company details.
Unbelievable deals, such as 80% off on products.
Use of stolen Nike logos, images, and content.
Enticing slogans like "NIKE Clearance Store", "2 pairs of just $49.98", "Clearance Sale" and "BUY MORE, SAVE MORE".
Hidden WHOIS contact details, which are often an indicator of scam sites.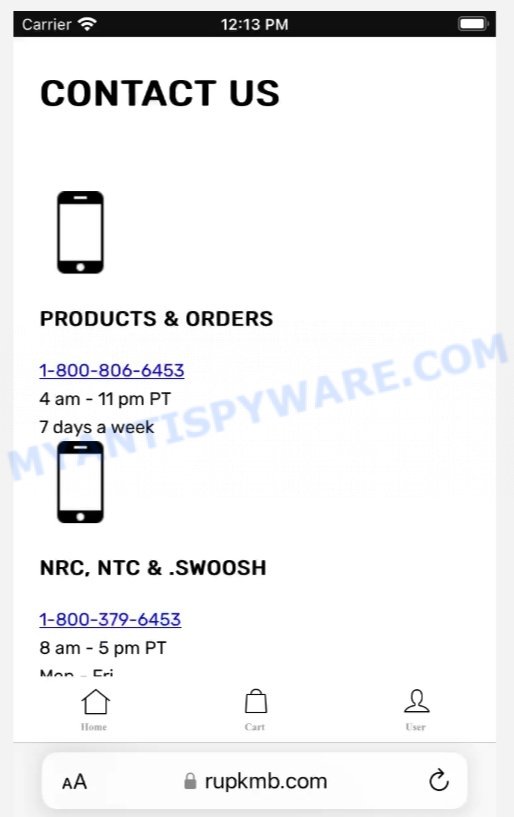 How the Nike Factory Store Scam works
The Nike Factory Store scam typically begins with an advertisement on Facebook, promoting massive discounts on Nike products. Unsuspecting users, lured by these ads, click through to the scam websites. These sites, such as rupkmb.com, ankmn.com, and dbjuro.com, give an impression of legitimacy by using stolen Nike imagery and branding.
However, once a purchase is made, the products either never arrive, or if they do, they are counterfeit or of extremely low quality.
What to do if you become a victim of Nike Factory Store
If you suspect you've been scammed by one of these stores, follow these steps:
Immediately contact your bank or credit card company to dispute the transaction.
Change your passwords, especially if you've used the same password on other sites.
Report the scam to local law enforcement and consumer protection agencies.
Consider leaving a comment on this review to warn others.
Other Scam Online Shops to Avoid
Online scams are on the rise, and as a responsible internet user, it's crucial to stay informed and alert. While the Nike Factory Store is one major culprit, there are countless other deceptive online shops preying on unsuspecting customers.
Here are a few examples of scam online shops: Wilukhome.com Review, KingCrabStore.com King Crab Store Scam, Bedbathbeyondclose.com BED BATH & BEYOND Store Scam.
Summary table for Nike Factory Store
| | |
| --- | --- |
| Name | Nike Factory Store Scam |
| Type | Online Shopping Scam |
| Damage | Monetary loss, potential receipt of counterfeit goods |
| Distribution | Facebook Ads |
| Tactics | Use of stolen brand imagery, massive discounts |
| Associated websites | Rupkmb.com, ankmn.com, dbjuro.com, ankmn.com, nikegovip.shop, inputsaz.store, calmj.online |
| Contacts | bnvab@service.com, info@NikeFactoryStore.vip, service@jiusege.com, service@movingcs.online |
| Prevention Tips | Verify before purchasing, avoid too-good-to-be-true deals |
| Reporting Info | FTC Reporting |
Conclusion
Nike Factory Store scams exploit the brand's popularity to lure unsuspecting victims. By using stolen branding and offering unrealistically high discounts, these scam stores deceive countless individuals. Always exercise caution when encountering such deals online and conduct thorough research before making a purchase.
FAQ About the Nike Factory Store Scam
Why are these scam stores using Nike's name?
Scammers often exploit popular brands to appear legitimate and lure more victims. Nike, being a globally recognized brand, becomes an easy target.
How can I verify the legitimacy of an online store before purchasing?
Always check for customer reviews, verify contact information, and be wary of overly discounted prices. Also, search the store's name along with the word "scam" to see if there are any reports about it.
Can I get my money back if I've been scammed?
In some cases, yes. It's essential to contact your bank or credit card provider immediately to report the scam and request a chargeback.