Miraclees.Online is being promoted on Facebook with enticing advertisements about cordless chainsaws. The deals may seem too good to be true, and many consumers are tempted by the promises. However, there's more to this online shop than meets the eye. In this article, we will unravel the facts behind Miraclees.Online and its operations.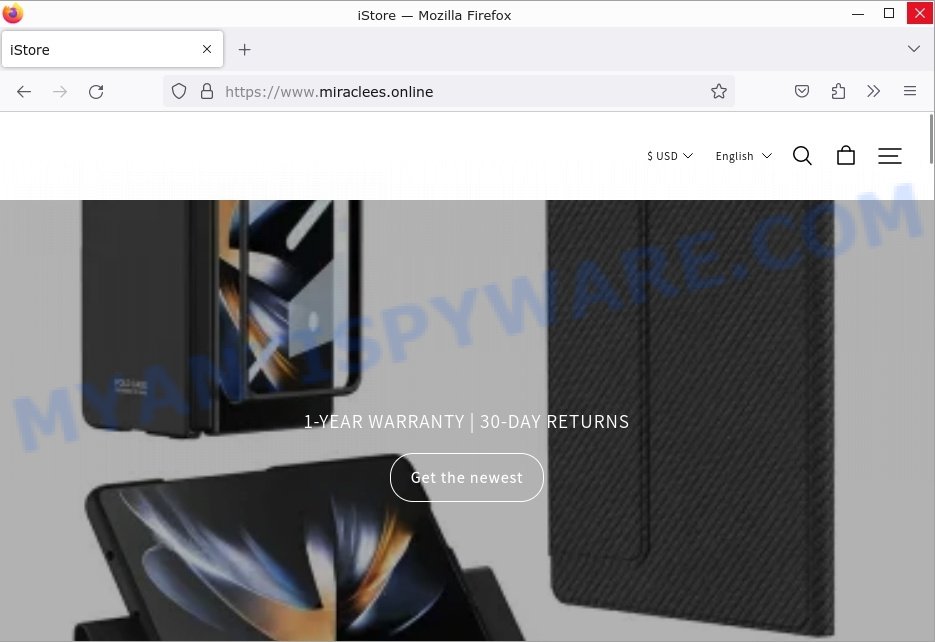 Quick links
Is Miraclees.Online a Scam?
There are multiple red flags and common signs of scams associated with Miraclees.Online:
Recently created domain.
Lack of contact information, primarily through the email address: customerservice@odores.online.
No real info about the company behind except for a company name and address, which is not meant for returns.
Unbelievable deals and incredibly low prices, especially in their Facebook ads.
The content on their direct website contradicts the promotions mentioned in the advertisements.
Connection to other known scam shops via the given email and company details. (HINOVATION LIMITED)
WHOIS contacts are hidden, which often signifies the owner's intention to hide their identity.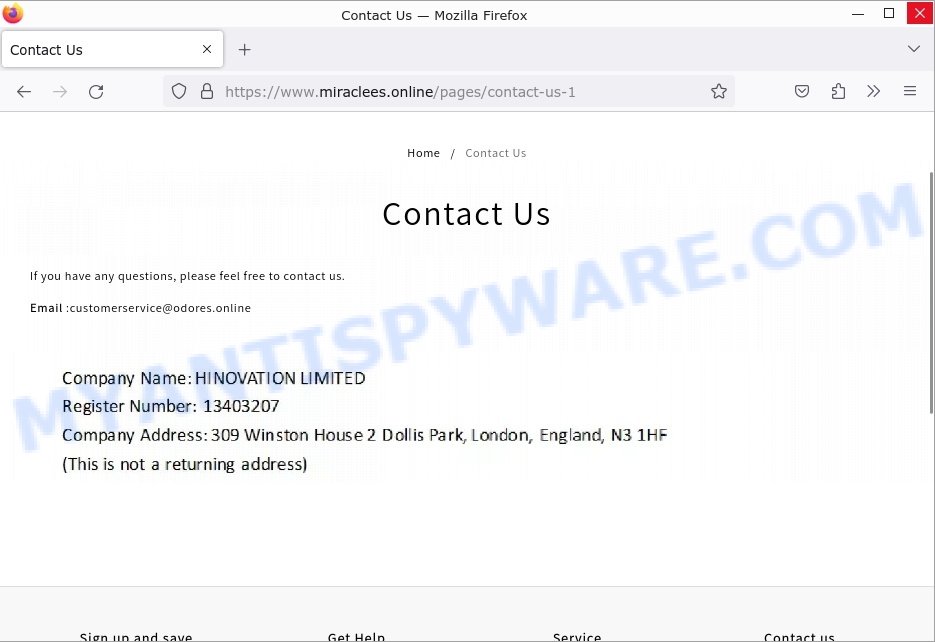 How the Miraclees.Online Scam works
Miraclees.Online utilizes social media platforms, particularly Facebook, to lure potential victims. By advertising an irresistibly priced cordless chainsaw, they entice consumers to their website.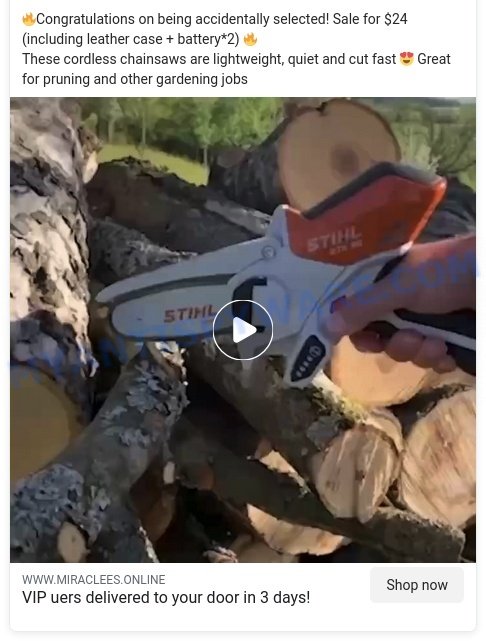 However, when one accesses the site directly, there's no mention of the promotion. This inconsistency between advertising and website content is a significant telltale sign of deceptive practices. Moreover, the hidden contacts on their domain registration and the association of their email and company name with other scams further raises suspicions about their operations.
What to do if you become a victim of Miraclees.Online
If you believe you have fallen victim to this scam, take the following steps immediately:
Contact your bank or credit card company to report the fraudulent transaction and inquire about a chargeback.
Change passwords for any online accounts associated with the payment method used.
Monitor your financial statements regularly for any unauthorized transactions.
Report the scam to local law enforcement.
Leave a comment on this review to help others become aware and avoid the scam.
Other Scam Online Shops to Avoid
In our continuous effort to inform and protect our readers, we've identified other suspicious online shops with characteristics eerily similar to Miraclees.Online. It's vital to be cautious and aware of potential online scams.
Here are a few examples of the scam online shops: Luggagebigsale.com, Hokafacviponlinestore.com, and Bedstockclearance.com.
Summary table for Miraclees.Online
| | |
| --- | --- |
| Name | Miraclees.Online |
| Type | Scam Online Store |
| Damage | Potential financial loss and identity theft |
| Distribution | Facebook Ads |
| Tactics | False advertising, contradictory site content |
| Prices | $24 chainsaw deal |
| Contacts | customerservice@odores.online, HINOVATION LIMITED |
| Prevention Tips | Always verify online stores, especially when prices are too good to be true. |
| Reporting Info | FTC |
Conclusion
Miraclees.Online is a scam online store that uses deceptive advertising tactics on social media platforms to lure unsuspecting buyers. The discrepancies between their advertisements and website content, coupled with their associations with known scams, make it imperative for consumers to exercise caution and perform due diligence before making any purchases.
FAQ About the Miraclees.Online Scam
Why do scammers use newly created domains?
Newly created domains are often cheaper and can be quickly discarded after a scam runs its course, making it difficult to trace back to the culprits.
How can I verify the legitimacy of an online store before purchasing?
Check for reviews, research the company details, compare the advertised offers with the website's content, and trust your instincts. If it seems too good to be true, it probably is.
Is it safe to click on Facebook advertisements?
While many legitimate businesses advertise on Facebook, the platform has also been used for scams. It's essential always to double-check the advertiser's reputation and the legitimacy of the deal before making a purchase.