Clearance-us.vip is a scam website pretending to be a Bed Bath & Beyond outlet. They've been promoting their products on social media platforms, especially on Facebook, claiming to have an unrealistically massive clearance sale. If you've come across this advertisement and you're wondering about the legitimacy of this online store, you're in the right place. This article will unravel the truth about Clearance-us.vip.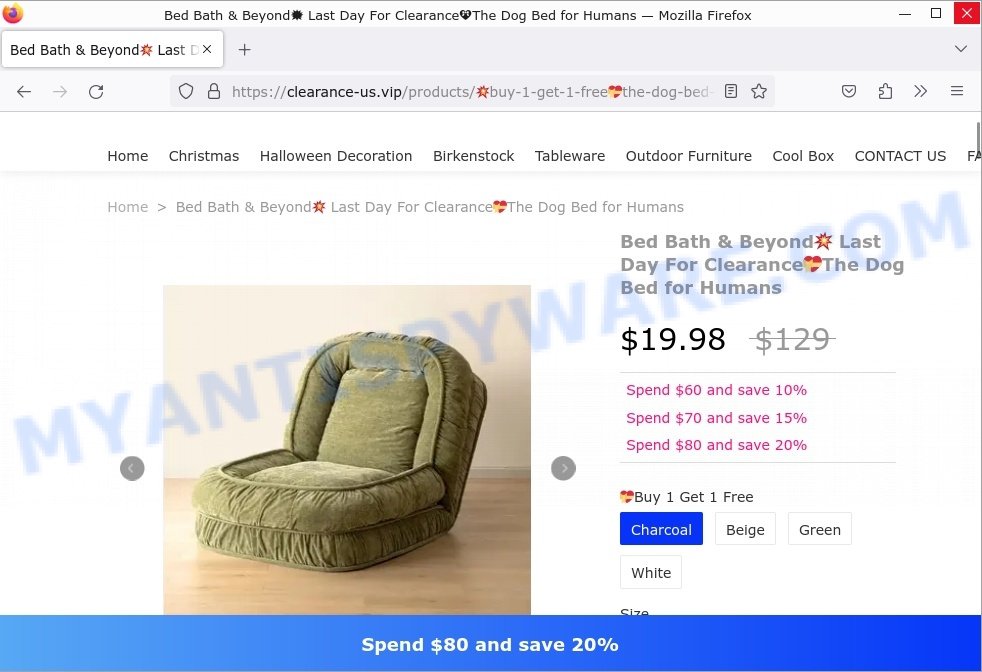 Quick links
Is Clearance-us.vip a Scam?
It is quite evident from various factors that Clearance-us.vip is a scam website. Here are some telling signs:
Recently created domain
Lack of contact information (only a vague email address: custservice@cocolook.xyz)
No real information about the company behind the site
Unbelievable deals and incredibly low prices that seem too good to be true
Generic template design with content likely lifted from legitimate sites
Enticing slogans and time-sensitive offers, like "Clearance Sale: UP TO 90% OFF Now"
No links to any official social media platforms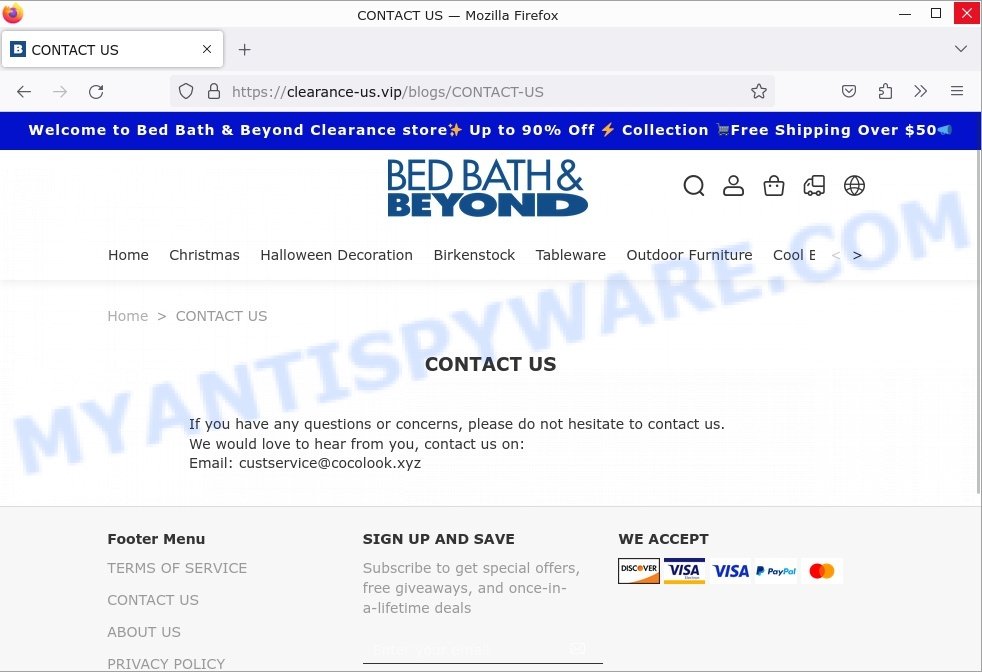 How the Clearance-us.vip Scam works
Clearance-us.vip operates by baiting unsuspecting online shoppers with ads showcasing incredible discounts on popular products. Their Facebook advertisement paints a picture of a "Bed Bath & Beyond Bankruptcy Sale", offering products like the so-called "World's First Dog Bed For Humans" at rock-bottom prices.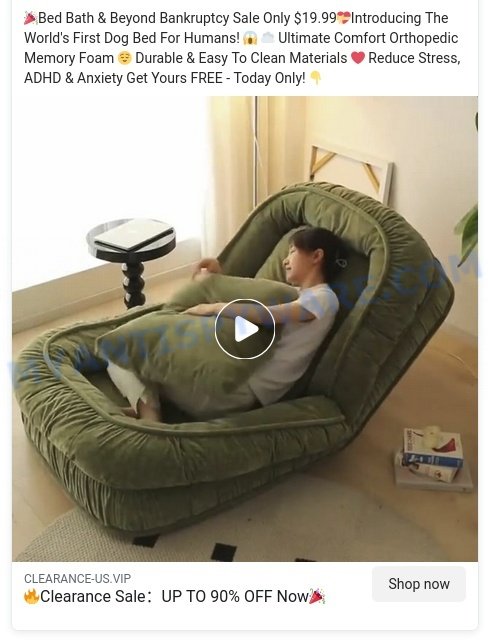 Once an individual is enticed by these too-good-to-be-true deals and makes a purchase, they often find that the product is either of inferior quality, not as described, or in some cases, they never receive the product at all.
What to do if you become a victim of Clearance-us.vip
If you've fallen victim to this scam, don't panic. Here are some steps to take:
Contact your bank or credit card company and report the fraudulent transaction.
Change passwords for any accounts linked to the purchase.
Keep an eye on your financial statements for any unauthorized charges.
Leave a comment on this review to warn others.
Other Scam Online Shops to Avoid
Protecting our readers from potential scams is a top priority. We've identified several other online shops that display tactics similar to Clearance-us.vip. These shops use deceptive practices to entice buyers, putting both personal and financial information at risk.
Here are a few examples of the scam online shops: Acstoreus.com DICK'S SPORTING GOODS Store Scam, Bedstockclearance.com Review: Lowe's Stock Clearance Scam, KingCrabStore.com King Crab Store Scam.
Summary table for Clearance-us.vip
| | |
| --- | --- |
| Name | Clearance-us.vip |
| Type | Online Scam Store |
| Damage | Potential financial loss and personal information breach |
| Distribution | Primarily through Facebook Ads |
| Tactics | False advertising and incredibly low prices |
| Prices | Marked down by up to 90% |
| Contacts | custservice@cocolook.xyz |
| Prevention Tips | Always verify online shops, especially those promoted on social media |
| Reporting Info | Federal Trade Commission (FTC) |
Conclusion
Clearance-us.vip is a deceptive online store attempting to capitalize on the reputation of reputable brands like Bed Bath & Beyond. Always be cautious when encountering online deals that seem too good to be true, as they often are.
FAQ About the Clearance-us.vip Scam
Are there genuine clearance sales online?
Yes, many legitimate businesses offer clearance sales online. However, it's crucial to buy from trusted and verified sources.
How can I verify the authenticity of an online shop?
Check for reviews, verify the provided contact information, and ensure they have a secure payment gateway.
What should I do if I provided personal information to a scam site?
Immediately change your passwords, monitor your accounts for suspicious activity, and consider credit monitoring services.