Vombit.com is a recently uncovered cryptocurrency scam that has been deceitfully promoting free crypto giveaways and promising exorbitant investment returns. This scam has been widely spread across various social media platforms. If you've come across or been targeted by this, it's essential to read on and understand the risks associated.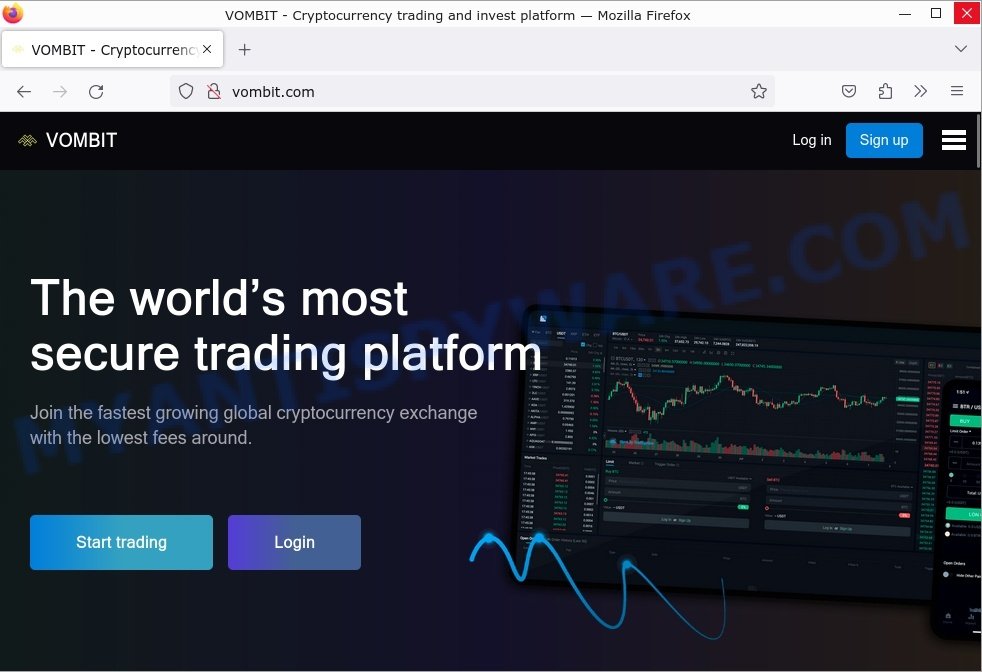 Quick links
Is Vombit.com a Scam?
Based on our thorough investigation, several red flags indicate that Vombit.com is not a legitimate cryptocurrency platform:
Recently created domain, which often indicates a potential scam.
Absolute lack of contact information.
WHOIS contacts are deliberately hidden, a common tactic used by scam websites to maintain anonymity.
Enticing offers of free crypto giveaways and unrealistic high returns.
Extensive promotion on social media platforms without credible backing or validation.
How the Vombit.com Scam works
Vombit.com is meticulously designed to attract unsuspecting users by offering them enticing crypto giveaways and promises of high returns on investments. Once a user is drawn in, they might be asked to deposit a certain amount of cryptocurrency to participate. In most scenarios, once the deposit is made, the user will find it impossible to withdraw their funds or get any returns. Their promotional campaigns on social media further amplify their reach, making many fall victim to their tactics.
What to do if you become a victim of Vombit.com
If you've been ensnared by the Vombit.com scam, it's imperative to act swiftly:
Immediately stop any further transactions or communication with the platform.
Reach out to your bank or financial institution to discuss possible protective measures.
Change passwords and enhance security for any compromised accounts.
Leave a comment on this review to inform others of your experience.
Other Online Scams to Avoid
It's essential for online users to remain alert and knowledgeable about potential scams. Many deceptive websites, like Vombit.com, use similar tactics to ensnare unsuspecting victims.
Here are a few examples of the scam online shops: KingCrabStore.com King Crab Store Scam, Wilukhome.com Review: Fake Wilko Store Scam, and Luvasti.com Silver Jewellery Store Scam.
Summary table for Vombit.com
| | |
| --- | --- |
| Name | Vombit.com |
| Type | Cryptocurrency Scam |
| Damage | Potential Loss of Cryptocurrency |
| Distribution | Social Media |
| Tactics | Free Giveaways, Promises of High Returns |
| Contacts | No available contacts, WHOIS hidden |
| Prevention Tips | Research before investing, be skeptical of too-good-to-be-true offers |
| Reporting Info | FTC Report Fraud |
Conclusion
Vombit.com is a deceptive cryptocurrency scam that leverages social media for wide-reaching promotion. Users should exercise caution, and always research before engaging with any online investment platform, especially when deals appear too good to be true.
FAQ About the Vombit.com Scam
What makes Vombit.com a scam?
Vombit.com uses deceptive tactics like offering free cryptocurrency giveaways and promising unrealistic high returns on investments, combined with a lack of contact information and a hidden WHOIS.
How do I protect myself from such scams?
Always research before investing in any online platform. If an offer seems too good to be true, it probably is. Also, verify the legitimacy of the platform through multiple sources.
Can I recover my lost cryptocurrency?
Recovering cryptocurrency is challenging due to its decentralized nature. However, report the scam immediately to your financial institution and the FTC for the best advice on possible steps.