Blackstonebargains.com, claiming to be an outlet for the popular Blackstone brand, has been aggressively advertising incredible deals on BBQ grills and accessories. If you've come across their tempting Facebook ads and wonder if it's a legitimate place to shop, you need to read this article before making any decisions.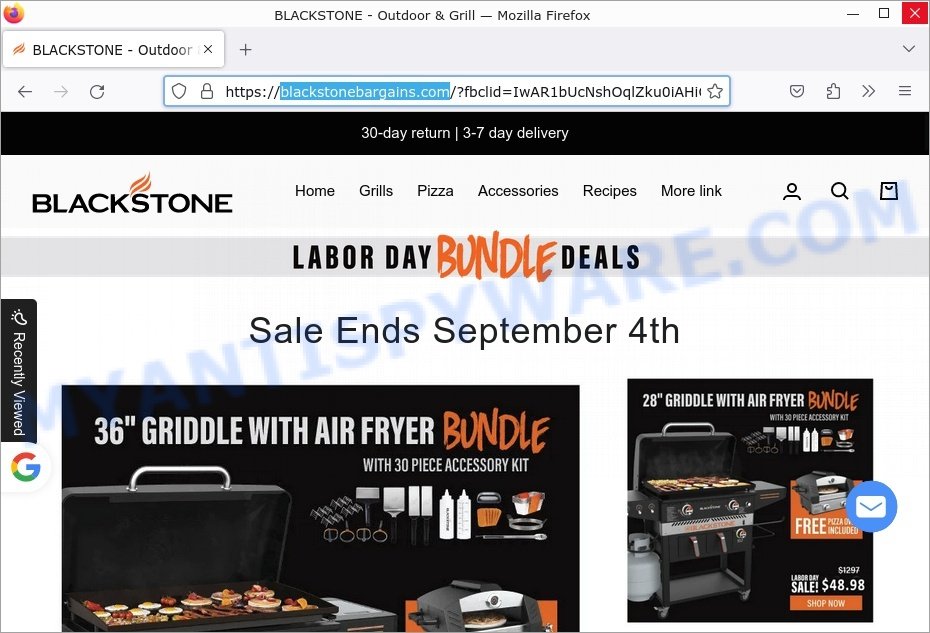 Quick Links
Is Blackstonebargains.com a Scam?
If something looks too good to be true, it probably is. Blackstonebargains.com checks several boxes for being a scam:
Recently created domain
Lack of legitimate contact information; only an email is provided: service@blackstoneoutlet.com
No real info about the company behind the website
Unbelievably low prices on high-value items
Advertisements use enticing slogans like "Labor Day Sale", "Free Included Pizza Oven", and "Prices from just $22.99"
No social media presence besides suspicious Facebook ads
Whois contacts are hidden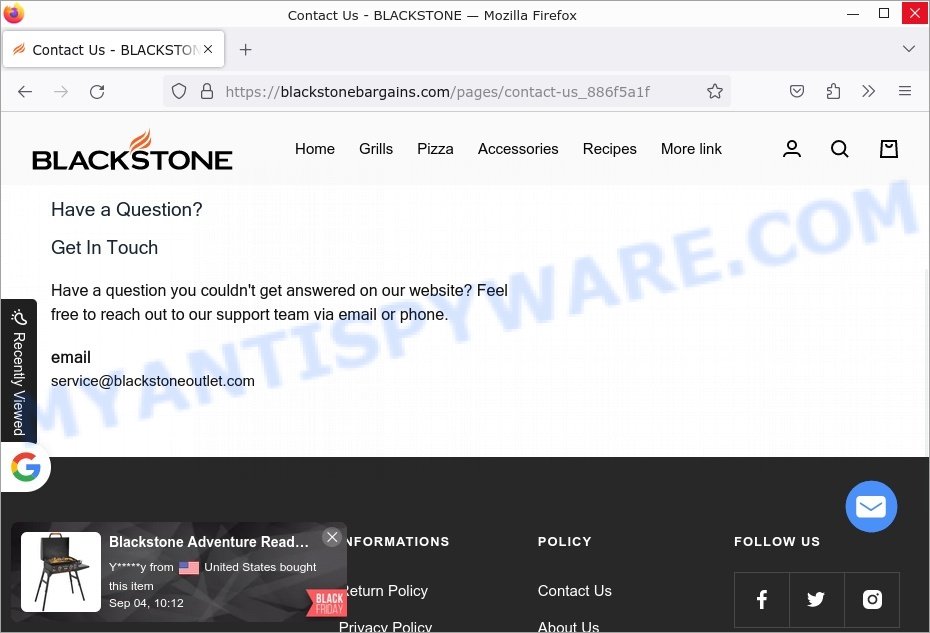 How the Blackstonebargains.com Scam Works
Blackstonebargains.com seems to target potential victims through social media, particularly Facebook. They lure shoppers in with unbelievably low prices for Blackstone grills, claiming to offer them for as low as $48.98, down from $1797. After purchasing, customers may either receive counterfeit products or nothing at all. The site then becomes unresponsive or disappears entirely.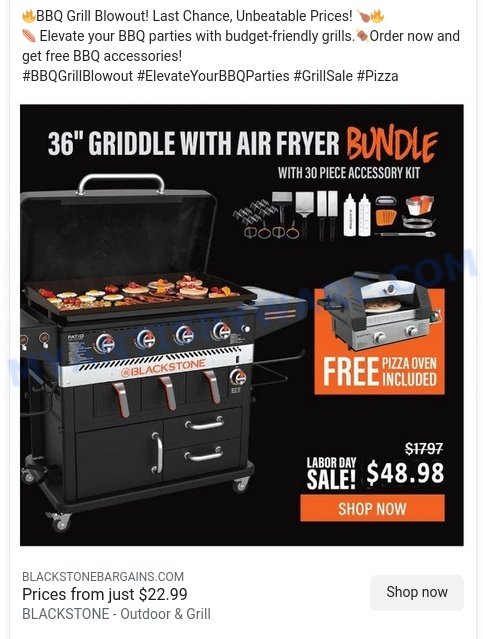 What to Do if You Become a Victim
If you've already made a purchase and suspect you've been scammed, take immediate action to minimize your losses and protect your personal information.
Contact your bank or credit card provider to dispute the charge.
Change the passwords for your online banking and other sensitive accounts.
Report the scam to FTC.
Leave a comment on this review to alert others.
Other Scam Online Shops to Avoid
Being aware of other potential online scams can help you protect your financial and personal information. These shops often share the same deceptive tactics as Blackstonebargains.com.
Here are a few examples of the scam online shops: Acstoreus.com, Babyjoynewyork.com, and Tv-homeshopping.shop.
Summary Table for Blackstonebargains.com
| | |
| --- | --- |
| Name | Blackstonebargains.com |
| Type | Scam Online Shop |
| Damage | Financial Loss, Data Compromise |
| Distribution | Facebook Ads |
| Tactics | Fake Sales, Unrealistic Prices |
| Prices | As low as $48.98 for high-value items |
| Contacts | Email: service@blackstoneoutlet.com |
| Prevention Tips | Check for verified reviews, secure payment options |
| Reporting Info | FTC |
Conclusion
Blackstonebargains.com is a scam website that uses enticing Facebook ads to lure unsuspecting shoppers into purchasing Blackstone products at unrealistically low prices. We highly recommend avoiding this online shop and following the steps outlined in this article if you've already been a victim.
FAQ About the Blackstonebargains.com Scam
How did I come across Blackstonebargains.com?
Most likely through Facebook ads that promise Blackstone grills at shockingly low prices.
Is the email contact enough to trust an online store?
No, a legitimate business usually provides more than just an email for customer service, such as a phone number and physical address.
Why are the Whois contacts hidden?
Scam websites often hide Whois information to make it harder for them to be traced and reported.