Volcomsale.shop is an online store claiming to offer deeply discounted Volcom apparel and accessories. The store is aggressively marketed on social media, especially on Facebook, luring customers with the promise of savings between 75%-86%. Read the full article to understand why this "Volcom Sale" is nothing but a ploy to scam online shoppers.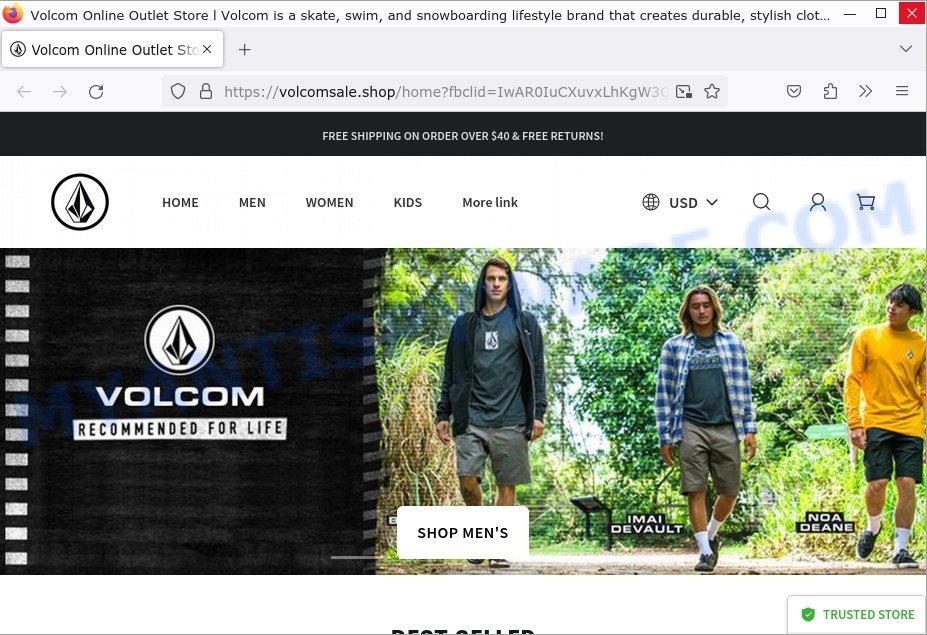 Quick Links
Is Volcomsale.shop a Scam?
The red flags surrounding Volcomsale.shop are numerous, pointing to the conclusion that it is a scam store.
Recently created domain.
Lack of legitimate contact information, except for an email address: service@ornatey.com, which is linked to other scam shops.
Unrealistic discounts, with promises of 75%-86% off.
Whois information is hidden, making it difficult to identify the people behind the operation.
No social media presence outside of scammy Facebook advertisements.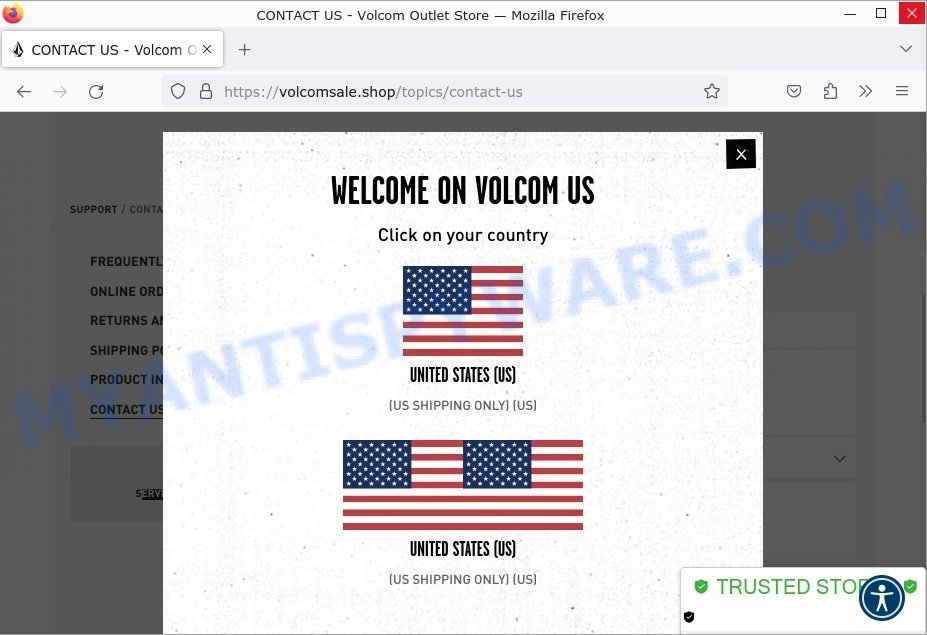 How the Volcomsale.shop Scam Works
Volcomsale.shop starts by launching an extensive advertising campaign on Facebook. The ads promise "Volcom's Mega Sale With Up To 75%-86% Off", targeting a wide range of products from men's and women's clothing to surf apparel and accessories. The offer, purportedly lasting until September 18, creates a sense of urgency. Customers who take the bait will likely find themselves losing money or receiving counterfeit products.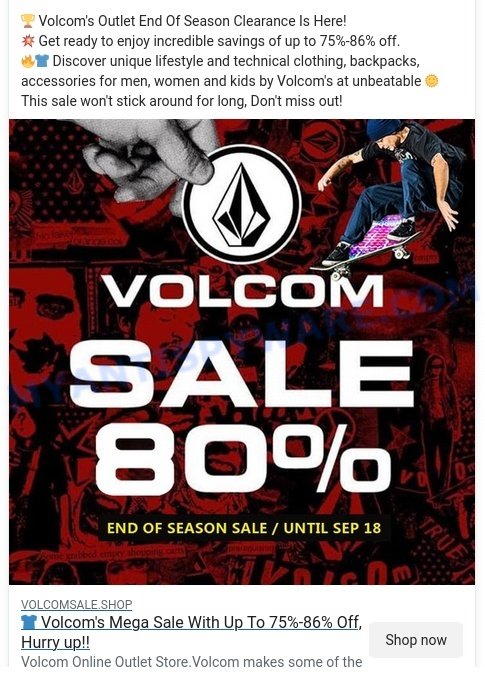 What to Do if You Become a Victim
If you've fallen for the Volcomsale.shop scam, don't lose hope. There are several steps you can take to mitigate your losses.
Contact your bank and explain the situation.
Report the scam at reportfraud.ftc.gov.
Leave a comment on this review to alert other potential victims.
Other Scam Online Shops to Avoid
Continuing our efforts to protect consumers, we present a list of other online shops that operate similarly to Volcomsale.shop and employ deceptive practices. Stay alert while shopping online and beware of potential scams.
Here are a few examples of scam online shops: Blackstonediscount.com, Acstoreus.com, and Heerful.com.
Summary Table for Volcomsale.shop
| | |
| --- | --- |
| Name | Volcomsale.shop |
| Type | Online Apparel Scam Store |
| Damage | Financial Loss, Potential Identity Theft |
| Distribution | Facebook Ads |
| Tactics | False Discounts, Urgency Creation |
| Prices | 75%-86% off on Products |
| Contacts | Email: service@ornatey.com |
| Prevention Tips | Research before Buying, Verify Discounts |
| Reporting Info | FTC |
Conclusion
Volcom Sale Shop is a classic example of an online scam shop that exploits the brand name of Volcom to lure victims. With fake promises of massive discounts and a deceptive Facebook ad campaign, it aims to con unsuspecting shoppers. Always do your due diligence before shopping from unfamiliar online platforms.
FAQ About the Volcomsale.shop Scam
Is Volcomsale.shop related to the official Volcom brand?
No, Volcomsale.shop has no affiliation with the official Volcom brand and is exploiting its name for scam purposes.
Can I get my money back if I have already shopped from Volcomsale.shop?
It depends on your payment method and bank policies. Contacting your bank and reporting to the FTC are the best steps to take.
Are the products sold on Volcomsale.shop genuine?
Given the fraudulent nature of the website, it is highly unlikely that the products sold are genuine. Most likely, they are cheap knock-offs or entirely fictitious.