Wilko Discounts Scam Stores are a cluster of fake online shops claiming to offer massive clearance sales on Wilko products. These stores, such as ysvev.com, wilkooffersshop.com, sdkohut.com, and sclotime.com, lure in unsuspecting buyers with promises of discounts up to 90% off. Before making any purchases, read this article to fully understand the risks involved.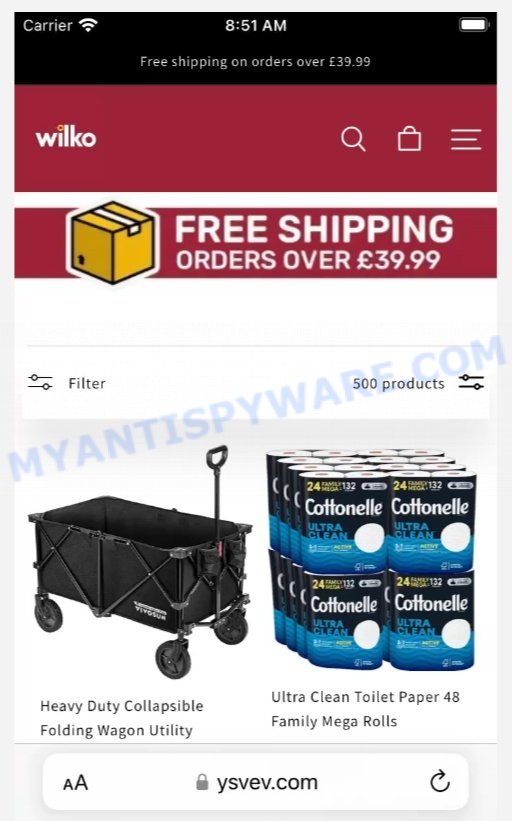 Quick Links
Is Wilko Discounts Scam Stores a Scam?
These stores display all the hallmarks of an online scam:
Recently created domains
Lack of contact information other than generic email addresses like service@bochuanghk.com and ysvev@service.com
No real information about the company behind these shops
Unbelievable deals and incredibly low prices, often advertised as "Up to 90% off!"
Template design and content lifted from other sites
No presence or misleading links on social media platforms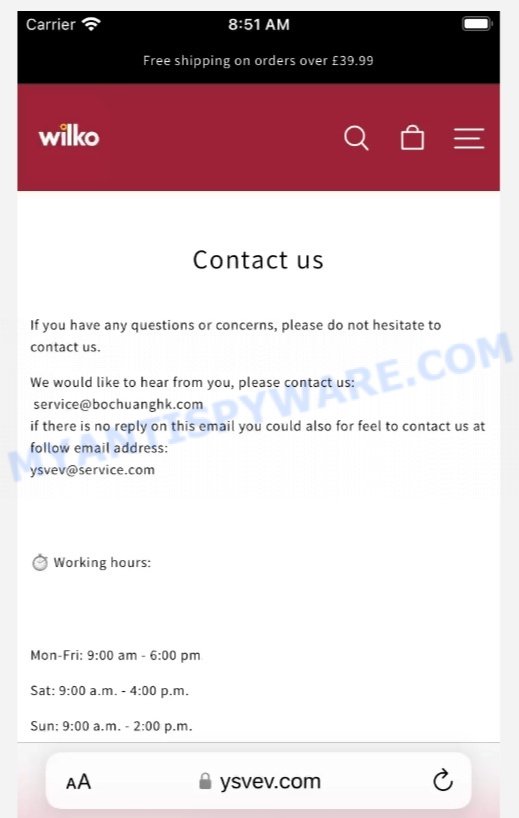 How the Wilko Discounts Scam Stores Work
Wilko Discounts Scam Stores operate primarily through Facebook, where they have over 230 advertisements luring people with phrases like "Limited Stock!", "Wilko big clearance sale, super value discount", and "Best choice and best discounts!". Once a buyer is enticed, they are directed to one of the recently created domains. The stores feature unbelievably low prices for various products, attempting to pressure buyers into making a purchase through urgency. After payment is made, either the product never arrives or a substandard item is delivered.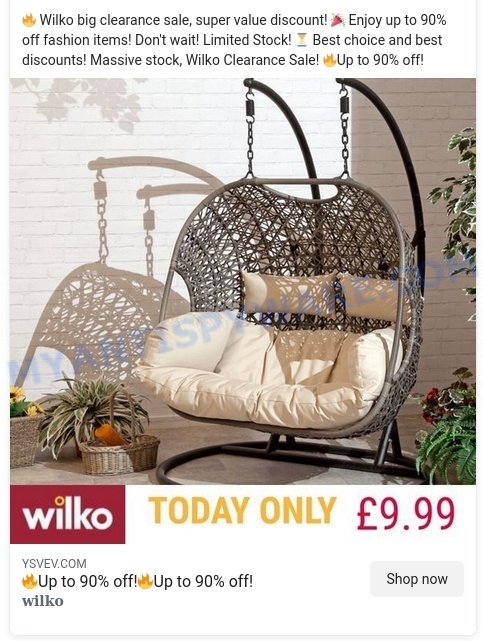 What to Do If You Become a Victim of Wilko Discounts Scam Stores
If you've fallen victim to this scam, take immediate action to mitigate the damage.
Contact your bank to report the fraudulent transaction and explore chargeback options.
Report the scam to the Federal Trade Commission at reportfraud.ftc.gov.
Leave a comment on this review to alert others.
Other Scam Online Shops to Avoid
As we continue to help protect our readers from online scams, it's important to be aware of other dubious online shops that employ similar tactics to Wilko Discounts Scam Stores.
Here are a few examples of the scam online shops: Luvasti.com Silver Jewellery Store Scam, Hokafacviponlinestore.com Review: Hoka Shoes Clearance Sale Scam, Tv-homeshopping.shop Bed Bath & Beyond Store Scam.
Summary Table for Wilko Discounts Scam Stores
| | |
| --- | --- |
| Name | Wilko Discounts Scam Stores |
| Associated websites | ysvev.com, wilkooffersshop.com, sdkohut.com, sclotime.com, etc |
| Type | Online Retail Scam |
| Damage | Financial Loss, Data Theft |
| Distribution | Primarily through Facebook |
| Tactics | False Advertising, Pressure Tactics |
| Prices | Deceptively Low |
| Contacts | service@bochuanghk.com, ysvev@service.com |
| Prevention Tips | Verify Before Purchase, Check Reviews |
| Reporting Info | FTC |
Conclusion
Wilko Discounts Scam Stores are designed to deceive and defraud unsuspecting buyers by leveraging the name and reputation of a legitimate company. The incredibly low prices and urgency-based advertising tactics are indicators of the scam's intention to rob you not just of your money but also of your personal data. Always verify the legitimacy of online shops before making a purchase.
FAQ About the Wilko Discounts Scam Stores
What are the red flags in the advertising of these scam stores?
The use of phrases like "Up to 90% off" and "Limited Stock!" are designed to create urgency and are often red flags.
Why are these scam stores primarily advertised on Facebook?
Facebook allows for easy targeting of a wide audience, making it a popular platform for scammers to operate on.
How do scammers benefit from these stores?
Scammers benefit financially through the payments made for the products, and they may also collect personal and financial data for future fraudulent activities.