Forustops.com appears to offer eye-catching Halloween decorations and costumes at extremely low prices. The store has recently been promoted on Facebook, luring buyers with the promise of a "Halloween Clearance Sale" at unbelievable rates. Read on to understand why this online shop is too spooky to be true.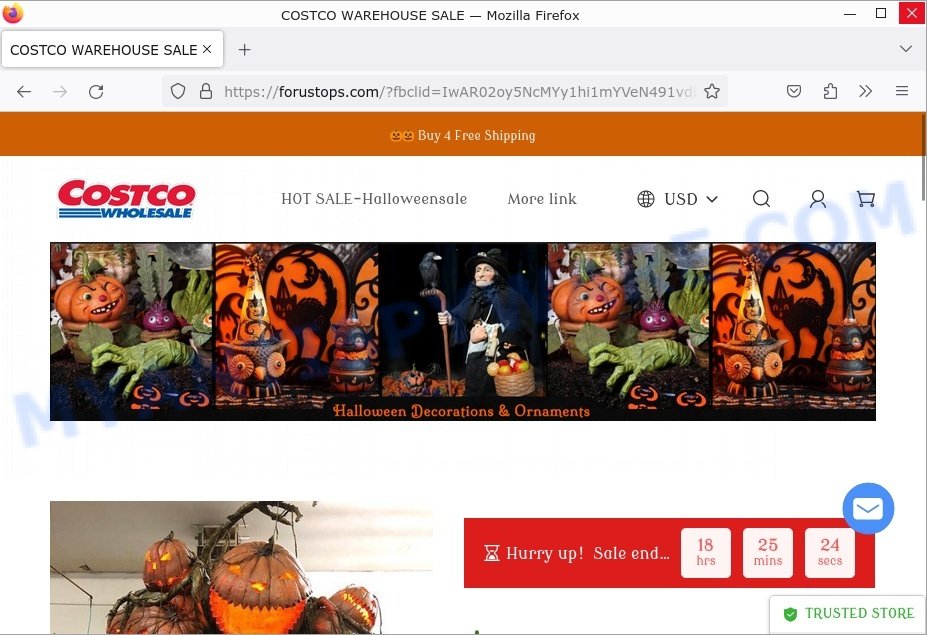 Quick Links
Is Forustops.com a Scam?
Forustops.com checks multiple boxes that classify it as a scam store:
Recently created domain
Lack of transparent contact information (email: info@forustops.com)
Company information associated with other scams (FADEL-BEATTY LIMITED)
Unbelievable deals and incredibly low prices
Template design and misleading content
Time counters on the product page
No social media presence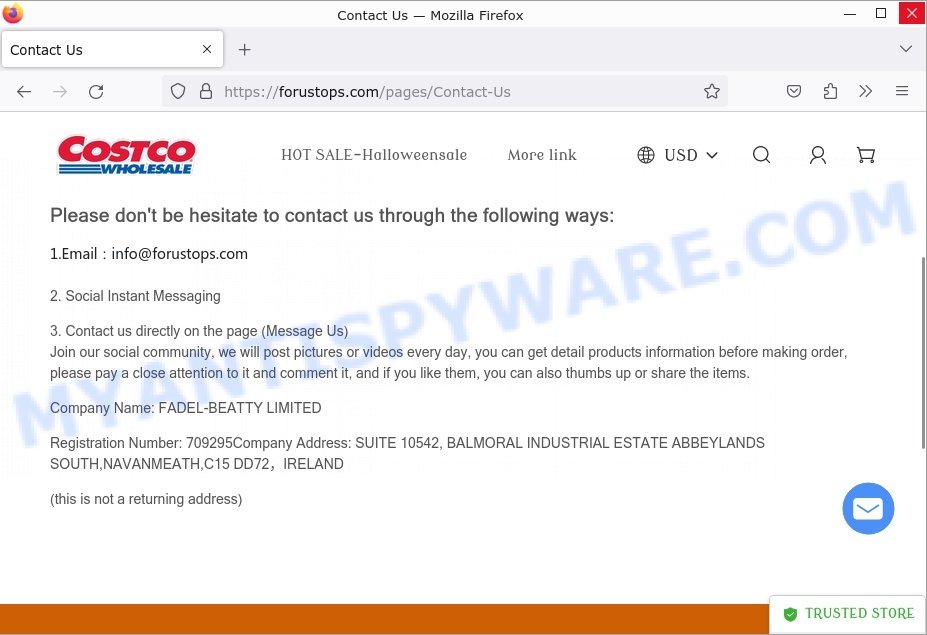 How the Forustops.com Scam Works
Forustops.com is aggressively promoted via Facebook ads that claim to offer Halloween merchandise at clearance prices. When customers click on these ads, they are redirected to a page that falsely suggests an affiliation with Costco Wholesale. The site includes a time counter to rush buyers into making hasty decisions. Products are sold at ridiculously low prices, often with no delivery or only partial delivery of inferior items.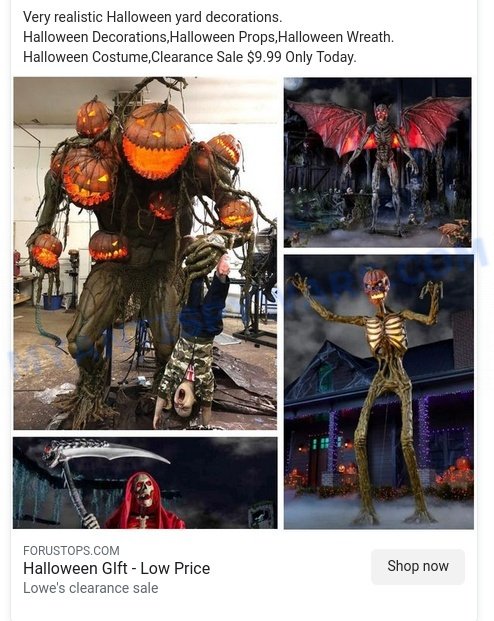 What to Do if You Become a Victim
If you've fallen prey to this scam, there are several actions you can take to mitigate your losses and prevent others from becoming victims.
Report the issue to your credit card company to inquire about a chargeback.
Report the scam to the FTC at reportfraud.ftc.gov.
Leave a comment on this review to help others recognize this scam.
Other Scam Online Shops to Avoid
As part of our ongoing effort to protect consumers from scams, it is important to be aware of similar deceptive online stores. They often share the same unscrupulous tactics as Forustops.com.
Here are a few examples of scam online shops: Wilkoukoutlet.com, Blackstonediscount.com, Luggagebigsale.com.
Summary Table for Forustops.com
| | |
| --- | --- |
| Name | Forustops.com |
| Type | Online Scam Store |
| Damage | Financial Loss, Data Theft |
| Distribution | Facebook Ads |
| Tactics | False Clearance Sales, Time Counter |
| Prices | Clearance Sale at $9.99 |
| Contacts | info@forustops.com, FADEL-BEATTY LIMITED |
| Prevention Tips | Verify Company Information, Be Skeptical of Unrealistic Offers |
| Reporting Info | FTC |
Conclusion
Forustops.com is a deceptive online store that exploits the anticipation of Halloween to trick consumers into fraudulent transactions. With misleading information and unbelievable prices, this scam site should be avoided at all costs.
FAQ About the Forustops.com Scam
What happens when I click on the Facebook ad for Forustops.com?
Upon clicking, you'll be redirected to a site that falsely claims to be associated with Costco Wholesale, featuring a countdown timer to rush your purchasing decision.
Is the company FADEL-BEATTY LIMITED associated with other scams?
Yes, FADEL-BEATTY LIMITED is linked to other known scam shops and should be approached with caution.
Why is the store using a time counter on product pages?
The time counter is used to create a sense of urgency, nudging customers into making hasty, ill-informed purchases.