Meruxcoin.com is a recently surfaced cryptocurrency scam website that has made waves on social media platforms like TikTok. It lures in unsuspecting individuals with tantalizing offers of free cryptocurrency. As with many online scams, a deeper dive reveals a plethora of red flags. Read on to uncover the details and protect yourself.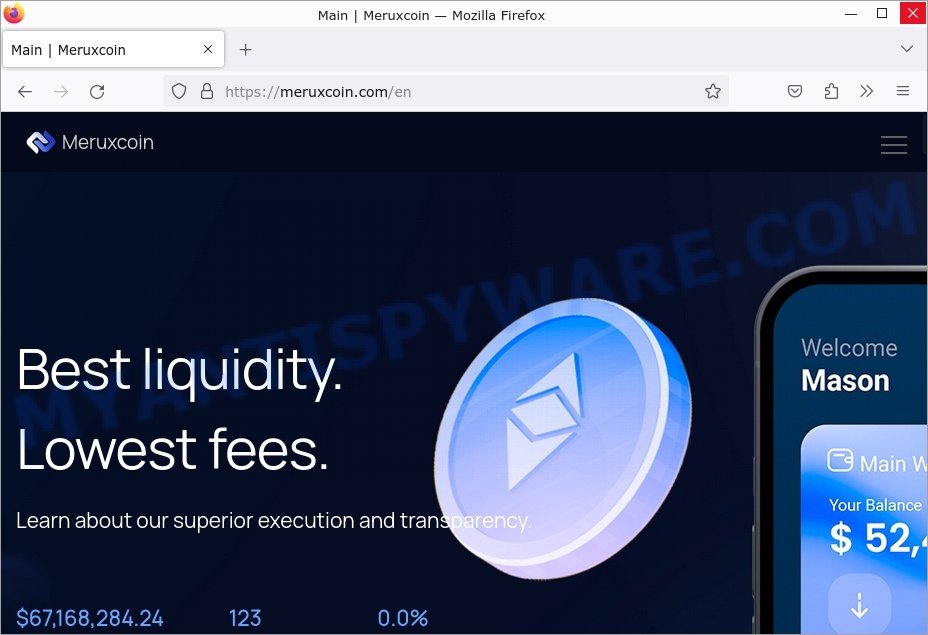 Quick links
Is Meruxcoin.com a Scam?
Meruxcoin.com exhibits multiple telltale signs of being a scam. Some of the warning signs include:
Recently created domain, indicating that it has not been around for long.
Absolute lack of contact information, making it impossible for users to reach out for support or queries.
Concealed WHOIS details, preventing users from identifying the individuals or company behind the website.
Too-good-to-be-true promises of free cryptocurrency giveaways.
No social media presence except for deceptive TikTok promotions.
A look into these details makes it quite clear that Meruxcoin.com is not to be trusted.
How the Meruxcoin.com Scam works
Meruxcoin.com operates by luring individuals through TikTok videos, promising easy access to large sums of Ethereum. One such example includes a video from a user named mskilonethbtc.crypto, claiming, "Go to Meruxcoin.com, Enter promo code 9gh5bsem, Easy loot 4.5 ETH". Unsuspecting users, hoping to get their share of the "free" crypto, might register on the platform, potentially exposing personal information and even financial details. The absence of any contact info ensures that victims have no recourse once they realize they've been duped.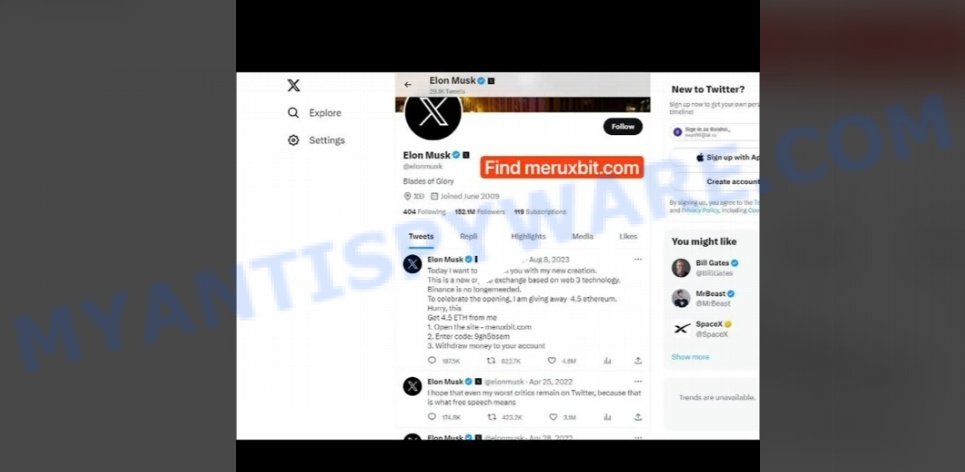 What to do if you become a victim of Meruxcoin.com
If you've fallen prey to Meruxcoin.com's schemes, take the following steps immediately:
Contact your bank or financial institution to report any unauthorized transactions.
Change passwords for any accounts you might have logged into while on the site.
Report the scam on reportfraud.ftc.gov.
Leave a comment below to share your experience and warn others.
Other Online Scams to Avoid
As part of our commitment to ensuring online safety for our readers, it's essential to be aware of other potential scams. Many online traps share similar deceitful tactics with Meruxcoin.com and prey on unsuspecting individuals.
Below, we've listed a few deceptive online Scams you should steer clear from: Bedbathbeyondclose.com BED BATH & BEYOND Store Scam, KingCrabStore.com King Crab Store Scam, and Outletshoks.com HOKA Summer Clearance Scam.
Summary table for Meruxcoin.com
| | |
| --- | --- |
| Name | Meruxcoin.com |
| Type | Fraudulent Crypto Exchange |
| Damage | Potential loss of funds and personal information |
| Distribution | Promoted on TikTok |
| Tactics | Free crypto giveaways |
| Fake claims | Claims of 4.5 ETH giveaways |
| Contacts | None provided |
| Prevention Tips | Always verify online platforms before engaging, avoid too-good-to-be-true offers. |
| Reporting Info | FTC Fraud Reporting |
Conclusion
Meruxcoin.com is a treacherous scam that seeks to exploit users' eagerness to gain cryptocurrencies. Using TikTok as its primary promotion medium, it entices users with unrealistic promises. It's essential to always exercise caution, especially when online offers seem too good to be true.
FAQ About the Meruxcoin.com Scam
What is Meruxcoin.com's primary method of scamming?
Meruxcoin.com lures victims through TikTok promotions, promising substantial free crypto rewards in return for registration or other actions on their site.
Why is it hard to track the people behind Meruxcoin.com?
The WHOIS details for the site are concealed, and there is no contact information provided, making it challenging to identify the individuals or organizations operating it.
How can one protect themselves from such scams?
It's crucial to conduct thorough research, be wary of offers that sound too good to be true, and never share personal or financial details without verifying the authenticity of a platform.