Warehouse Clearance Sale Scam is a widespread fraudulent operation that is currently running rampant on social media platforms like Facebook. You might have encountered ads for incredibly low-priced electric bikes, apparel, or branded shoes from websites such as acpttdem.com, yorksherwood.com, and efdau.com. Don't fall for it! Read this in-depth analysis to find out why you should steer clear of these enticing offers.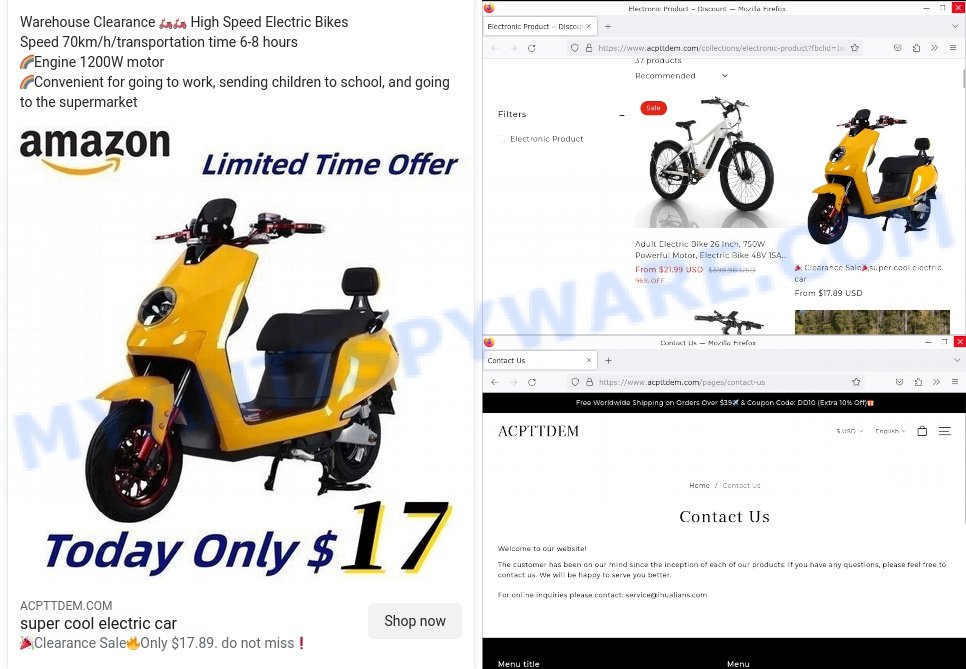 Quick Links
Is 'Warehouse Clearance Sale' a Scam?
Yes, the Warehouse Clearance Sale is a fraudulent scheme. Below are the common signs:
Recently created domains.
Lack of contact information: Contact emails like service@ihualians.com and service@vahhm.com but no other details.
Unbelievable deals: Prices as low as $17 for electric bikes.
Template design with content and images likely plagiarized.
Enticing slogans like "Clearance Sale", "Limited Time Offer", and "Free Shipping".
No social media presence aside from the scam ads.
Associated with a known scam company: SHENESS LTD.
How the Warehouse Clearance Sale Scam Works
Warehouse Clearance Sale Scam thrives on the FOMO (Fear of Missing Out) culture. It starts by luring you in with an irresistible Facebook ad for high-speed electric bikes, premium apparel, or branded shoes at unbelievable discounts. These ads frequently mention that the deals are for a "limited time only" to instill urgency.
Once you take the bait and proceed to their recently created websites like acpttdem.com or efdau.com, you'll realize there's no way to contact the company apart from a dubious email address. After you make a purchase, either nothing will be delivered, or you'll receive a product that is significantly sub-par to what was advertised.
What to Do If You Become a Victim
If you've fallen prey to this scam, take immediate action to mitigate your losses and prevent others from being scammed.
Contact your bank and try to cancel the transaction.
Report the scam to FTC.
Leave a comment on this review to help alert others.
Other Facebook Online Scams to Avoid
We are continually striving to protect our readers from falling prey to such scams. The Warehouse Clearance Sale Scam is just the tip of the iceberg. Many other online scams employ similar tactics to deceive buyers.
Here are a few examples of the online scams: $39.98 BBQ Grill Scam on Facebook, 'QVC reviews OMG': Unmasking Facebook's Shoe Ad Scams and Longhorn Steakhouse Facebook Scam.
Summary Table for Warehouse Clearance Sale Scam
| | |
| --- | --- |
| Name | Warehouse Clearance Sale Scam |
| Type | Online Scam |
| Damage | Financial loss, Identity Risk |
| Distribution | Facebook Ads |
| Scam stores | acpttdem.com, yorksherwood.com, efdau.com, etc |
| Tactics | Enticing Ads, Limited Time Offers |
| Prices | As low as $17 |
| Contacts | service@ihualians.com, service@vahhm.com |
| Prevention Tips | Research before purchasing, Check contact details |
| Reporting Info | FTC |
Conclusion
Warehouse Clearance Sale Scam is a dangerous scam operation primarily using Facebook to attract victims. The offers may seem enticing, but they are designed to take your money and, in some cases, steal your identity. Do your research before making any purchases online, especially when the deals seem too good to be true.
FAQ About the Warehouse Clearance Sale Scam
How can I identify a scam shop?

– Check the domain age, and watch out for recently created domains.

Why are these scams primarily on Facebook?

– Scammers exploit Facebook's massive user base and its advertising platform's reach to find potential victims.

What to do if I've already made a purchase?

– Contact your bank immediately to cancel the transaction and report the scam to the authorities.