After our previous investigations into the deceptive "Elon Musk Energy Saving Device Scam", "Esaver Watt Review", and "Stop Watt Elon Musk Scam", scam artists are back at it with new and equally misleading products.
Names like 'Watt Saver', 'Stopwatt Pro Power Saver', and 'PRO POWER SAVE' are now flooding social media ads and fake news websites, purportedly endorsed by Elon Musk and promising outrageous electricity savings of up to 90%. Despite the new branding and increasingly aggressive marketing strategies, the underlying fraud remains unchanged. As energy prices continue to climb, these scams are capitalizing on the public's desperation to cut costs, leading consumers down a false path of hope. Don't be fooled: new names, same scam.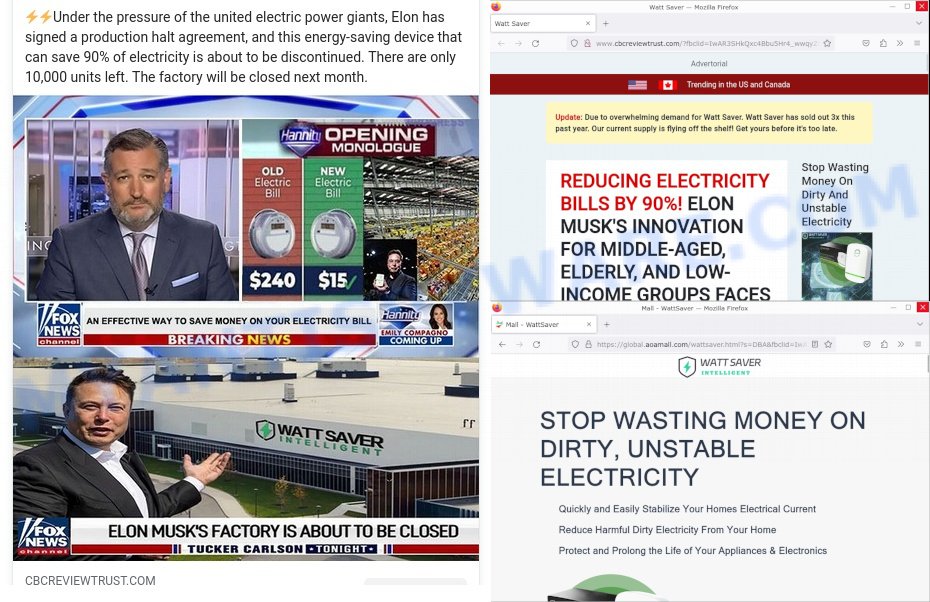 QUICK LINKS
A Look Back: The Earlier Versions of This Scam
Our previous reporting on this subject has exposed a series of scams that follow a similar modus operandi but under different names and narratives. We initially uncovered the fraudulent nature of these products in our first article, "Stop Watt Elon Musk Scam: Don't Get Fooled by False Advertising", where we detailed how this so-called energy-saving device promised up to 90% reductions in energy bills. Despite claiming Elon Musk's endorsement, there was absolutely no evidence to support these claims.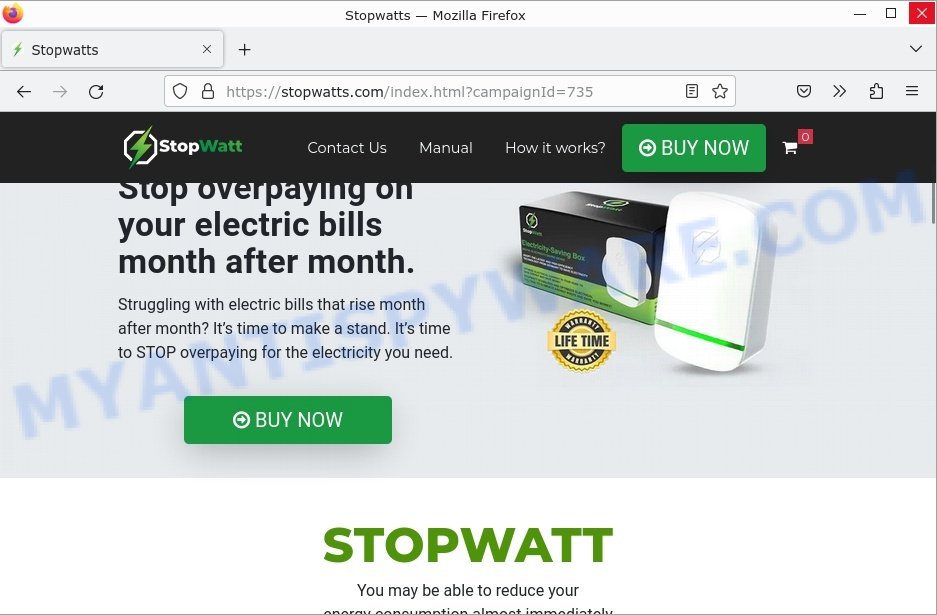 Next, we published "Esaver Watt Review: The Truth Behind the Scam and the Deceptive Elon Musk Ads", wherein we exposed yet another energy-saving device that not only fraudulently used Musk's name but also attempted to add credibility by falsely claiming that Leonardo DiCaprio endorsed it. The device, just like its predecessor, promised fantastical savings on electricity bills without any scientific backing.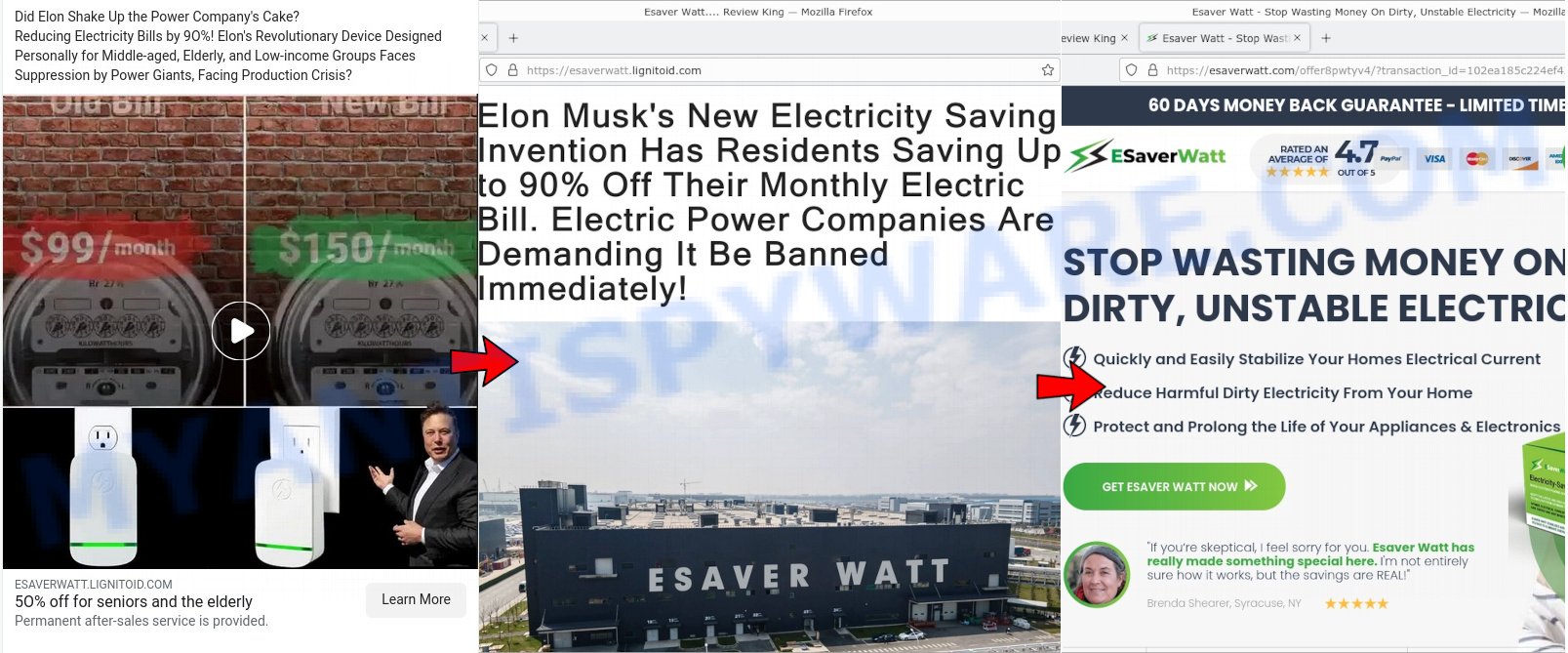 Our most comprehensive expose came in the form of "Elon Musk Energy Saving Device: The Scam You Need to Know About", where we analyzed the sophisticated web of deceit that underpins these scams. The article dug deeper into the tactics used, including fake testimonials and a strong sense of urgency to push sales.
In each iteration of these scams, the perpetrators have become increasingly adept at exploiting social proof, be it through fabricated endorsements or fake testimonials. They have also gotten increasingly bold, shifting from simple social media ads to fake websites and now, to entirely fabricated news outlets and legal narratives. These prior examinations serve as a vital backdrop to understanding the latest tactics deployed in this ongoing saga of deception and fraud.
What's New: Scammers Level Up Their Game
Just when we thought we'd seen the last of these disingenuous campaigns, a fresh wave of scams has emerged with even more audacious tactics. New names like 'Watt Saver', 'Stopwatt Pro Power Saver', and 'PRO POWER SAVE' are making rounds on social media, employing bolder and more intricate marketing strategies to ensnare the unsuspecting public.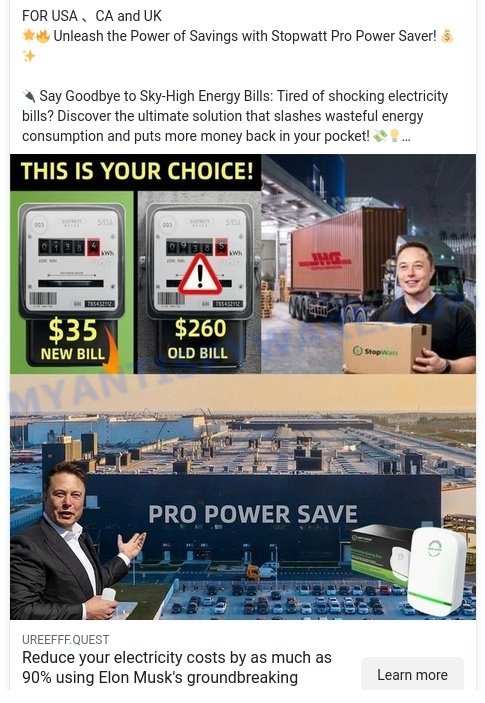 One of the most audacious moves in the latest scam wave is the incorporation of fabricated news outlets and social media ads that claim Elon Musk's factories are shutting down due to 'pressure from power giants'. These false narratives add a sense of urgency, suggesting that only a limited number of these life-changing devices are available before they are forcibly removed from the market.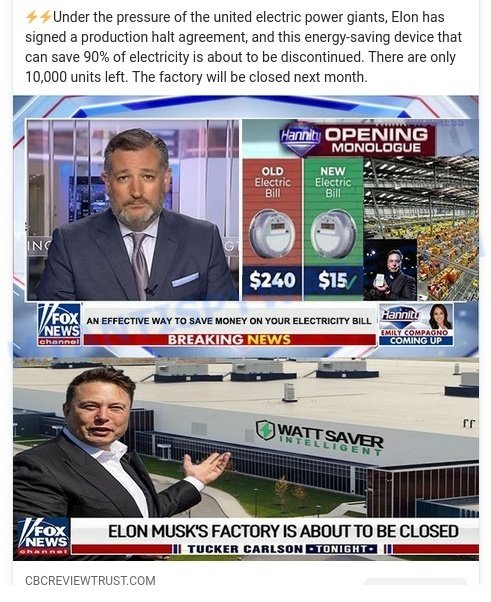 Additionally, the latest scams are not just leaning on Elon Musk's alleged endorsement; they're also weaving in false legal narratives. One such example claims that the "Department of Justice has dropped charges against Elon Musk, stating that his energy-saving device can be legally sold". This new angle gives the scam an unwarranted air of legitimacy and attempts to assure potential buyers that they are making a lawful and wise investment.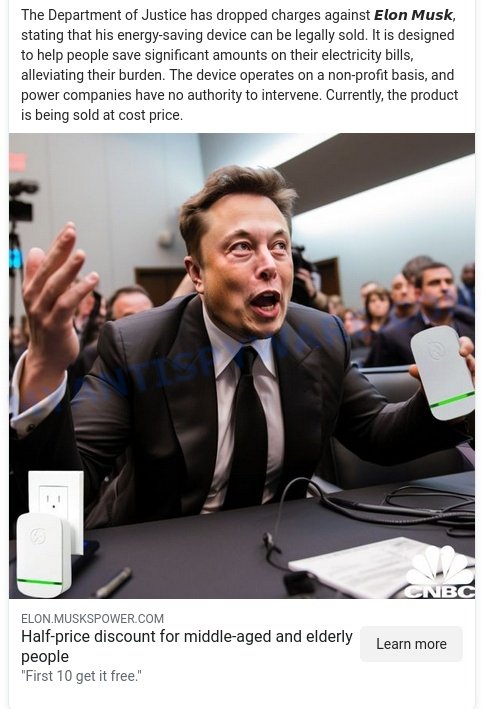 Furthermore, these scams now offer "half-price discounts for middle-aged and elderly people", targeting vulnerable demographics who may be more desperate to save on rising energy costs. And they're doing all of this while hiding behind newly created domain names with concealed WHOIS information, making it even more challenging to trace the culprits behind these operations.
In short, the scammers have evolved. They've learned from past exposures and are employing increasingly complex methods to deceive consumers, all while exploiting the trusted name of Elon Musk to give their fraudulent schemes an air of credibility.
Scams Like 'Elon Musk-Endorsed' Energy-Saving Devices
Energy-Saving Devices, discussed earlier, is just one example of a deceptive energy-saving promise that preys on consumers' desire to reduce their electricity bills. However, it is far from being the only scam of its kind. There are numerous other products out there that make bold claims about saving energy, but ultimately fail to deliver on their promises. From magical socks to mini air conditioners that claim to cool your entire room, these scams come in various forms, targeting unsuspecting individuals who are seeking ways to cut costs and live more sustainably.
Here are some examples of similar products to be aware of: HIGHERSOCKS Schorl Titanium Ion Socks, ChillWell Portable AC, and MileMax Fuel Saver.
Summary
| Feature | Earlier Versions of Scam | Latest Versions of Scam |
| --- | --- | --- |
| Names | Esaver Watt, Stop Watt | Watt Saver, Stopwatt Pro Power Saver, PRO POWER SAVE |
| Alleged Endorsements | Elon Musk, Leonardo DiCaprio | Elon Musk |
| Target Demographics | General Public | Middle-aged, Elderly |
| Marketing Channels | Social Media Ads, Fake Websites | Social Media Ads, Fake News Outlets, Fake Legal Narratives |
| Promised Savings | Up to 90% | Up to 90% |
| Tactics | Fake Testimonials, Sense of Urgency | Fabricated Legal Stories, Fake News Outlets, Sense of Urgency |
| Vulnerabilities Exploited | High Energy Costs, Eco-friendliness | High Energy Costs, Legal Concerns, Age-based Vulnerability |
| Domain Information | Varied | Recently created, WHOIS info hidden |
Conclusion
As we delve deeper into the increasingly sophisticated scams that leverage Elon Musk's name and reputation to hawk dubious energy-saving devices, it's clear that the core deception remains disturbingly constant: the exploitation of public trust and the universal desire to save money and be eco-friendly. From our earlier articles on 'Esaver Watt' and 'Stop Watt,' to the latest incarnations of 'Watt Saver,' 'Stopwatt Pro Power Saver,' and 'PRO POWER SAVE,' we see the same false promises of miraculous energy savings and the same manipulation of legal and social narratives to gain an air of credibility.
The scammers behind these schemes are continuously adapting their tactics, graduating from mere social media ads to fabricated news outlets and invented legal controversies. Despite the change in strategy and surface details, the end goal remains the same: to deceive consumers into parting with their money for a product that does not deliver on its promises. As always, we urge our readers to exercise caution and conduct thorough research before investing in products that seem too good to be true, especially those that claim endorsements from public figures without verified sources. Remember, a scam doesn't need to be entirely new to be effective; sometimes, a change in packaging is all it takes to fool even the vigilant among us.