Coffeemlk.com is an online shop that is currently advertising incredibly cheap electric bikes on Facebook. If you've come across their too-good-to-be-true deals, we urge you to read this full article to understand the risks involved.
Quick links
Is Coffeemlk.com a Scam?
Yes, Coffeemlk.com displays multiple signs of being a scam. Below are some common signs of scam stores and how they apply to this specific site:
Recently created domain
Lack of contact information, only an email address: service@babacats.com
No real information about the company behind the shop
Unbelievable deals: Electric bikes for $22
Enticing slogans: "Amazon Clearance Sale", "Today only", "Great battery electric bike for urban commuting! Only $22"
No social media presence
Customer Complaints and No Delivery
Whois contacts are hidden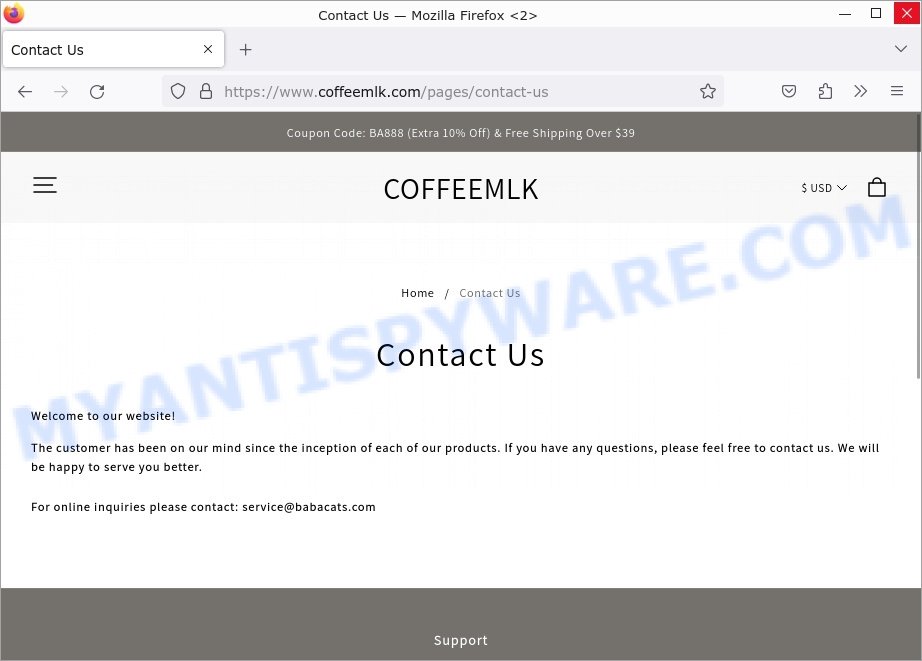 How the Coffeemlk.com Scam Works
Coffeemlk.com starts its operation by creating ads on Facebook, luring potential victims with the promise of high-quality electric bikes for just $22. The scam uses enticing slogans like "Amazon Clearance Sale" and "Today only" to rush consumers into making impulsive purchases. Once payment is made, the product is either never delivered, or a substandard item is sent instead. The only contact detail provided is a sketchy email address related to another suspicious entity, Babacats.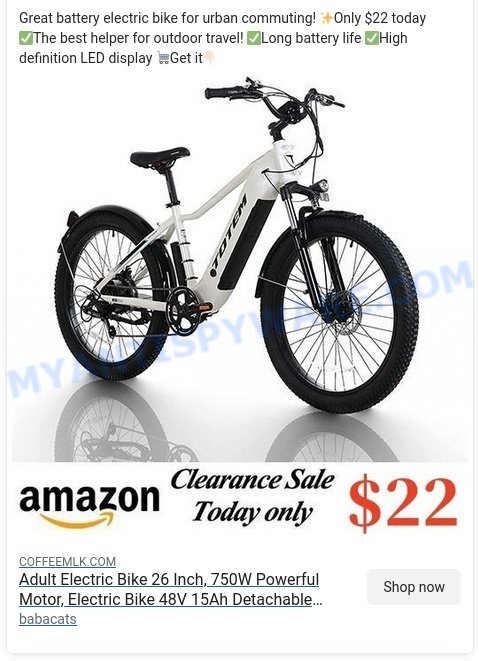 What to do if you become a victim of Coffeemlk.com
If you've fallen for this scam, there are steps you can take to minimize the damage and possibly retrieve your money.
Report the transaction to your bank immediately.
Change passwords for any accounts tied to the payment method you used.
File a complaint on reportfraud.ftc.gov.
Leave a comment on this review to help others avoid the same mistake.
Other Scam Online Shops to Avoid
As part of our ongoing effort to protect our readers from scams, we've identified several other suspicious online shops. These stores use similar tactics to Coffeemlk.com, luring in potential victims with unbelievable deals.
Here are a few examples of scam online shops: Luggagebigsale.com, Acstoreus.com, and Babyjoynewyork.com.
Summary table for Coffeemlk.com
| | |
| --- | --- |
| Name | Coffeemlk.com |
| Type | Scam Online Store |
| Damage | Financial loss, Personal Information Exposure |
| Distribution | Facebook Ads |
| Tactics | Fake promotions, Time-limited offers |
| Prices | $22 Electric Bikes |
| Contacts | service@babacats.com |
| Prevention Tips | Research before buying, Avoid impulse purchases |
| Reporting Info | reportfraud.ftc.gov |
Conclusion
Coffeemlk.com is a fraudulent online store that exploits Facebook advertising to lure victims into buying non-existent or substandard products. The only form of contact provided is a suspicious email, and their lack of transparency makes them highly untrustworthy. It is strongly advised to avoid this website and similar scams.
FAQ About the Coffeemlk.com Scam
What type of products does Coffeemlk.com claim to sell?
Coffeemlk.com claims to sell electric bikes, advertising them at an unrealistically low price of $22.
How does Coffeemlk.com lure in potential victims?
The scam mostly uses Facebook advertising, utilizing fake promotions and time-limited offers to entice users into making a purchase.
Is it possible to get my money back if I fall victim to this scam?
While it may be difficult, immediate action such as reporting the transaction to your bank and filing a complaint with the FTC increases your chances of retrieving your money.