Sneakersclearancefactoryus.com is posing as a Skechers clearance outlet, offering deals that are too good to be true. If you've come across this website and are considering making a purchase, you should read this article in full to understand the risks involved.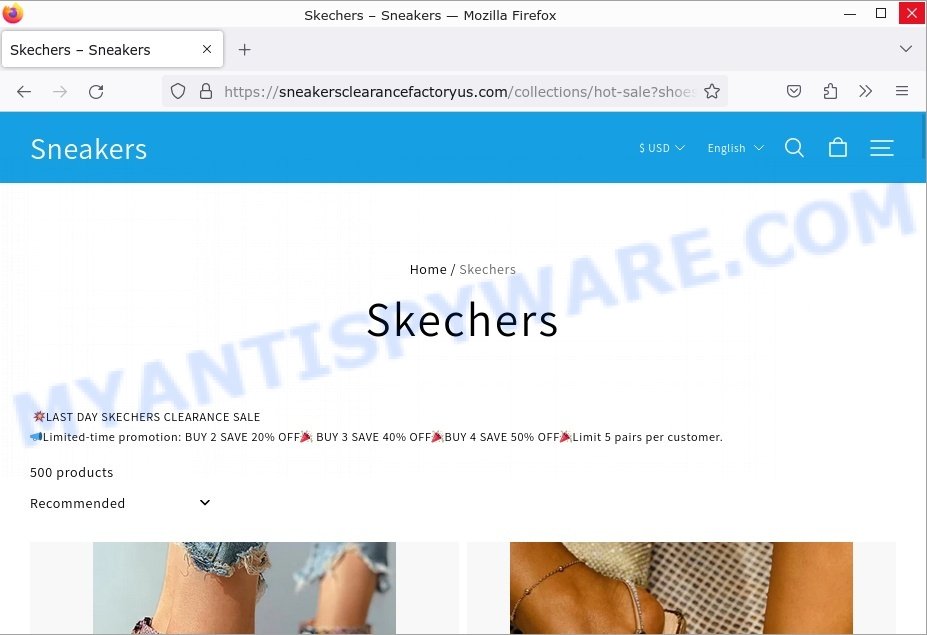 Quick Links
Is Sneakersclearancefactoryus.com a Scam?
To get straight to the point, Sneakersclearancefactoryus.com is a scam. Here's why:
Recently created domain
Lack of transparent contact information, only email address available: sily@peachcher.com
No genuine information about the company behind, which is registered as AIMARK LTD
Unbelievable deals and incredibly low prices such as "BUY 2 SAVE 20% OFF"
Template website design
Content taken from other sites
Enticing slogans such as "LAST DAY SKECHERS CLEARANCE SALE", "SKECHERS Clearance SALE 80%", "Skechers Store, a flash sale for a limited time, all styles only $20"
Time counter on product pages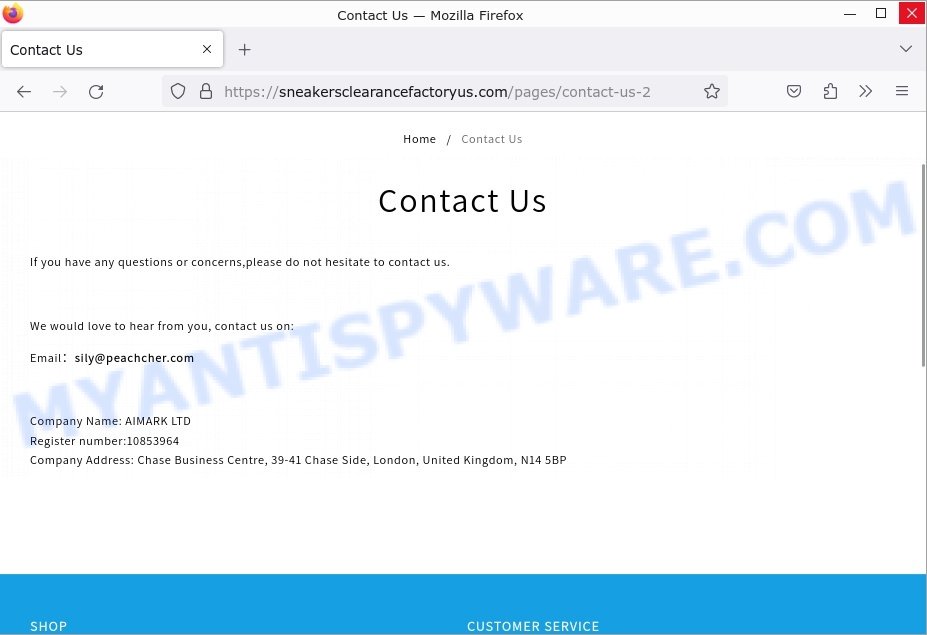 How the Sneakersclearancefactoryus.com Scam Works
Sneakersclearancefactoryus.com gains traction primarily through Facebook ads. The ads claim an 80% clearance sale due to the "expiration of the Skechers Store lease agreement", targeting Skechers fans. Users who click through and make purchases find themselves either receiving counterfeit goods or nothing at all.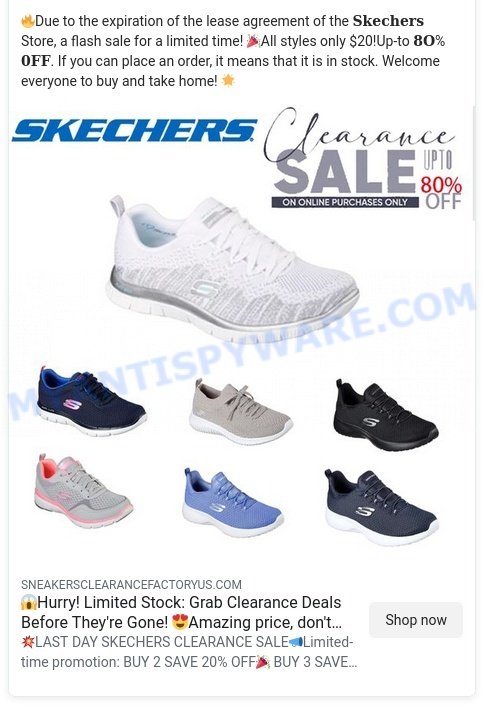 What to Do if You Become a Victim of Sneakersclearancefactoryus.com
If you have fallen victim to this scam, it's essential to act quickly.
Initiate a chargeback through your bank or credit card company.
Contact FTC to report the scam.
Leave a comment on this review to warn others.
Other Scam Online Shops to Avoid
To safeguard your personal and financial information, it's crucial to be aware of other scam online stores that operate similarly to Sneakersclearancefactoryus.com.
Here are a few examples of scam online shops: Hokafacviponlinestore.com, Heerful.com, Acstoreus.com.
Summary Table for Sneakersclearancefactoryus.com
| | |
| --- | --- |
| Name | Sneakersclearancefactoryus.com |
| Type | Scam Online Store |
| Damage | Financial Loss, Data Risk |
| Distribution | Facebook Ads |
| Tactics | Fake Promotions, Time Counters |
| Prices | Unbelievably Low |
| Contacts | Email: sily@peachcher.com, Company: AIMARK LTD |
| Prevention Tips | Verify Site, Avoid Too-Good-to-Be-True Deals |
| Reporting Info | FTC |
Conclusion
Sneakersclearancefactoryus.com is a scam online store that primarily targets Skechers fans through Facebook ads. It uses manipulative tactics like unrealistically low prices and fake clearance sales to lure unsuspecting customers. Always remember to verify the legitimacy of online stores before making any purchases.
FAQ About the Sneakersclearancefactoryus.com Scam
Why does Sneakersclearancefactoryus.com offer such low prices?
The site offers low prices to attract and deceive buyers into thinking they are getting a good deal, while in reality, it's a scam.
What happens after you make a purchase?
You may either receive counterfeit products or nothing at all, putting your personal and financial information at risk.
Is there any real company behind this scam?
The company listed is AIMARK LTD, but this is likely a cover, and there's no evidence of genuine business operations behind this name.