Ebitxs.com is a recently surfaced cryptocurrency scam website that has garnered attention for its misleading promotions of free crypto giveaways and promises of high returns on investments. This unregulated website has left multiple users frustrated and empty-handed. If you've stumbled upon or been tempted by their offers, you need to read on and understand why you should stay away.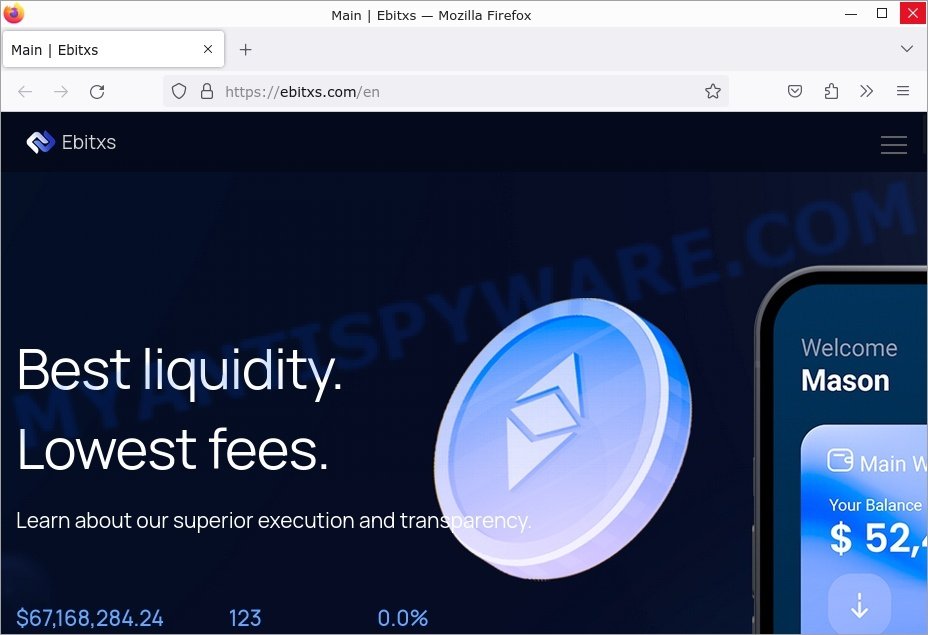 Quick links
Is Ebitxs.com a Scam?
Absolutely, here are the clear signs:
Recently created domain
Lack of contact information – in fact, no contacts are provided at all
Hidden WHOIS contacts
No real info about the company behind the platform
Duplicate content
The site is unregulated, and no trading certifications or licenses are visible
Enticing offers, such as "free bitcoin with promo codes"
CRYPTO SCAM NETWORK affiliation
No social media presence or links to any verified social media platforms
How the Ebitxs.com Scam works
Ebitxs.com is a crafty crypto scam lurking on the popular platform, TikTok. Advertised as a free bitcoin giveaway, it tempts users to sign up and invest. Once registered, users are either unable to withdraw their bitcoins or are asked to deposit more, often under the pretext of 'verification' or 'unlocking' their account. Despite showing the promised Bitcoin in user accounts, the money remains inaccessible. Furthermore, the site uses duplicate content, lacks company information, and hides its owners – all signs pointing to a scam.
What to do if you become a victim of Ebitxs.com
If you've fallen victim to this scam:
Report the site to your local law enforcement and online fraud agencies.
Contact your bank or financial institution immediately to discuss any possible remedies or protections they might offer.
Stay active in online communities to warn others of this scam.
Consider seeking legal advice if a significant amount was lost.
Other Online Scams to Avoid
In our commitment to protect our readers from scams, it's essential to highlight other potentially fraudulent platforms that share characteristics with Ebitxs.com. Always be cautious when investing online, and look out for warning signs. Here are a few examples of the scam online shops: Ahodenare.com Bookstore Scam, Acstoreus.com DICK'S SPORTING GOODS Store Scam, Axerxm.com Bed Bath & Beyond Store Scam.
Summary table for Ebitxs.com
| | |
| --- | --- |
| Name | Ebitxs.com |
| Type | Cryptocurrency Scam |
| Damage | Potential loss of investment |
| Distribution | Online and Social Media |
| Tactics | Free crypto giveaways, high ROI promises |
| Contacts | None provided on the site |
| Prevention Tips | Always research before investing, check reviews, and avoid too-good-to-be-true offers |
| Reporting Info | Local law enforcement, online fraud agencies |
Conclusion
Ebitxs.com is a treacherous scam that's been catching unsuspecting cryptocurrency enthusiasts off guard. With a seemingly lucrative offer, it lures individuals only to trap their investments without any withdrawal option. Always approach such platforms with caution and do your research before making any financial commitments.
FAQ About the Ebitxs.com Scam
Why are cryptocurrency scams becoming more prevalent?
The rise in cryptocurrency popularity and its decentralized nature makes it a lucrative target for scammers. Without central regulations, it becomes easier for such entities to operate without much oversight.
How can I verify the legitimacy of a cryptocurrency platform?
Researching reviews, checking the domain's age, seeking information on cryptocurrency forums, and consulting with knowledgeable individuals can help verify a platform's authenticity.
What other precautions can I take when investing online?
Always use secure connections, ensure platforms are HTTPS secured, set strong, unique passwords, and never share sensitive information unnecessarily.