Disturbes.online is masquerading as a Nike Clearance Store and luring shoppers with unbelievable deals. Promoted heavily on Facebook, this scam website claims to offer genuine Nike products at up to 70% off. If you've come across this site and are wondering about its legitimacy, continue reading to find out why you should steer clear.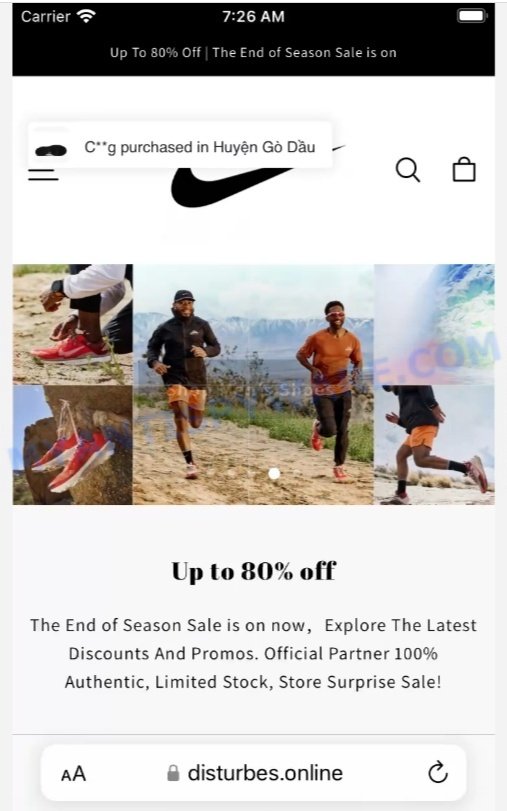 Quick links
Is Disturbes.online a Scam?
Based on our investigation, there are several red flags that point to Disturbes.online being a scam. Here are some common signs:
Recently created domain
Lack of contact information except for an email address: customerservice@profitablees.online
No real info about the company behind; linked to HINOVATION LIMITED, known for other scam shops
Unbelievable deals and incredibly low prices ($35.98 for Nike products)
Template design and misleading advertisements
Time counter on the product page
No social media presence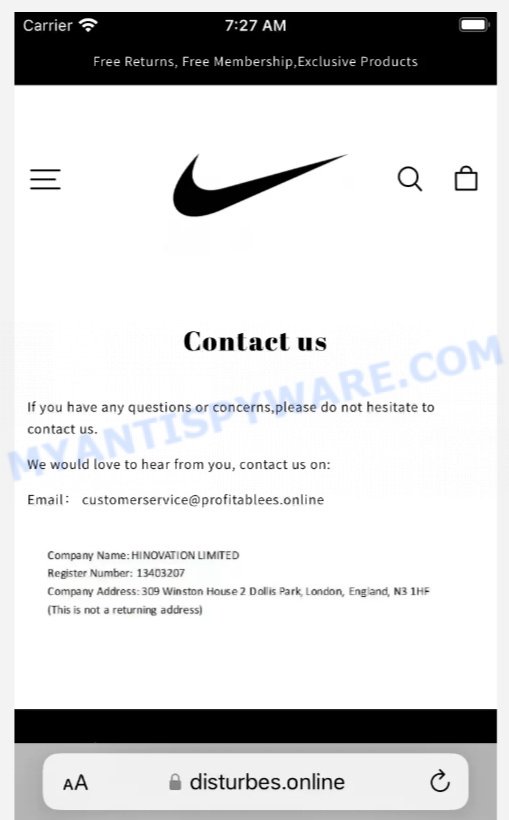 How the Disturbes.online Scam Works
Disturbes.online often starts by promoting heavily discounted Nike products on Facebook through sponsored posts. Unsuspecting shoppers, enticed by the "massive clearance sale" and "70% off" claims, are led to believe that they're getting a fantastic deal. However, upon making a purchase, either the product is never delivered, or an inferior counterfeit item arrives. The domain is recently created, and the Whois contacts are hidden, making it difficult to hold anyone accountable.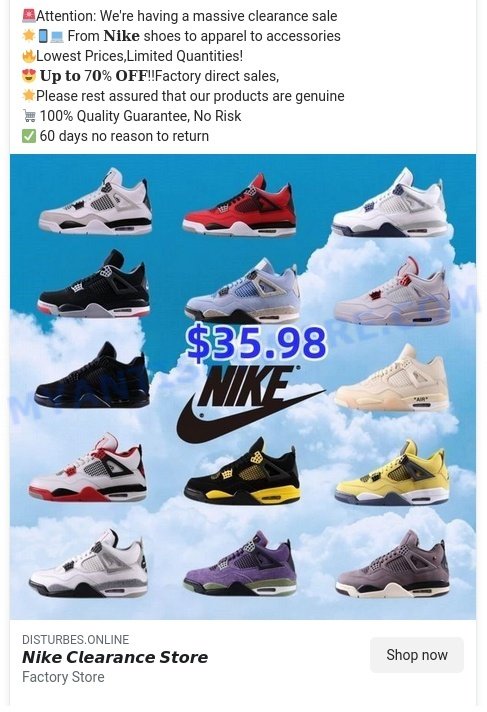 What to Do if You Become a Victim
If you've fallen victim to the Disturbes.online scam, there are several steps you can take to mitigate the damage:
Contact your bank or credit card provider to report the fraudulent transaction
File a report with the Federal Trade Commission
Leave a comment on this review to help warn others
Other Scam Online Shops to Avoid
We are continually striving to protect our readers from scams like Disturbes.online by highlighting other dubious online shops. These shops often share deceptive practices and should be avoided to protect your financial and personal information.
Here are a few examples of other scam online shops: Heerful.com, Babyjoynewyork.com, and Outletshoks.com.
Summary Table for Disturbes.online
| | |
| --- | --- |
| Name | Disturbes.online |
| Type | Fake Online Shop |
| Damage | Financial Loss, Data Compromise |
| Distribution | Facebook Ads |
| Tactics | False Advertising, Deceptive Pricing |
| Prices | As low as $35.98 |
| Contacts | Email: customerservice@profitablees.online, Company: HINOVATION LIMITED |
| Prevention Tips | Always check reviews, Be skeptical of unbelievably low prices |
| Reporting Info | Federal Trade Commission |
Conclusion
Disturbes.online is a deceptive online shop posing as a Nike Clearance Store. With a recently created domain, sketchy contact information, and unbelievably low prices, it's evident that the site is designed to scam unsuspecting shoppers. Be cautious and always research before making a purchase online.
FAQ About the Disturbes.online Scam
How do scammers promote Disturbes.online?
They primarily use Facebook ads to attract potential victims, claiming to offer massive discounts on Nike products.
What can happen if I buy from Disturbes.online?
You risk losing money and compromising your personal and financial information.
Is the company behind Disturbes.online known for other scams?
Yes, the associated company, HINOVATION LIMITED, is linked to other scam shops.