HokaOnUsa is an online store that mimics the official HOKA brand and targets unsuspecting shoppers with fraudulent promotions. Advertised mainly on Facebook, this scam site offers unbelievable deals that are too good to be true. Keep reading to uncover the tactics employed by this sham store and learn how to protect yourself.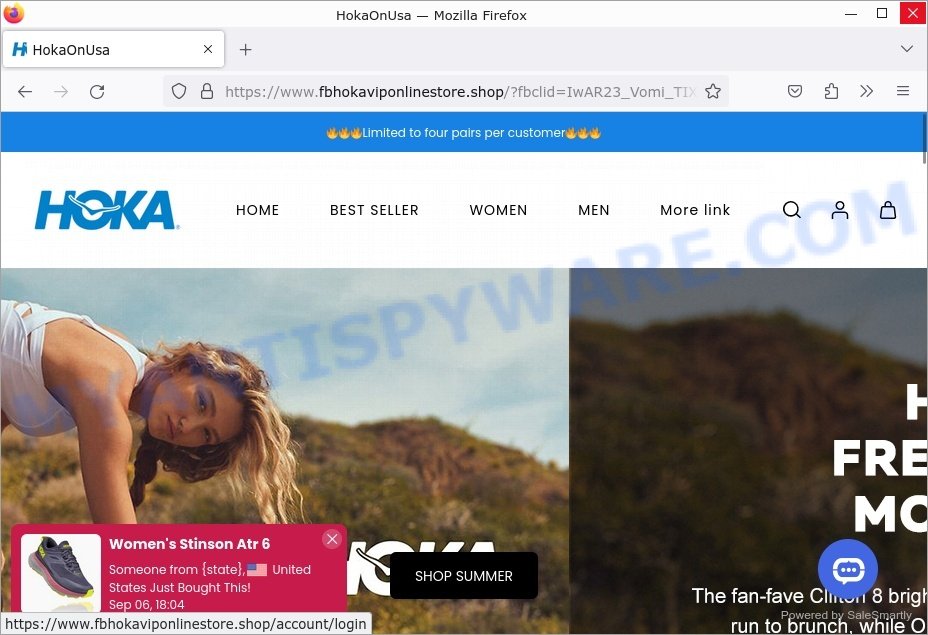 Quick links
Is HokaOnUsa a Scam?
Based on our research, HokaOnUsa exhibits several red flags commonly associated with scam online stores. Here's a rundown:
Recently created domain.
Lack of contact information, only available via email at support@onlineemailhoka.com, which is also linked to other scam stores.
Hidden Whois contacts.
Unbelievable deals and incredibly low prices, with promotions claiming up to 80% off.
Advertised primarily on Facebook, but lacks a legitimate social media presence.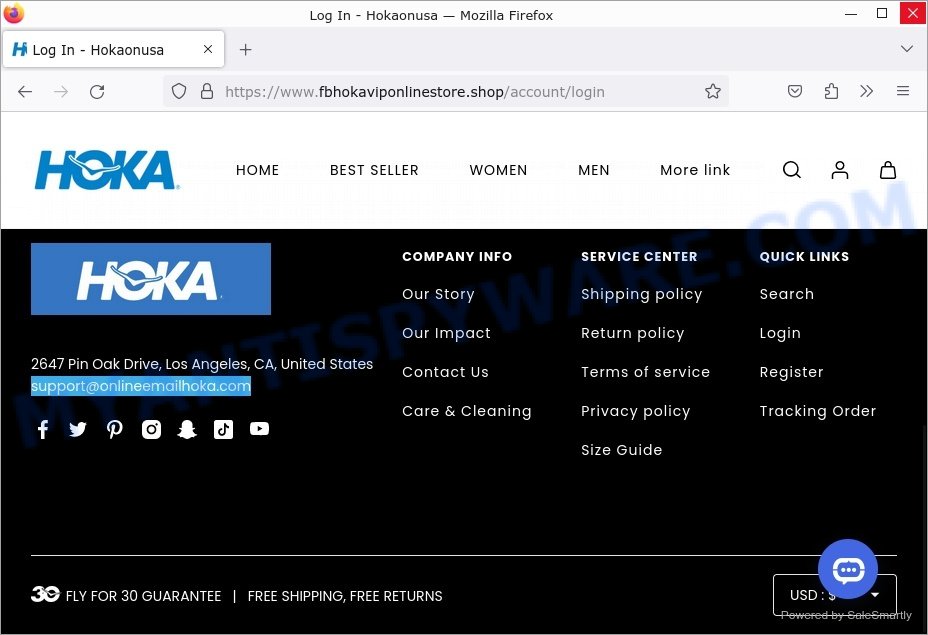 How the HokaOnUsa Scam Works
HokaOnUsa is an elaborate scam that begins by mimicking the official HOKA brand. The website employs deceptive Facebook advertisements that promise discounts as high as 80% to lure shoppers. Once on the site, visitors encounter a range of HOKA-branded products offered at deeply discounted prices. Unfortunately, those who fall for the scam are left with no product, compromised financial information, or counterfeit items.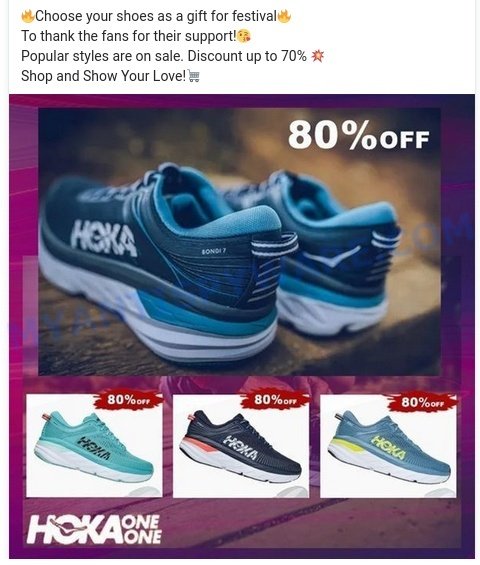 What to do if you become a victim of HokaOnUsa
If you've been deceived by HokaOnUsa, there are immediate steps you can take to mitigate the damage and possibly recover your losses.
Contact your bank to flag the transaction and seek advice.
Report the scam to the Federal Trade Commission (FTC) at reportfraud.ftc.gov.
Leave a comment on this review to help alert others.
Other Scam Online Shops to Avoid
In an effort to safeguard our readers from such scams, we've compiled a list of other deceptive online shops. These shops employ tactics similar to those used by HokaOnUsa.
Here are a few examples of scam online shops: Wilkoukoutlet.com, Blackstonediscount.com, and Bedstockclearance.com.
Summary Table for HokaOnUsa
| | |
| --- | --- |
| Name | HokaOnUsa |
| Type | Online Scam Shop |
| Damage | Financial Loss, Identity Theft |
| Distribution | Facebook Ads |
| Tactics | Fake Promotions, Counterfeit Products |
| Contacts | support@onlineemailhoka.com |
| Prevention Tips | Verify before purchase, Use secure payment methods |
| Reporting Info | FTC |
Conclusion
HokaOnUsa is a fraudulent online shop that exploits the HOKA brand to scam innocent buyers. Not only does it offer unrealistically high discounts, but it also uses Facebook as its primary advertising channel to reach a wide audience. Avoid this and similar scams to protect your financial and personal information.
FAQ About the HokaOnUsa Scam
Why did Facebook allow the HokaOnUsa ads?
Facebook's ad vetting process isn't foolproof, and scammers often find ways to bypass it. This is why it's crucial to do your own due diligence before making any online purchases.
How can I verify if an online store is legitimate?
You can look for verified customer reviews, scrutinize contact information, and check for secure payment options.
Can I get my money back if I've been scammed?
The possibility of recovering your money is slim but not impossible. Reporting the scam to your bank and the FTC is the first step in the right direction.