Piletie.com is a so-called "QVC Chic Boutique" that has been aggressively promoted on Facebook. It offers enticing deals on UGG footwear with the promise of huge discounts. Before you fall for the too-good-to-be-true offers, we strongly recommend reading this comprehensive review to understand the dangers associated with this online store.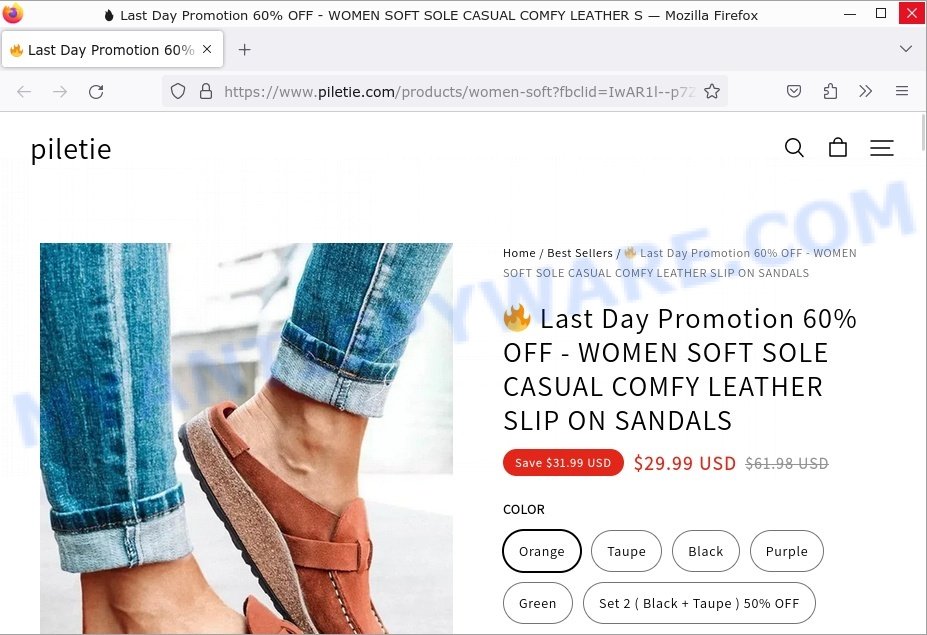 Quick Links
Is Piletie.com a Scam?
Piletie.com is without a doubt a scam store. Here are some glaring signs:
Recently created domain
Lack of transparent contact information (only an email address, piletie@hotmail.com)
Associated with known scam company Meledo Company Limited
Unbelievably low prices and enticing slogans ("Last Day Promotion 60% OFF")
Template design and copied content
No social media presence other than the scam Facebook ads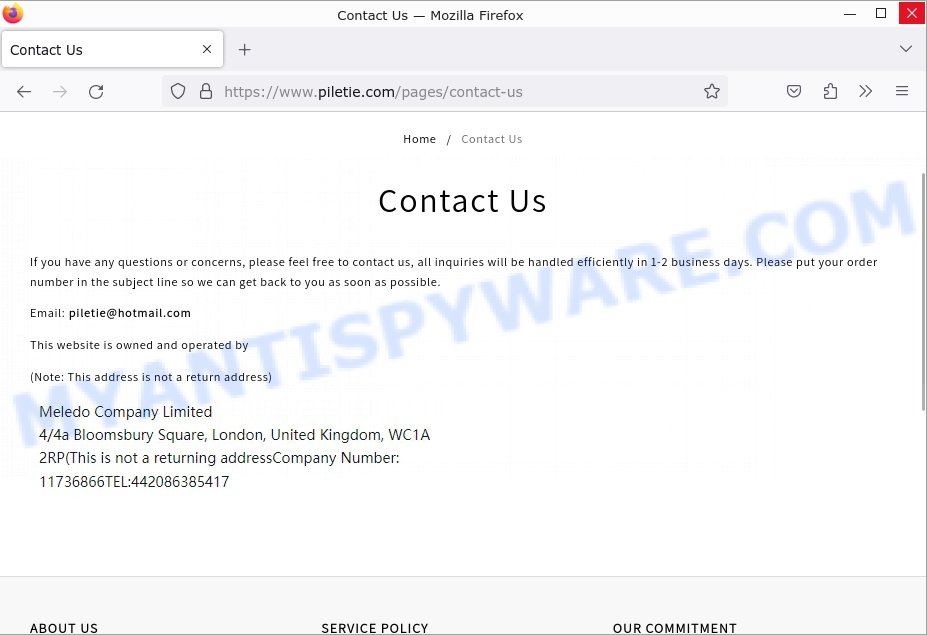 How the Piletie.com Scam Works
Piletie.com is promoted through Facebook under the pretense of being a "QVC Chic Boutique". The site offers 60% off on "Women Soft Sole Casual Comfy Leather Slip On Sandals", claiming they are UGG brand. Once the unsuspecting consumer makes a purchase, the site either delivers counterfeit products or nothing at all. The company behind the site, Meledo Company Limited, is linked to other scam shops, further raising suspicions. The domain was also recently created, and the Whois contact details are hidden, indicating a lack of transparency.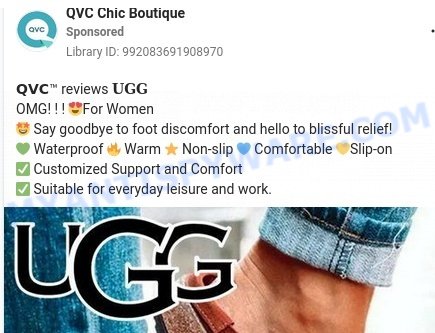 What to Do if You Become a Victim of Piletie.com
If you've fallen prey to this scam, take immediate action to protect yourself. Here are some steps you can take:
Contact your bank to report the fraudulent transaction
Change your online banking passwords
Report the scam to the Federal Trade Commission at reportfraud.ftc.gov
Leave a comment on this review to help warn others
Other Scam Online Shops to Avoid
As part of our ongoing effort to protect our readers from potential scams, we're highlighting other deceptive online shops that share similar tactics with Piletie.com. It's crucial to stay vigilant when shopping online.
Here are a few examples of the scam online shops: Wilkoukoutlet.com, Luggagebigsale.com, and Heerful.com.
Summary Table for Piletie.com
| | |
| --- | --- |
| Name | Piletie.com |
| Type | Scam Shop |
| Damage | Financial Loss, Data Compromise |
| Distribution | Facebook Ads |
| Tactics | Deceptive Advertising, Fake Discounts |
| Prices | 60% OFF on on UGG Women's Footwear |
| Contacts | piletie@hotmail.com, Meledo Company Limited |
| Prevention Tips | Always verify the legitimacy of online stores |
| Reporting Info | FTC |
Conclusion
Piletie.com is a deceptive online store that lures unsuspecting buyers with the promise of massive discounts on UGG women's footwear. The tactics employed by this website are not only unethical but can lead to significant financial loss and data compromise. Steer clear of this scam shop and always exercise caution when shopping online.
FAQ About the Piletie.com Scam
What is the real company behind Piletie.com?
The site claims to be associated with Meledo Company Limited, a company that has been linked to other scams.
How do they make their advertisements look so convincing?
The site utilizes well-crafted Facebook ads and possibly stolen images and descriptions from legitimate sites to appear authentic.
Is there any way to get my money back if I've been scammed?
You can report the fraudulent transaction to your bank and they may be able to help you initiate a chargeback.
Is Piletie.com associated with real UGG products?
No, Piletie.com falsely advertises products as UGG to lure customers, but they are not genuine.