You've probably seen it while scrolling through YouTube, TikTok, or Pinterest—enticing offers promising a whopping $750 reward. Just click on a link from Clickrwrds.com, complete some tasks or deals, and the money will seemingly flow into your account. But is it all too good to be true?
In this article, we dig deep into the web of promotions surrounding Clickrwrds.com, a site that has increasingly caught the attention of social media users for its grandiose promises. We'll explore its legitimacy, dissect the deals it offers, and look into reviews and security flags that bring its credibility into question. If you've ever been tempted to click on one of these '$750 Reward' promotions, this review is a must-read for you.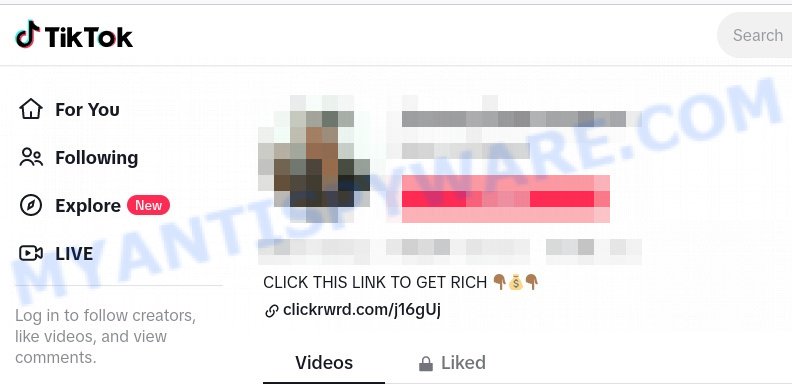 Quick Links:
$750 Reward Promotions and Clickrwrds.com Redirections
Clickrwrds.com has become a buzzword on social media platforms like YouTube, TikTok, and Pinterest, promising a whopping $750 reward to users willing to complete a series of tasks or deals. These promotions often appear as clickable links in video descriptions, comments, or social media posts, touting grand prizes and redirecting users to various websites other than Clickrwrds.com itself. In what appears to be a chain of redirection, clicking on a Clickrwrds.com link can lead you through sites like spnccrzone.com before landing on a final destination, often either rewardsgiantusa.com, surveysandpromoonline.com, or uplevelrewardsgiant.com.
A Clickrwrds.com Promotion on YouTube:
"GETS $750 ⬇️ https://clickrwrds.com/A954ZCTN3Q"
A Clickrwrds.com Promotion on TikTok:
"https://clickrwrd.com/Mq8vhWoiy Coinbase $750 giftcard "
A Clickrwrds.com Promotion on Pinterest:
"GETS $750 ⬇️https://clickrwrds.com/A954ZCTN3Q"
A Clickrwrds.com Promotion on Solo.to:
"Grab your Spotify Premium 👇 And more 🤭 (/spotifyclaims)
1) choose the desired gift 2) participate in quick surveys & games 3) redeem code once completed! SPOTIFY PREMIUM. clickrwrd.com/2Lvnil1CB"
The promotions don't stop at monetary rewards. Some also offer perks like Spotify Premium memberships, which are activated upon the completion of certain requirements like quick surveys and games.
Despite the allure of these offers, security is a significant concern. Clickrwrds.com, as well as its final destination websites like rewardsgiantusa.com, have been flagged by VirusTotal for phishing and malicious content. This raises serious questions about the safety of your data and the authenticity of the promised rewards.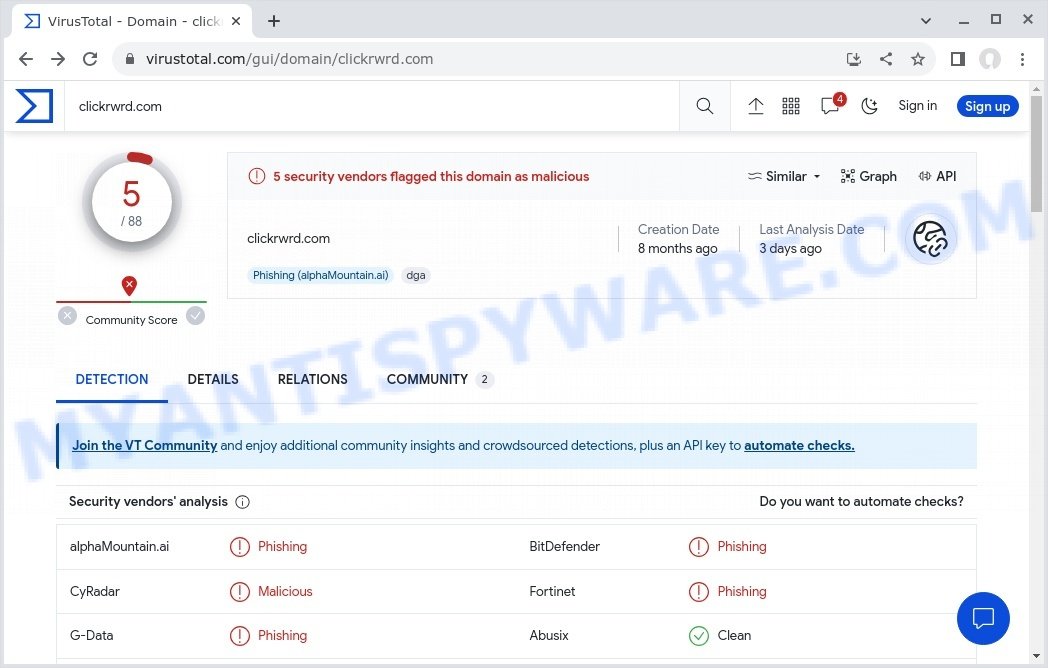 Moreover, there is a striking similarity between Clickrwrds.com and September Cash 2023, which also entices users with the promise of quick money and then redirects to questionable sites like rewardsgiantusa.com. This pattern of operation erodes the credibility of Clickrwrds.com and its associated sites even further.
In essence, Clickrwrds.com serves as a façade to draw people into other sites where they are encouraged to complete deals or tasks—often with the need for personal information or even financial commitments. Given the security flags and the roundabout way the site operates, caution is advised when encountering any promotion associated with Clickrwrds.com.
Customer Reviews on Trustpilot and BBB
When a website promises a tempting $750 reward, the instinctive reaction for many is to dive right in. However, it's crucial to step back and consider the experiences of those who have already taken the plunge. Customer reviews offer a window into the reality behind such tantalizing offers, serving as a vital tool for assessing the credibility of websites like Clickrwrds.com and its associated platforms, such as rewardsgiantusa.com.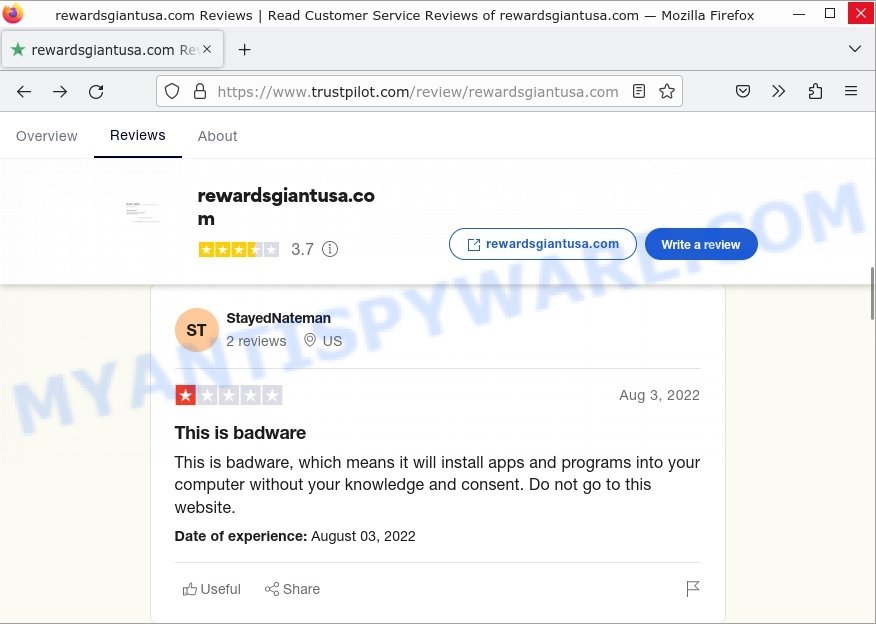 On Trustpilot, rewardsgiantusa.com has an average rating of 3.7 out of 5, which may initially seem decent but is based on a meager sample of three reviews. These reviews present a stark contrast: one is an empty five-star rating, while another warns users about the site being "badware," capable of installing unwanted apps and programs without user consent.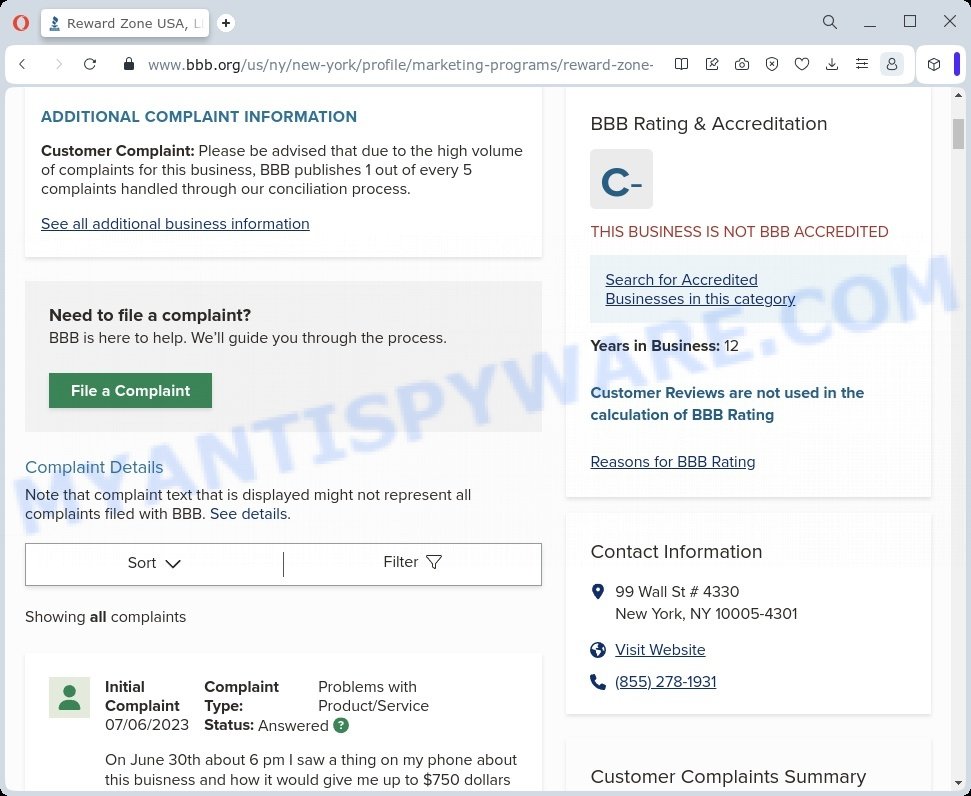 Over at the Better Business Bureau (BBB), the story isn't much better. The site has been slapped with a "C-" rating, and the reviews reveal a pattern of customer complaints focused on the non-receipt of promised rewards. For example, one review narrates the experience of completing multiple "PAID deals" but not receiving any credit. Subsequent communications with customer service only lead to confusing and often frustrating circles, making the path to claiming rewards a cumbersome and questionable process.
In essence, these customer reviews send a clear message: proceed with caution. When an offer seems too good to be true, especially in the realm of hefty $750 rewards, it's imperative to research and weigh the experiences of others who have navigated the same path. Given the existing security concerns and mixed customer reviews, treating any promotion associated with Clickrwrds.com with a healthy dose of skepticism is strongly advised.
$750 Reward Program – How Does It Actually Work?
Once Clickrwrds.com redirects you to affiliated websites like rewardsgiantusa.com, surveysandpromoonline.com and uplevelrewardsgiant.com the first step involves providing your email address and answering questions about your shopping habits and intended use for the supposed $750 reward. This initiates a user experience that seems deceptively simple but is riddled with caveats.
After this initial registration, you are presented with a slew of optional offers and surveys. Despite their prominence, these do not count toward earning your promised rewards. Instead, you're required to complete "20 deals" from a range of categories to unlock the $750. Some of these deals are free, but others may necessitate a purchase, making the path to the reward a potentially costly endeavor.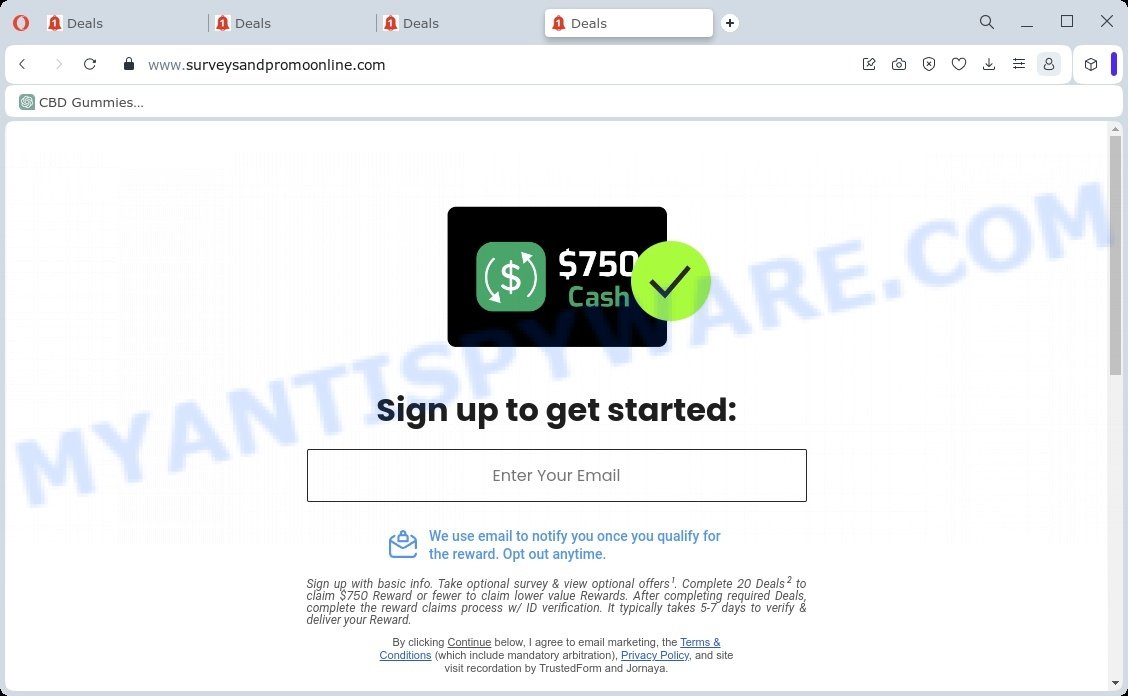 It's also worth mentioning that the reward claims process isn't instant. Users must go through an ID verification step, and it typically takes 5-7 days for the reward to be verified and delivered. This time frame offers ample opportunity for any number of disruptions or disqualifications based on the numerous terms and conditions set forth by the site.
Additionally, by agreeing to the site's terms, you are also consenting to email marketing campaigns, mandatory arbitration, and visit recordation by third parties like TrustedForm and Jornaya. This could mean an influx of marketing emails and reduced privacy.
In summary, while the lure of a $750 reward might seem alluring, the reality is far more complicated and laden with stipulations. Coupled with the security and credibility concerns already associated with Clickrwrds.com and its affiliates, users should proceed with extreme caution. Always scrutinize the terms and conditions and be aware of what you're consenting to when you provide your personal information.
Similar Suspicious Websites
In addition to Clickrwrds.com, there are many other suspicious websites that claim to offer easy money for little to no effort. These sites often use similar tactics, such as promising large rewards for completing tasks or surveys, redirecting users to other sites, and asking for personal information. However, many of these websites turn out to be scams or phishing attempts that can result in financial loss or identity theft. Here are some examples of other suspicious websites to watch out for: Mr Beast Giveaway, Psnbounty.org PSN Giftcard Codes Generator and Decocash.com Coca-Cola Customer Satisfaction Survey.
Summary Table
| | |
| --- | --- |
| Name | Clickrwrds.com, $750 Reward Promotions |
| Type of Program | Online reward/affiliate program |
| Reward Program Details | Promises $750 upon completion of 20 "deals" in various categories; some deals are free, others require purchase |
| Redirection | Users clicking on Clickrwrds.com are redirected to other sites like rewardsgiantusa.com, surveysandpromoonline.com, or uplevelrewardsgiant.com |
| Actual Reward Site | Most commonly, rewardsgiantusa.com, surveysandpromoonline.com, or uplevelrewardsgiant.com |
| Legitimacy | Questionable; Reviews on Trustpilot are mixed with a rating of 3.7; BBB rating is "C-"; No clear information about the service, its owners, or its operations |
| Suspicious Flags | 1. Flagged as malicious and phishing by VirusTotal. 2. ID verification and 5-7 day delay for reward delivery. 3. Requirement of completing 20 deals, some of which may require a purchase. 4. Terms and conditions include mandatory arbitration and email marketing. 5. BBB and Trustpilot reviews are mixed. |
| Verdict | Proceed with extreme caution. The site is flagged by security tools and has questionable reviews. The reward program requires jumping through multiple hoops, some of which may incur costs. |
Conclusion
The "$750 reward" offer is a key marketing strategy for Clickrwrds.com, helping to attract a broad audience through social media channels like YouTube, TikTok, and Pinterest. However, it's crucial to note that Clickrwrds.com essentially serves as a middleman, channeling traffic to final destinations like rewardsgiantusa.com, surveysandpromoonline.com, or uplevelrewardsgiant.com.
This setup indicates that while Clickrwrds.com could potentially be replaced in the future, the offers and schemes themselves could continue to propagate online through different channels or under new names. This makes it doubly important for users to exercise caution. The multitude of red flags—from cybersecurity warnings to lackluster reviews and complex reward claim conditions—should make anyone think twice before engaging with the service.
While the allure of a $750 reward might seem too good to pass up, the significant concerns about Clickrwrds.com and its associated sites make it a risky endeavor. Therefore, it's advisable to proceed with caution and thorough due diligence.