If you're looking to learn more about Blue Vibe CBD Gummies, you're not alone. Searches for "Blue Vibe CBD Gummies scam", "Blue Vibe CBD Gummies reviews", and "Blue Vibe CBD Gummies reviews consumer reports" are soaring, as people try to figure out if this product is the real deal or not. This heightened interest underscores the importance of scrutinizing its legitimacy. Our deep-dive fact-check covers everything you'd want to know, from customer reviews to red flags that may make you think twice before making a purchase. Don't miss out on essential information that could save you time and money. Read on to get the full scoop!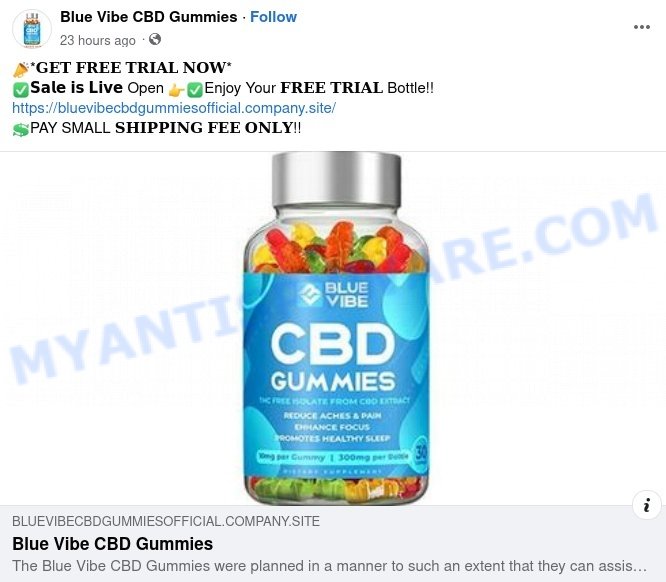 QUICK LINKS
Red Flags and Warning Signs
Before you even consider spending your hard-earned money on Blue Vibe CBD Gummies, it's essential to weigh the various red flags and warning signs that have emerged around this product. Let's take a comprehensive look:
Unexpected Charges: Numerous customers have reported being billed far more than the advertised price. Some who thought they would be charged around $40 ended up seeing charges close to $200 on their bank statements.
Non-Responsive Customer Service: Several people have reached out to Blue Vibe CBD Gummies' customer service with their concerns, only to be met with silence. Others reported getting through to representatives who barely spoke English and were unable to resolve the issue.
Banking Troubles: Many customers shared experiences where their banks would not immediately stop the payment, forcing them to wait for the charges to clear before filing fraud reports. This delay has caused additional financial and emotional stress.
Ambiguous Return Policy: Even when some customers managed to get through to customer service, they were given vague or contradictory information about the possibility of returns and refunds.
Legal Jurisdiction: There is suspicion that the company might be operating from a foreign country, making it difficult to take legal action against them.
Questionable Advertising: Ads for these gummies have made some bold claims about health benefits, including pain relief and quitting smoking, which have not been substantiated. The manner of advertising is often aggressive and intrusive, exploiting the data from your smartphones to target potential victims.
Social Media Complaints: Various platforms are rife with complaints about Blue Vibe CBD Gummies, indicating a larger problem that goes beyond just a handful of disgruntled customers.
Reports to Better Business Bureau: Customers have been so unsatisfied that there are calls for contacting the Better Business Bureau and even for launching a class-action lawsuit.
The Absence of an Official Website: A significant red flag is the lack of an official website. This makes it incredibly difficult to verify the legitimacy of the product and the company behind it.
Suspicious Links and Domains: Watch out for suspicious links, especially on their social media platforms. Often, these links don't lead to reputable websites and could put your personal information at risk.
Dubious Reviews and Testimonials: Many reviews appear staged or fake, lacking the genuine experiences you would expect from verified purchasers.
Consumer Skepticism on Social Media: The fact that so many consumers are warning others about this product is a massive red flag that should not be ignored.
Before making any purchasing decisions, it's crucial to be aware of these warning signs. Do your due diligence and proceed with caution. If you still have questions about the legitimacy of Blue Vibe CBD Gummies, keep reading as we dive deeper into customer testimonials and expert opinions.
Blue Vibe CBD Gummies reviews consumer reports
While the lack of an official website and dubious links have already raised concerns, it's the first-hand experiences of actual consumers that add another layer of doubt about the legitimacy of Blue Vibe CBD Gummies.
Social media platforms like Facebook and YouTube have become a gathering spot for concerned individuals sharing their unfortunate experiences. Below are some real but anonymized accounts that shed light on the product's questionable credibility:
Personal Financial Hit
Carmen R. and Elinor A. found themselves in a financial quagmire. Carmen was shocked to see that her card was charged $198.78 instead of the $39.98 she was led to believe. Elinor had a similar story, with two separate charges hitting her account within hours.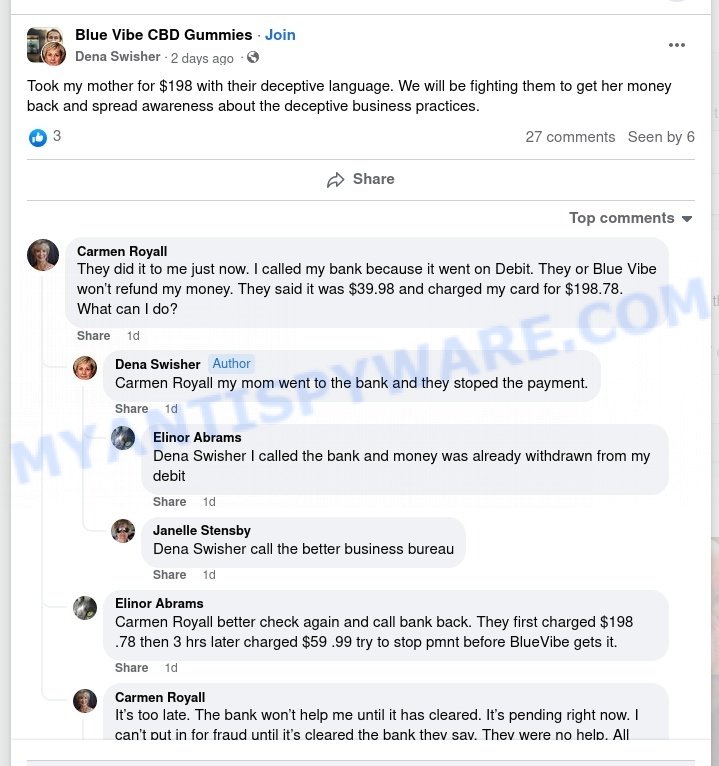 Support, or Lack Thereof
Faye A. and Carmen R. reached out to the customer service of Blue Vibe CBD Gummies, only to be met with silence or ineffective responses. Faye even tried to cancel her order within two hours but was told that they "couldn't help" her.
Banking Barriers
Elinor A. and Carmen R. found their banks to be surprisingly unhelpful. Despite having unauthorized charges pending, they were informed that nothing could be done until the transactions cleared, leaving them in a precarious situation.
Taking Legal Matters into Hands
The dissatisfaction has reached a point where Elinor A. suggested that the Better Business Bureau should be notified, and even proposed exploring the possibility of a class-action lawsuit.
Privacy Intrusions
Jordan L. noticed that his real-life conversations seemed to eerily align with the ads he started seeing on his Facebook feed. While this may not be directly related to Blue Vibe, it highlights the vulnerability consumers face online.
Geographic Uncertainty
There's a murkiness around where Blue Vibe CBD Gummies actually operates from, with Elinor A. speculating that the company could be based in India, thus complicating any potential legal actions against them.
Unfiltered YouTube Feedback
Users on platforms like YouTube have expressed skepticism and even gratitude for reviews that discouraged them from buying Blue Vibe CBD Gummies. Comments range from warnings about banks declining payments for the product to concerns about aggressive targeted advertising. This crowdsourced skepticism adds another layer of doubt about the product's legitimacy.
The collective voice of these consumers speaks volumes about the integrity of Blue Vibe CBD Gummies. Although there may not be direct complaints lodged on official platforms, the groundswell of skepticism across social media platforms and the dubious nature of their business practices certainly raise serious concerns.
The Absence of an Official Website
One of the most significant red flags is the absence of an official website for Blue Vibe CBD Gummies. Instead, potential buyers are led through a labyrinth of unofficial websites and social media links. Any credible company would have an official online presence, complete with secure payment portals and verified contact information. Blue Vibe CBD Gummies lacks all of these features.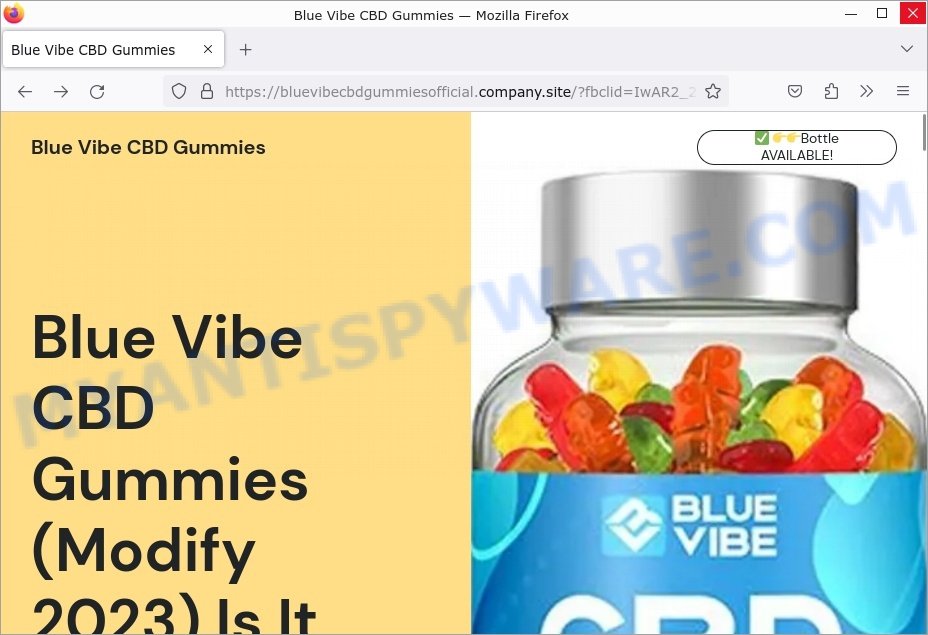 Suspicious Links and Domains
Another glaring issue is the circuitous nature of the online purchase path for Blue Vibe CBD Gummies. The primary links lead you to what appears to be a makeshift website hosted on free platforms. This convoluted and unprofessional web setup could be designed to confuse or mislead potential buyers.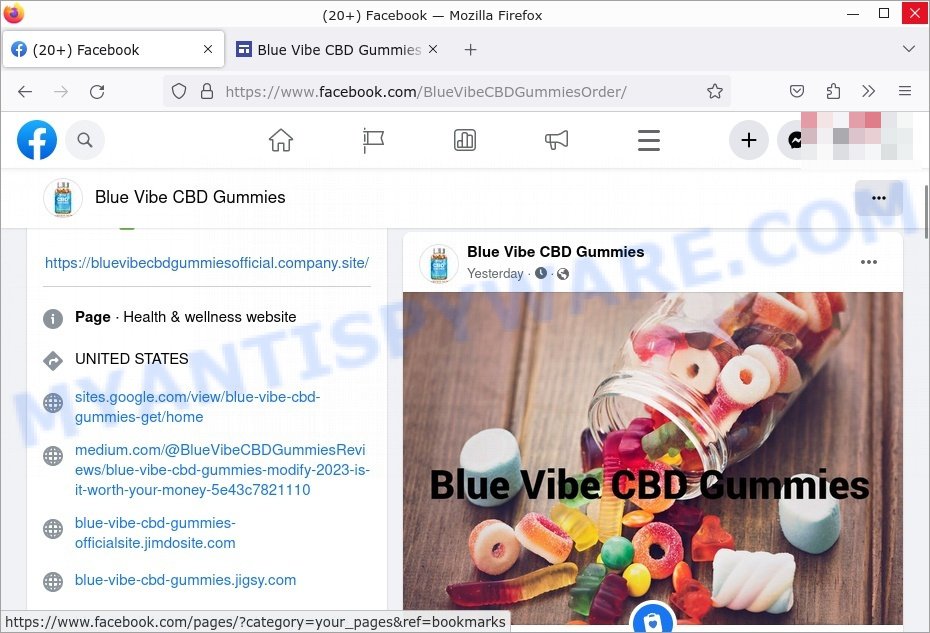 Example Links:
hxxps://getdeal24x7.com/blue-vibe-cbd-gummies-buy
hxxps://sites.google.com/view/blue-vibe-cbd-gummies-get/home
blue-vibe-cbd-gummies-officialsite.jimdosite.com
blue-vibe-cbd-gummies.jigsy.com
VirusTotal flagged getdeal24x7.com as phishing: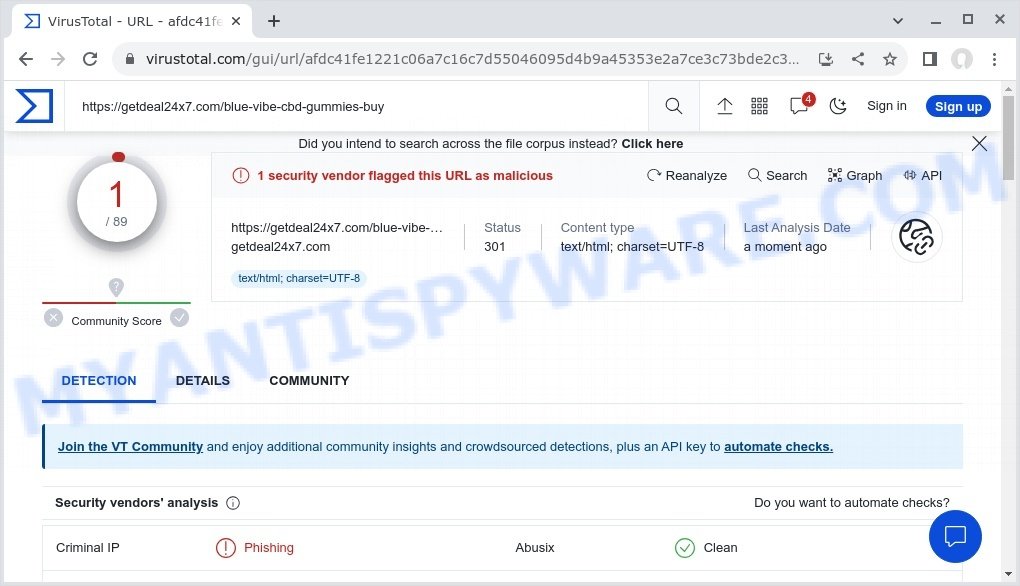 Dubious Reviews and Testimonials
When searching for Blue Vibe CBD Gummies reviews, many results are from websites that have previously posted positive reviews on other scam or questionable products. While there are no direct complaints, the fact that these reviews are coming from unreliable sources casts a shadow over their credibility.
Summary Table
| Factor | Observations | Impact on Legitimacy |
| --- | --- | --- |
| Official Website | No official website exists. | Negative |
| Purchase Path | Circuitous links leading to unofficial and free hosting sites. | Negative |
| Online Reviews | Reviews mainly from dubious sources, some of which have previously endorsed scam products. | Negative |
| Consumer Feedback | Skeptical comments and warnings across social platforms, especially YouTube. Consumers report unexpected charges and unresponsive customer service. | Negative |
| Third-Party Lab Testing | No information available. | Negative |
| Social Media Presence | Aggressive advertising on Facebook, but no verified company page. | Negative |
| Payment Portal Security | Unclear due to lack of official website. | Negative |
| Public Complaints | Multiple complaints of unauthorized charges, pending payment issues, and a general lack of responsiveness from the company. | Negative |
| Charging Practices | Several reports of customers being overcharged than the initially stated amount. | Negative |
| Refund Policy | No clear refund policy, as reported by consumers who were unable to get a refund. | Negative |
Conclusion: Is Blue Vibe CBD Gummies a Scam?
In light of the information gathered, Blue Vibe CBD Gummies is a product that raises suspicions due to the high number of red flags surrounding it. Issues ranging from an absence of an official website, dubious links and domains, questionable reviews and testimonials, to a considerable amount of consumer skepticism on social media platforms make it difficult to consider the product as credible or trustworthy. The numerous customer complaints about unexpected charges and unresponsive customer service further add to these concerns.
In the digital world where scams are increasingly sophisticated, it's crucial to be extra cautious, especially when your financial and personal information is at stake. If you're in the market for CBD gummies, you may want to explore other options that come from transparent, verified, and reputable sources.
Therefore, until there is verifiable evidence that substantiates the claims made by Blue Vibe CBD Gummies, it is recommended to approach this product with a high degree of caution and consider alternative, more reliable options.