Koreurent.com claims to be a go-to destination for beauty enthusiasts, promising incredible deals on Charlotte Tilbury products. Unfortunately, it's nothing but a trap to exploit consumers. Read on to learn why you should steer clear of this scam shop.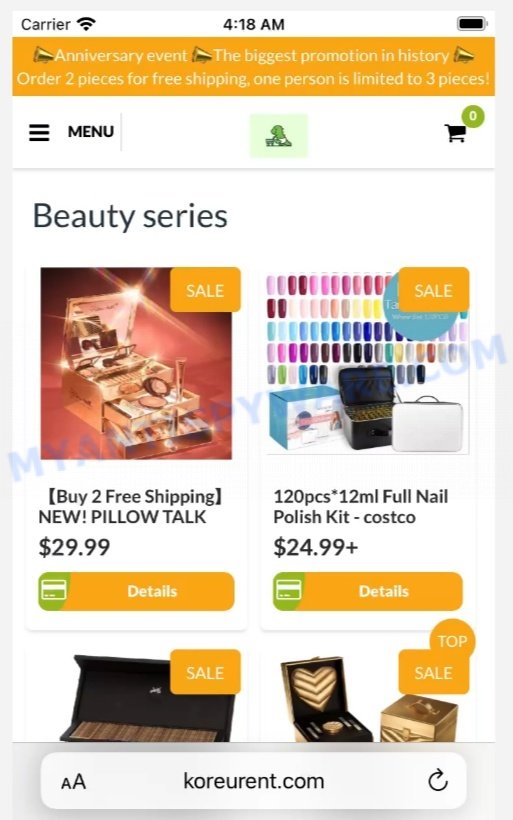 Quick Links
Is Koreurent.com a Scam?
The evidence overwhelmingly suggests that Koreurent.com is a scam shop. Here are some glaring red flags:
Recently created domain
Lack of genuine contact information: The only available contact is through email address best@serviceforu23.com
No information about the company behind, other than a suspicious name, YI YU NETWORK MEDIA CO., LIMITED
Unbelievably low prices on premium products
Enticing slogans such as "Anniversary event The biggest promotion in history"
No social media presence or links to any platforms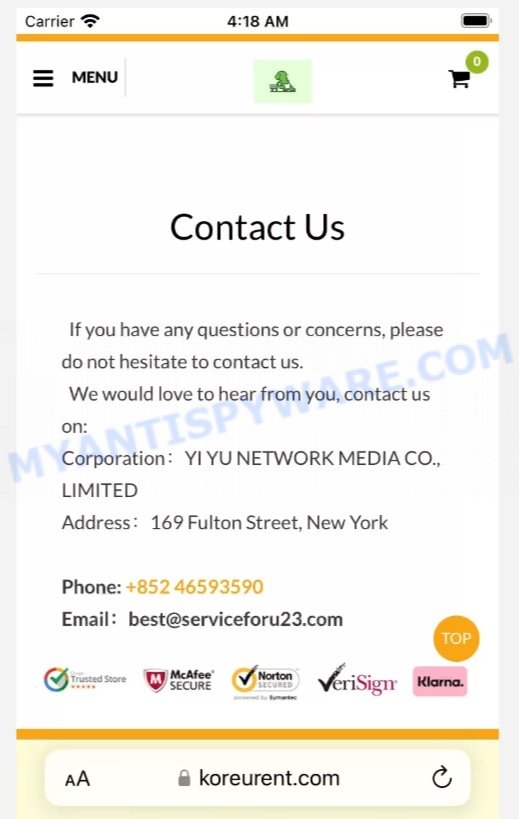 How the Koreurent.com Scam Works
Koreurent.com is heavily promoted on social platforms like Facebook, offering tempting deals on beauty products. These promotions often feature phrases like "Anniversary event The biggest promotion in history" to lure consumers in.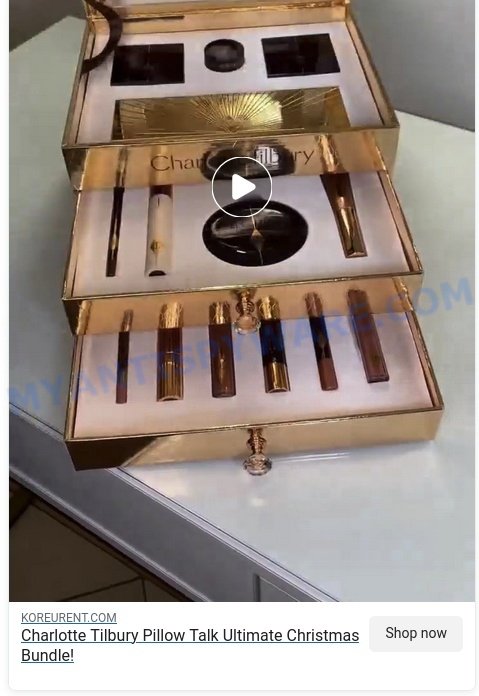 Once on the site, shoppers find incredible deals like the "Charlotte Tilbury Pillow Talk Ultimate Christmas Bundle" for just $29.99. These prices are too good to be true and typically result in either counterfeit items or no delivery at all.
What to Do if You Become a Victim
If you've unfortunately fallen prey to this scam, here are steps you can take:
Immediately contact your bank to report the fraudulent transaction
Change your payment card details if you've shared them with the website
Report the scam to FTC
Leave a comment on this review to share your experience and help others
Other Scam Online Shops to Avoid
We continuously aim to safeguard our readers from potential scams, listing other dubious online shops that you should be wary of. Just like Koreurent.com, these shops use deceptive tactics.
Here are a few examples of the scam online shops: KingCrabStore.com, Blackstonediscount.com, and Acstoreus.com.
Summary Table for Koreurent.com
| | |
| --- | --- |
| Name | Koreurent.com |
| Type | Online Scam Shop |
| Damage | Financial Loss, Data Theft |
| Distribution | Facebook Ads |
| Tactics | Deceptive Advertising, Enticing Slogans |
| Prices | Unbelievably Low |
| Contacts | Email: best@serviceforu23.com, Phone: +852 46593590 |
| Prevention Tips | Always verify online shops, never share payment information |
| Reporting Info | FTC |
Conclusion
Koreurent.com is a malicious online shop designed to exploit consumers by offering fake or non-existent products. Stay vigilant and always verify before making any purchase online.
FAQ About the Koreurent.com Scam
Why is Koreurent.com offering such low prices?
Koreurent.com uses the allure of low prices to entice consumers into making purchases, but the products are either counterfeit or non-existent.
Is the company YI YU NETWORK MEDIA CO., LIMITED legitimate?
The name YI YU NETWORK MEDIA CO., LIMITED is associated with other scams, making it highly unlikely to be a legitimate entity.
How did I get targeted by Koreurent.com?
Koreurent.com commonly uses Facebook ads to target potential victims. Always be cautious when clicking on online advertisements.