Clearancesalestore.com presents itself as an incredible opportunity to get ARIAT boots at unbelievable prices. Promoted heavily on Facebook, the site lures in bargain hunters with massive discounts and time-sensitive offers. But before you rush to grab that deal, it's essential to read our comprehensive review.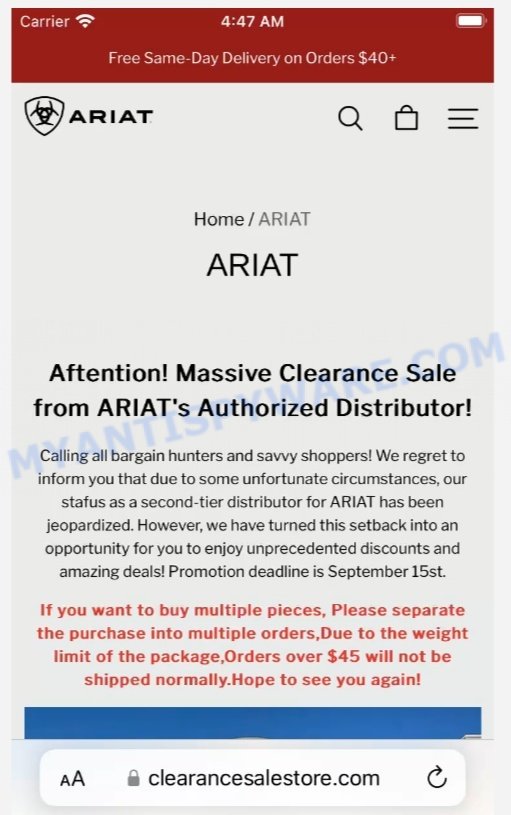 Quick Links
Is Clearancesalestore.com a Scam?
Is Clearancesalestore.com too good to be true? Unfortunately, yes. Our analysis indicates that this online store displays multiple red flags:
Recently created domain
Lack of transparent contact information
No genuine info about the company behind it
Unbelievable deals and low prices
Use of enticing slogans such as "Clearance Sale" and "Huge Savings"
No social media presence
Customer complaints and delivery issues
Company and email associated with other scams. Company name: AIMARK LTD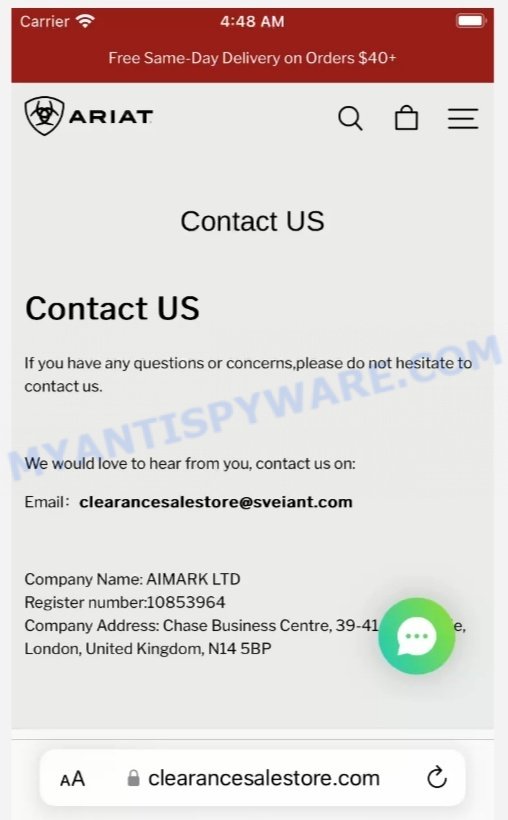 How the Clearancesalestore.com Scam Works
Clearancesalestore.com employs sophisticated tactics to lure unsuspecting customers. It starts with compelling advertisements on Facebook promising "Top Shelf Boots" for "ONLY $39.99" and "Clearance special: as low as $39.99". The site even goes to the extent of presenting itself as an "Authorized Distributor" of ARIAT.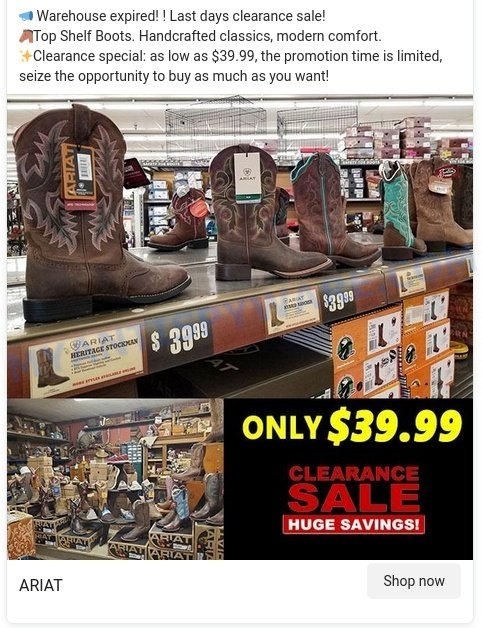 Once you're on the site, it presses the urgency with deadlines for the promotion and weird shipping policies like "Orders over $45 will not be shipped normally". Many people have been duped into buying, only to either not receive the product or receive a counterfeit one.
What to Do if You Become a Victim of Clearancesalestore.com
If you've been scammed by Clearancesalestore.com, it's crucial to act fast to protect your financial and personal information.
Contact your bank immediately and report the fraudulent transaction
Change any passwords that might have been compromised
Report the scam to FTC
Leave a comment on this review to help others
Other Scam Online Shops to Avoid
In our ongoing mission to protect consumers, it's crucial to be aware of other similar scam stores that employ tactics like Clearancesalestore.com.
Here are a few examples of scam online shops: Fake Wilko Clearance Sale, Acstoreus.com DICK'S SPORTING GOODS Store Scam, Outletshoks.com HOKA Clearance Scam.
Summary Table for Clearancesalestore.com
Name
Clearancesalestore.com
Type
Online Scam Store
Damage
Financial Loss, Identity Theft
Distribution
Facebook Ads
Tactics
Enticing Slogans, Low Prices
Prices
As low as $39.99
Contacts
Email: clearancesalestore@sveiant.com
Company: AIMARK LTD
Prevention Tips
Always verify before purchase, Avoid clicking on random ads
Reporting Info
FTC
Conclusion
Clearancesalestore.com is a well-constructed scam designed to exploit the online bargain hunter. With enticing Facebook ads and fake promises of heavy discounts, the site aims to lure you into a trap. Be cautious and always verify before making any purchases online.
FAQ About the Clearancesalestore.com Scam
Is the store officially linked with ARIAT?
No, Clearancesalestore.com falsely claims to be an "Authorized Distributor" of ARIAT.
Why are the prices so low on Clearancesalestore.com?
The low prices are a part of the scam to lure customers into making a purchase.
Is it safe to enter my credit card details on Clearancesalestore.com?
It's highly risky and not advisable given the site's fraudulent nature.