Beware of 'Prime Tester Jobs' (Primetesterjobs.com), a website that claims to offer Amazon product testing opportunities but is riddled with red flags. With only a single webpage and a suspiciously minimalistic design, the site prominently displays the Amazon logo—likely without permission—to lure you into a sense of legitimacy. Clicking the "APPLY NOW" button takes you through a maze of dubious redirects, including sites flagged as malicious and phishing. It ultimately leads you to uplevelrewards.com, a site with poor reviews and questionable practices. If you've come across this site or similar ones and are tempted to click that "Apply Now" button, think twice. Read on to learn why you should steer clear of this scam.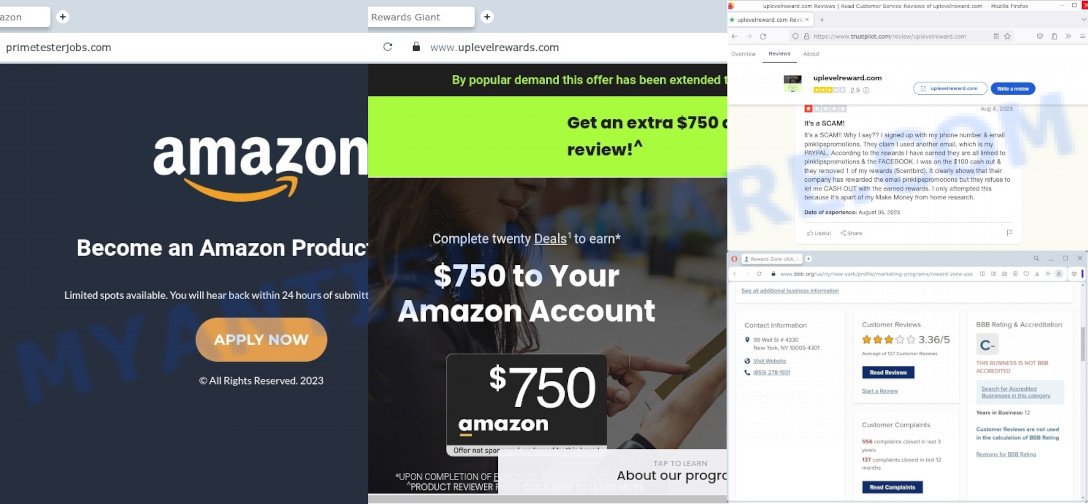 Quick Links:
Signs of a Scam on Primetesterjobs.com
Before you click that enticing "APPLY NOW" button on Primetesterjobs.com, it's crucial to recognize the warning signs that something isn't right. Scams often wear a cloak of legitimacy, and this site is no different. From its one-page minimalistic design to the unauthorized use of the Amazon logo, the website employs a range of tactics to deceive. In this section, we will delve into the specific red flags that should make you think twice before engaging with Primetesterjobs.com.
Minimalistic Design: The website is starkly minimal, with only one page and no additional links to "About Us", "Contact Us", or "Privacy Policy". Typically, legitimate websites offer this information to establish credibility and transparency.
Unauthorized Use of Amazon Logo: The Amazon logo is displayed prominently on the site. This is a deceptive tactic to gain your trust, as it implies an affiliation with or endorsement by Amazon—something highly unlikely given the nature of the site.
Vague Details: The text on the page is deliberately vague, offering "limited spots" and a 24-hour response time but no concrete information about the so-called 'Amazon Product Testing' opportunity.
Red Flags from Security Tools: The website is flagged as phishing and malicious by VirusTotal, a trusted online tool used for security analysis.
Suspicious Redirects: Clicking the "APPLY NOW" button doesn't keep you on the site. Instead, you're taken on a wild goose chase through a series of questionable redirects, including clickrwrd.com, which is also flagged as malicious.
Zero Positive Reviews: There are no positive reviews or credible endorsements of the website. This is a significant red flag as any legitimate business will usually have a mix of reviews.
Similar Scam Sites: Primetesterjobs.com isn't unique; it's part of a string of similar scam sites, including Testproductsnow.com, Testoutbasics.com, Basicsprogram.com, and Basicstester.com. All these websites share the same operational principles and appearance, indicating a network of scams rather than a single, standalone site.
By presenting itself as an Amazon affiliate and concealing its true intentions behind a façade of simplicity, Primetesterjobs.com attempts to lower your guard. But a closer look reveals its scheme, designed to lead you to another suspicious website, uplevelrewards.com. Stay vigilant and exercise caution.
How the Primetesterjobs.com Scam works
Primetesterjobs.com operates under the guise of offering "Amazon Product Testing" opportunities, a claim that in itself would intrigue many given Amazon's credibility. When you land on their single-page website, the simplicity might come across as user-friendly, but that's where the deception starts. The Amazon logo is prominently displayed, giving the false impression that there is some affiliation or endorsement by the retail giant.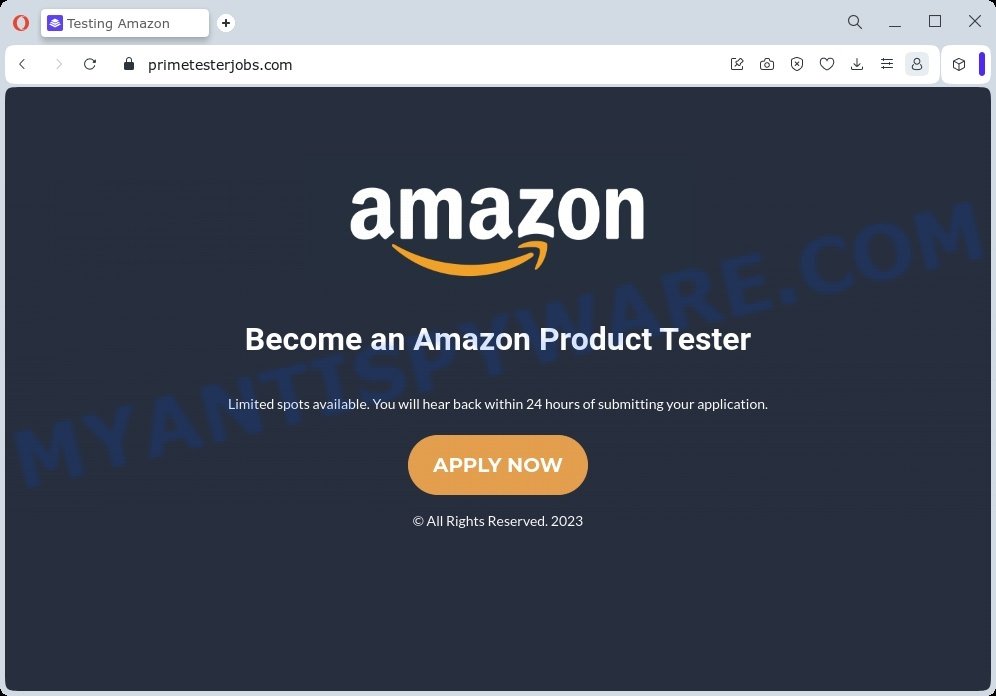 When you click the "APPLY NOW" button, expecting perhaps to fill out a form or get more details, you are immediately redirected. This isn't a straightforward redirection but a complex chain going through multiple websites, including clickrwrd.com, which is also flagged as phishing and malicious by VirusTotal. Each step in this chain works as a smoke screen, obscuring the original source and making it harder to trace back the scam to its root.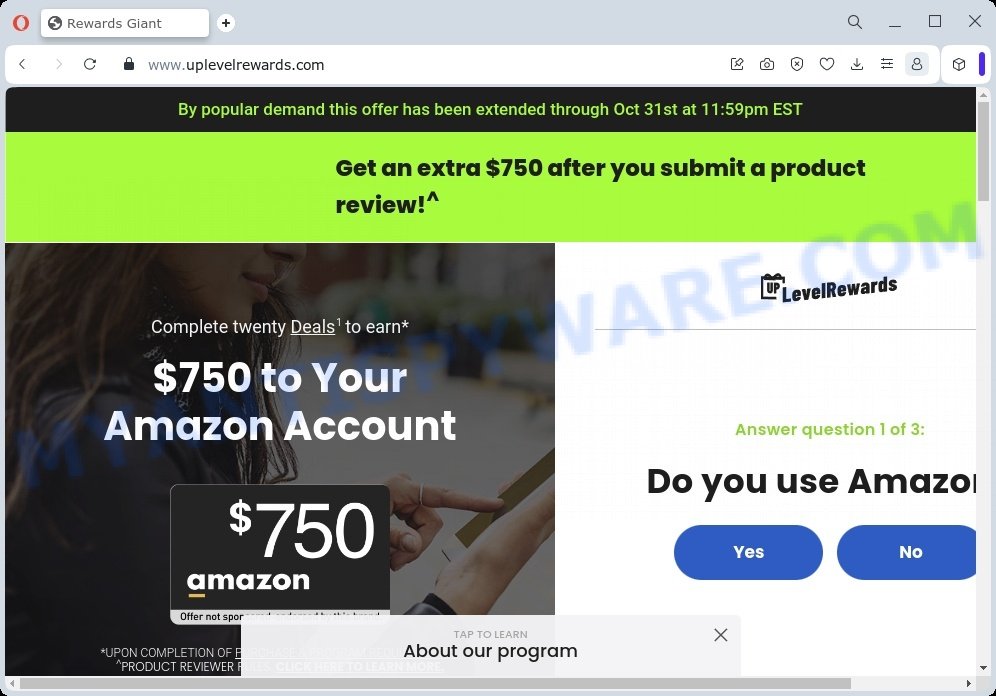 Eventually, these redirects land you on uplevelrewards.com, a site that promises up to $750 if you complete various 'deals' and 'tasks'. The stipulations to earn this reward are labyrinthine and vaguely detailed, which often involves signing up for services, some of which require payments. Despite the seemingly clear steps, reviews of this site indicate that people often can't cash out their rewards even after fulfilling the listed requirements. Essentially, you could end up spending money with zero return on your so-called 'investment'.
While the promised reward of $750 is appealing, the requirements are convoluted and almost designed to make you fail. To add salt to the wound, Trustpilot reviews for uplevelrewards.com have an average rating of 2.9, and its parent company, RewardZone USA, has a "C-" rating on BBB, featuring numerous complaints of unfulfilled rewards.
The overarching goal of Primetesterjobs.com seems to be driving traffic to uplevelrewards.com, which itself appears to be a risky venture at best. From start to finish, the journey from Primetesterjobs.com to potentially losing money or personal information on uplevelrewards.com is a well-constructed maze of deception. What's more, none of this has anything to do with Amazon or its legitimate product testing programs. This operation exploits the trust that people have in established brands like Amazon to lure them into a scam.
Examples of Job Scams
Scams targeting job seekers and individuals seeking remote work opportunities have become increasingly prevalent in the online landscape. These deceptive schemes capitalize on people's desire for flexible employment and financial stability, often promising high-paying jobs or lucrative perks. One such example is the Amazon Product Tester Scam, which we have discussed in detail earlier. Unfortunately, this is just one instance of a broader trend of scams that prey on vulnerable individuals.
Here are some links to examples of similar scams: Shein Gives Back Product Reviewer Scam, Testpurple.com – Fake Pillow Testing Job, Magicbinge.com, Basics Program Scam, and Flixtagger.com Netflix Tagger Scam.
Threat Summary
| | |
| --- | --- |
| Name | Primetesterjobs.com Scam, Prime Tester Jobs Scam |
| Website | Primetesterjobs.com "Testing Amazon": single-page, minimalistic design, features Amazon logo without permission |
| Type of Program | Claims to offer Amazon Product Testing opportunities |
| Reward Program Details | Not available; "APPLY NOW" button leads to redirection rather than providing information |
| Redirection | Multiple-step redirect chain via clickrwrd.com, flagged as malicious and phishing by VirusTotal |
| Actual Reward Site | uplevelrewards.com; requires users to complete various 'deals' and 'tasks' to supposedly earn up to $750 |
| Legitimacy | No affiliations with Amazon; uplevelrewards.com has an average Trustpilot rating of 2.9, parent company RewardZone USA has a "C-" rating on BBB |
| Suspicious Flags | No "About Us", "Contact Us", or "Privacy Policy" pages; redirect chain includes flagged websites; numerous negative reviews of the reward site |
| Verdict | Potentially risky |
How to Spot Fake Job Offers
If you're interested in working from home and stumbled upon Primetesterjobs.com or similar websites that offer seemingly easy and high-paying jobs, it's important to be cautious. Unfortunately, many of these sites turn out to be scams, designed to deceive unsuspecting individuals looking for employment opportunities.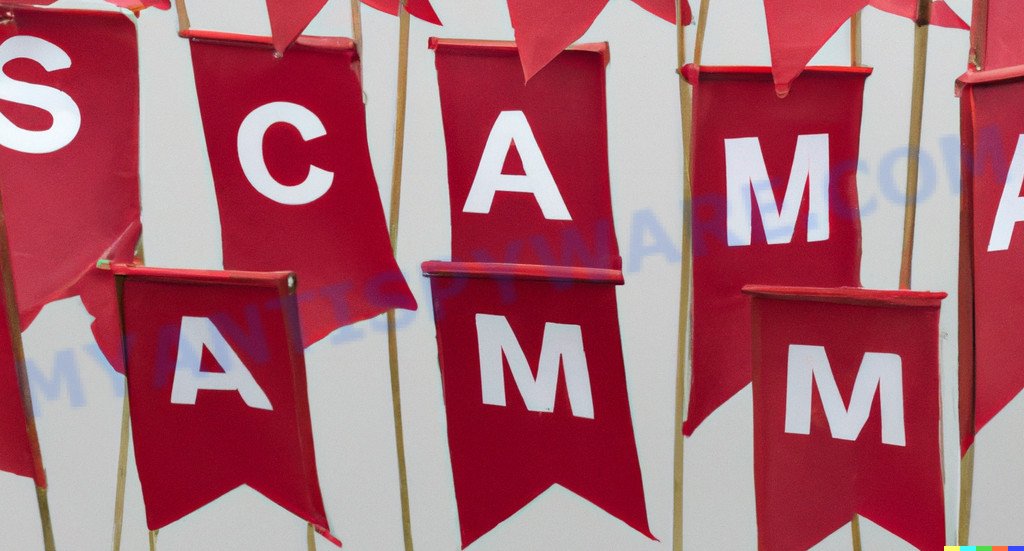 Below, we'll provide you with some tips on how to spot these types of scams and avoid falling victim to them.
Scammers often use vague or unrealistic job descriptions to lure people into their trap. If a job posting sounds too good to be true or lacks details about the position, it's best to be cautious.
Legitimate companies always provide contact information such as an email address, phone number, or physical address. If a company doesn't provide any contact information, it's a red flag.
Take some time to research the company and read reviews from other people who have worked with them. If there are a lot of negative reviews or the company doesn't have much of an online presence, it's best to steer clear.
If a company asks you to pay for training or materials to do the job, it's likely a scam. Legitimate companies will provide all the necessary tools and training for free.
If something feels off or too good to be true, it probably is. Don't ignore your instincts and always err on the side of caution.
Conclusion
Primetesterjobs.com (Prime Tester Jobs) is a deceptive website designed to look like an official Amazon Product Tester program. Its minimalistic layout and unauthorized use of Amazon's logo serve to make it appear legitimate at first glance.
The site tricks visitors with a series of redirects, ultimately funneling them to uplevelrewards.com. This latter site also raises red flags, with poor reviews and a dubious reputation for actually delivering on promised rewards.
Adding to the concern is the fact that Primetesterjobs.com is not an isolated case. It seems to be part of a broader network of similarly structured scam websites. This points to a more coordinated, and therefore even more concerning, effort to defraud individuals.
In summary, the website and its associated network seem designed to lure individuals into a potentially fraudulent situation under the guise of easy financial gain. Users are strongly advised to be cautious and to steer clear of this site and others like it.