Humisye.com is a recently emerged online store that claims to offer high-quality products at unbelievable discounts. Promoted primarily through Facebook, it has managed to grab the attention of shoppers looking for a deal. However, you might want to pause and read this full article before making any purchase.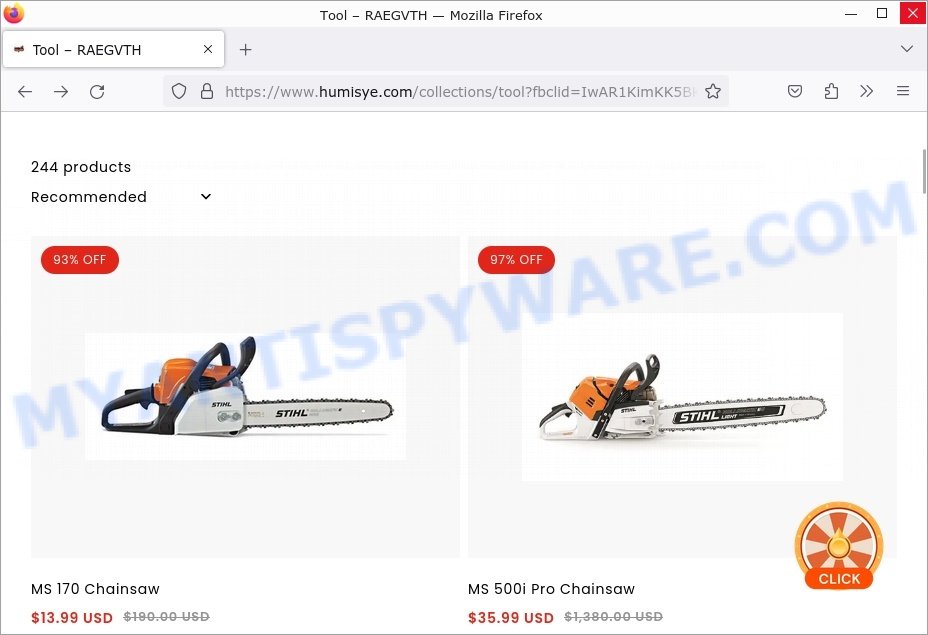 Quick links
Is Humisye.com a Scam?
Yes, Humisye.com appears to be a fraudulent online store for several reasons:
Recently created domain
Lack of legitimate contact information, only providing an email address: service@raegvth.com
The company and email are associated with other known scam shops
Unbelievable deals and incredibly low prices, such as $13.99 clearance sales
No social media presence or legitimate links to social media platforms
Customer complaints about non-delivery and poor customer service
How the Humisye.com Scam Works
Humisye.com primarily gains traction through Facebook advertisements. They lure consumers with enticing slogans like "Clearance Sale Only Today" and "Worldwide Fast Delivery". Offering popular brands like STIHL for as low as $13.99, they manage to create a sense of urgency to entice people to buy immediately.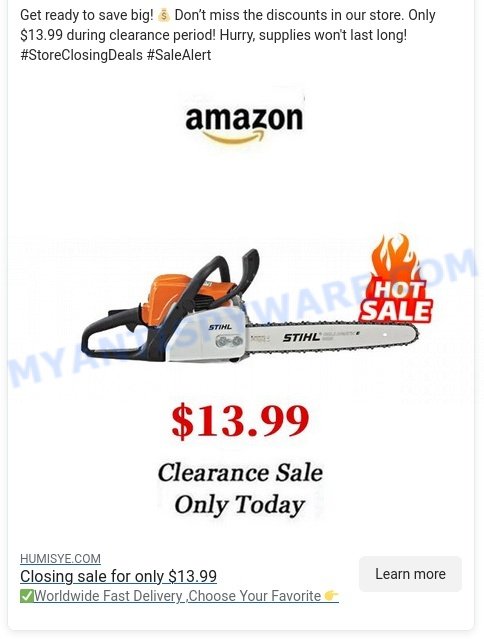 Once the purchase is made, customers either never receive the product or receive counterfeit items. In either case, attempts to contact customer service prove futile, as the contact email is already associated with other scam sites.
What to do if you become a victim of Humisye.com
If you've fallen victim to the Humisye.com scam, take immediate action to mitigate the damage.
Contact your bank or credit card company to dispute the charge
Change any passwords associated with the information you've provided
Report the scam to FTC
Leave a comment on this review to help others be aware
Other Scam Online Shops to Avoid
In our effort to protect you from online scams, we suggest you remain vigilant and be aware of the warning signs. Similar to Humisye.com, many other fraudulent stores are out there using the same tactics.
Here are a few examples of the scam online shops: Fake Wilko Clearance Sale, Luggagebigsale.com Review, and KingCrabStore.com King Crab Store Scam.
Summary Table for Humisye.com
| | |
| --- | --- |
| Name | Humisye.com |
| Type | Online Scam Store |
| Damage | Financial Loss, Personal Information Risk |
| Distribution | Facebook Ads |
| Tactics | Deceptive Advertising, Unrealistic Prices |
| Prices | $13.99 Clearance Sales |
| Contacts | service@raegvth.com |
| Prevention Tips | Check Reviews, Be Skeptical of Discounts |
| Reporting Info | FTC |
Conclusion
Humisye.com is a fraudulent online store designed to lure in unsuspecting shoppers with false advertising and incredibly low prices. The site is heavily promoted through social media platforms like Facebook but fails to deliver on its promises. Save yourself the trouble and the financial loss by staying away from this scam.
FAQ About the Humisye.com Scam
What happens if I try to contact Humisye.com's customer service?
Attempts to reach their customer service via the provided email usually go unanswered, as the email is linked to other known scams.
Is there any way to get my money back?
Your best course of action is to contact your bank or credit card company to dispute the charge and hopefully reverse it.
How do these scam shops continue to operate?
Scam shops like Humisye.com often create new domains and use different email addresses to continue their fraudulent activities, making it challenging for authorities to shut them down.