If you've received an alarming email with the subject line "Urgent: Uploaded content notification" claiming to be from YouPorn, take a deep breath and don't panic. This is a clever extortion scam designed to exploit your fears and extract money through Bitcoin payments. Don't let the seemingly professional language and scare tactics fool you. We're here to break down the red flags in this scam and how to protect yourself. Read on to arm yourself with knowledge against this deceitful ploy.
Here's an example of the "YouPorn" email: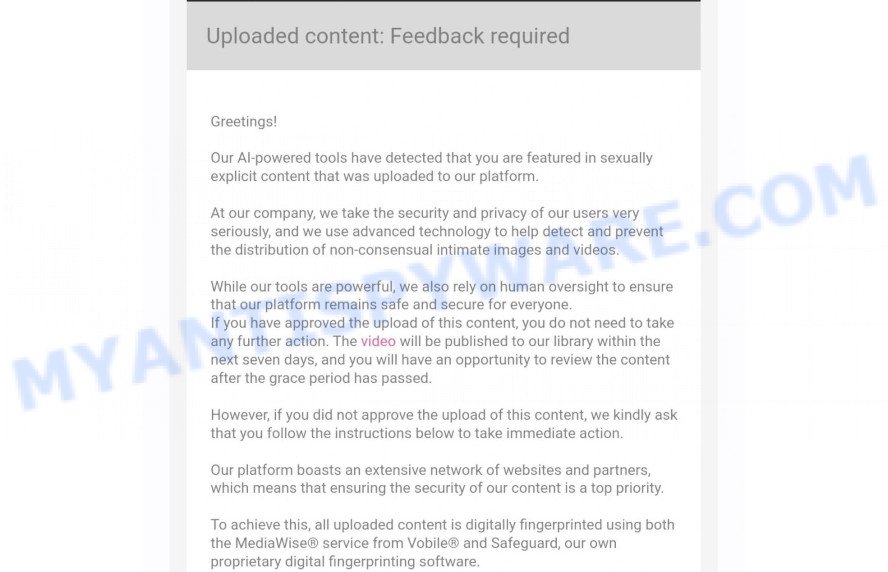 QUICK LINKS
Is this a scam email?
Yes, the email purporting to be from YouPorn with the subject "Urgent: Uploaded content notification" is a scam. The objective of this deceptive message is to create a sense of panic and urgency, enticing you to cough up money to get rid of a video that doesn't actually exist. Don't be fooled by its formal tone and technical jargon.
Here are some of the red flags that confirm it's a scam:
Unsolicited Contact: Genuine companies usually don't reach out to individuals to inform them about explicit content featuring them.
Payment in Cryptocurrency: A request for payment via Bitcoin is a glaring indicator that something shady is afoot, as cryptocurrency transactions are difficult to trace.
High Fees for Removal: The scam email outlines exorbitant costs for the removal of said content, which is suspicious and not standard practice for reputable companies.
No Verification: The email discourages you from contacting them for confirmation, something a legitimate company would never do.
Pressure Tactics: The email urges you to act quickly, exploiting your emotional response to make you act without thinking.
Lack of Specifics: The email is vague about how you were identified in the content, another sign that it's not legitimate.
In conclusion, this email is a calculated extortion scheme that aims to exploit your fears and insecurity for financial gain. If you've received this email, do not pay, do not respond, and inform the relevant authorities. Arm yourself with knowledge and remain vigilant to protect yourself from this and similar scams.
How the scam works
The "YouPorn" email is specifically engineered to shake you up and capitalize on your fears. When the email arrives, it comes with a subject line screaming urgency: "Urgent: Uploaded content notification". The message informs you that their so-called AI-powered tools have detected a sexually explicit video featuring you on their platform. It adds a layer of faux legitimacy by mentioning proprietary digital fingerprinting software and MediaWise® services from Vobile®.
Then comes the hook: the email offers you three different plans—basic, Plan A, and Plan B—for removing the alleged video. These plans are not cheap, with prices ranging from $199 to $1399, all in untraceable Bitcoin. It's as if they've put a price tag on your reputation and peace of mind. To intensify the pressure, the email mentions a seven-day grace period, after which the content will be published, making you feel like the clock is ticking.
The email avoids any form of human interaction. It states explicitly that "our system takes care of your request automatically and swiftly, so there's no need to contact us," ensuring you don't poke holes in their scam by asking for verification. Even the payment process is described as automated, requiring you to send the Bitcoin to a unique digital number provided in the email.
So, what's the endgame here? To use your fear of public humiliation and the ticking clock to corner you into making a rushed, substantial payment to a Bitcoin address. When facing such high-pressure tactics, especially in unsolicited emails, your best course of action is to pause and critically evaluate the situation. And most importantly, keep your cryptocurrency wallet closed.
The email read as follows:
Subject: Urgent: Uploaded content notification

YOUPORN
Uploaded content: Feedback required

Greetings!
Our AI-powered tools have detected that you are featured in sexually explicit content that was uploaded to our platform.
At our company, we take the security and privacy of our users very seriously, and we use advanced technology to help detect and prevent the distribution of non-consensual intimate images and videos.

While our tools are powerful, we also rely on human oversight to ensure that our platform remains safe and secure for everyone.
If you have approved the upload of this content, you do not need to take any further action. The video will be published to our library within the next seven days, and you will have an opportunity to review the content after the grace period has passed.

However, if you did not approve the upload of this content, we kindly ask that you follow the instructions below to take immediate action.

Our platform boasts an extensive network of websites and partners, which means that ensuring the security of our content is a top priority.

To achieve this, all uploaded content is digitally fingerprinted using both the MediaWise® service from Vobile® and Safeguard, our own proprietary digital fingerprinting software.

This helps to prevent unauthorized distribution of content on our platform.

For our premium users who upload content, we offer monetary incentives. However, in some cases, uploaded content may be put on hold.
If this happens, we can initiate a quick automated removal process, but we would require an incentive refund to do so.

The basic express removal, blocking, and protection against re-uploading of content on our network of 20 websites costs $199 USD.

As a digital company, we take great pride in our integrity and measures, which is why we offer additional options for protecting against unauthorized content uploads 24/7.

We have all our processes automated, including payment processing, for your convenience.

Our Plan A includes everything in the basic removal option, plus digitally fingerprinting of the content and automated removal and protection against re-uploading to our vast network of partner websites (300+) for one year, all for $699 USD.

If you require the best protection available, we recommend our
Plan B, which includes everything in Plan A plus digital protection by MediaWise® and Safeguard based on facial recognition data for three years. This ensures that any content with your biometrics will be blocked, and it costs $1399 USD.

Our system takes care of your request automatically and swiftly, so there's no need to contact us.

The payment process is automated through a Bitcoin gateway, and the digital number you receive below is unique to your case and doesn't require any extra confirmation.

1DzWf1Y9nDKPgmc2em37KRjYePPmWggRce

To transfer the amount corresponding to your chosen option, copy and paste this identifier into your preferred cryptocurrency wallet.

You can review the content uploaded after the seven-day grace period, either by checking our Youporn.com library or by contacting the member who uploaded the content.

We encourage users who feature in content and wish to prevent its upload to our platform to consider proactively digitally fingerprinting it.

Thank you for your attention to this matter.
If you receive an email like this, do not engage with the scammer and do not send any money. Instead, delete the email and report it to the relevant authorities. It is also important to ensure that your computer has up-to-date anti-virus software and that you use strong, unique passwords for all of your accounts to reduce the likelihood of falling victim to scams like this.
Examples of such scams
The "YouPorn" email scam is just one of the many deceptive schemes that prey on individuals' fears and exploit their privacy concerns. Unfortunately, this type of scam is not unique, and there are various similar scams circulating online.
By examining these examples, we can better recognize the warning signs and arm ourselves with knowledge to avoid becoming victims of fraudulent schemes. Take a closer look at the following scams: I RECORDED YOU Email Scam, Your Private Information has been Stolen Email Scam, and I am a professional hacker EMAIL SCAM and let's learn how to safeguard ourselves from their deceitful tactics. Remember, knowledge is power.
Should you pay?
No, you should not pay the ransom demanded by the scammer. Remember that this is a scam and paying the ransom will only encourage the scammer to continue their criminal activities! Additionally, paying the ransom can make you a target for future scams. It is important to stay vigilant and protect your personal information from such scams by using strong and unique passwords, enabling two-factor authentication, and regularly updating your computer's security software. If you receive such an email, it is best to report it to the authorities and your email provider.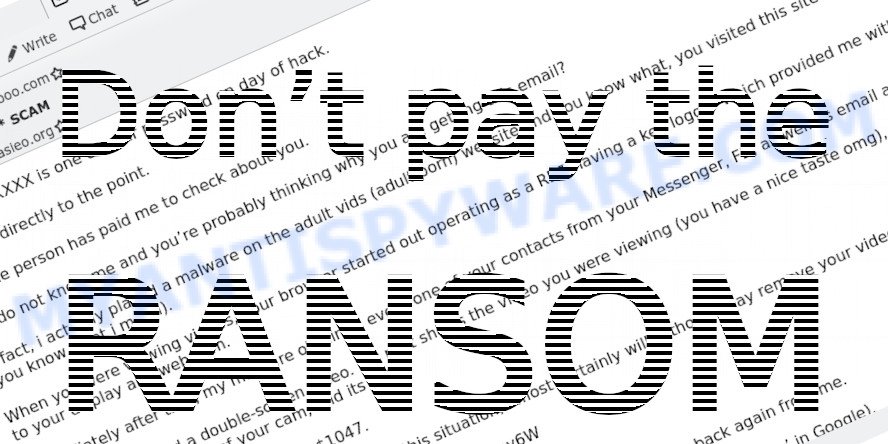 What to Do if You Receive the Email
Receiving the "YouPorn" email can be deeply unsettling, but with the right steps, you can ensure safety and peace of mind.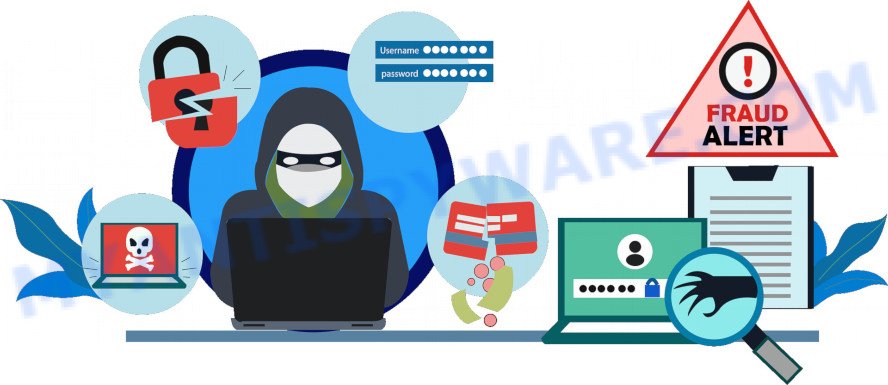 Here's a specific guide on handling this scam:
Begin by reminding yourself to stay calm. The email is crafted to elicit panic, pushing recipients into rash decisions. Recognize its true nature—a manipulative attempt to exploit fear.
Resist any impulses to pay. Even if you're tempted to make the problem go away, understand that payment doesn't guarantee safety. It merely emboldens the scammer, possibly marking you as an easy target for future deceptions.
Do not engage with the scammer. Replying or trying to open a dialogue can inadvertently give away more information, or signal that your email is active, making you a prime candidate for further scams.
Seeing a familiar password can be particularly jarring. If the scam email mentions a password you recognize, it's essential to check its source. Use services like haveibeenpwned.com to see if your email or credentials have been compromised in any past data breaches.
Subsequent to that, update your passwords. Always choose strong, unique combinations and activate two-factor authentication on platforms that support it.
As a precaution, run a comprehensive security scan on your device. While the scam email's claims about malware are usually baseless, this step ensures your system remains clean and threat-free.
Report the email to relevant authorities (e.g., FTC). Sharing details with your local law enforcement or cybercrime units can contribute to ongoing investigations and aid in the crackdown on such malicious activities.
Lastly, spread awareness. Inform friends, colleagues, and family about the scam, equipping them with the knowledge to recognize and sidestep such threats. Knowledge, shared and acted upon, diminishes the effectiveness of these scams, making the digital world a bit safer for everyone.
Threat Summary
| | |
| --- | --- |
| Name | YouPorn Extortion Scam |
| Type | Extortion, Phishing |
| Email subject | Urgent: Uploaded content notification |
| Ransom amount | Ranges from $199 to $1399 (in Bitcoin equivalent) |
| Bitcoin Address | 1DzWf1Y9nDKPgmc2em37KRjYePPmWggRce, 13HA6EVfvTPidW3xv5Tp88WRvH96QtB3XV |
| Fake Claims | Claims you appear in sexually explicit content, offers to remove it for a fee |
| Disguise | Formal language, technical terms like "AI-powered tools", "MediaWise®", and "digital fingerprinting" |
| Damage | Financial loss, emotional stress |
| Distribution | Likely mass-emailed to numerous recipients |
| Tactics | Uses urgency and fear to prompt quick payment, no human interaction to validate claims |
| Variations | May come from different email addresses, with slight changes in wording or ransom amounts |
| Prevention Tips | Verify the legitimacy of unsolicited emails, never pay ransoms, run security software |
| Reporting Info | Report the scam to relevant authorities (e.g., FTC); Share information about the scam with friends and family to raise awareness; Monitor online accounts for any suspicious activity |
Conclusion
The "YouPorn Uploaded content notification" Email Scam is a calculated attempt to exploit human vulnerabilities by stirring up fears about privacy and reputation. Despite its seemingly formal language and technical specifications, the email is nothing more than a scheme designed to part you from your hard-earned money. Its offers to remove nonexistent explicit videos for exorbitant fees hinge on creating a sense of urgency and fear, coercing victims into making quick and regrettable financial decisions.
As technology advances, scammers are becoming increasingly sophisticated, adopting new tactics and refining their methods. However, the most effective shield against scams like this remains awareness and vigilance. By understanding the tactics employed, scrutinizing unsolicited emails, and avoiding hasty decisions, you can protect yourself from falling prey to such scams.
If you receive such an email, do not engage; instead, report it to the relevant authorities and delete it. As the saying goes, "Forewarned is forearmed". Stay safe and stay informed.