Cathkidstonuksale.com claims to offer a "Close Down Clearance" with discounts up to 90% on Cath Kidston products. Promoted heavily on Facebook, the store lures customers in with seemingly unbeatable deals. But is it too good to be true? Continue reading to find out why this is a scam you should avoid.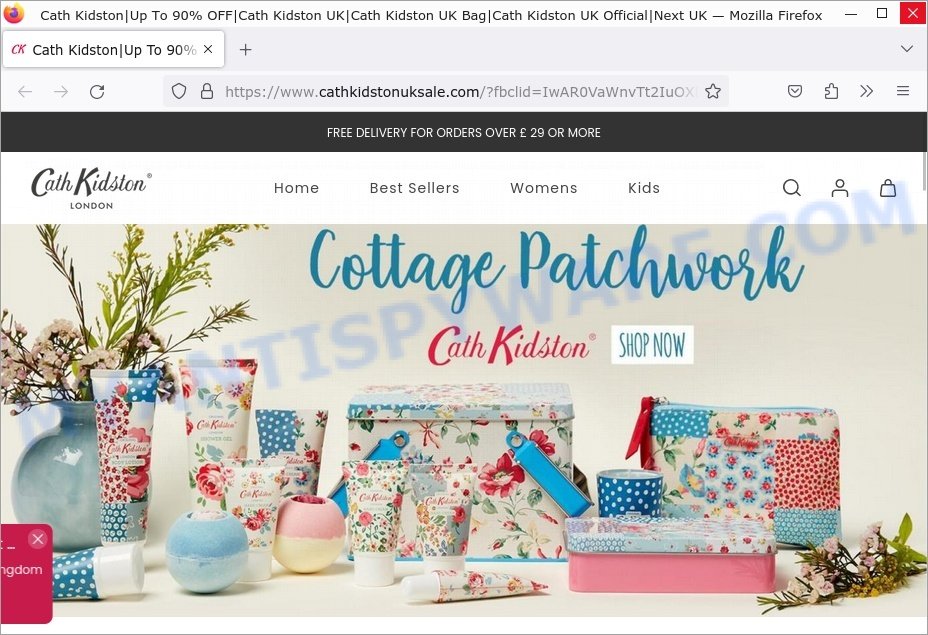 Quick links
Is Cathkidstonuksale.com a Scam?
Unfortunately, Cathkidstonuksale.com shows multiple red flags that are commonly associated with scam shops:
Recently created domain
Lack of substantial contact information, primarily reachable through a suspicious email: infooo@dhl-trackbox.com
No real info about the company behind the store
Unbelievable deals and incredibly low prices
Enticing slogans like "Clearance Sale", "30 Days Free Return", "Huge Discounts", "Limited Time Sale"
No social media presence or verifiable credentials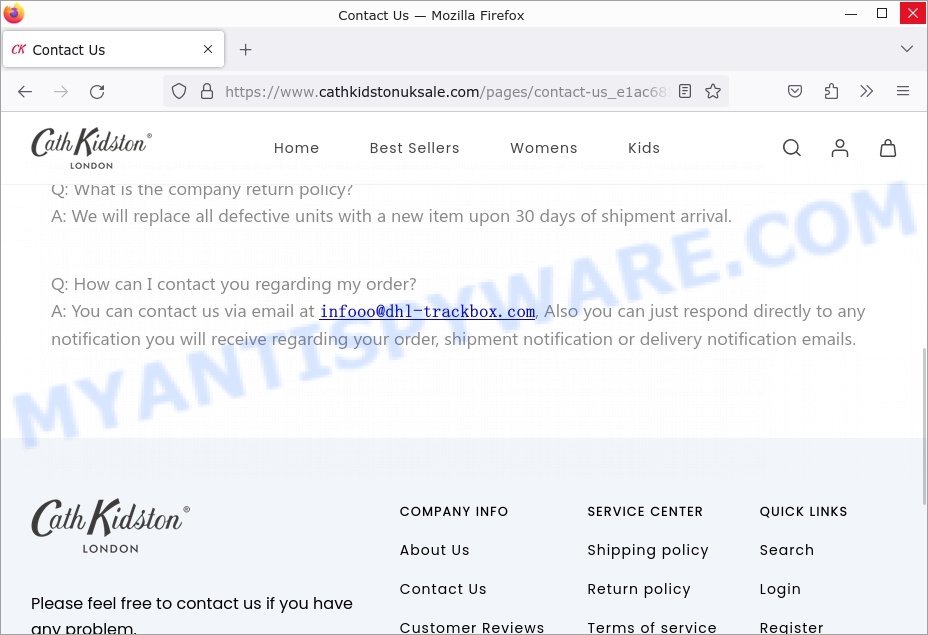 How the Cathkidstonuksale.com Scam works
Cathkidstonuksale.com is promoted through Facebook advertisements claiming to offer a "Close Down Clearance" with discounts of up to 90%. Once you are lured by the deals, the site promises secure payments and 24-hour delivery. However, after payment, products are either not delivered or are counterfeit.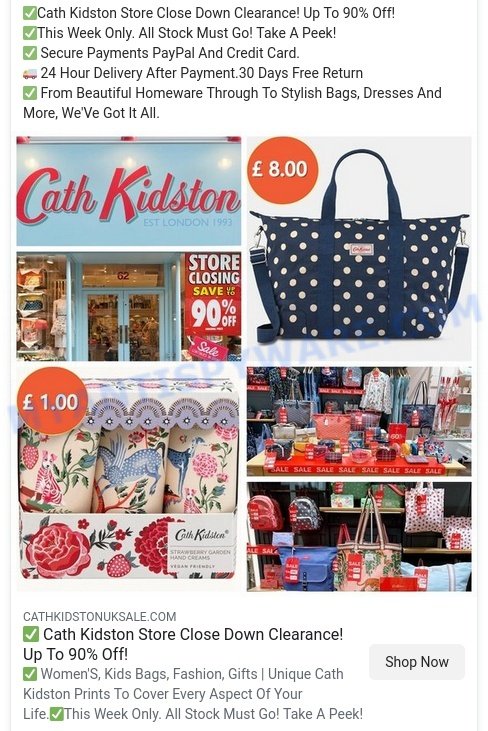 The website mimics genuine Cath Kidston designs and utilizes high-pressure sales tactics like "This Week Only" and "All Stock Must Go" to rush the buyer into making a purchase.
What to do if you become a victim of Cathkidstonuksale.com
If you've unfortunately fallen victim to this scam, immediate action is crucial to limit the damage.
Contact your credit card company or bank to report the fraudulent charge.
Change your passwords for any accounts associated with the compromised payment method.
File a complaint with the Federal Trade Commission at reportfraud.ftc.gov.
Leave a comment on this review to help others identify the scam.
Other Scam Online Shops to Avoid
As part of our ongoing effort to protect our readers from potential scams, we have compiled a list of other suspicious online shops that share similar characteristics and tactics with Cathkidstonuksale.com.
Below we highlight some of the other suspicious online shops that you should avoid:
Here are a few examples of the scam online shops: Acstoreus.com, Outletshoks.com, KingCrabStore.com.
Summary table for Cathkidstonuksale.com
| | |
| --- | --- |
| Name | Cathkidstonuksale.com |
| Type | Scam Online Store |
| Damage | Financial loss, possible identity theft |
| Distribution | Facebook Ads |
| Tactics | Bait-and-switch, false advertising |
| Prices | Up to 90% discounts on claimed products |
| Contacts | Email: infooo@dhl-trackbox.com |
| Prevention Tips | Always verify online stores before making a purchase |
| Reporting Info | reportfraud.ftc.gov |
Conclusion
"Cath Kidston UK Sale" (Cathkidstonuksale.com) is a fraudulent online store that exploits the reputation of a well-known brand to scam unsuspecting buyers. Its operation relies on bait-and-switch tactics and offers deals that are too good to be true. Exercise extreme caution and do your research before engaging with such sites.
FAQ About the Cathkidstonuksale.com Scam
Q: Can I trust the email associated with Cathkidstonuksale.com?
A: No, the email is linked to other scam shops and should not be considered reliable.
Q: What happens if I click on the Facebook ad?
A: You will be redirected to another site, which is another red flag indicating the scammy nature of the operation.
Q: Are there any real discounts?
A: The discounts are likely bogus and are part of the tactics to lure unsuspecting buyers.