Reissfactoryonline.shop poses as a clearance outlet for Reiss fashion, luring buyers with unbelievable discounts of up to 80% off. The shop is heavily promoted on Facebook, promising 3-day delivery or a full refund. However, this store is not what it seems, and we urge you to read the full article to understand why.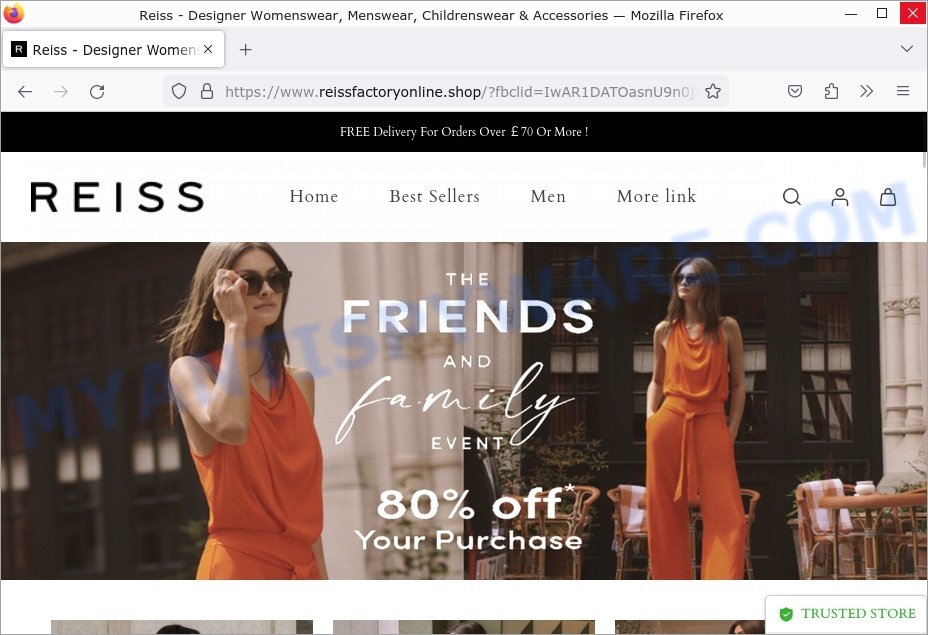 Quick Links
Is Reissfactoryonline.shop a Scam?
The store displays several red flags that indicate it's a scam.
Recently created domain
Lack of legitimate contact information (only an email: service@reissonlinesale.shop)
No information about the company
Unrealistic deals and incredibly low prices
Template website design
Enticing slogans such as "Store Closing" and "3-Day Delivery Guarantee or Full Refund"
Whois contacts are hidden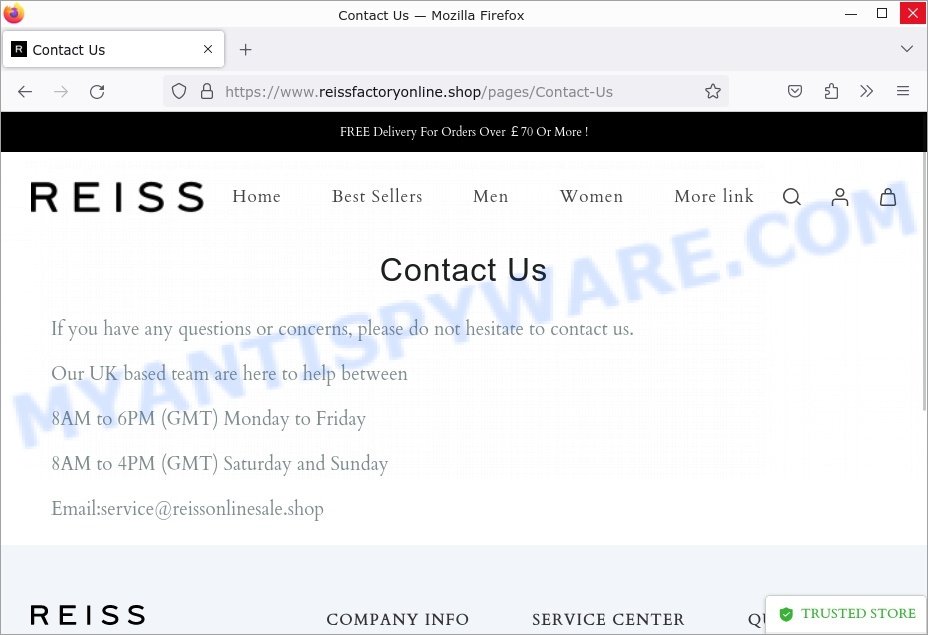 How the Reissfactoryonline.shop Scam Works
Reissfactoryonline.shop starts by placing eye-catching ads on Facebook. These ads claim that the store is closing and offering everything at an unbelievable discount. To make the deal seem even more enticing, the scam claims a "3-Day Delivery Guarantee or Full Refund".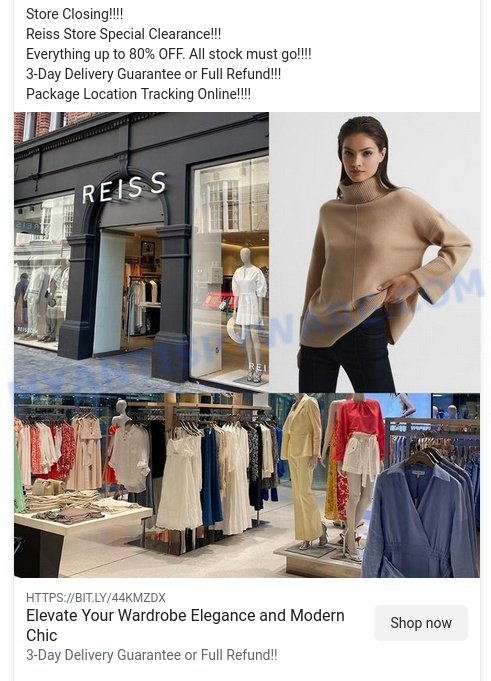 People are lured by these offers and visit the site, which mimics a genuine Reiss outlet. After making the payment, they either receive fake products or nothing at all. The site then becomes unreachable, or the customer is ignored.
What to Do if You Become a Victim of Reissfactoryonline.shop
If you've been scammed by Reissfactoryonline.shop, take immediate action.
Contact your bank to report the fraudulent charge and possibly reverse it.
Report the scam to FTC.
Leave a comment on this review to alert others.
Other Scam Online Shops to Avoid
To keep our readers safe from scams, we have identified other online shops that operate in a similar fashion to Reissfactoryonline.shop. They use similar tactics to deceive online shoppers, and you should stay clear of them.
Here are a few examples of the scam online shops: Blackstonediscount.com, Luvasti.com, and Babyjoynewyork.com.
Summary Table for Reissfactoryonline.shop
| | |
| --- | --- |
| Name | Reissfactoryonline.shop |
| Type | Online Scam Shop |
| Damage | Financial Loss, Data Theft |
| Distribution | Facebook Ads |
| Tactics | Enticing Offers, Hidden Identity |
| Prices | Up to 80% off on fake products |
| Contacts | Email: service@reissonlinesale.shop |
| Prevention Tips | Research before buying, avoid too-good-to-be-true deals |
| Reporting Info | FTC |
Conclusion
"Reiss Factory Online Shop" (Reissfactoryonline.shop) is a fraudulent online store that capitalizes on the reputation of the Reiss brand to scam consumers. From its recent domain registration to the unbelievable discounts, there are several red flags that make this a site to avoid. Always remember, if a deal seems too good to be true, it probably is.
FAQ About the Reissfactoryonline.shop Scam
What happens if I ignore the red flags and shop on Reissfactoryonline.shop?
You may either receive fake products or nothing at all. The chances of getting a refund are slim, and your financial information may be compromised.
Can I trust a store that I see advertised on Facebook?
Not necessarily. Scammers often use social media platforms like Facebook to promote their fake stores. Always research before making a purchase.
How do these scam shops keep appearing?
They exploit loopholes in advertising and eCommerce platforms. As soon as one shop is taken down, another one pops up with a different name but similar tactics.