In recent weeks, a new scam has surfaced on Reddit, targeting individuals searching for job opportunities. The scam involves fake job postings on various job search subreddits, promising high-paying work-from-home positions as Amazon product testers. These posts, which are likely added by bots from hacked accounts, contain links to suspicious websites that redirect users through multiple domains. The final destination of these links is a website called Rewardsgiantusa.com, which has nothing to do with Amazon product testing jobs. Instead, it offers a tempting bonus of $750 for submitting a product review after completing 20 "deals", but in reality, it is just a ploy to collect personal information and trick people into completing offers. This article will delve deeper into the mechanics of this scam and offer tips on how to avoid falling victim to it.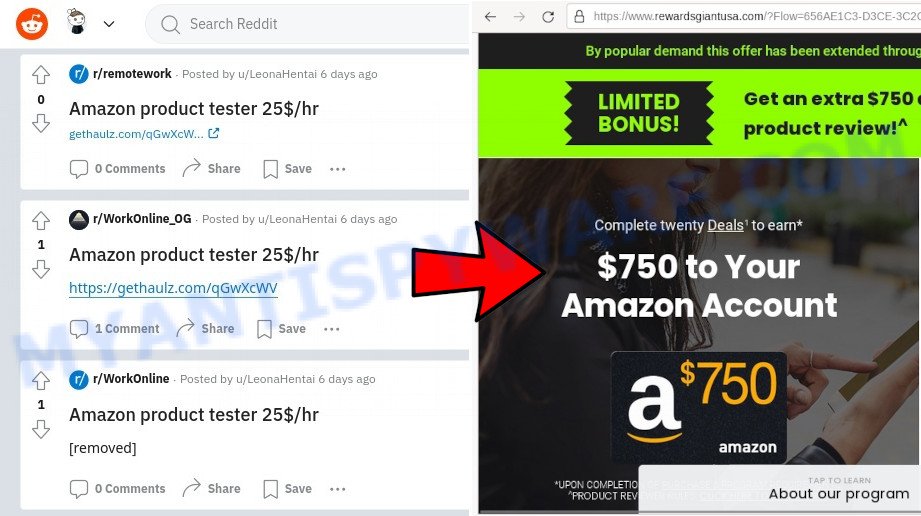 QUICK LINKS
The Reddit Connection: A Breeding Ground for Deception
Within the expansive landscape of Reddit, a popular online community comprising diverse forums and discussion boards, a disturbing trend has emerged—scammers utilizing the platform to propagate deceptive job offers. This particular scheme preys upon individuals actively seeking employment opportunities, specifically targeting job search groups such as ForHire_FreeLance, ForHire_Designers, and others.
The scam manifests through seemingly legitimate posts with titles like "Amazon product tester 25$/hr" or "Amazon work from home 45$/hr," deliberately designed to catch the attention of job seekers. These posts, strategically generated by automated bots using compromised accounts, aim to bypass Reddit's security measures and entice unsuspecting users into their web of deceit.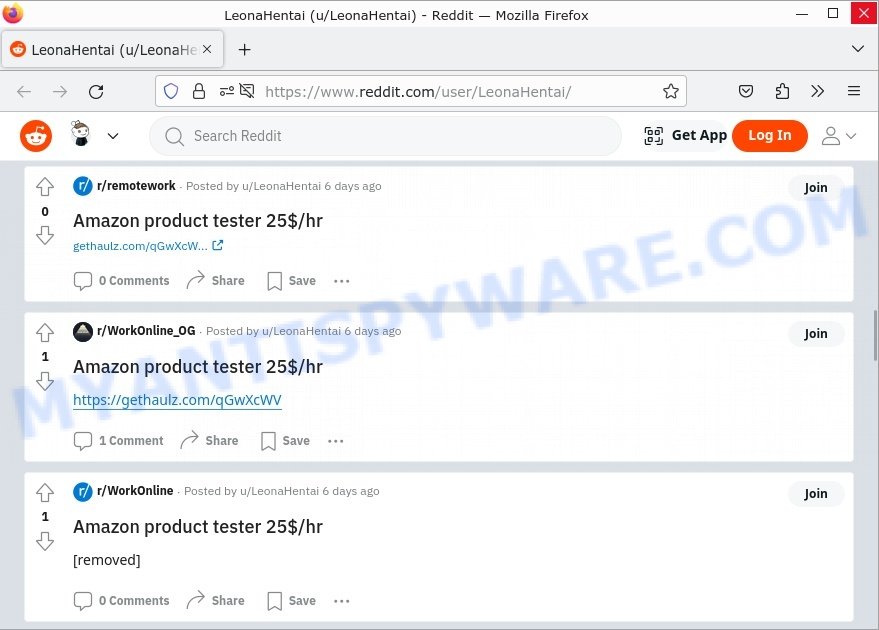 Upon closer inspection, these fraudulent posts reveal a striking pattern—each one consists solely of a link, devoid of any meaningful content or context. The intent is clear: to redirect curious individuals to external websites operating as part of the scam.
These Reddit posts often appear in multiple job search groups, spreading like wildfire across the platform's vast user base. By infiltrating various subreddits, scammers increase the likelihood of their posts reaching a substantial number of potential victims, capitalizing on the trust and engagement fostered within the Reddit community.
It's crucial to note that the Reddit connection itself does not implicate the platform as being complicit in these deceptive activities. Reddit serves as a medium for both legitimate discussions and deceptive practices, with scammers exploiting the platform's openness and the relative anonymity it affords.
Users must exercise caution and skepticism when encountering job offers or enticing opportunities on Reddit or any online platform. Vigilance is paramount, as these scams often employ sophisticated techniques to appear authentic and legitimate.
The Redirect Journey: Unraveling the Web of Deception
Behind the enticing Reddit posts promising Amazon product tester jobs lies a convoluted and intricate network of redirects, carefully orchestrated to deceive unsuspecting users. Unraveling this web of deception reveals the extent to which scammers go to mislead and defraud individuals seeking legitimate employment opportunities.
Once users click on the intriguing Reddit post, they are directed to the initial link, such as "hxxps://gethaulz.com/qGwXcWV." This seemingly innocent URL is the starting point of their journey, which unfolds through a series of calculated redirects.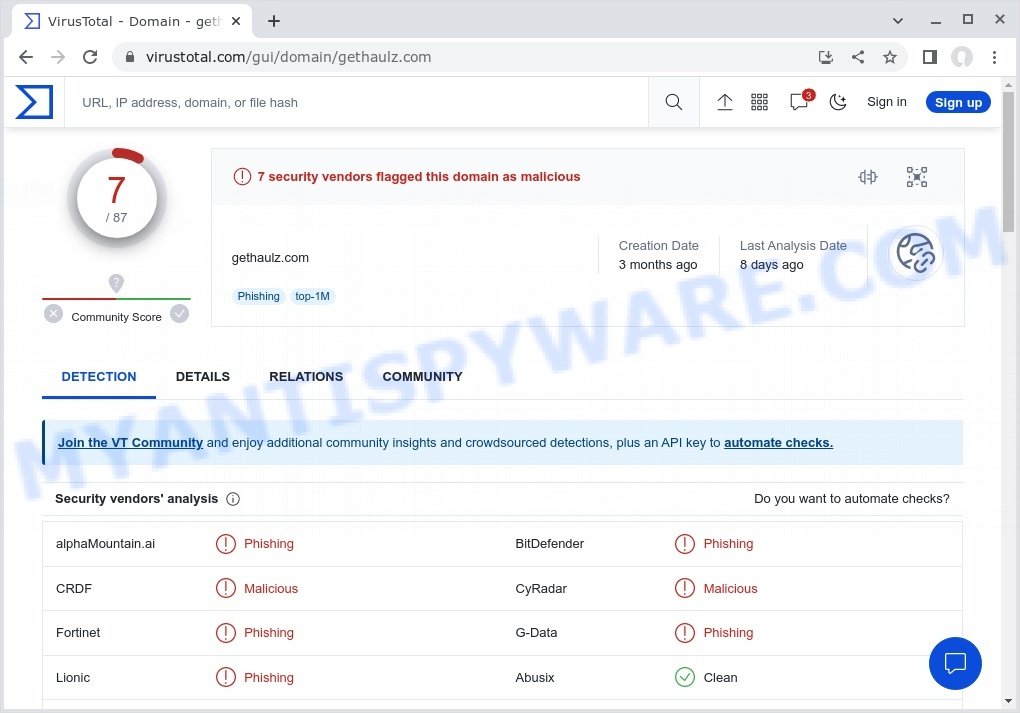 The first redirect occurs, as indicated by URLScan.io, leading users to "hxxps://tappco.go2cloud.org/aff_c?offer_id=741&aff_id=14109&aff_click_id=qo3ph0h8dxy9bxql4fpwzsefrur4lxaf." This redirect acts as a gateway, steering individuals deeper into the scam. At this stage, users may start to feel a sense of unease or curiosity as they navigate unfamiliar territory.
The journey takes another twist as users are redirected once again, this time to "hxxps://c.spnccrzone.com/?OO=3LLzFPptN9MJjZMT8qCLBKgtOobZKIWxvQJDRoz7h5U%3d-JNRT5du4udM%3d&s1=14109&s2=102cb8aefe02d073c06780ef56330a." The purpose of this redirect is to obfuscate the trail and make it harder for users to track their path or recognize the impending scam. The website at this stage, spnccrzone.com, is flagged as phishing by VirusTotal, indicating the malicious intent behind this redirection.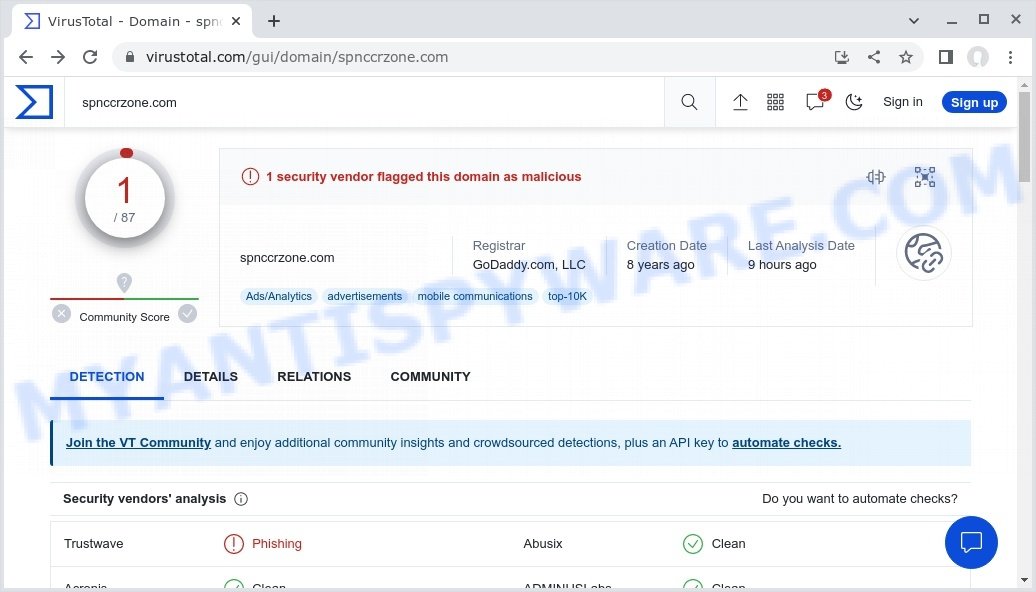 Finally, the redirect culminates with users arriving at the ultimate destination: rewardsgiantusa.com. However, this website has no affiliation with Amazon product tester jobs or any legitimate employment opportunities.
The journey through these redirects serves two critical purposes for the scammers. Firstly, it adds an element of legitimacy and complexity, creating an illusion of credibility as users traverse various domains. Secondly, it creates confusion and disorientation, making it more challenging for victims to trace back their steps and recognize the stark contrast between the initial promise and the final destination.
The final destination: Rewardsgiantusa.com
The final destination of this deceptive scam is rewardsgiantusa.com. At first glance, it presents an enticing proposition: the opportunity to earn an extra $750 by submitting a product review. However, delving deeper reveals a web of deceit and false promises.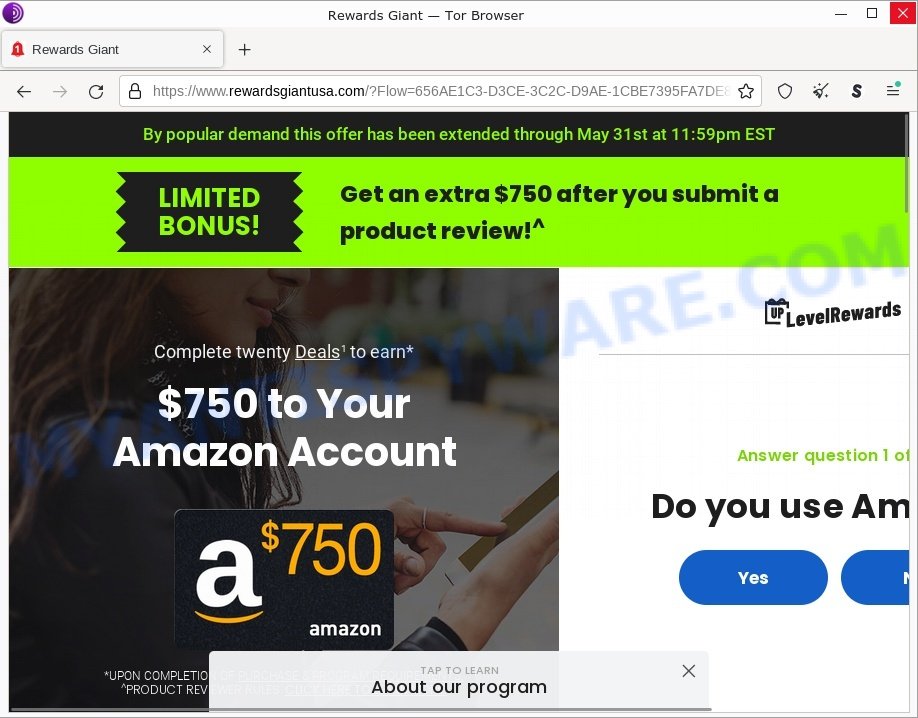 Rewardsgiantusa.com sets forth a series of requirements that users must fulfill to claim the promised reward. The main condition is completing 20 deals as part of a limited-time promotion. These deals can encompass a range of activities, including engaging with mobile games, apps, subscription products and services, free trials, and more. While some deals may be free, many others require users to make purchases, which can result in additional financial burdens.
In addition to the 20 deals, users are also required to meet specific criteria when submitting their product review. They must provide a copy of their itemized product order confirmation, choose the item(s) they wish to review, and include the relevant name and SKU number(s). Furthermore, users are expected to provide their own pictures of the reviewed item(s), and their product review must meet a minimum length of 100 words, describing both positive and negative aspects.
However, it's crucial to approach rewardsgiantusa.com with skepticism and caution. There is no guarantee that users will actually receive the promised $750 reward after completing the program requirements. In fact, some individuals may end up spending more money on the deals than the reward they ultimately receive, leading to financial losses and disappointment.
Rewardsgiantusa.com operates independently from Amazon and has no affiliation with the initial Reddit posts advertising Amazon product tester jobs. It preys upon the trust and aspirations of individuals genuinely seeking employment opportunities, exploiting their desires for better income and collaboration with reputable companies.
Examples of Job Scams
Scams targeting job seekers and individuals seeking remote work opportunities have become increasingly prevalent in the online landscape. These deceptive schemes capitalize on people's desire for flexible employment and financial stability, often promising high-paying jobs or lucrative perks. One such example is the Amazon Product Tester Scam, which we have discussed in detail earlier. Unfortunately, this is just one instance of a broader trend of scams that prey on vulnerable individuals. In this section, we will explore a range of similar scams, shedding light on their tactics, red flags to watch out for, and the potential consequences of falling victim to them.
Here are some links to examples of similar scams: Shein Gives Back Product Reviewer Scam, Testpurple.com – Fake Pillow Testing Job, Magicbinge.com, Basics Program Scam, and Flixtagger.com Netflix Tagger Scam.
Remember, if something seems too good to be true, it probably is. Always be cautious and do your research before giving out personal information or paying for any job opportunities online
Threat Summary
| | |
| --- | --- |
| Name | Amazon Product Tester Scam |
| Type | Job Scam |
| Social Media | Reddit, ForHire_FreeLance, ForHire_Designers, ForHire_OG, work, workfromhome, RemoteWork_OG, remotework |
| Scam Promotion | False job postings offering high-paying positions as Amazon product testers |
| Scammer Strategy | Lure victims with promises of easy work and high earnings |
| Scam Website | gethaulz.com |
| Redirection Path | gethaulz.com → tappco.go2cloud.org → c.spnccrzone.com → rewardsgiantusa.com |
| Rewardsgiantusa.com | Offers an extra $750 after submitting a product review |
| Requirements | Complete 20 deals, provide order confirmation, submit a product review |
| Scam Indicators | Redirects to suspicious sites, misleading job descriptions, requests for personal information, no genuine employment opportunity, offers too good to be true |
| Potential Consequences | Financial loss, compromised personal information |
| Legitimate Amazon Program | Amazon Mechanical Turk and official Amazon recruitment channels |
How to Spot Fake Job Offers
If you're interested in working from home and stumbled upon gethaulz.com or similar websites that offer seemingly easy and high-paying jobs, it's important to be cautious. Unfortunately, many of these sites turn out to be scams, designed to deceive unsuspecting individuals looking for employment opportunities.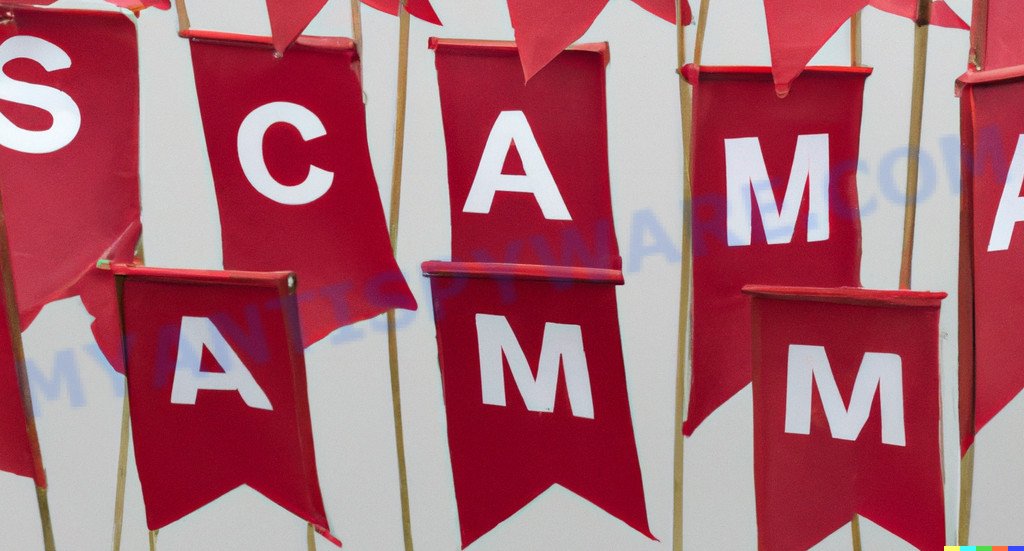 Below, we'll provide you with some tips on how to spot these types of scams and avoid falling victim to them.
Scammers often use vague or unrealistic job descriptions to lure people into their trap. If a job posting sounds too good to be true or lacks details about the position, it's best to be cautious.
Legitimate companies always provide contact information such as an email address, phone number, or physical address. If a company doesn't provide any contact information, it's a red flag.
Take some time to research the company and read reviews from other people who have worked with them. If there are a lot of negative reviews or the company doesn't have much of an online presence, it's best to steer clear.
If a company asks you to pay for training or materials to do the job, it's likely a scam. Legitimate companies will provide all the necessary tools and training for free.
If something feels off or too good to be true, it probably is. Don't ignore your instincts and always err on the side of caution.
Conclusion:
Scams targeting job seekers and individuals seeking remote work opportunities, such as the Amazon Product Tester Scam discussed earlier, are alarmingly prevalent on platforms like Reddit and other online forums. These deceptive schemes exploit people's aspirations for flexible employment and financial stability, luring them with false job postings and enticing promises.
To protect yourself from falling victim to these scams, it is crucial to exercise caution and remain vigilant. Be wary of job offers that seem too good to be true or require upfront payments or personal information. Red flags to watch out for include suspicious redirection paths, misleading job descriptions, and requests for payment or sensitive data.
The potential consequences of falling for these scams can be devastating, ranging from financial loss to identity theft or malware infections. It is vital to rely on legitimate sources and official channels when searching for job opportunities. Platforms like Reddit can be useful for networking and gathering information, but it is essential to exercise skepticism and verify the credibility of job postings and promotions.
Remember, if an opportunity sounds too good to be true, it likely is. Take the time to research and verify any offers, read reviews and testimonials, and trust your instincts. By staying informed and cautious, you can navigate the online job market more safely and avoid becoming a victim of scams.