Shein, the popular online clothing retailer, is once again being targeted by scammers. This time, they are using TikTok to promote a fake product reviewer program called "Shein Gives Back" that promises an $800 gift card to those who sign up at SheinGivesBack.com. But in reality, this program is nothing more than a sophisticated scam designed to steal personal information and potentially defraud users. In this article, we will explore how the "Shein Gives Back" scam works and what steps you can take to protect yourself from falling victim to it.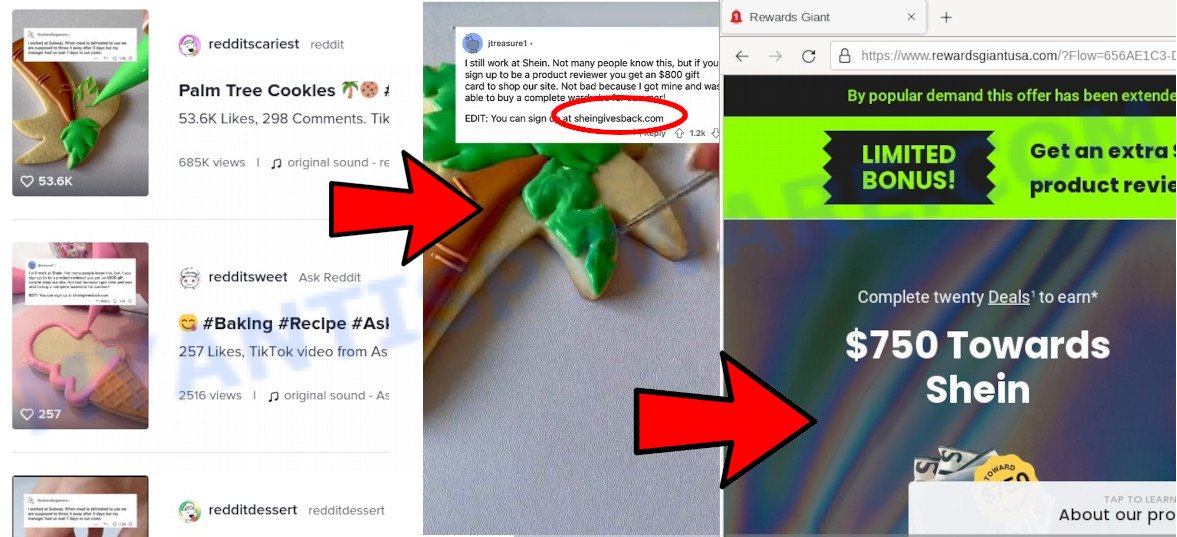 QUICK LINKS
How the Shein Gives Back Scam works
The Shein Gives Back Scam is a fraudulent scheme that is promoted through popular TikTok videos and other social media platforms. The scam poses as an opportunity to become a Shein product reviewer and get an $800 Shein card.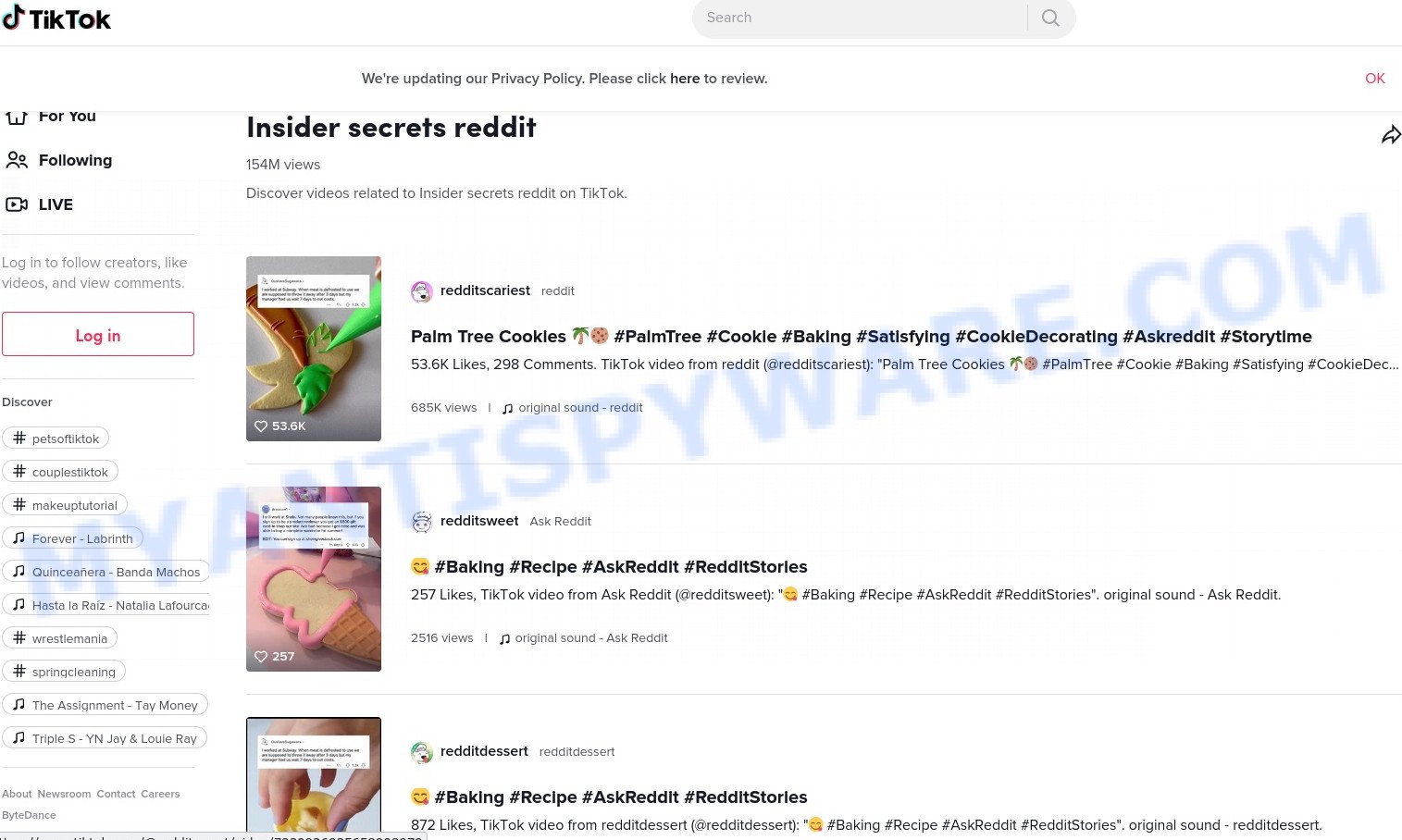 The scam is promoted through popular TikTok videos, in which a text message is placed (embedded) at the top, such as "jtreasure1. I still work at Shein. Not many people know this, but if you sign up to be a product reviewer you get an $800 gift card to shop our site. Not bad because I got mine and was able to buy a complete wardrobe for summer! EDIT: You can sign up at sheingivesback.com Reply 1.2k". The message suggests that if you sign up to be a product reviewer, you can get an $800 Shein gift card.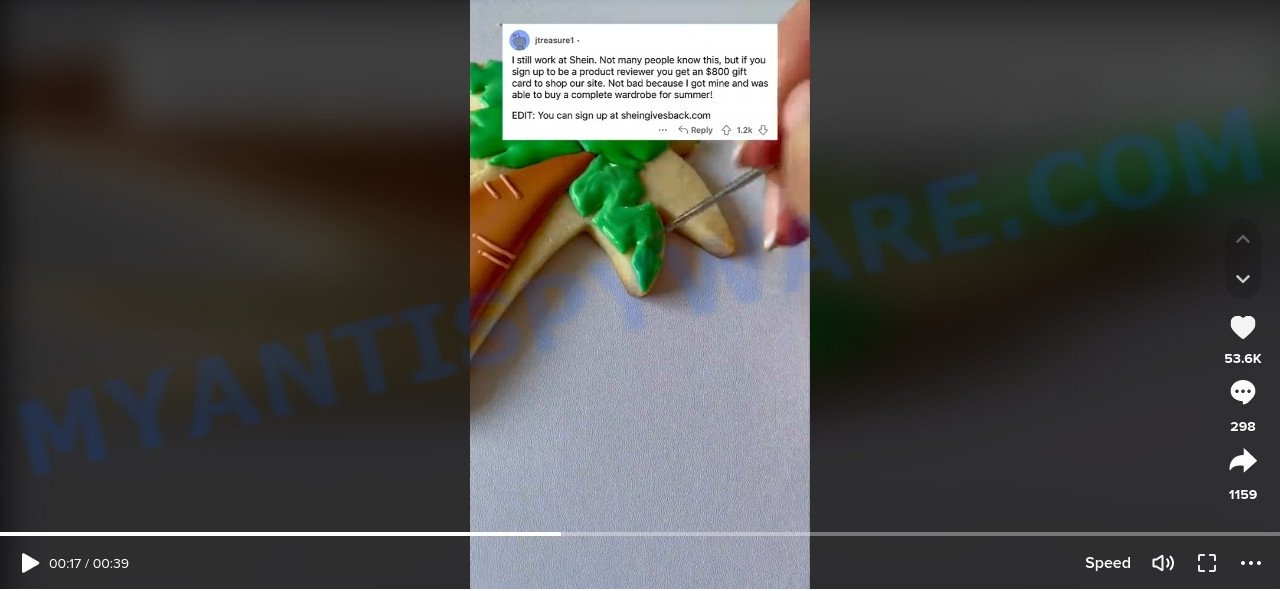 If the user believes this and enters the address sheingivesback.com into the browser, then multiple redirects will occur. URLScan.io showed that the user is redirected to sheingivesback.com, then to tappco.go2cloud.org, then to c.spnccrzone.com, and finally to rewardsgiantusa.com. The websites sheingivesback.com, tappco.go2cloud.org, and c.spnccrzone.com do not have any content. They just redirect the user further until they end up on rewardsgiantusa.com.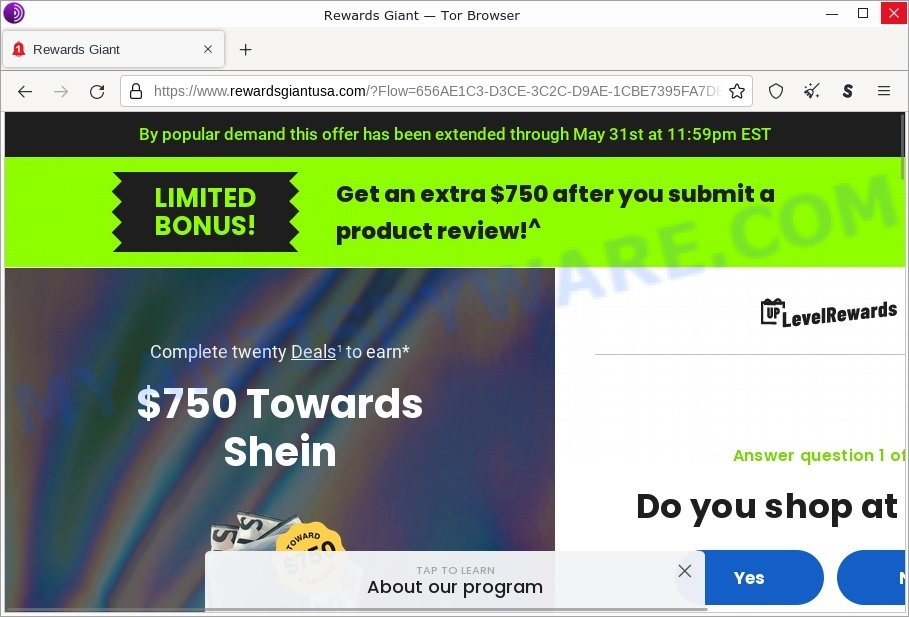 On the rewardsgiantusa.com website, users are promised an extra $750 after submitting a product review. However, to earn the reward, users must complete 20 deals and fulfill the initial $750 reward as part of the limited time promotion. They are required to submit a copy of their itemized product order confirmation, pick what they want to review, and include the item(s) name and SKU number(s). They are also required to include their own pictures of the item(s) they're reviewing, and their product review must be a minimum of 100 words, describing what they liked and/or didn't like about the product(s).
The catch is that users must first complete 20 deals, which can include mobile games and apps, subscription products and services, free trials, and many more. Some of the deals offered are free, while many require a purchase to complete. Users are also asked to take an optional survey and view optional offers from partners. Completing optional offers or survey questions does not count towards earning the reward, and users may be asked for consent to telemarketing, which is not necessary to earn a reward.
Once users have completed the required number of deals and fulfilled the initial $750 reward, they are instructed to submit their product review to receive the extra $750 payment. However, there is no guarantee that users will receive their reward after completing the program requirements, and they may end up spending more money on the deals than the reward they receive.
In summary, the Shein Gives Back Scam is a phishing scam that lures people in with the promise of an $800 Shein gift card for becoming a product reviewer. There is no legitimate connection to Shein, and the whole scheme is a fraudulent attempt to trick users into completing deals and providing personal information. The scammers behind the Shein Gives Back Scam use the promise of a substantial gift card to lure unsuspecting individuals into completing surveys and signing up for offers, ultimately generating revenue for themselves and their partner companies.
Examples of Job Scams Like Shein Gives Back
Unfortunately, the Shein Gives Back Scam is just one of many fraudulent schemes that have recently been circulating online. In this section, we'll take a look at some other similar scams that have targeted unsuspecting victims with promises of easy money or rewards. These scams can take many forms, including fake product reviews, bogus job offers, and phony prize giveaways. It's important to be aware of these scams and to exercise caution when sharing personal information or engaging in online transactions.
Here are some links to examples of similar scams: Testpurple.com – Fake Pillow Testing Job, Testoutbasics.com Amazon Product Tester Scam, Magicbinge.com, Basics Program Scam, and Flixtagger.com Netflix Tagger Scam.
Remember, if something seems too good to be true, it probably is. Always be cautious and do your research before giving out personal information or paying for any job opportunities online
Threat Summary
| | |
| --- | --- |
| Name | Shein Gives Back Scam |
| Type | Phishing/scam promotion via social media |
| Social Media | TikTok |
| Scam Promotion | Fake product reviewer opportunity for $800 Shein card |
| Scammer Strategy | Embedding fake promo messages in popular TikTok videos |
| Scam Website | sheingivesback.com |
| Redirection Path | sheingivesback.com -> tappco.go2cloud.org -> c.spnccrzone.com -> rewardsgiantusa.com |
| Rewardsgiantusa.com | Offers an extra $750 after submitting a product review |
| Requirements | Complete 20 deals and submit product review |
| Scam Indicators | Redirects to suspicious sites, embedded promo messages, offers too good to be true |
| Potential Consequences | The scammers can steal personal and financial information from the user, sell their information to other scammers, or use the information to commit fraud. |
| Legitimate Shein Program | Shein does not have a program that offers an $800 gift card for becoming a product reviewer. |
How to Spot Fake Job Offers
If you're interested in working from home and stumbled upon Shein Gives Back or similar websites that offer seemingly easy and high-paying jobs, it's important to be cautious. Unfortunately, many of these sites turn out to be scams, designed to deceive unsuspecting individuals looking for employment opportunities. In this section, we'll provide you with some tips on how to spot these types of scams and avoid falling victim to them.
Scammers often use vague or unrealistic job descriptions to lure people into their trap. If a job posting sounds too good to be true or lacks details about the position, it's best to be cautious.
Legitimate companies always provide contact information such as an email address, phone number, or physical address. If a company doesn't provide any contact information, it's a red flag.
Take some time to research the company and read reviews from other people who have worked with them. If there are a lot of negative reviews or the company doesn't have much of an online presence, it's best to steer clear.
If a company asks you to pay for training or materials to do the job, it's likely a scam. Legitimate companies will provide all the necessary tools and training for free.
If something feels off or too good to be true, it probably is. Don't ignore your instincts and always err on the side of caution.
Conclusion: Don't Fall for Job Scams like Shein Gives Back
It is important to be cautious when seeking employment opportunities, especially online. Scammers often take advantage of vulnerable individuals looking for work and use tactics like offering high salaries, easy job requirements, and promising quick payments to lure them in. The Shein Gives Back scam is just one example of this type of deception.
If you have fallen victim to a job scam like Shein Gives Back, it is important to report it to the appropriate authorities. This can help prevent others from being scammed in the future and may even lead to the apprehension of the scammers themselves. Remember, always be vigilant and protect yourself from online job scams.