Testoutbasics.com is a website that claims to offer an exciting opportunity for individuals to become Amazon product testers. The site has been promoted through YouTube shorts and claims that Amazon is hiring product testers, offering free items like earphones, coffee mugs, and bedding, in exchange for detailed reports and reviews. However, there are suspicions that this website is a scam. Our review will examine the red flags that suggest Testoutbasics.com may not be a legitimate platform for Amazon product testing. If you're thinking of applying to Testoutbasics.com, read on to learn what you should know first.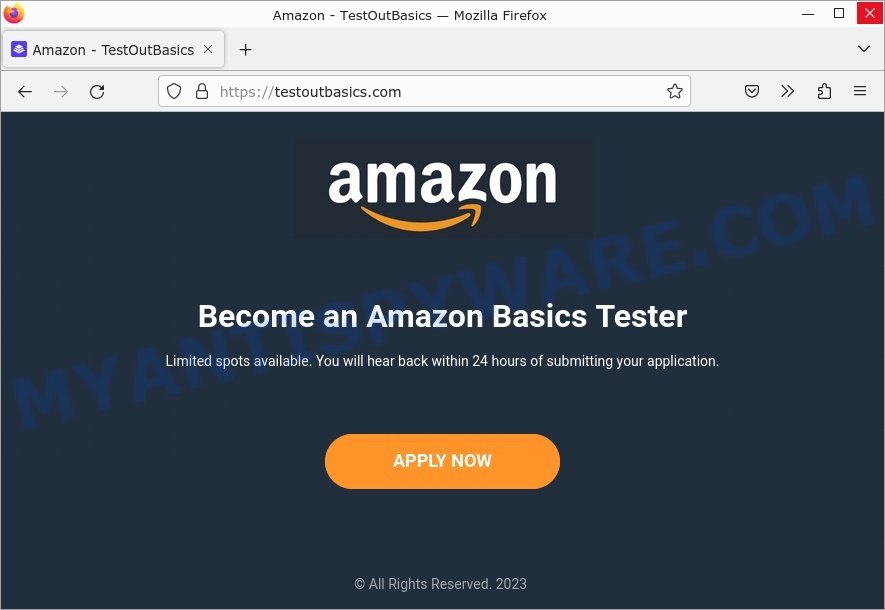 QUICK LINKS
How the Testoutbasics.com Scheme works
The Testoutbasics.com website appears to be attempting to deceive people by offering a fake product testing opportunity that requires users to complete tasks and make purchases to claim rewards. The process of deception starts with messages in a YouTube video that claim Amazon is hiring product testers and offering free products in exchange for detailed reviews.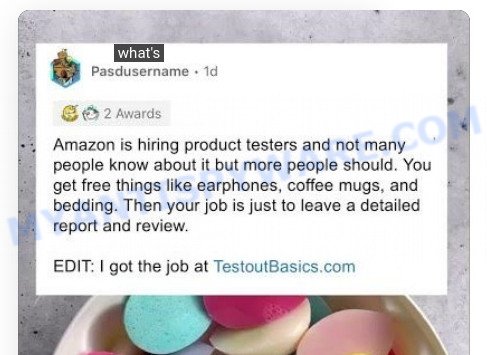 The video encourages viewers to visit Testoutbasics.com, where they can supposedly apply to become an Amazon product tester. However, when users visit the website, they are presented with a very simple page with no information other than the Amazon logo and an "APPLY NOW" button. When users click on this button, they are redirected through multiple sites, including one flagged as phishing by VirusTotal, until they land on Consumerzoneusa.com.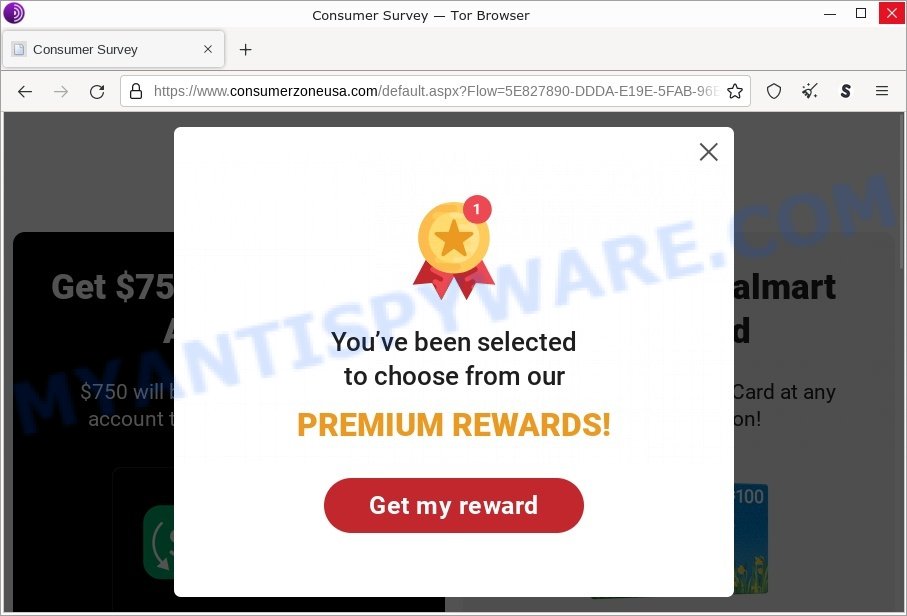 This website offers "Premium Rewards" that require users to complete a certain number of "Deals" to claim. To start the process, users are required to answer a question about whether they use cash. Once they answer, they are taken through a four-step process that includes signing up for the reward program, taking an optional survey, viewing optional offers from partners, and completing 20 deals to claim a $750 reward.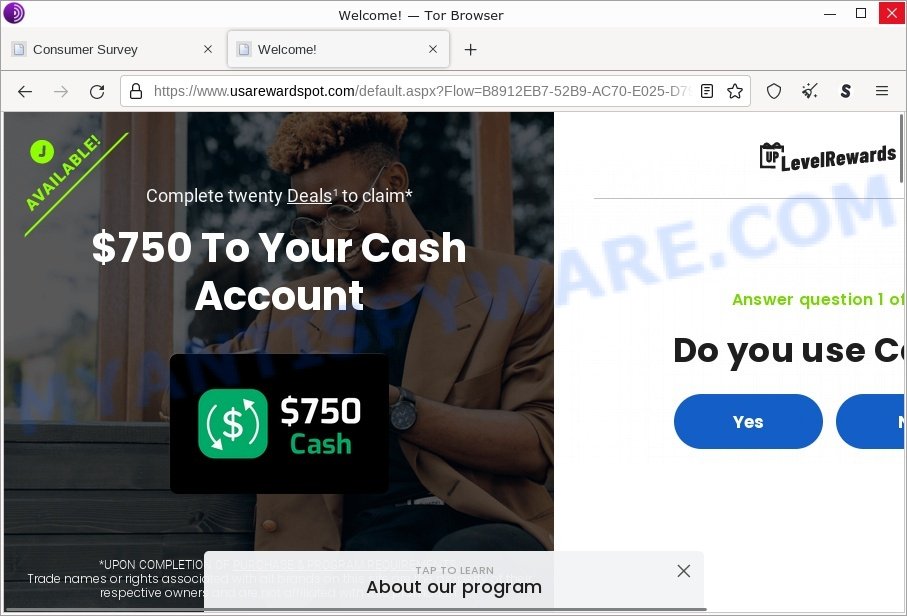 The required number of deals to claim a reward is not specified until users answer the cash question, and the number of deals required for lower value rewards is not clear. To complete a deal, users may be required to make a purchase, sign up for a subscription, or provide personal information. The entire process of completing deals and claiming rewards may take several days or longer.
In summary, Testoutbasics.com appears to be attempting to deceive people by luring them in with the promise of a product testing opportunity, only to redirect them to a site that requires them to complete deals and make purchases to claim rewards. The lack of transparency, unclear rewards program, and potential risks of providing personal information and making purchases should be red flags for anyone considering participating in this program.
Beware of Fake Job Offers: Websites Similar to Testoutbasics.com
Many online job seekers dream of getting paid to test products for major companies like Amazon, or to watch movies for Disney+ and tag videos for Netflix. Unfortunately, this dream has been exploited by scammers who set up fake websites promising these types of jobs in exchange for personal information or even money. Below are some examples of similar websites that have been reported recently: Magicbinge.com, Basicsprogram.com, and Flixtagger.com.
How to Spot Fake Job Offers
If you're interested in working from home and stumbled upon Testoutbasics.com or similar websites that offer seemingly easy and high-paying jobs, it's important to be cautious. Unfortunately, many of these sites turn out to be scams, designed to deceive unsuspecting individuals looking for employment opportunities. In this section, we'll provide you with some tips on how to spot these types of scams and avoid falling victim to them.
Scammers often use vague or unrealistic job descriptions to lure people into their trap. If a job posting sounds too good to be true or lacks details about the position, it's best to be cautious.
Legitimate companies always provide contact information such as an email address, phone number, or physical address. If a company doesn't provide any contact information, it's a red flag.
Take some time to research the company and read reviews from other people who have worked with them. If there are a lot of negative reviews or the company doesn't have much of an online presence, it's best to steer clear.
If a company asks you to pay for training or materials to do the job, it's likely a scam. Legitimate companies will provide all the necessary tools and training for free.
If something feels off or too good to be true, it probably is. Don't ignore your instincts and always err on the side of caution.
Conclusion and Final Thoughts
After researching and examining Testoutbasics.com, we have found that there are several red flags and warning signs that suggest it may be a scam. The lack of transparency, the promise of easy money, and the requirement to complete tasks before receiving payment are all common tactics used by scammers to lure in unsuspecting victims.
If you have encountered Testoutbasics.com or any similar site that claims to offer easy jobs for high pay, we strongly advise that you approach with caution and do your due diligence before sharing any personal information or completing any tasks.
Remember that if something seems too good to be true, it probably is. Always take the time to research the company or website, read reviews and feedback from other users, and be wary of any requests for payment or personal information.
Thank you for taking the time to read this review of Testoutbasics.com. We hope that it has been informative and helpful in identifying potential scams and protecting yourself from fraud.