Magicbinge.com is a website that claims to offer a way to earn money by watching Disney movies. However, upon closer inspection, there are several red flags that suggest it may not be entirely legitimate. The website has a simple design with only a Disney+ logo and an "APPLY NOW" button. There are no links to "About Us", "Terms", or "Privacy Policy". Clicking on the "APPLY NOW" button redirects users to StartACareerToday, which claims to be a job search engine but has no affiliation with Disney. Magicbinge.com has no positive reviews online, and some reviews say that the site is a scam. Read on for a detailed review of Magicbinge.com to learn more.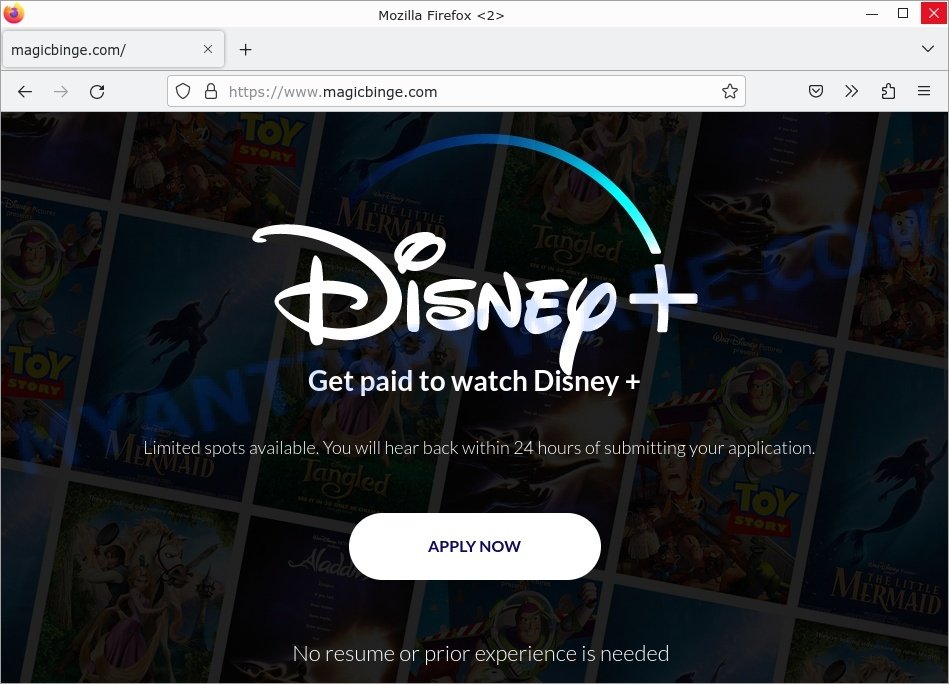 Here are the specific red flags that I found regarding Magicbinge.com:
1. Lack of information. The website claims to pay people to watch Disney movies, but there is no clear indication of how much they would pay or what the job entails. Additionally, the website has no description, no title, no links to an "About Us" page, "Terms" or "Privacy Policy", or any other information beyond the "APPLY NOW" button.
2. Simple design. The website has a simple design with only the Disney+ logo and a text with the "APPLY NOW" button. This design is often used by scam sites to make them look professional quickly.
3. No affiliations with Disney+. Magicbinge.com claims that individuals can make money by watching Disney movies, but there is no information on how this is possible, and there are no affiliations with Disney+ or any other legitimate company.
4. No positive reviews. There are no positive reviews of the website online, and some reviews suggest that it is a scam.
5. Limited spots available. The website claims to have limited spots available, which is a common tactic used by scam websites to create a sense of urgency and pressure people into signing up quickly.
6. Redirects to a suspicious website. Clicking on the "APPLY NOW" button redirects to another website called StartACareerToday via tappco.go2cloud.org, which has been flagged by VirusTotal as malicious.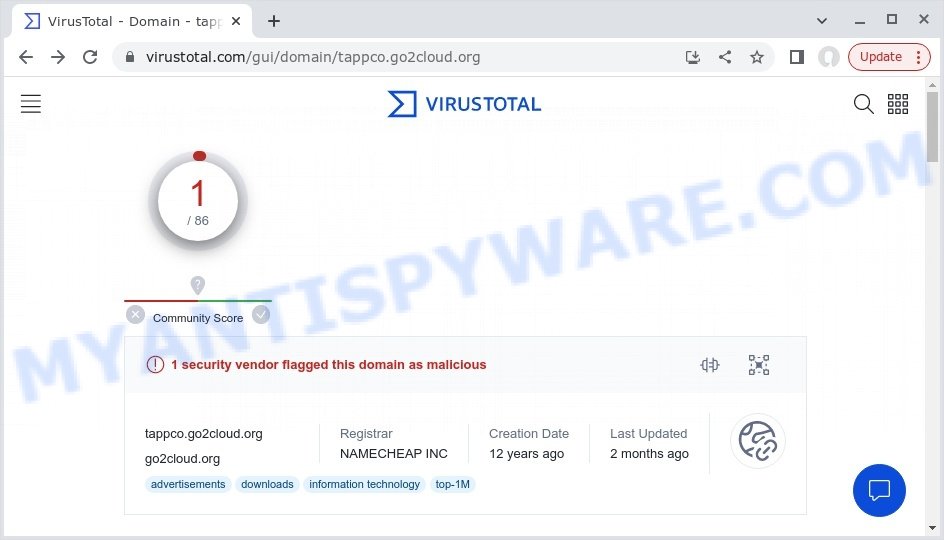 7. Request for personal information. The StartACareerToday website requires users to enter their zip code, first name, last name, email address, and phone number to proceed, but the site does not verify the information entered.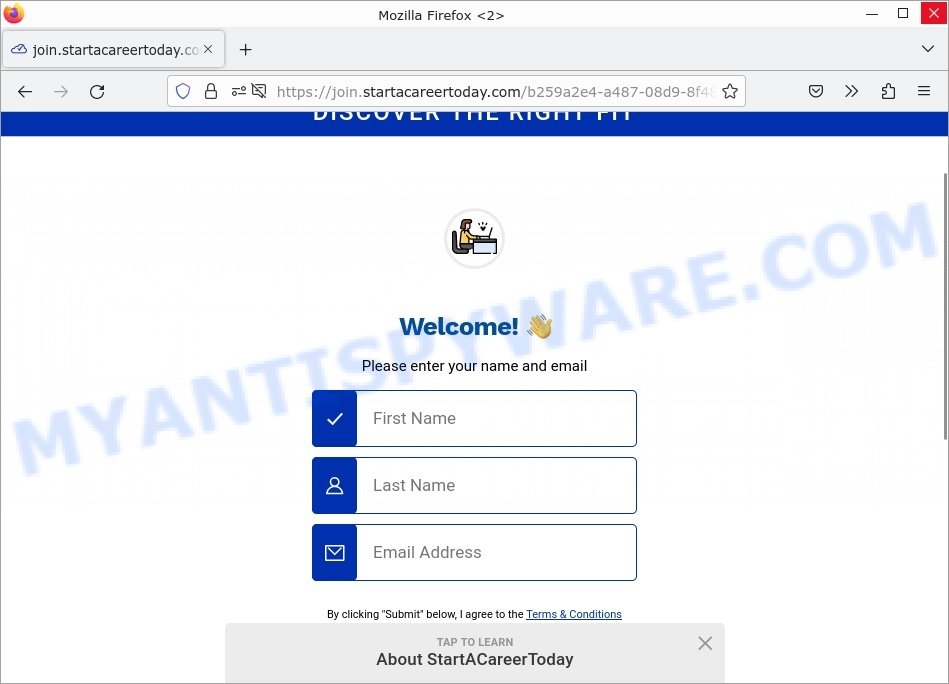 7. No mention of Disney. The StartACareerToday website makes no mention of Disney and claims to be a job search engine.
8. Offers to receive rewards. After answering a few questions on StartACareerToday, users are asked to open a sponsor site, which offers to earn $1,000. However, the site requires users to complete 25 deals, which may include purchasing subscription products, free trials, and mobile apps, before claiming their reward. It is another common tactic used by scam websites to lure people in with false promises of earning money.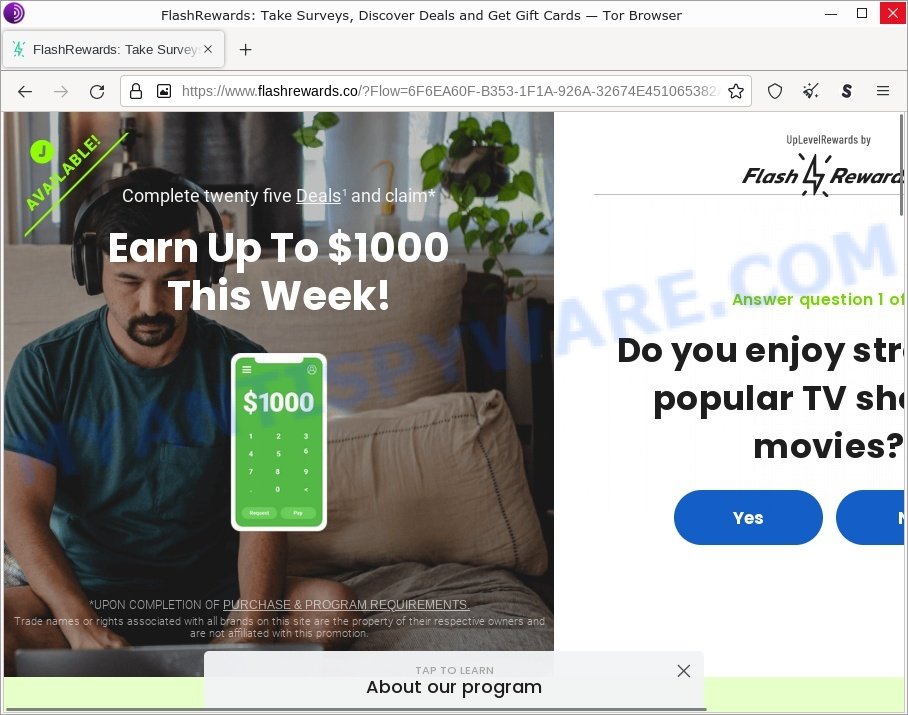 9. Several similar sites have been reported as potentially fraudulent, including Basicsprogram.com, Basicstester.com, Flixtagger.com and Showtaggers.com. These sites offered enticing opportunities for individuals to become Amazon product testers or Netflix video taggers, respectively. However, upon closer inspection, these sites had several red flags and were suspected of being scams. Basicstester.com, like Basicsprogram.com, lacked important information and had no visible links to legitimate companies or organizations. Showtaggers.com, on the other hand, was flagged by VirusTotal as phishing and had no actual affiliation with Netflix or the job it advertised. It's important to be cautious and do thorough research before engaging with any website or opportunity that seems too good to be true.
In conclusion, Magicbinge.com is a website that claims to offer an opportunity to get paid for watching Disney movies, but it has many red flags that suggest it is not legitimate. The site lacks any meaningful information, such as a description, terms of service, or privacy policy. Moreover, there are no positive reviews online, and some reviewers have labeled it a scam. Clicking on the "APPLY NOW" button redirects users to another site, which requires users to provide personal information and complete surveys in exchange for rewards. Overall, it is best to avoid Magicbinge.com and similar sites that promise easy money for watching movies or testing products. It is always important to research and verify any job opportunity or website before providing personal information or engaging in any activity that could compromise your security.