Is Showtaggers.com a Scam?
Showtaggers.com "Netflix Job" is a scam that uses social engineering and other techniques to trick unsuspecting victims into providing sensitive personal information. Job scam is a type of phishing that involves fake job offers, untrusted job portals, fake online job ads offering high paying jobs. The "Netflix Tagger Job" is just an excuse to phish for valuable personal and financial information. The scam uses phishing sites disguised as a legitimate Netflix's career page. It must be emphasized that Netflix has nothing to do with these sites. These sites should be avoided!
QUICK LINKS
Netflix Video Tagger Scam in detail
The scam states that users can become a Netflix Video Tagger. It encourages users to click the "Apply Now" button to fill out an application as soon as possible, as the number of vacancies is limited. The goal of scammers is to obtain personal data of users, as well as their credit card information. Scammers can use personal information to steal identities for personal and financial gain. Moreover, the criminals can use stolen email addresses and phone numbers to send spam and malspam (spam emails containing malware or links to malware).
Text presented in the scam:
NETFLIX
Become a Netflix Video Tagger
Limited spots available. You will hear back within 24 hours after submitting your application.
APPLY NOW

No resume or prior experience is needed

All Rights Reserved | Ⓒ 2023
When the victim clicks the "Apply Now" button, it typically leads to work-at-home schemes, fake surveys and giveaways, and other spam and untrustworthy websites. Below are some examples of such sites:
To summarize, Showtaggers.com is a SCAM! The scam can lead to malware infection, loss of data, financial losses, theft of personal information and other serious problems.
VirusTotal flagged Showtaggers.com as malicious (phishing):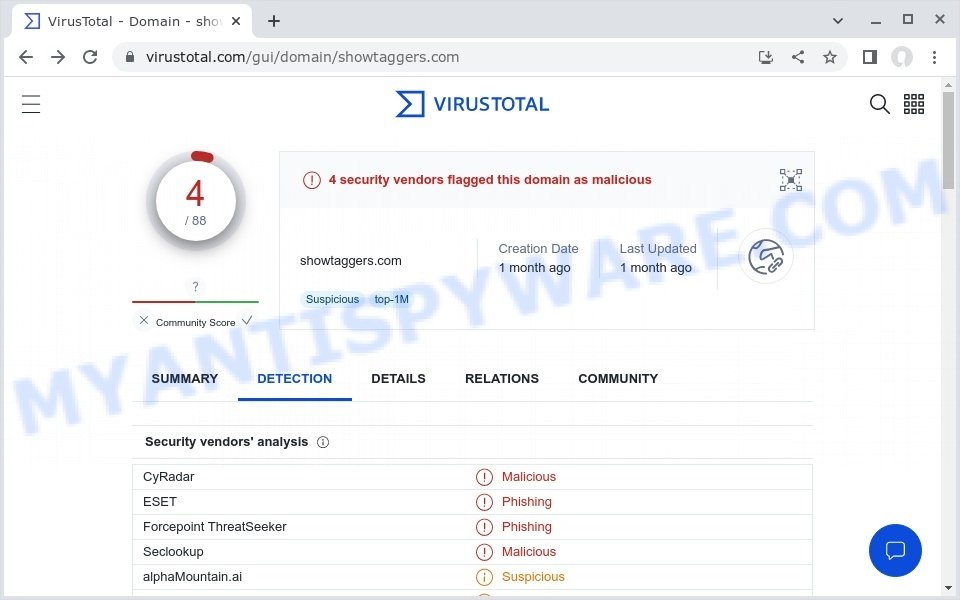 How to identify Job Scams
Common Job Scams often have similar red flags, such as a sense of urgency or a request for money. Here's how to identify a Job scam before it happens.
If it sounds too good to be true, it typically is.
If you receive an offer for a job you didn't apply for, don't respond or click on any links. Stop and think. An unexpected offer is often the first sign of a scam. Scammers use this tactic to harvest your personal information.
The most obvious way how to spot a job scam is finding inconsistencies in domain names, phone numbers and email addresses. If the job offer email claims to be from the Google, but the message is being sent from a random phone number or email address, it's probably a scam.
Copy the "job offer" link (URL), use a free URL Checker (https://www.virustotal.com/gui/home/url) to check suspicious links. It allows checking the safety of a link without clicking on it.
If you have the slightest suspicion a "job offer" may be a scam, do not click on the links you see.
The offer creates a sense of urgency. Creating a false sense of urgency is a common trick of phishing scams. Be suspicious of offers that claim you must call or click a link immediately.
Examples of Such Scams
The Showtaggers.com scam is not the only scam on the Internet that aims to deceive users into providing financial and/or personal information or to send money directly to the attacker. We have already reported other similar scams such as Devon and Claire Beds Scam, Mr Beast Giveaway SCAM, Geek Squad EMAIL SCAM 2023, IPS Shipment Attempt Delivery Pending Scam.
In fact, there are many more, the Internet is full of fraudulent websites, ads, social media pages, and apps promoting different "giveaway", "online survey", and other "get rich quick" schemes. So be careful!
How to protect against Job Scams
To avoid becoming a victim of scammers, it is important to always keep in mind:
NEVER share your personal information.
Legitimate job offers usually come after you have applied or been referred by someone you know. Be cautious of job offers that come from suspicious websites or free email accounts
Use the official website of the company offering the job to verify that the job is legitimate.
Use a trusted ad blocker. Ad blockers allow you to browse sites without malicious ads, thus eliminating the possibility of clicking on a phishing link and protecting you from scam, spam, viruses and malware.
Pay for premium versions of popular services. The easiest way to avoid malvertising (malicious advertisements) and phishing pages is to pay for the service you use. Many Internet services make it possible to use them without ads if you purchase a premium subscription. This helps ensure that malicious ads cannot reach you.
Why am i getting the Showtaggers.com pop-ups?
Scammers use different ways to promote the Showtaggers.com scam, most common of which is usually social networks (Facebook, YouTube, Twitter, Instagram) and spam email campaigns. In addition, the scam can be promoted through deceptive ads and push notifications, as well as Adware and potentially unwanted applications (PUAs).
Adware is type of malware. It can generate numerous additional popup, banner, pop-under and in-text link advertisements; gather your personal data such as login details, online searches, etc; run in the background and drag down your computer running speed; give more chances for other adware, PUAs even malware to get on your PC. Typically, adware ends up on personal computers bundled with freeware, malicious downloads, fake updates, shared files, and other unsafe software downloaded by users from the Internet.
If you suspect that your computer is infected with malware, you accidentally clicked on a link/button in the scam, or just want to scan your computer, then use one of the best free malware removal tools.
Threat Summary
| | |
| --- | --- |
| Name | Showtaggers.com Scam, Netflix Tag Career Scam |
| Type | survey scam, phishing, fake survey |
| Phishing websites | Showtaggers.com |
| Distribution | spam email campaigns, social media pages, malicious links, push notifications, adware, potentially unwanted programs |
| Damage | serious privacy issues, identity theft, financial losses, additional malware infections |
| Removal | Showtaggers.com Netflix Tagger Job removal guide |
Finish words
We hope this article helped you learn more about the Showtaggers.com Scam and avoid the scammers. If you have questions or additional information for our readers, please leave a comment.