Is Qtumcoin.net a Scam?
Qtumcoin.net "Bitcoin Payment Successfull" is a phishing email that pretends to be from Qtum. Scammers use it to manipulate their victims into revealing sensitive information and clicking on links to phishing websites.
These are some typical examples of scams that look like they're sent by Qtum, but are in fact fraud or phishing scams. The email claims that a deposit has been made to the recipients' crypto wallets and lures them to visit a phishing site.
Here's an example of a scam text, claiming to be sent from Qtum:
Scammers can spoof email addresses to make the scam more convincing, but there are some telltale signs users can watch out for. Below are some tips on how to avoid Qtum Bitcoin scam and others like it.
QUICK LINKS
Qtumcoin.net Scam in detail
The scam itself is nothing new – emails having a subject line "Bitcoin Payment Successfull" and stating that 85.7777 has been transferred to your Bitcoin portfolio. Scammers trick you into confirming your balance by visiting on the Qtumcoin.net site. The website is a phishing site designed to look like a real website. It may even link to the Qtum site (www.qtum.org) and may use the same logo and graphics.
A Qtumcoin.net Bitcoin Payment Successfull Scam Email:
Attn,
As agreed we deposited the balance of 85.7777 into your Bitcoin
portfolio confirm your balance at :
https:// QTUMCOIN. NET
Customer ID : 29719980
password: Jason4
Best Regards
Lubos White
Support Officer
Qtumcoin.net can be used by criminals in phishing attacks to steal passwords via fake login pages, or trick people into transferring their cryptocurrency to the scammers' wallet. Once the victims send cryptocurrency to the scammers, it's impossible to get it back, unlike a bank account where one can cancel a transfer.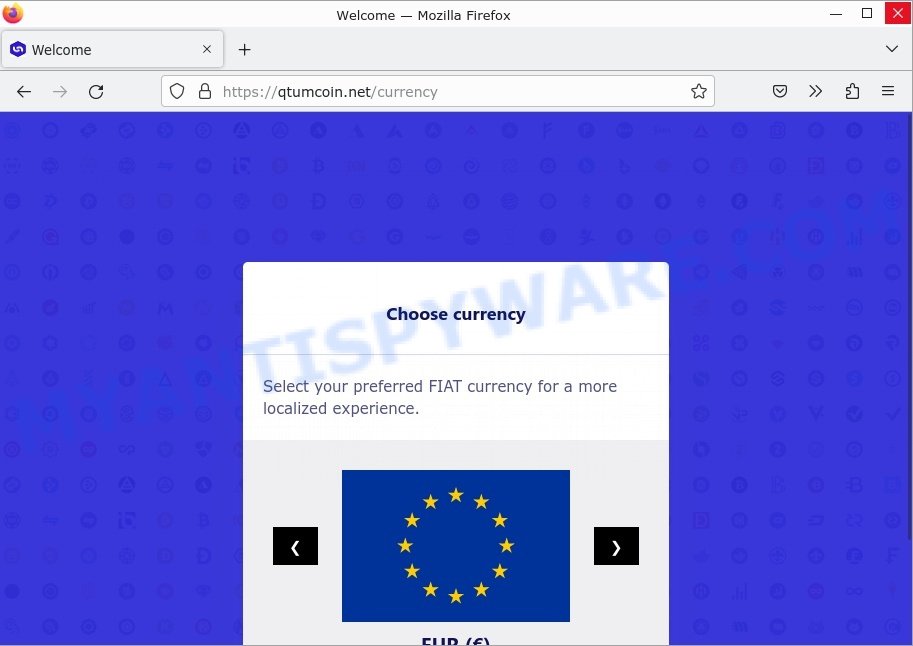 To summarize, Qtumcoin.net is a SCAM. It can lead to loss of data, financial losses, theft of personal information and other serious problems.
VirusTotal flagged Qtumcoin.net as phishing and malicious: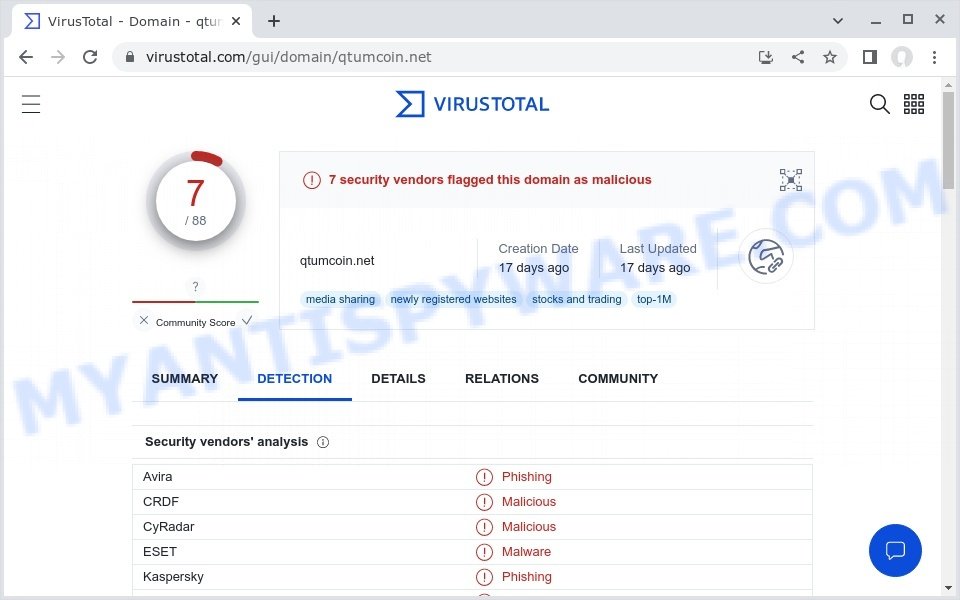 How to Spot a Scam?
There are always a few details that can give away a scam. Make sure you know what to look out for.
If you receive a payment confirmation email, don't respond or click on any links. Stop and think. An unexpected email is often the first sign of a scam. Scammers use this tactic to harvest your personal information.
The most obvious way how to spot a phishing email is finding inconsistencies in domain names, phone numbers and email addresses. If an email claims to be from the Qtum, but the email is being sent from a random phone number or email address, it's probably a scam.
Copy a link from the email, use a free URL Checker (https://www.virustotal.com/gui/home/url) to check suspicious links. It allows checking the safety of a link without clicking on it.
If you have the slightest suspicion a text may be a scam, do not click on the links you see.
The email message creates a sense of urgency. Creating a false sense of urgency is a common trick of phishing scams. Be suspicious of emails that claim you must call or click a link immediately.
Examples of such scams
The Qtumcoin.net Scam is just one of the many types of scams that exist. In some emails and text messages, scammers use threats to intimidate and bully a victim into paying, others contain links to malicious files. Devon & Claire Beds Scam, US9514961195221 – Your Package Cannot Be Delivered, Geek Squad EMAIL SCAM 2023, Whatsapp Scam, Norton Subscription Has Expired and DPD Delivery Email are some of the scams we reported recently.
What to do when you receive the Qtumcoin.net SCAM email
We advise everyone who receives this text to follow a few simple steps below. Remember, if an offer seems too good to be true, beware!
NEVER give your personal information, login credentials or credit card details
Don't reply directly to Qtumcoin.net email.
Don't click on any links in the Qtumcoin.net email.
If there's a link in the scam message, do not click it, otherwise you could unwittingly install malware or ransomware on your device.
Report the scam text to the FTC at https://www.ftc.gov/
If you have paid a scammer, the sooner you act, the better. Use the steps (https://consumer.ftc.gov/articles/what-do-if-you-were-scammed) to try to stop a transaction, get a transaction reversed, or get a refund.
Install an anti-phishing software.
Threat Summary
| | |
| --- | --- |
| Name | Qtumcoin.net Scam, Bitcoin Payment Successfull Email Scam |
| Type | scam, phishing |
| Fake Claims | We deposited the balance of 85.7777 into your Bitcoin portfolio; Confirm your balance at : https://QTUMCOIN.NET |
| Detection names | Phishing, Malware, Malicious |
| Damage | identity theft, serious privacy issues, financial losses, additional malware infections |
| Distribution methods | Email spam campaigns, social networks |
Report a Scam
If you have received the Qtumcoin.net Scam email or an email that is similar but not the same as the example above, then post it as comment on this article. Please include the telephone number the text came from. This helps us to warn users about current scams, monitor trends and disrupt scams where possible.