Wonuse.com is an online shop that claims to sell a wide range of products, including clothing, shoes, household items, and even surfboards. However, upon closer inspection, several red flags emerge that suggest that this website may not be entirely trustworthy. From suspicious design and logos to an absence of product information, there are several concerns that potential shoppers should be aware of. To learn more about Wonuse.com and whether it is safe to shop on this site, read on for a detailed review.
Website Design and Logo
Wonuse.com is an online shop that claims to sell miscellaneous items such as women's and men's clothing, shoes, household and kitchen items, baby strollers, surfboards, and even guitars. However, upon visiting the website, there are several red flags that immediately catch the eye. Firstly, the website design is quite basic and appears to have been created using a template. The color scheme is plain and uninspiring, and the layout is cluttered and disorganized. Secondly, the logo is simply the word "Wonuse" in a generic font with no relation to the products being sold. This raises suspicions about the authenticity of the website and its products.
Contact Information
Wonuse.com claims to be a "recently established global fashion and lifestyle e-tailer" that values its customers and strives to make fashion accessible to all. However, the contact information provided on the website raises concerns about the legitimacy of the business. The only contact method listed is an email address (wonuse@ruletion.com) with no phone number or social media. The registered company name is UMALL TECHNOLOGY S.A.R.L, and the registration address is 15 RUE DES HALLES, PARIS, FRANCE.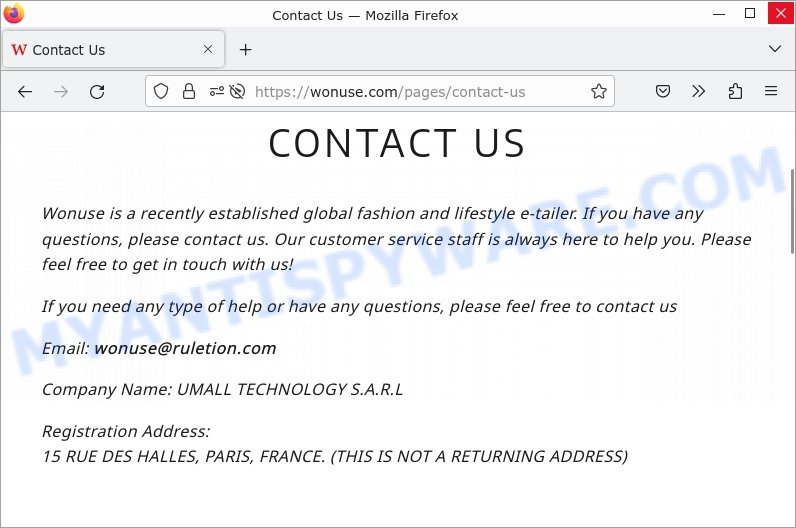 However, this is not a returning address, and further research shows that this address is associated with several other suspicious online shops. The lack of clear and reliable contact information is a major red flag for any online business, and in this case, it raises serious concerns about the legitimacy of Wonuse.com.
Discounted Products
One of the most suspicious aspects of Wonuse.com is the section on the website that offers products with huge discounts. These items are presented as "Warehouse Unclaimed Orders", "Factory Clearance", "P9 Electric Pressure Washer", "9500 Watt Super Quiet Inverter Generator", and tool kits, among others.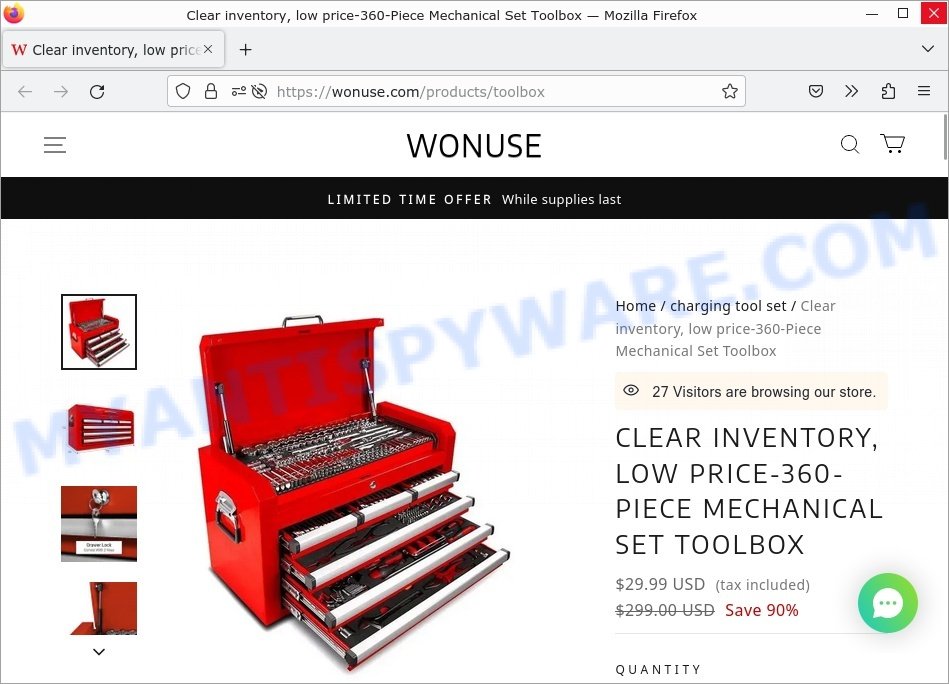 However, upon closer inspection, it becomes clear that these discounts are too good to be true. For example, the website offers a "360-Piece Mechanical Set Toolbox" for only $29.99, which has a real price of $4500. Another product, the "20-VOLT MAX LITHIUM ION BEST CORDLESS COMBO KIT", is listed for $29.99, but its real price is $1500. These unrealistic discounts are a clear sign of a scam, and should be approached with extreme caution.
Whois
The WHOIS record shows that the domain was registered on March 9, 2023, and is set to expire on March 9, 2024. The short duration of the registration is unusual, as most legitimate websites register their domain for several years at a time.
Additionally, the registration information is not readily available on the website, which is another red flag. The lack of transparency in the WHOIS information, coupled with the short registration period, raises concerns about the legitimacy of Wonuse.com.
Reviews
Finally, it's worth noting that Wonuse.com has no positive reviews online. In fact, several reviews suggest that the site is a scam, and caution against making any purchases. This is yet another red flag that should not be ignored.
Conclusion
In conclusion, Wonuse.com appears to be a highly suspicious website with several red flags that suggest it may be a scam. The website design is basic and uninspiring, and the lack of product information raises concerns about the legitimacy of the business. The contact information is vague and unreliable, and the discounts offered on the site are simply too good to be true. Furthermore, there are no positive reviews online, and several reviews warn against making any purchases on this site. Based on these factors, we strongly advise caution when considering purchasing from Wonuse.com"
Red Flags: Similar Suspicious Online Shops
It's important to be aware of the potential risks when shopping online, especially with so many new e-commerce websites appearing on the internet. Unfortunately, Wonuse.com is not the only suspicious online shop out there. In fact, there are many other websites that have raised similar concerns, which shoppers should avoid to protect their personal and financial information. In this section, we'll highlight some of the other suspicious online shops that you should be wary of, providing links to reviews that offer further details and insights.
Here are a few examples of the suspicious online shops: Gokoayz.online, Mirouz.com, and Retellrule.com.