Retellrule.com is a website that sells women's clothing, but there are suspicions that it may be a scam. Several red flags were found during our investigation, including a simple website design that looks like it was created using a template, a limited product selection with only one category, and the lack of any social media links. Additionally, the whois information only provides basic details and does not reveal any information about the owner or organization behind the website. To learn more about our findings and determine whether retellrule.com is a trustworthy online store, read on for a detailed review.
Design and Logo:
The design of Retellrule.com is quite simple, and the logo does not seem to have undergone any customization. The overall look of the website is basic, and it gives the impression that it was created using a template. While simplicity can be a good thing, in this case, the website design raises some doubts about its legitimacy.
Product Categories:
Retellrule.com only offers one category of products, which is surprising considering it has 96 items listed. This lack of categorization makes it difficult for customers to find specific products or even browse the website effectively. It also indicates a lack of organization and attention to detail, which may be cause for concern.
Whois: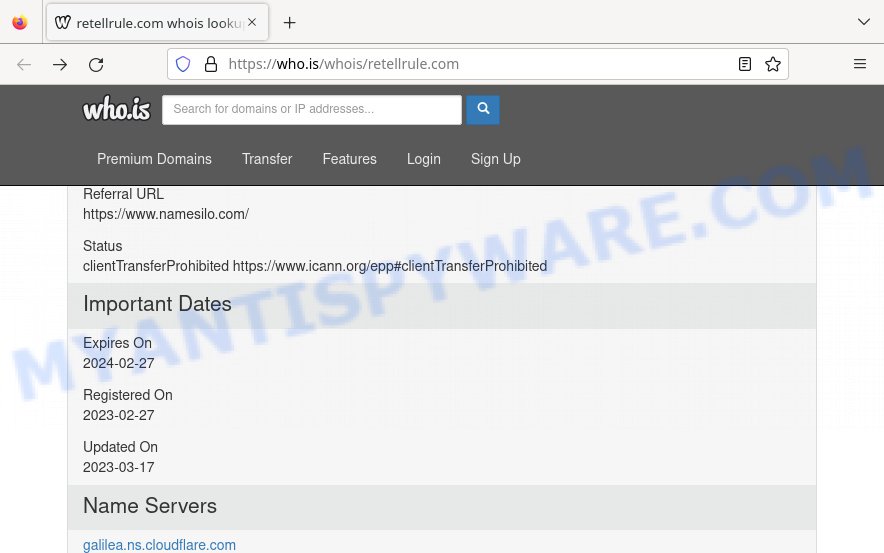 A look into the domain registration of Retellrule.com shows that it was registered on February 27, 2023, and is set to expire on February 27, 2024. While this doesn't necessarily indicate that the website is a scam, it is worth noting that the domain is relatively new and has only been active for a short period. Additionally, the lack of information about the owner or organization behind the website is a red flag.
About Us:
The "About Us" section of Retellrule.com is quite vague and generic. It does not provide any concrete information about the company, its history, or its founders. The language used is generic and could apply to any online store, which raises concerns about the legitimacy of the business.
Contact Information: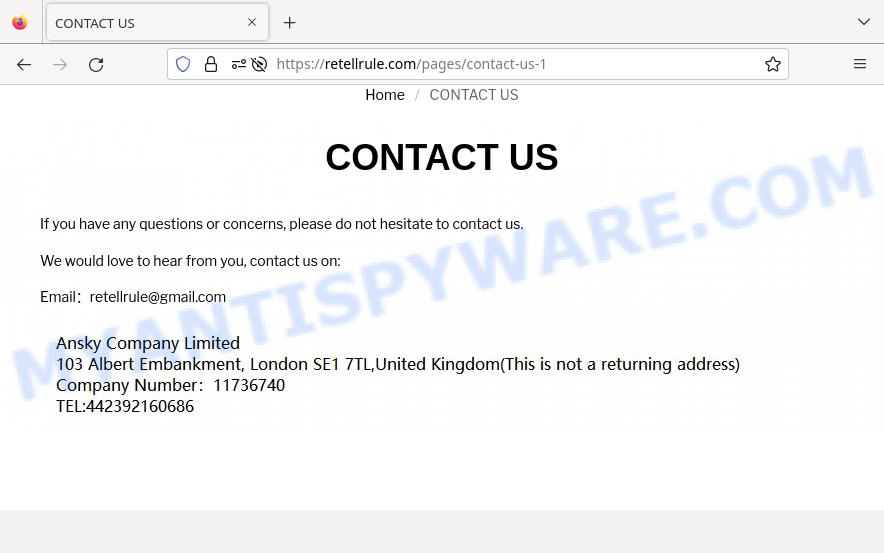 The contact information provided on Retellrule.com is limited to an email address (retellrule@gmail.com) and a postal address (Ansky Company Limited 103 Albert Embankment, London SE1 7TL,United Kingdom, Company Number: 11736740, Phone: 442392160686), which is inserted as a picture. There are no links to social media pages, which is unusual for a legitimate business. A search reveals that the same address is used by many other suspicious stores online, which is concerning.
Reviews:
There are no positive reviews available for Retellrule.com, and some reviews suggest that it is a scam. The lack of reviews is a red flag, as legitimate businesses usually have some customer feedback available online. The negative reviews and reports of suspicious activity are concerning and indicate that caution should be exercised when making purchases on this website.
Hidden products:
One concerning aspect of Retellrule.com is the presence of hidden products. One such product is the "DEWA 20-VOLT MAX LITHIUM ION BEST CORDLESS COMBO KIT," which is not linked from the main page and can only be accessed through online advertising or social media. This product is advertised at a significantly lower price of $50, despite its real value being $650, which raises concerns about its authenticity.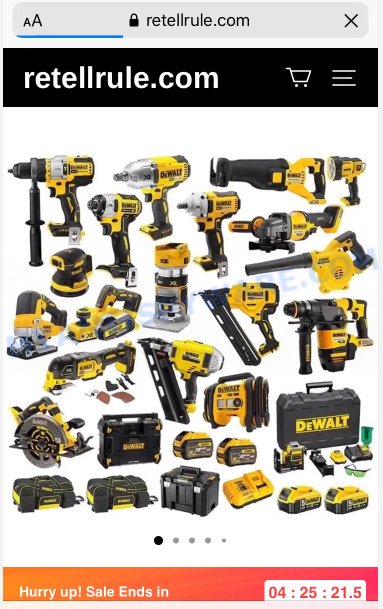 What's even more alarming is that Retellrule.com uses JavaScript to redirect visitors to a different page depending on whether they are browsing from a mobile phone or a computer. If users try to access the hxxps://Retellrule.com/products/-take-dewalt page from a computer, they are shown the hxxps://Retellrule.com/products/abc page.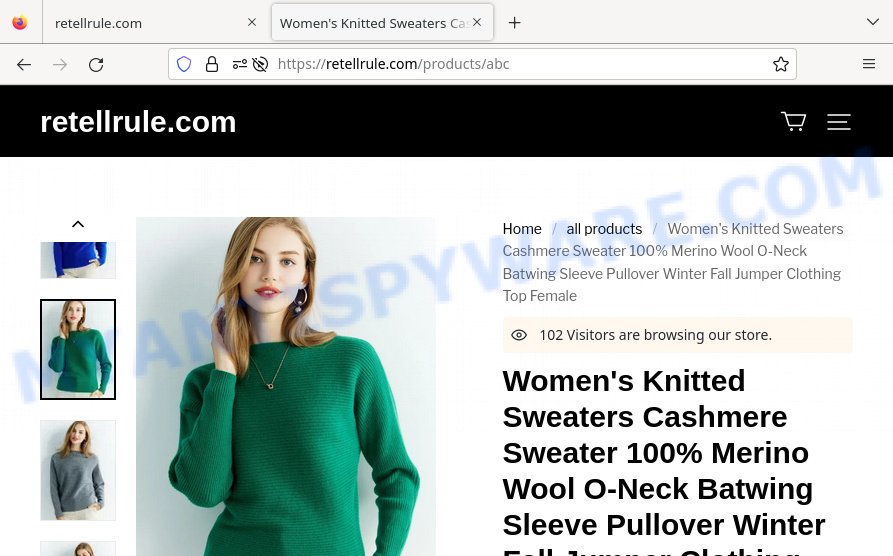 However, if users try to access the same page from a mobile phone, they are shown the content of the hxxps://Retellrule.com/products/-take-dewalt page, where the product is on sale. This redirection is suspicious and raises further concerns about the legitimacy of Retellrule.com.
Conclusion:
Based on the evidence gathered, Retellrule.com appears to be a highly suspicious website with several red flags that indicate it may be a scam. The website's simple design, limited product selection, and lack of social media links all suggest that it was hastily put together and may not be a legitimate business. Additionally, the whois information only provides basic details and does not reveal any information about the owner or organization behind the website, further raising suspicions about its authenticity.
Furthermore, the hidden product pages and the significant price difference between the advertised price and the actual price of the products further point towards fraudulent activities. We strongly advise that potential customers exercise caution when considering purchasing from this website.
Other Suspicious Online Shops
It is important to stay vigilant when shopping online, as there are many fraudulent websites that may try to scam unsuspecting customers. In addition to Retellrule.com, there are several other suspicious online shops that should be avoided. These websites often have similar characteristics, such as a lack of contact information, hidden products, and suspiciously low prices. To help you stay safe while shopping online, we have compiled a list of some of these other suspicious online shops to watch out for.
Here are a few examples of the suspicious online shops: Buetlly.com, Tavav.shop, and Kickoh.com.