Tavav.shop is an online store that sells a limited range of music-related products, such as guitars, tuners, and cases. However, during our investigation, we found several red flags that may suggest the website is not trustworthy. Firstly, its website design appears to be a generic template with no unique branding or information. Additionally, the website's product descriptions are vague and provide no useful information for customers. Furthermore, Tavav.shop has no social media presence, and its contact information is limited to an online form and email address. To learn more about our findings and to determine if this site is safe to shop from, read our full review.
Design and Branding: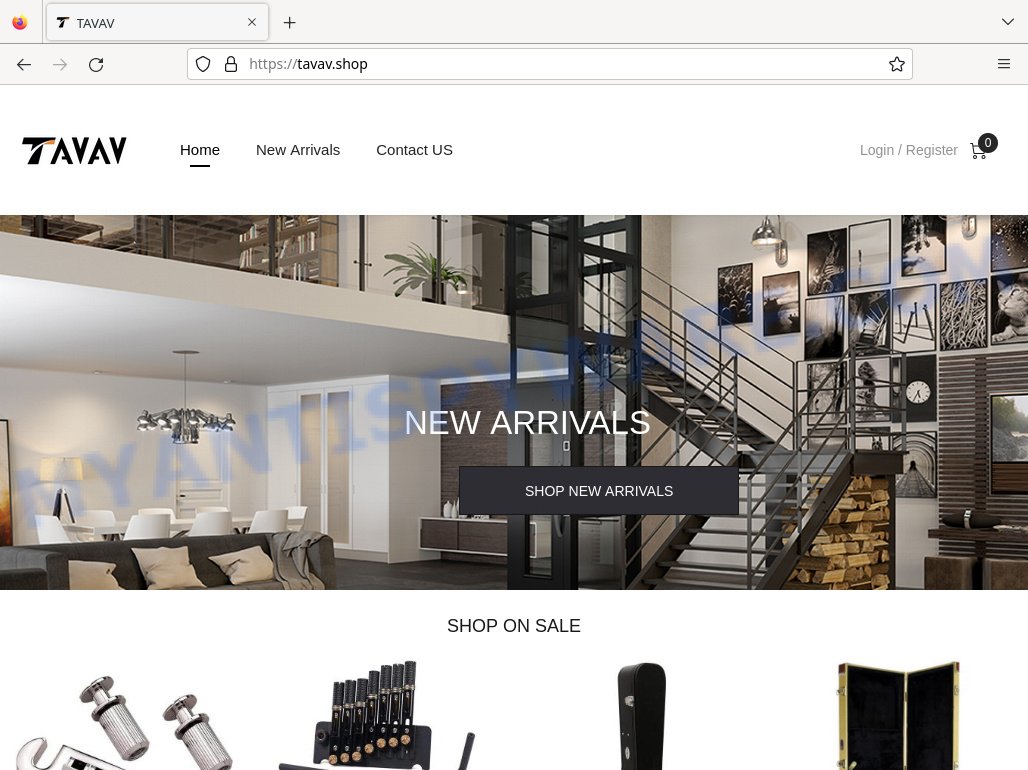 Tavav.shop has a generic design and branding that appears hastily put together. The site's logo, which reads TANAV, does not seem to have any relevance to the products sold on the site. Additionally, the site's description is empty, which is not typical of a legitimate online store. These factors raise suspicions about the site's credibility.
Products and Categories:
Tavav.shop offers a limited selection of only 12 products, all listed under the "New Arrivals" section with no categorization. The lack of categorization could make it difficult for customers to find what they are looking for, and the limited selection suggests that the site may not have a strong inventory management system. Additionally, the product descriptions on the site are brief and lack detail, making it difficult for customers to make informed purchasing decisions. Some of the products listed include a range of guitar equipment, such as the Alnicov 7 String Headless Guitar Bridge Tremolo System and the Hipshot Grip-Lock 6 Inline Enclosed Staggered Post Locking Tuners, as well as guitar cases and amplifiers. The site also offers a Gretsch G9500 Jim Dandy Frontier Stain Acoustic Guitar and Squier Telecaster electric guitars. However, the site's limited inventory and lack of organization raise concerns about the site's credibility and legitimacy.
Reviews:
Tavav.shop has no positive reviews online, and some reviews claim that the site is a scam. This lack of customer feedback raises concerns about the legitimacy of the site and suggests that previous customers may have had negative experiences.
Contact Information: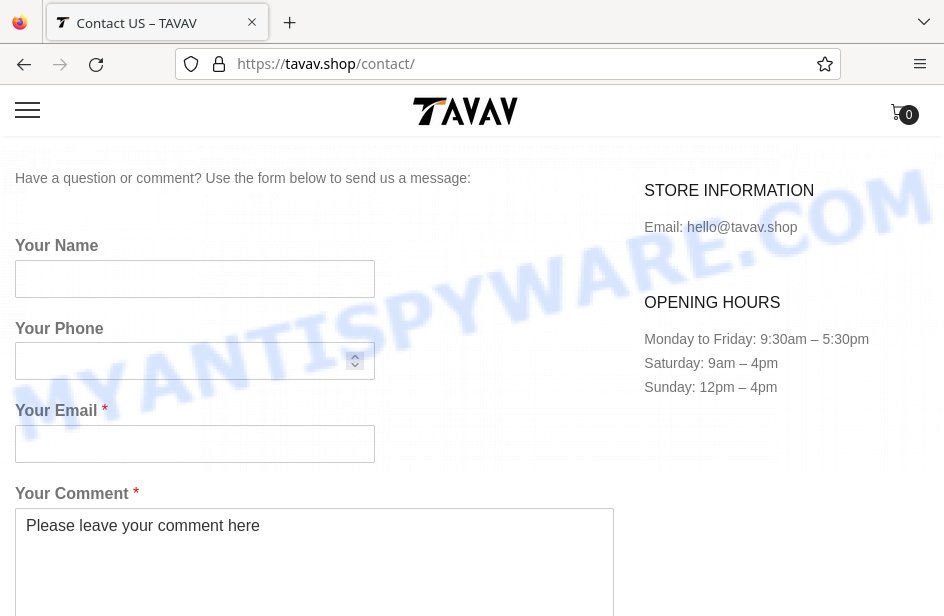 The site provides limited contact information, with only an online form and email available. There is no physical address or phone number listed, and there are no social media pages linked to the site. This lack of transparency raises questions about the site's credibility and legitimacy.
Payment:
Tavav.shop only accepts payments through PayPal, which is a legitimate payment method. However, given the other red flags associated with the site, it is advisable to exercise caution before making any purchases.
Hidden Products:
Tavav.shop has a hidden product card for the "Sportsman 2,200/1,800-Watt Dual Powered Recoil Start Inverter Generator with Parallel Capacity" on their website, which is not listed on the main page.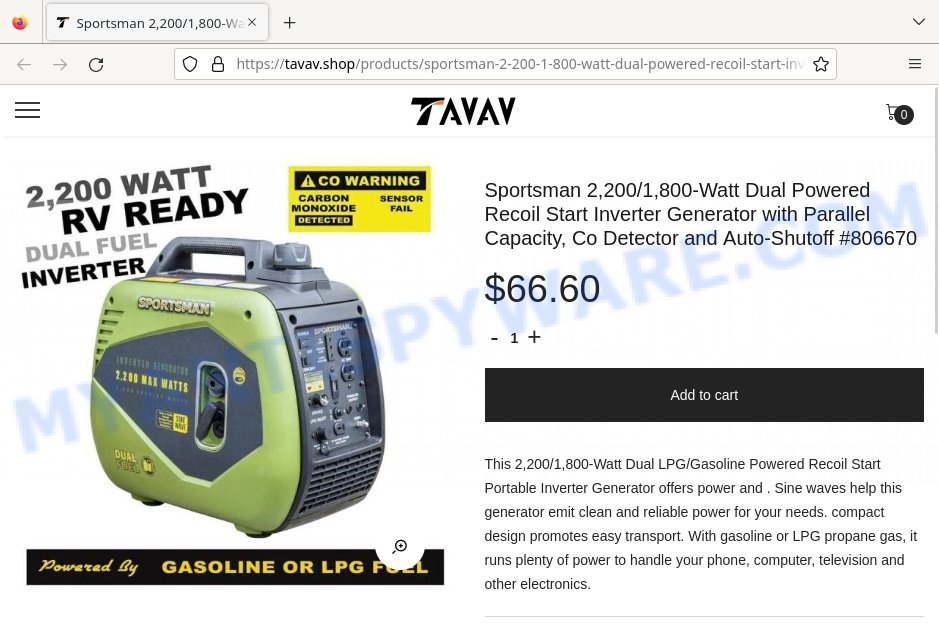 This suggests that the product may be advertised through social media or online advertising campaigns. The product is priced at $66.60, which is significantly lower than its real price of over $600, raising concerns about the legitimacy of the site.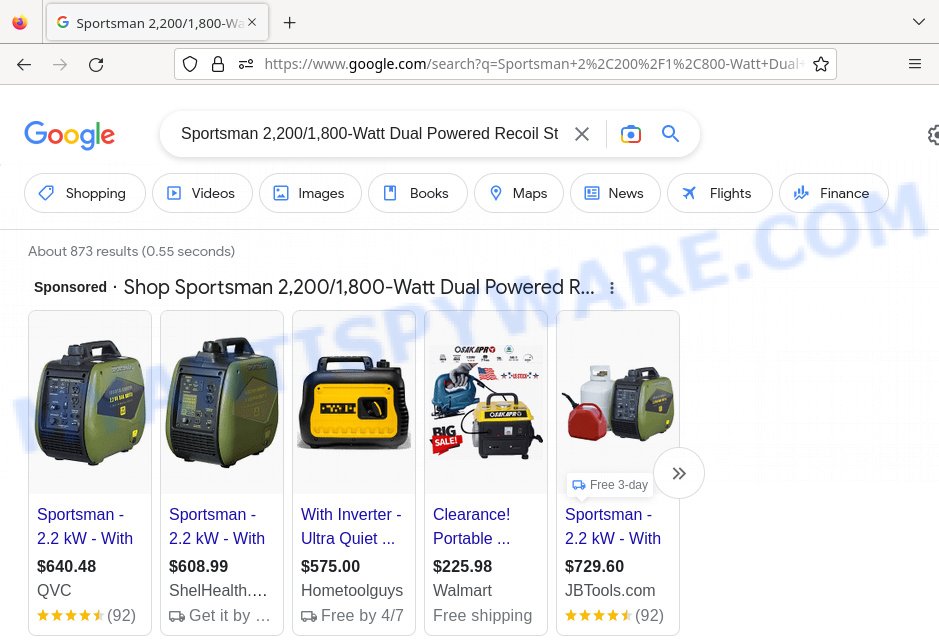 It is important to note that the lack of transparency regarding the hidden product and its pricing may lead customers to make unwise purchasing decisions, as they may not be aware of the actual price or quality of the product. This hidden product raises questions about the credibility and transparency of Tavav.shop as an online retailer.
Whois: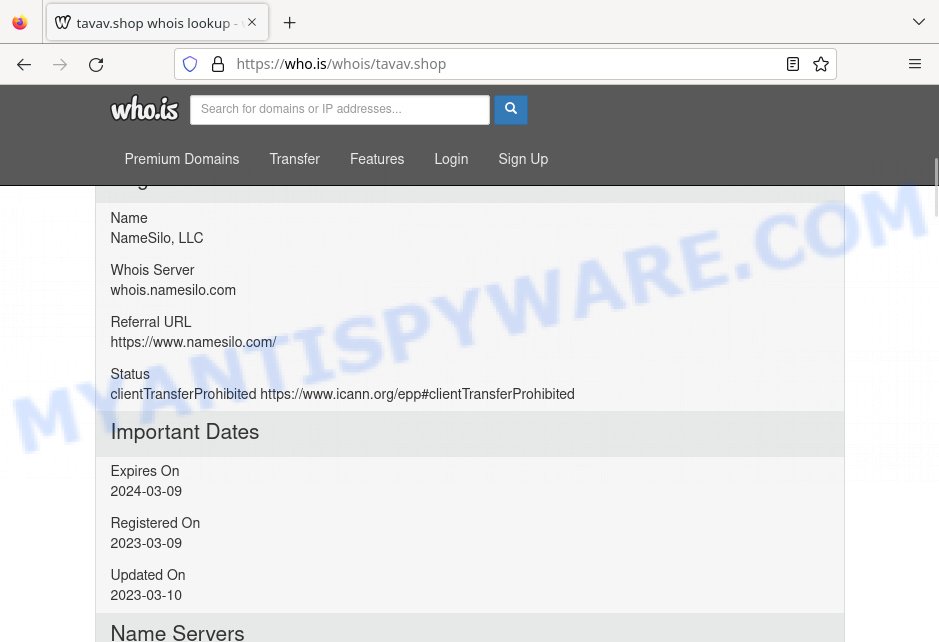 WHOIS records indicate that Tavav.shop was registered on March 9th, 2023, and is set to expire on March 9th, 2024. The registration date is less than a month old, which raises some concerns about the website's credibility. Typically, scam websites tend to have short domain lifetimes to avoid detection. However, it's worth noting that the website has not been flagged as fraudulent yet. It is important to keep in mind that the age of a domain is just one factor to consider when assessing a website's legitimacy.
Conclusion:
In summary, Tavav.shop raises several red flags and concerns that suggest it may not be a legitimate online retailer. The site's template design and empty description, lack of categories, limited inventory, and brief product descriptions suggest that the site may not have a strong inventory management system, which could lead to issues with order fulfillment and customer satisfaction. Additionally, the hidden product card advertising a product at a significantly lower price than its actual value raises questions about the legitimacy and transparency of the site. The lack of positive reviews online and the reports of the site being a scam further raise concerns about the site's credibility. While Tavav.shop offers Paypal as a payment method, it does not provide a physical address or phone number, which makes it difficult to contact customer service if issues arise. Overall, customers may want to exercise caution when considering making a purchase from Tavav.shop and conduct additional research before making any transactions.
Other Suspicious Online Shops
During our investigation of Tavav.shop, we found several other online stores that share similar characteristics, such as their website design, contact information, and products. It is important to note these sites as they may pose risks to potential customers. In this section, we will provide a list of these websites, with links and screenshots for reference. However, it is up to individual readers to decide whether to engage with these sites or not. We recommend being cautious and doing thorough research before making any purchases.
Here are a few examples of the suspicious online shops: Kickoh.com, Amazonstorepro.com, and Rowavy.shop.