Basicstester.com is a website that claims to offer an exciting opportunity for individuals to become Amazon product testers. However, upon closer inspection, there are several red flags that suggest the site may not be entirely legitimate. If you're considering signing up for this program, we highly recommend reading our in-depth review first. It could save you from potential disappointment and financial loss.
Lack of design: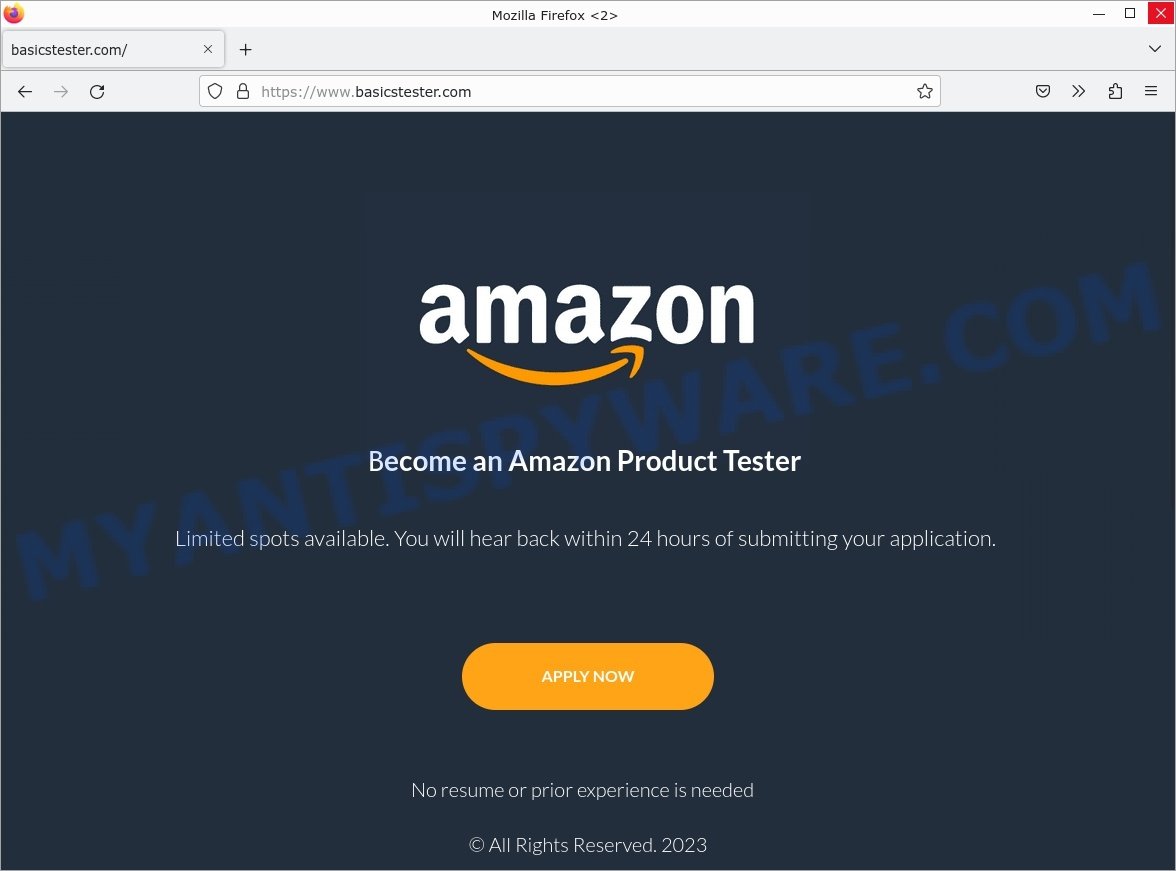 Basicstester.com has a very basic and unprofessional design. The website lacks any kind of branding or visual identity. There is no logo, no consistent color scheme, and no images or graphics that help to convey the purpose or message of the site. This lack of design and branding makes it difficult for users to take the site seriously and raises questions about its legitimacy.
Overall, the poor design of Basicstester.com is a major red flag that suggests the site may not be trustworthy. It's important for users to be cautious when using such websites, and to do their research to ensure that they are not falling victim to a scam.
Amazon logo and claims:
One thing that caught our attention when reviewing Basicstester.com is the use of the Amazon logo on their website. While the site claims to offer Amazon product testing opportunities, it is important to note that Basicstester.com is not affiliated with Amazon in any way. The use of the Amazon logo could mislead visitors into thinking that the website is associated with the e-commerce giant.
Additionally, Basicstester.com does not provide any information about how the testing process works, what types of products are available for testing, or how payments are processed.
No links to other pages:
Additionally, another red flag is the fact that the Basicstester.com website has no links to other pages or websites. A legitimate website would typically have links to pages such as "About Us," "Contact Us," and "Privacy Policy." However, Basicstester.com has no such links, which is highly unusual and suggests that the website is not a legitimate one. This lack of links makes it difficult to verify the identity of the people behind the website and raises questions about the credibility of the site's claims. Overall, the lack of links to other pages is another indication that Basicstester.com is not a trustworthy website, and users should be cautious when considering any offers or opportunities presented on the site.
Misleading Redirects to Money-Making Site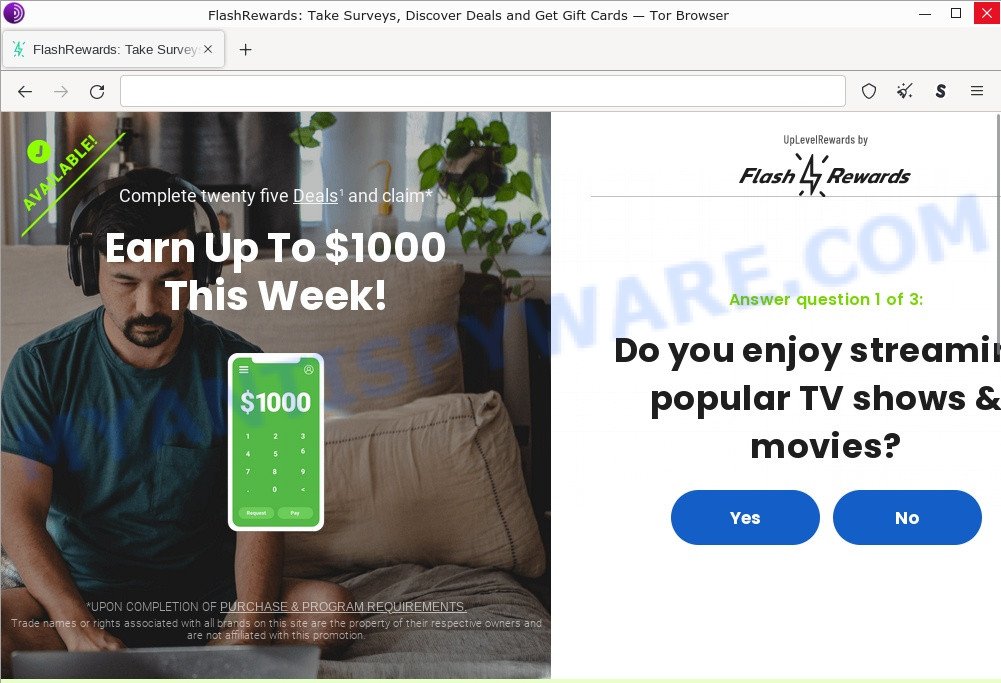 When attempting to sign up for the Basicstester.com program, users are redirected to a site called "Flash Rewards" which offers ways to earn money online. This sudden redirection is suspicious, as it suggests that the primary purpose of Basicstester.com may not be to offer legitimate product testing opportunities. Instead, it may be a ploy to lure users into a website that promises easy money.
Upon closer inspection of the Flash Rewards site, it becomes clear that it is a get-rich-quick scheme that requires users to complete tasks such as filling out surveys, clicking on ads, and referring others to the site. There is no mention of product testing or any other legitimate work opportunities. This raises serious doubts about the legitimacy of Basicstester.com and its claims to offer Amazon product testing jobs.
It's important to note that get-rich-quick schemes are a common tactic used by scammers to trick people into giving away their personal information or paying money for bogus opportunities. Therefore, users should be extremely cautious when encountering sites like Basicstester.com, as they may be fraudulent and could result in financial loss or identity theft.
Whois info: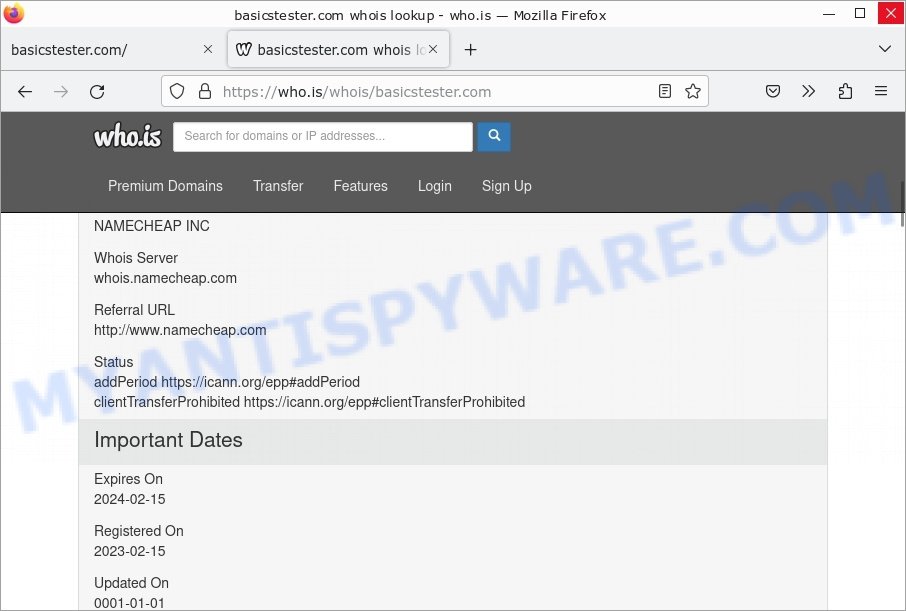 Upon conducting a Whois lookup, it was found that the domain was registered on February 15, 2023. The domain registration information is hidden behind a privacy protection service, which is a common practice to prevent personal information from being publicly available.
While the use of privacy protection services does not necessarily indicate fraudulent activity, it does make it more difficult to identify the individuals behind the website. It is worth noting that legitimate websites may also use privacy protection services, but it does raise some questions when combined with the other red flags identified in this review.
Similar fraudulent site: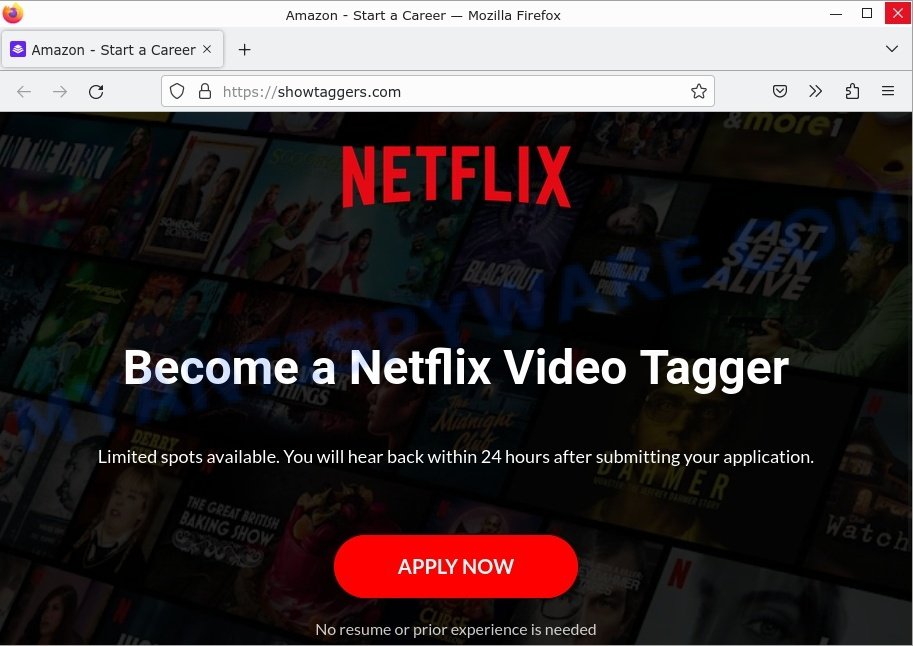 We also came across another website that claims to offer a too-good-to-be-true job opportunity – Showtaggers.com. The site advertises a position as a Netflix Video Tagger, where you would be paid to watch and tag Netflix shows and movies. Upon further investigation, we found that the site has no affiliation with Netflix and the job itself doesn't actually exist. It's just another example of a scam designed to take advantage of people who are looking for easy ways to make money online.
VirusTotal flagged Showtaggers.com as phishing: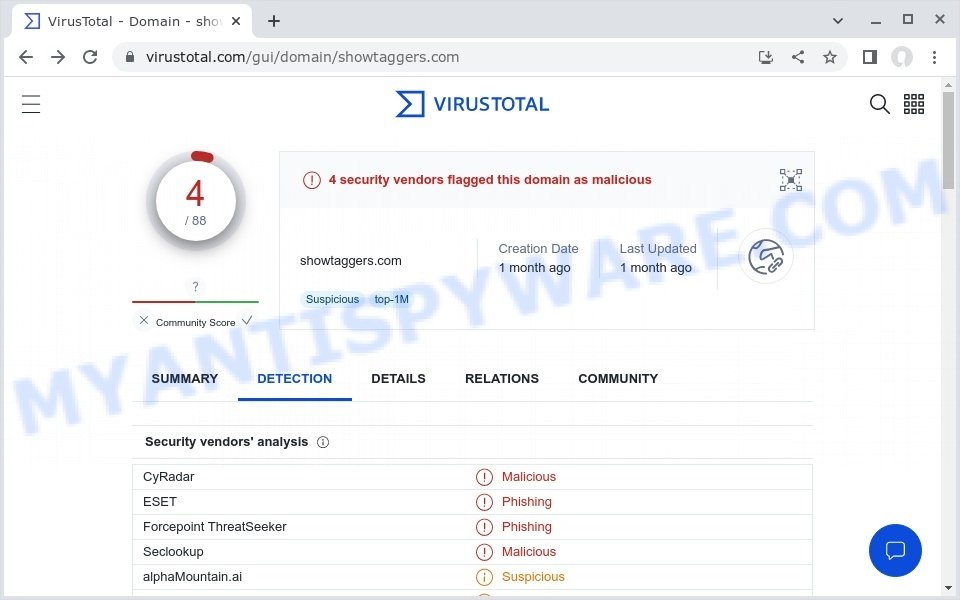 We advise our readers to be wary of any job opportunities that require payment upfront and to always do their due diligence before handing over any money or personal information.
Conclusion:
In conclusion, while Basicstester.com may seem like a tempting opportunity to get free or heavily discounted Amazon products in exchange for testing and reviewing them, it's important to approach the site with caution. The lack of transparency and information about the company and its practices, combined with the red flags mentioned earlier, raise legitimate concerns about the legitimacy and safety of using Basicstester.com. It's always wise to do your research and exercise caution when considering any online opportunity, especially those that involve personal information and financial transactions. As always, it's important to protect your safety and privacy first and foremost. We recommend that you thoroughly research Basicstester.com and similar websites before using them, and proceed with caution. Thank you for reading our review.