Lowdown is a new adware threat that has recently been discovered by security researchers. This dangerous program can cause significant harm to a user's computer by displaying intrusive ads, redirecting searches, and changing browser settings. It can also act as a backdoor, opening up the system to other malware and stealing sensitive data. In this article, we will explore the impact of Lowdown adware and provide some tips on how to protect your computer from this malicious program.
QUICK LINKS
Lowdown adware in detail
Lowdown is a malicious program that has gained notoriety among security experts due to its sophisticated tactics and ability to infect a wide range of computer systems. The adware can infiltrate a user's device through various means, including downloading malicious files ("Your File is Ready to Download.exe", "file.vhd", etc) or visiting compromised websites.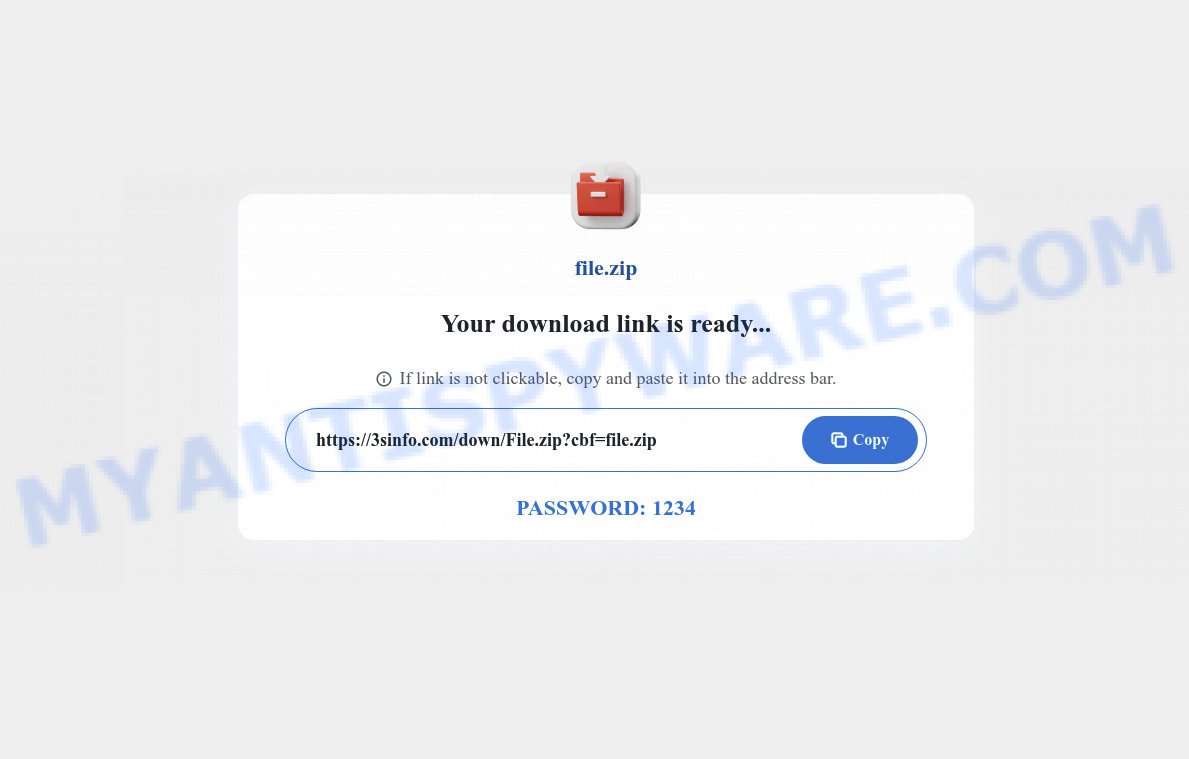 Once installed, Lowdown can perform a range of malicious activities, including displaying intrusive ads, redirecting searches, changing browser settings, and installing unwanted toolbars. It can also monitor the victim's online activity, collect sensitive data such as login credentials, credit card numbers, and other personal information, and send it to the attacker's servers.
One of the most concerning aspects of Lowdown is its ability to act as a backdoor, allowing other types of malware to infiltrate the system. This can lead to a range of dangerous consequences, such as data theft, system crashes, and identity theft.
Lowdown can also redirect users to harmful websites, where they may be prompted to download more malware or fall victim to phishing scams. These websites can also be used to spread the adware to other computers, creating a global network of infected devices. Below are some examples of harmful and deceptive websites:
To make matters worse, Lowdown is highly resistant to removal and can reinstall itself even after being detected and removed by anti-malware software. This makes it a persistent threat that requires specialized tools and expertise to eradicate.
Overall, Lowdown adware is a dangerous program that can cause significant harm to a user's computer and personal information. It is essential for users to be aware of the risks and take proactive measures to protect their devices from this and other types of malware.
Lowdown: Methods of Infection and Spread
Lowdown can infect a computer in various ways. One of the most common methods is through software bundling. Lowdown is included as an optional component alongside legitimate software installation. If the user fails to deselect Lowdown during the installation process, it will be installed on their system along with the desired software.
Another way Lowdown can infect a computer is through malicious advertising, where attackers use ad networks to distribute malicious ads that, when clicked on, download and install Lowdown onto the victim's computer. These ads can be found on various websites, including those that are normally considered safe and trustworthy.
Examples of scam pages that are designed to trick users into installing malicious software:
In some cases, Lowdown can also be spread through spam email campaigns, where the email contains a link to a website that downloads and installs the adware when clicked on. This type of attack is less common, but it still poses a risk to unsuspecting users who may click on the link without realizing the potential consequences.
In conclusion, users must be cautious when downloading and installing software and clicking on links or ads from unknown sources. Regularly running anti-virus software and keeping it up-to-date can help prevent Lowdown and other forms of malware from infecting your system.
Threat Summary
| | |
| --- | --- |
| Name | Lowdown, "Lowdown.exe", "Lowdown virus", "Lowdown.exe app", "Lowdown technologies", "nwjs", "nwjs (32 bit)" |
| Type | Adware |
| Related software | Your File Is Ready To Download.vhd, Download.vhd, Unknown.vhd, File.vhd, setup.zip, Your File Is Ready To Download.exe |
| Detection names | Gen:Variant.Tedy.306085, W64/Tedy.EEFE!tr, Ransom.Win64.Wacatac.oa!s1, TROJ_GEN.R002H09CB23, Artemis!B0A76708F589 |
| Symptoms | Pop-up ads, browser redirects, slow computer performance |
| Damage | System infections, privacy issues, financial losses, identity theft |
| Prevention | Use ad-blockers, exercise caution when downloading software, avoid clicking on suspicious links and ads, keep browser and operating system up-to-date |
| Distribution | Software bundling, deceptive ads, fake software updates |
| Removal | Use reputable antivirus software, scan downloads before installation, keep software up-to-date |
Malware examples
On the Internet, users can come across many malicious programs that perform various malicious actions. Among them there are such as Communique adware, HackTool:Win32/Keygen malware, WhiskerSpy Backdoor Malware, Altruistics Virus, Your File Is Ready To Download.iso virus, although, of course, there are many more.
Some of the malware designed to collect user data, others install ransomware and trojans on computers, and still others add infected computers to botnets, and so on. In any case, each malicious program (adware, browser hijacker, trojan, worm, …) is a huge threat to both user privacy and computer security. Therefore, malicious programs must be removed immediately after detection; using an infected computer is very dangerous.
How to remove Lowdown from computer (Malware removal guide)
Removing Lowdown from your computer is important to ensure that your system is not vulnerable to further infections, and your privacy is not compromised. To remove Lowdown, you can follow these steps: First, uninstall the adware from your Windows Control Panel. Then, remove any suspicious browser extensions and reset your browser settings to their default. It is also recommended to scan your system with a reliable anti-malware software to ensure that no traces of the adware remain. Finally, take preventive measures such as being cautious of downloading unfamiliar software and keeping your system and security software up to date to prevent future infections.
To remove Lowdown, use the following steps:
Kill Lowdown process
Open Task Manager by pressing Ctrl+Shift+Esc.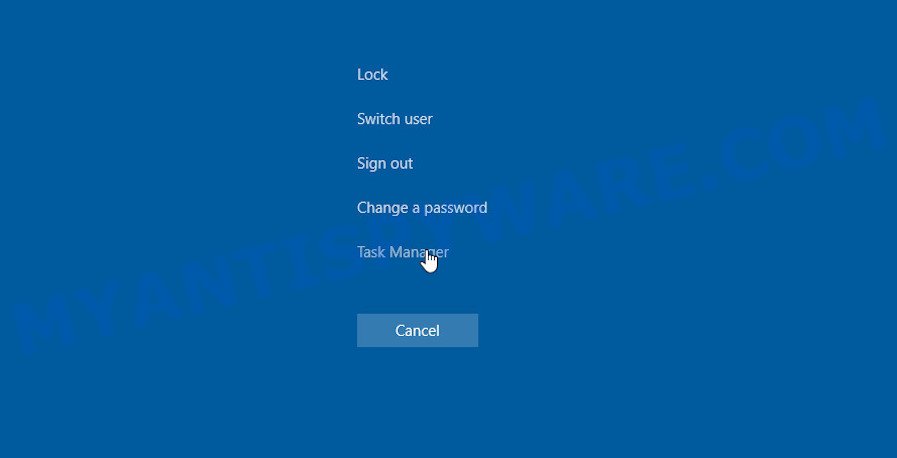 Navigate to the "Processes" tab and locate the Lowdown adware. Right-click on it and select "End Task" or "End Process." If you're unable to open Task Manager or receive a message stating that it has been disabled by your administrator, refer to this guide: How to Enable Task Manager.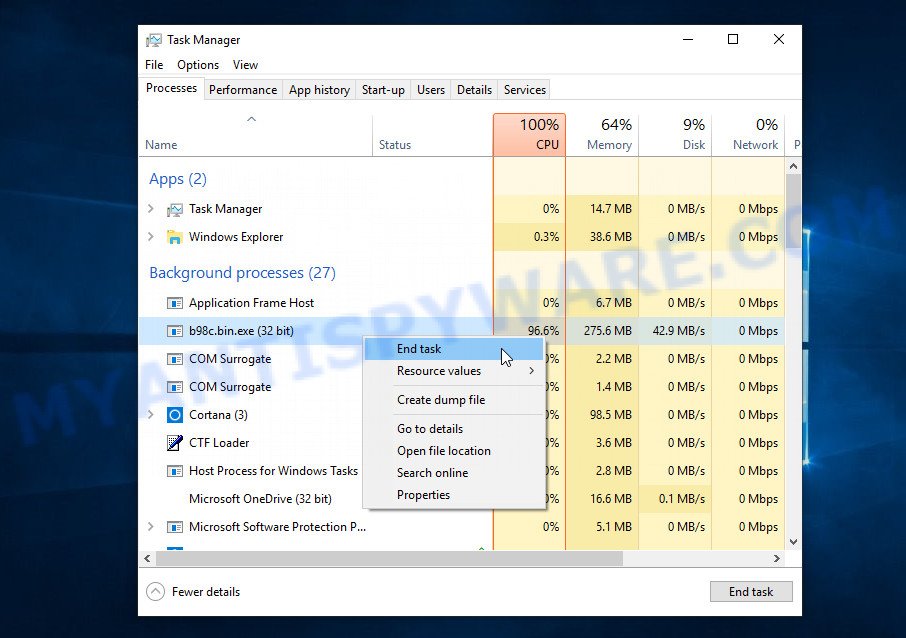 This malware disguises itself as a legitimate Microsoft Windows process to evade detection. If you notice a process consuming an unusually high amount of memory, even though you've closed all your applications, and its name is unfamiliar to you, it may be suspicious. To confirm your suspicions, you can search for the process name on Google, Yahoo, or Bing.
Disable Lowdown start-up
Select the "Start-Up" tab, look for something suspicious that is the Lowdown Adware, right click to it and select Disable.

Close Task Manager.
Uninstall Lowdown related software
Take a look at the list of apps installed on your computer and uninstall any that you don't recognize or that were recently installed. If you come across a program with a suspicious name, misspellings, or inconsistent capitalization, it may have been installed by malware. In this case, use a reputable malware removal tool like Malwarebytes to remove it from your system.
Windows 7
Windows 8

Click 'Start'.
In the Start menu select 'Control Panel'.
Find and select 'Programs and Features' or 'Uninstall a program'.
Select the program.
Click 'Uninstall'.

Press and hold Windows key and hit X key.
Select 'Programs and Features' from the menu.
Select the program.
Click 'Uninstall'.

Windows 10
Mac OS

Press and hold Windows key and hit X key.
Select 'Programs and Features' from the menu.
Select the program.
Click 'Uninstall'.

On the top menu select 'Go', then 'Applications'.
Drag an unwanted application to the Trash bin.
Right-click on the 'Trash' and select 'Empty Trash'.
Scan computer for malware
If you're not confident in removing the Lowdown adware manually or want to ensure that your computer is completely free of any potential threats, using a reputable anti-malware program can be a good option. These programs are designed to detect and remove malicious software, including adware like Lowdown, and can also provide real-time protection against future threats.
Malwarebytes is a reputable anti-malware program that can effectively detect and remove the Lowdown adware as well as other potentially unwanted programs and malware. It has a user-friendly interface and offers both free and paid versions, with the paid version offering real-time protection and other advanced features. To use Malwarebytes to remove adware, you can download and install the program, perform a scan of your system, and follow the prompts to remove any detected threats.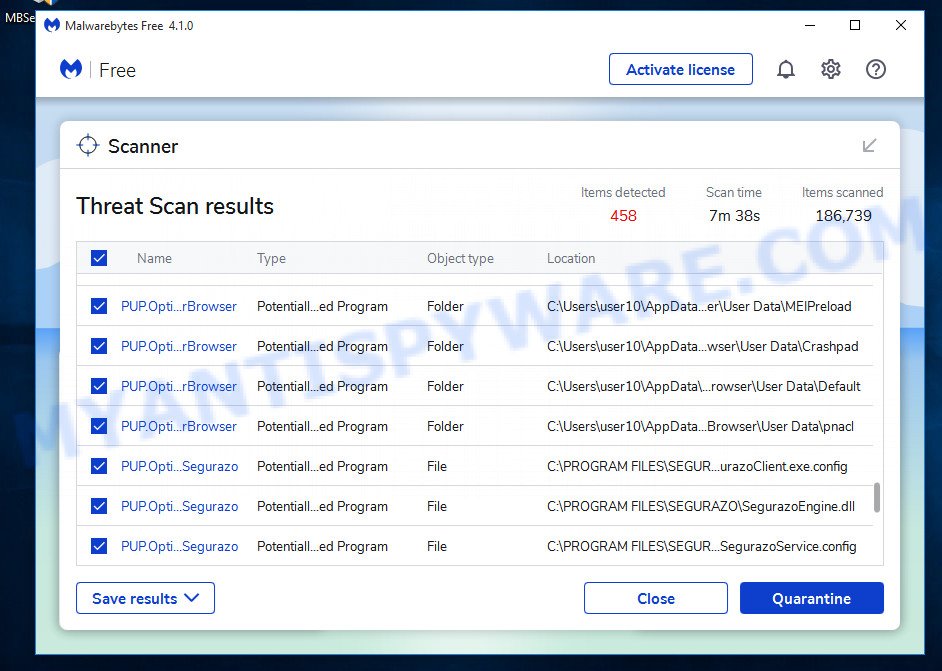 Visit the following link and download the latest version of Malwarebytes. Once the download is complete, run the installer and follow the instructions to install the program on your computer.

Open Malwarebytes and click on the "Scan" button. The program will start scanning your computer for any malware or potentially unwanted programs. Depending on the size of your hard drive, this may take a few minutes to complete.
Once the scan is complete, Malwarebytes will display a list of any threats it has found. Review the list carefully and make sure that all the items are checked for removal. Then, click on the "Quarantine" button to remove the threats from your computer. After the removal process is complete, you may be prompted to restart your computer to complete the process.
Please follow this step-by-step video tutorial to learn how to use Malwarebytes to scan and remove any potential threats from your computer. The video will guide you through the entire process, from downloading and installing Malwarebytes to running a scan and removing any identified threats.
To ensure complete removal of the Lowdown adware from your computer, we suggest utilizing the Kaspersky virus removal tool (KVRT) which is both cost-free and user-friendly. With its ability to detect and delete different types of malware, including trojans, spyware, adware, worms, trojans, potentially unwanted apps, and more, KVRT is a powerful tool. Additionally, it can locate and remove malicious files and registry entries that may be concealed on your system.
Download Kaspersky virus removal tool by clicking on the following link. Save it directly to your Windows Desktop.

After the downloading process is complete, double-click on the KVRT icon. Once initialization procedure is complete, you'll see the KVRT screen as displayed below.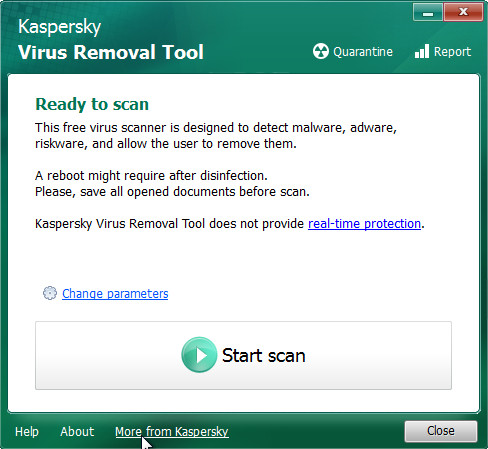 Click "Change Parameters" and set a check near all your drives. Click OK to close the Parameters window. Next click "Start scan" button to scan your computer for the Lowdown adware and other known infections. This task can take quite a while, so please be patient. While the tool is scanning, you can see how many objects and files has already scanned.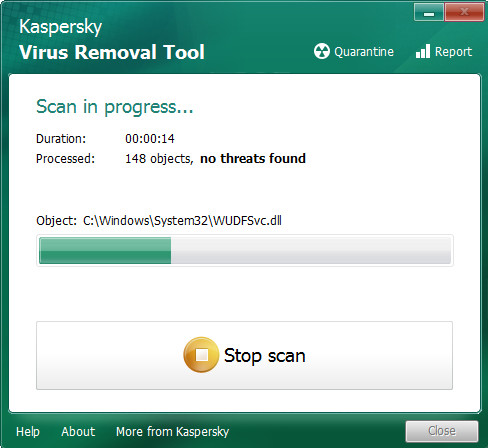 As the scanning ends, Kaspersky virus removal tool will create a list of malware found, as displayed in the figure below.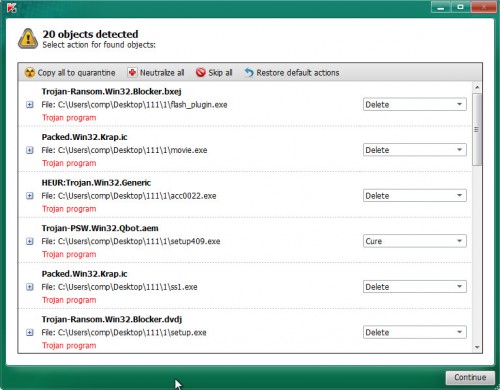 All detected threats will be marked. You can delete them all by simply clicking Continue.
Reset your browser settings
If you have already uninstalled Lowdown but still see unwanted ads or changes to your browser settings, it's possible that some of the adware components are still active on your browser. In this case, resetting your browser settings to their default state can help to remove any lingering adware and restore your browser's normal functionality.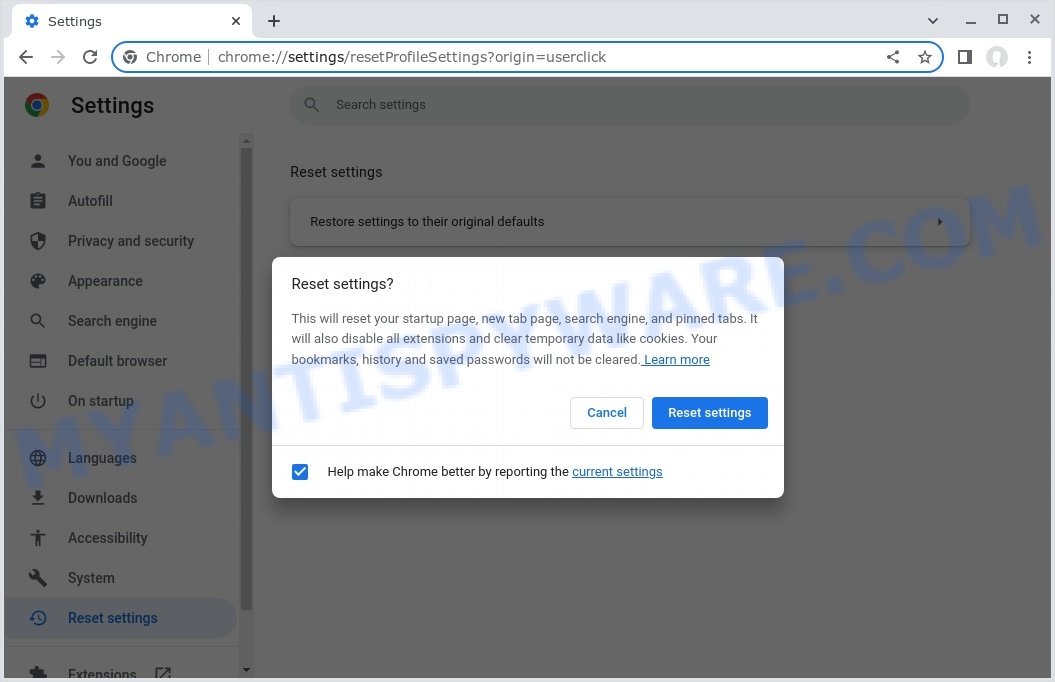 To reset your browser settings in Google Chrome:
Open Chrome and click on the three-dot icon in the top-right corner.
Select "Settings" from the drop-down menu.
Scroll down to the bottom of the page and click on "Advanced."
Scroll down to the "Reset and cleanup" section and click on "Restore settings to their original defaults."
Click "Reset settings" to confirm.
To reset your browser settings in Mozilla Firefox:
Open Firefox and click on the three-line icon in the top-right corner.
Select "Help" from the drop-down menu and then click on "Troubleshooting Information."
Click on the "Refresh Firefox" button in the top-right corner.
Click "Refresh Firefox" again to confirm.
To reset your browser settings in Microsoft Edge:
Open Edge and click on the three-dot icon in the top-right corner.
Select "Settings" from the drop-down menu.
Scroll down and click on "Reset settings."
Click "Restore settings to their default values."
Click "Reset" to confirm.
After resetting your browser settings, be sure to check for any remaining adware components or suspicious extensions and remove them if necessary.
How to stay safe online
If you browse the Internet, you can't avoid malicious ads and scam sites. But you can protect your internet browser against it. Download and use an ad blocking program. AdGuard is an ad-blocker which can filter out a huge number of of the malicious advertising, blocking dynamic scripts from loading harmful content.
First, visit the following page, then click the 'Download' button in order to download the latest version of AdGuard.


Adguard download

25833 downloads

Version: 6.4

Author: © Adguard

Category: Security tools

Update: November 15, 2018

When the downloading process is complete, start the downloaded file. You will see the "Setup Wizard" window. Follow the prompts.
After the installation is complete, press "Skip" to close the installation program and use the default settings, or press "Get Started" to see an quick tutorial which will help you get to know AdGuard better.
In most cases, the default settings are enough and you don't need to change anything. Each time, when you run your computer, AdGuard will launch automatically and stop unwanted advertisements, block harmful and misleading webpages. For an overview of all the features of the program, or to change its settings you can simply double-click on the icon called AdGuard, which can be found on your desktop.
Tips to Prevent Infection
Here are some steps you can take to prevent infection from Lowdown:
Only download software from official sources or trusted third-party websites. Avoid downloading from peer-to-peer (P2P) networks or free file hosting websites.
Avoid using key generators or software cracks to activate software. These tools are often bundled with malware like the Lowdown adware.
Use reputable antivirus software and keep it up-to-date. Antivirus software can detect and remove malware before it can cause damage to your system.
Keep your operating system and software up-to-date with the latest security patches and updates. These updates often include security fixes that can prevent malware infections.
Be cautious of suspicious emails or attachments. Hackers often use social engineering tactics to trick users into downloading malware. Avoid clicking on links or downloading attachments from unknown senders.
Use strong and unique passwords for all your accounts. Avoid using the same password for multiple accounts, and consider using a password manager to help you generate and store strong passwords.
Use a reputable ad blocker. Ad blockers allow you to browse sites without ads, thus eliminating the possibility of clicking on something malicious and preventing it from being downloaded to the machine.
Pay for premium versions of popular services. The easiest way to avoid adware is to pay for the service you use. Many Internet services make it possible to use them without ads if you purchase a premium subscription. This helps ensure that malicious adware cannot reach you.
By following these steps, you can significantly reduce your risk of infection from Lowdown and other types of malware.