In the world of cryptocurrency, scams are unfortunately common. One recent example is the website mrbeasttokendrop.com, which claims to be affiliated with the well-known YouTuber and philanthropist, Mr. Beast. The site offers visitors 10,000 units of a non-existent cryptocurrency called BST in exchange for connecting their wallet. However, this website is a scam and should be avoided. Here's why.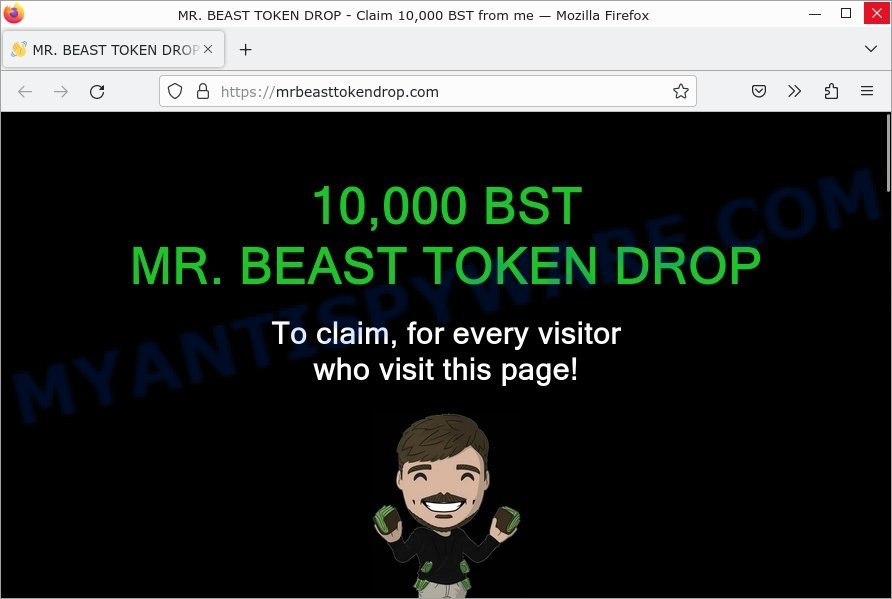 QUICK LINKS
How the scam works
The mrbeasttokendrop.com website operates by promising visitors 10,000 units of a non-existent cryptocurrency called BST. The site claims that this token is affiliated with the well-known YouTuber Mr. Beast, and that visitors can claim their reward by connecting their wallet.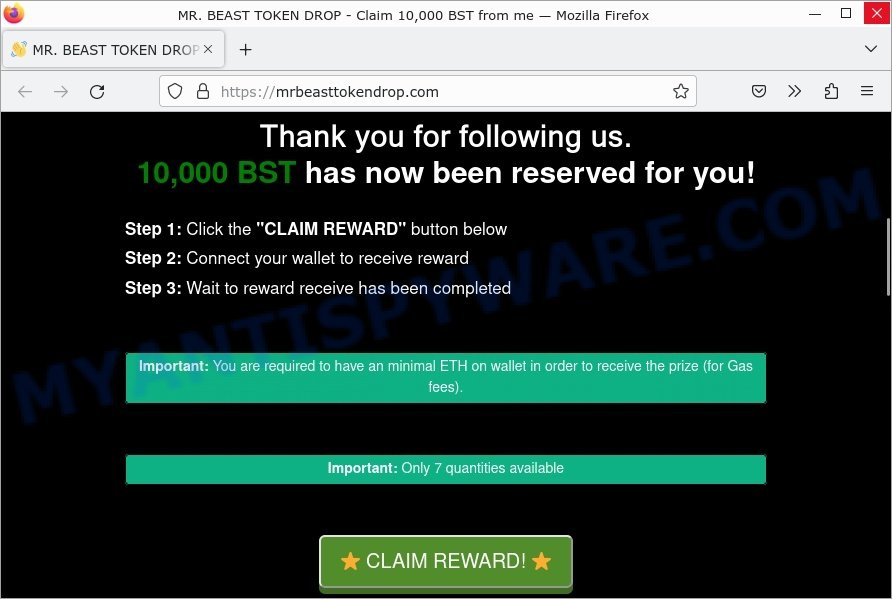 Once a visitor clicks the "CLAIM REWARD" button and connects their wallet, the website will likely prompt them to send a small amount of cryptocurrency as a "processing fee" or to "verify their account." This is a common tactic used by scammers to trick people into sending their cryptocurrency to a fraudulent address.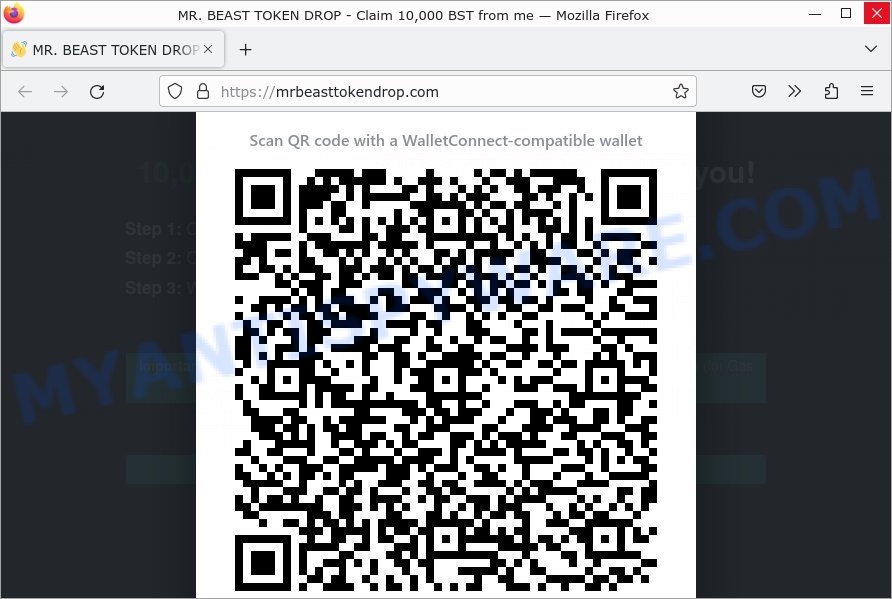 The website may also ask for personal information such as an email address or phone number, which can then be used for further phishing attacks or identity theft.
After the visitor has completed these steps, they will likely never receive the promised 10,000 units of BST. Instead, the scammers will have access to the visitor's personal information and potentially even their cryptocurrency wallet.
It's important to remember that legitimate cryptocurrency offers will never ask for a processing fee or personal information in exchange for tokens. If something seems too good to be true, it probably is. Always do your research and use trusted sources for buying, selling, and trading cryptocurrencies.
Examples of such scams
Cryptocurrency scams come in many shapes and sizes, and unfortunately, they are becoming more common as the popularity of digital assets continues to grow. The MR. BEAST TOKEN DROP scam is just one example of a fraudulent scheme designed to trick people into giving away their cryptocurrency or personal information. To help you recognize these types of scams, here are some other examples of similar cryptocurrency scams to watch out for: teslax2s.cc Crypto Giveaway Scam, Metamask Email Scam, and Elon Musk Giveaway Marathon Scam.
Keep in mind that this is not an exhaustive list, and new scams are always emerging, so it's important to stay vigilant and do your research before engaging with any cryptocurrency offer.
Steps to Take If You've Been Scammed by MR. BEAST TOKEN DROP
If you've fallen victim to the MR. BEAST TOKEN DROP scam or any other cryptocurrency scam, it's important to take action immediately. Unfortunately, recovering lost funds in cryptocurrency scams can be difficult, but there are steps you can take to minimize the damage and prevent further loss. In this section, we'll outline some specific steps you can take if you've been scammed by MR. BEAST TOKEN DROP. By following these steps, you can improve your chances of recovering your funds and protecting yourself from future scams.
Immediately stop any further communication with the scammer! This includes not sending any additional cryptocurrency or personal information.
Report the scam to the authorities. You can report the scam to the Federal Trade Commission (FTC) or your local law enforcement agency. This can help prevent others from falling victim to the same scam.
Notify the website or platform where you encountered the scam. Many legitimate websites and platforms have mechanisms in place to report scams or fraudulent activities. Reporting the scam to the platform can help them take action to prevent further scams from occurring.
Contact your cryptocurrency wallet provider. If you sent cryptocurrency to the scammer, contact your wallet provider immediately to report the fraudulent transaction and see if there is any way to recover your funds.
Monitor your accounts. Keep a close eye on your cryptocurrency wallet and bank accounts for any suspicious activity. If you notice any unauthorized transactions, report them to your bank or credit card company immediately.
Educate yourself. Take the time to educate yourself about cryptocurrency scams and how to identify them in the future. This can help you avoid falling victim to similar scams in the future.
Threat Summary
| | |
| --- | --- |
| Name | MR. BEAST TOKEN DROP Scam |
| Type | Scam, Phishing, Social Engineering |
| Fake Claims | Giving away 10,000 BST |
| Scammers' websites | mrbeasttokendrop.com |
| Damage | Loss of cryptocurrency and personal information |
| Distribution | Social media, targeted ads, spam emails |
| Indicators of the Scam | 1) Promise of free cryptocurrency without any effort; 2) Urgency tactics like a countdown timer; 3) Unsolicited emails or messages; 4) Suspicious wallet addresses or QR codes |
| Prevention Tips | 1) Be skeptical of any offer that seems too good to be true; 2) Verify the authenticity of any website or social media page before interacting with it; 3) Don't click on any links or download any attachments from unsolicited messages; 4) Use a hardware wallet to securely store your cryptocurrency |
| Reporting Info | 1) Report the scam to the relevant social media platform or website; 2) File a complaint with the Federal Trade Commission or your country's equivalent agency; 3) Report the scam to the police or local authorities; 4) Contact your bank or financial institution if you've provided them with any sensitive information |
How to spot cryptocurrency scams?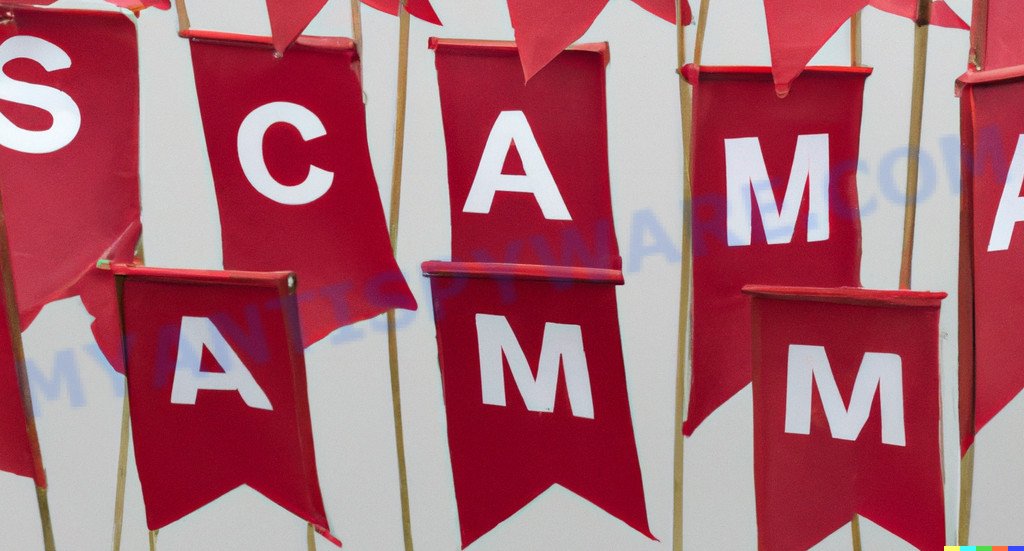 Here are some tips to help you spot a cryptocurrency giveaway scam:
If you receive an offer for a cryptocurrency giveaway, always verify the legitimacy of the offer. Check if the offer is actually associated with the company or individual it claims to be associated with. Visit the official website or social media accounts of the company or individual to see if they have announced any such giveaway.
Scammers often create websites that appear similar to the official website of a company. Always check the domain name carefully to make sure it's the official one. If the domain name looks suspicious or is different from the official one, it's likely a scam.
Scammers often send unsolicited messages via email, social media, or other communication channels. Be wary of any message that claims you have won a prize or that asks you to participate in a giveaway.
Scammers often promise large sums of money for little effort. Be wary of any offer that seems too good to be true.
Scammers often ask victims to send cryptocurrency to a specific wallet address. Always check the wallet address carefully to make sure it's the correct one. Scammers may also ask victims to send cryptocurrency to an exchange account or a third-party service. Be wary of any instructions that involve sending funds to a third party.
Scammers may ask victims to share their private keys to their cryptocurrency wallets. Never share your private keys with anyone, as they can be used to steal your cryptocurrency.
Remember, if you're unsure about the legitimacy of an offer, it's always better to err on the side of caution and avoid sending any funds.
Conclusion
In conclusion, the MR. BEAST TOKEN DROP scam is a phishing scheme that preys on people's desire to get free cryptocurrency. By following the steps outlined in the "How to spot cryptocurrency scams?" section, you can avoid falling victim to similar scams in the future. If you've already been scammed, don't panic. The "Steps to Take If You've Been Scammed by MR. BEAST TOKEN DROP" section provides a detailed guide on what to do next. Remember that scams like this are unfortunately common in the crypto world, so it's important to remain vigilant and do your due diligence before interacting with any offers that seem too good to be true. By staying informed and taking precautions, you can protect yourself and your assets from malicious actors.