Basicsprogram.com claims to offer Amazon product testing opportunities, but there are suspicions it's a scam. The website has a simple design, lacks transparency, and has no positive reviews. Clicking the "APPLY NOW" button leads to suspicious redirects to consumerzoneusa.com, which requires completing multiple deals to claim a reward. Caution is advised, and we recommend thoroughly researching the site before engaging with it. Read on for more details.
Lack of information
The Basicsprogram.com website offers a seemingly easy way to earn money by becoming an Amazon product tester. However, upon closer inspection, there is a concerning lack of information on their website. The site offers no details on who is running the program, where the products come from, or how the testing process works.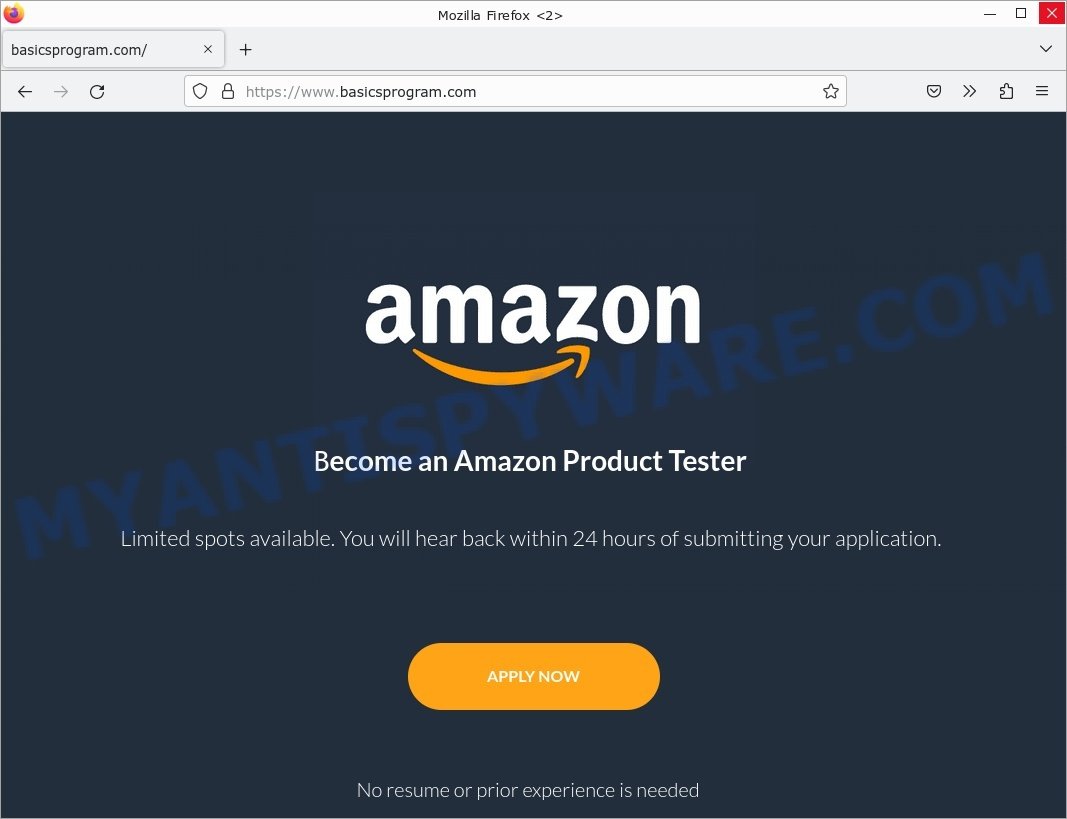 Furthermore, the website offers no information on how much money testers can expect to make or how often they will receive products to test. The lack of transparency raises questions about the legitimacy of the program and whether it is a scam.
Another area of concern is the lack of information on the types of products testers will be receiving. While the site claims to offer a variety of products, there is no indication of what those products might be. Without this information, testers may be signing up to test products that they have no interest in or are not qualified to test.
Additionally, the website offers no information on how testers will be compensated for their time and effort. Will they receive monetary compensation, free products, or some other form of compensation? The lack of transparency on this issue raises further doubts about the legitimacy of the program.
No links
Additionally, another red flag is the fact that the Basicsprogram.com website has no links to other pages or websites. A legitimate website would typically have links to pages such as "About Us", "Contact Us", and "Privacy Policy." However, Basicsprogram.com has no such links, which is highly unusual and suggests that the website is not a legitimate one. This lack of links makes it difficult to verify the identity of the people behind the website and raises questions about the credibility of the site's claims. Overall, the lack of links to other pages is another indication that Basicstester.com is not a trustworthy website, and users should be cautious when considering any offers or opportunities presented on the site.
Similar fraudulent sites
Several similar sites have been reported as potentially fraudulent, including Basicstester.com, Flixtagger.com and Showtaggers.com.
These sites offered enticing opportunities for individuals to become Amazon product testers or Netflix video taggers, respectively. However, upon closer inspection, these sites had several red flags and were suspected of being scams. Basicstester.com, like Basicsprogram.com, lacked important information and had no visible links to legitimate companies or organizations. Showtaggers.com, on the other hand, was flagged by VirusTotal as phishing and had no actual affiliation with Netflix or the job it advertised. It's important to be cautious and do thorough research before engaging with any website or opportunity that seems too good to be true.
Redirects
If you click on the "APPLY NOW" button on Basicsprogram.com, it redirects through a couple of sites to a page called consumerzoneusa.com. The first site it redirects to is tappco.go2cloud.org, which is flagged by VirusTotal as malicious. The second site it redirects to is jbsmnion.com.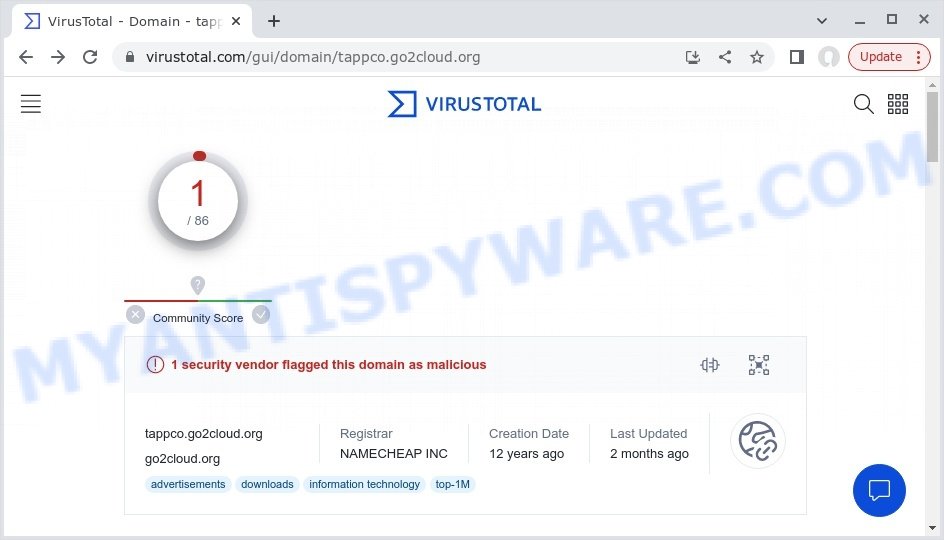 On the consumerzoneusa.com page, a pop-up window immediately appears that says, "You've been selected to choose from our Premium Rewards! Get my reward." If you click "Get my reward," the pop-up window closes and you're directed to a page with a list of offers in the form of four tiles.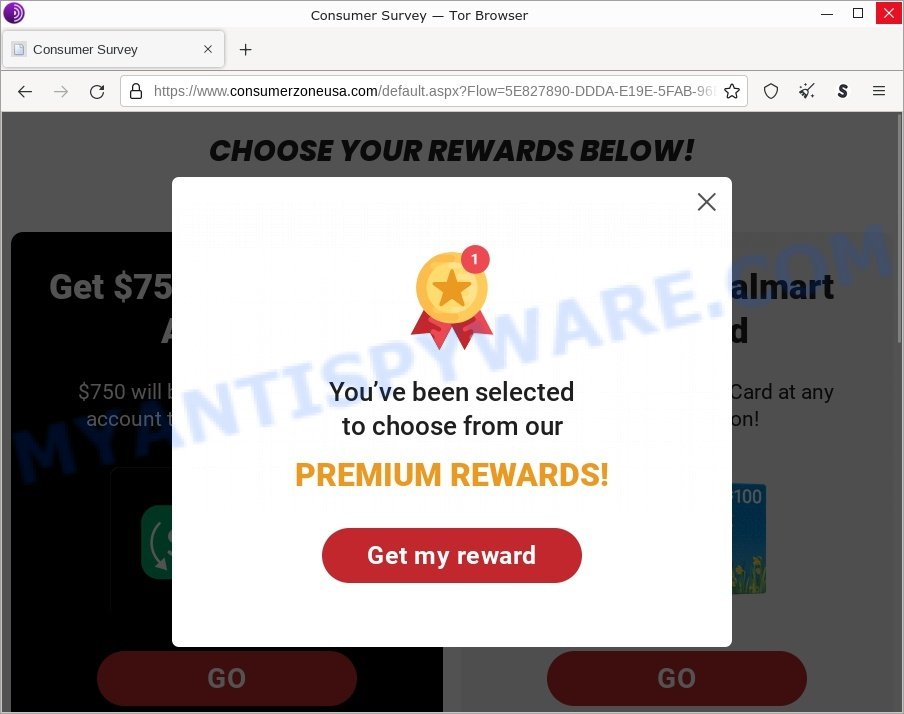 Each tile offers a different reward, such as a $750 cash account credit, a $100 Walmart gift card, a $75 Amazon gift card, or $50 to your PayPal account. If you click on one of the "Go" buttons to claim an offer, you're redirected to another site that requires you to complete a number of deals in order to claim the reward. The deals may include mobile games and apps, subscription products and services, free trials, and more.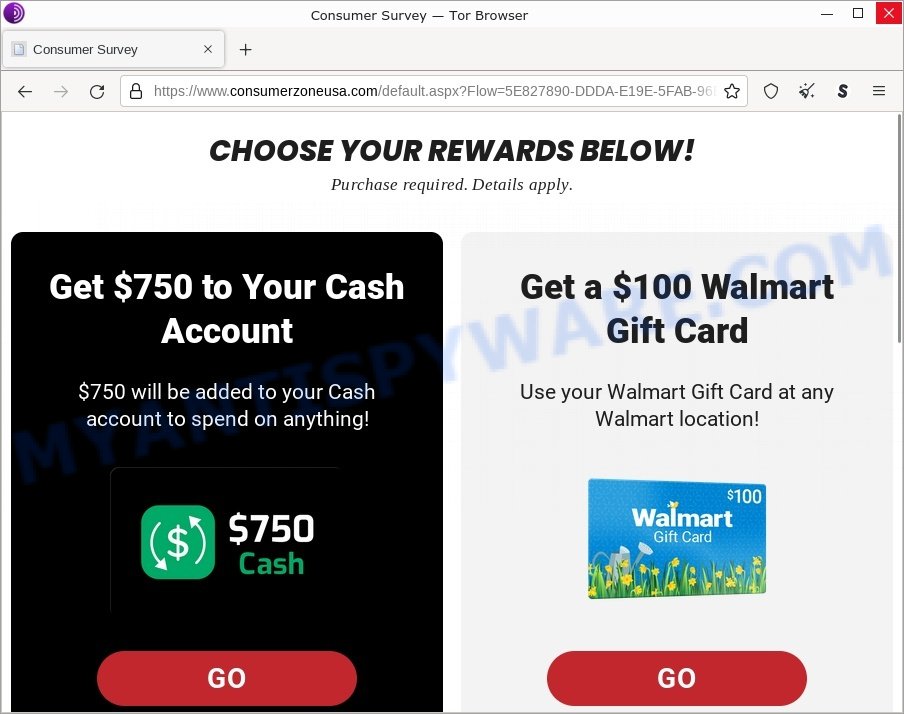 It's important to note that the redirection process from Basicsprogram.com to consumerzoneusa.com is suspicious, and the fact that the consumerzoneusa.com page requires you to complete deals in order to claim rewards raises red flags. Overall, the redirection process and the reward claiming process appear to be a tactic to get users to complete offers or provide personal information, rather than a legitimate opportunity to become an Amazon product tester.
Conclusion:
In conclusion, while Basicsprogram.com may seem like a tempting opportunity to get free or heavily discounted Amazon products in exchange for testing and reviewing them, it's important to approach the site with caution. The lack of transparency and information about the company and its practices, combined with the red flags mentioned earlier, raise legitimate concerns about the legitimacy and safety of using Basicsprogram.com. It's always wise to do your research and exercise caution when considering any online opportunity, especially those that involve personal information and financial transactions. As always, it's important to protect your safety and privacy first and foremost. We recommend that you thoroughly research Basicsprogram.com and similar websites before using them, and proceed with caution. Thank you for reading our review.