Mirouz.com is an online store that claims to sell miscellaneous items, ranging from clothing to adult products and gifts. However, upon closer examination, several red flags raise suspicions about the legitimacy of this website. From the lack of positive reviews to the suspiciously low prices of some hidden products, there are multiple reasons to be wary of making a purchase on Mirouz.com. Read on to find out more about the potential scam and why you should exercise caution when considering shopping on this site.
Website Design and Information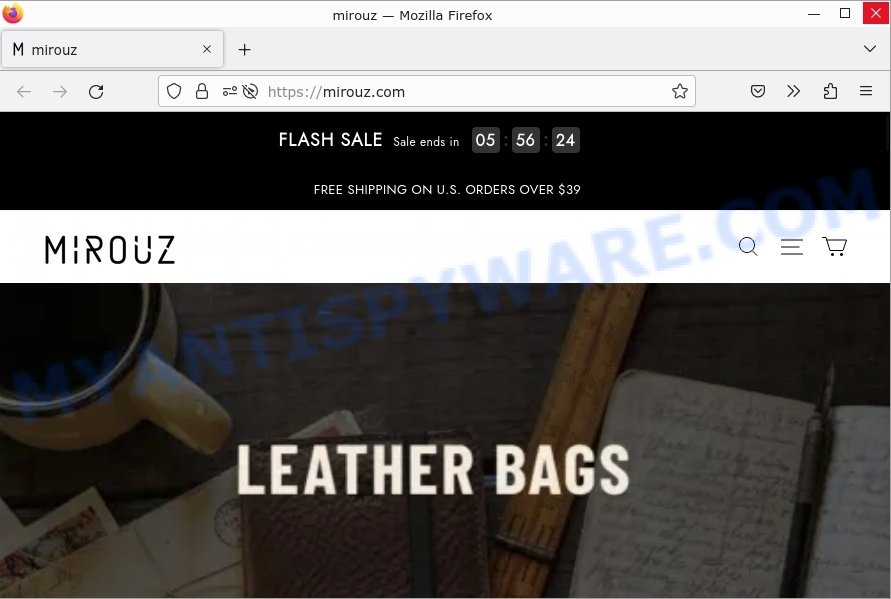 The first thing that stands out about Mirouz.com is its simple design and logo, which features the store's name. While this alone isn't necessarily a red flag, the website doesn't provide a clear indication of what it sells, aside from broad categories like men's and women's clothing, adult products, gifts, and accessories. The site gives the impression that it's made from a template, without much attention to detail.
Online Reviews
One of the most significant red flags is the complete lack of positive reviews for Mirouz.com. In fact, some online reviews explicitly label the site as a scam. A lack of any positive feedback or customer satisfaction testimonials suggests that Mirouz.com has not built any trust with its potential customers.
Suspicious Hidden Products
Mirouz.com has a range of products available on the site that are hidden from visitors, with low prices that are too good to be true. These products aren't accessible from the main page or category pages, which raises questions about why they're hidden. For example, a "Outdoor electric bike with 48V / 15Ah lithium battery" is listed for $32.88, with a real price of $1999. Likewise, an enclosed heated scooter is listed for $32.89, with a real price of $7999. Such prices do not correspond to the categories of products that are present on the main page.
Domain Information and About Us Section
The Whois information for Mirouz.com reveals that the site was registered in October 2022, indicating that it's a relatively new site.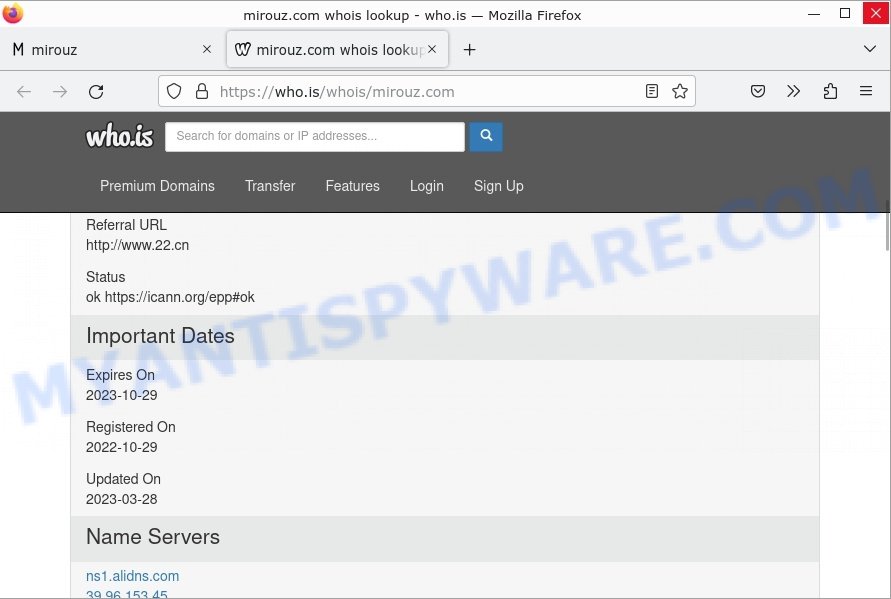 Additionally, the About Us section on the site emphasizes that the company wants to provide customers with high-quality products and services but lacks specific details about the site's history and founding. Instead, the section talks in general terms about the site's commitment to helping customers express themselves and being their authentic selves.
Contact Information
Mirouz.com provides an email address (mirouz@clothescl.com) for customer contact, but there's no phone number or social media presence. The registration address (SUITE 10542, BALMORAL INDUSTRIAL ESTATE, ABBEYLANDS,NAVAN MEATH, C15 DD72, IRELAND) provided belongs to a company named FADEL-BEATTY LIMITED, which operates other suspicious shops.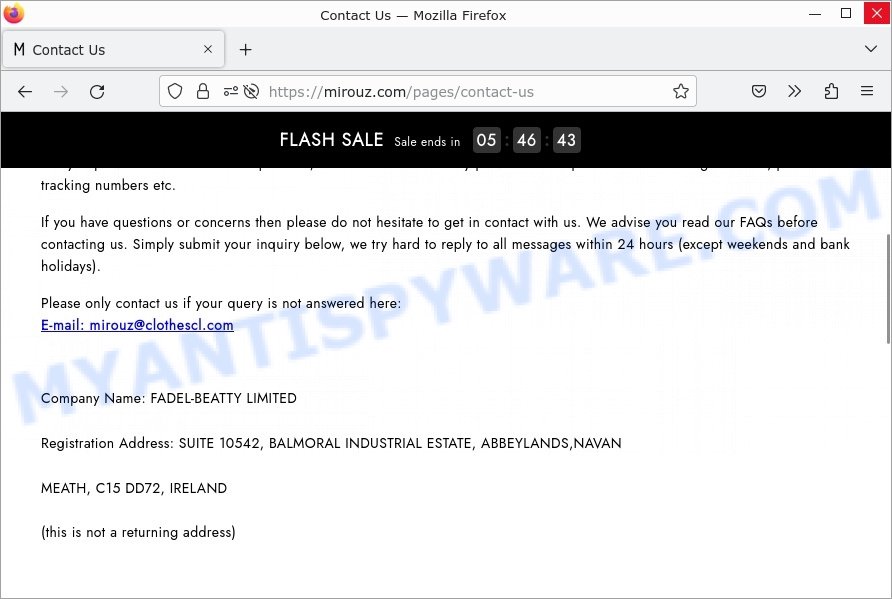 Conclusion and Recommendation
Based on the suspicious indicators mentioned above, it is highly likely that Mirouz.com is a scam. The lack of positive reviews, hidden low-priced products, the limited domain information, and the absence of a social media presence all suggest that Mirouz.com isn't a legitimate online store. Therefore, it is recommended to exercise caution and avoid making any purchases on the site.
Similar to Mirouz.com: Online Shops with Red Flags
As the number of online shops continues to grow, it's becoming increasingly difficult to determine which ones are trustworthy and which ones should be avoided. Unfortunately, there are a number of suspicious online shops that exist solely to scam unsuspecting customers. If you've encountered mirouz.com and have suspicions about its legitimacy, it's important to be aware of other shops that operate in a similar manner. In this section, we will highlight some of these shops and provide information on why they should be avoided.