With the rise of remote work and the gig economy, job seekers are increasingly turning to online job boards and search engines to find employment opportunities. However, not all websites advertising job openings are legitimate. One such site that has been flagged as a scam is Testpurple.com. Despite its enticing offer to become a pillow tester with no prior experience needed, clicking on the site's "APPLY NOW" button leads to a completely unrelated job search engine that requires users to enter personal information. In this article, we'll explore the details of the Testpurple.com scam and how to avoid falling victim to similar schemes.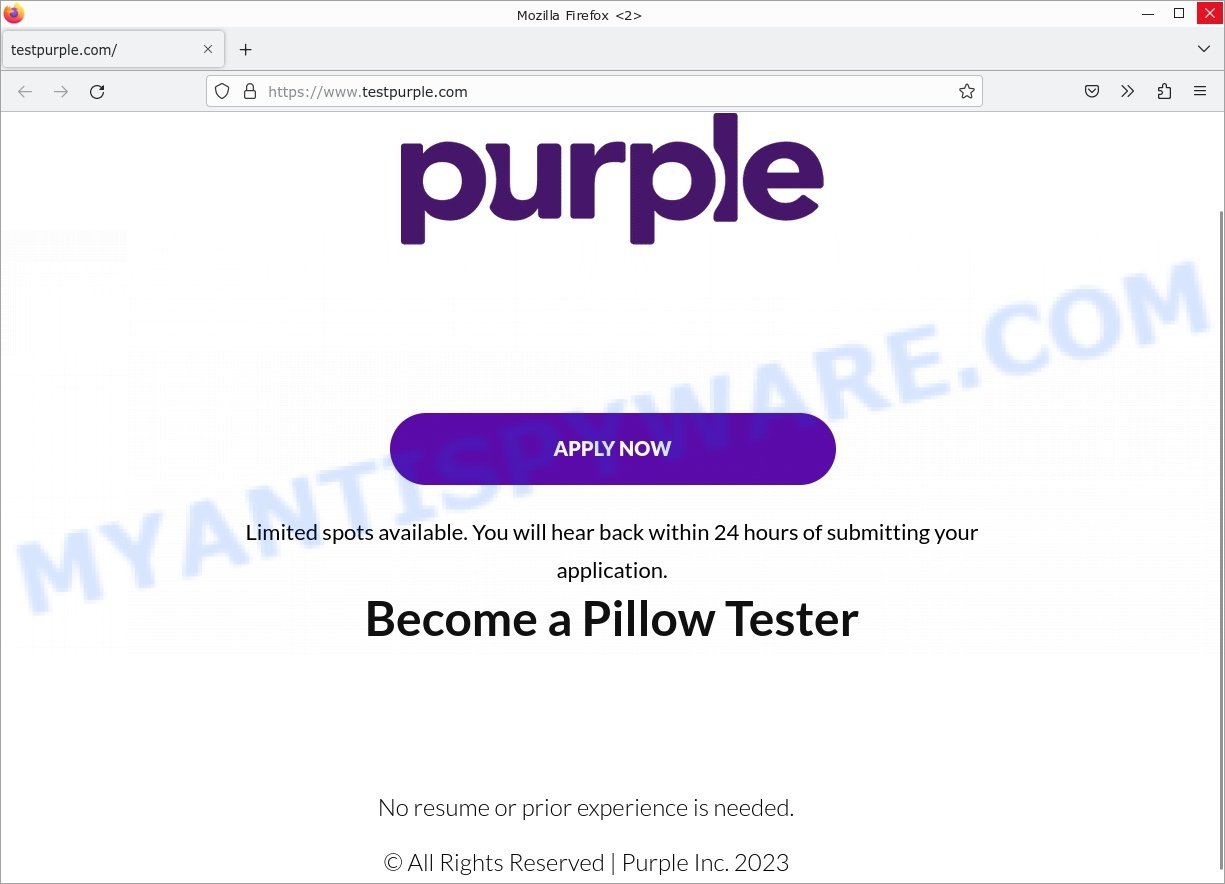 QUICK LINKS
How the Testpurple.com Scam works
Testpurple.com is a scam site that lures unsuspecting users into becoming "pillow testers" by offering a seemingly easy and lucrative job opportunity. However, the site provides no information about the job, the company or the requirements. The only content on the site is a Purple logo, a brief message, and an "APPLY NOW" button.
When a user clicks on the "APPLY NOW" button, they are redirected to another site called StartACareerToday via tappco.go2cloud.org. Tappco.go2cloud.org is flagged by VirusTotal as malicious, which should raise red flags.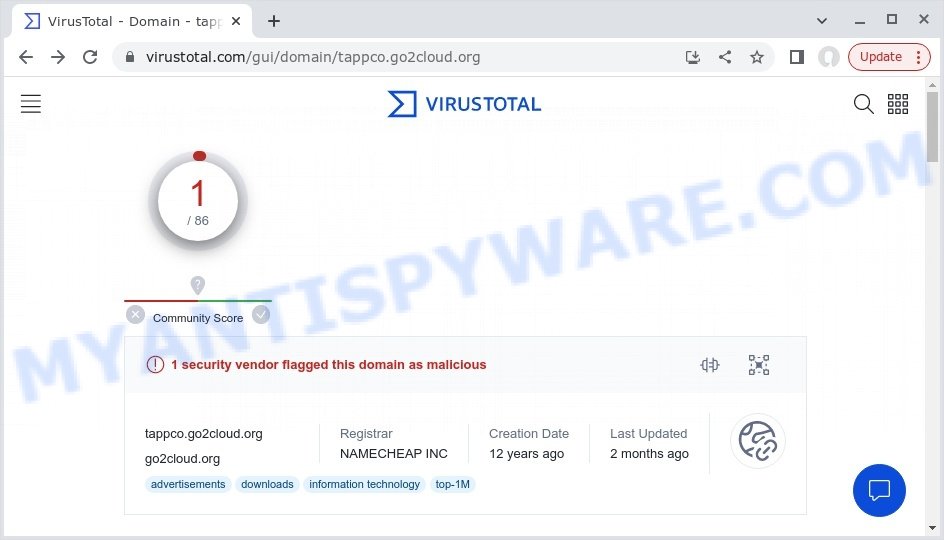 StartACareerToday claims to be a job search engine and requires users to enter their zip code, first name, last name, and email address to proceed. The next screen then requires users to enter their phone number.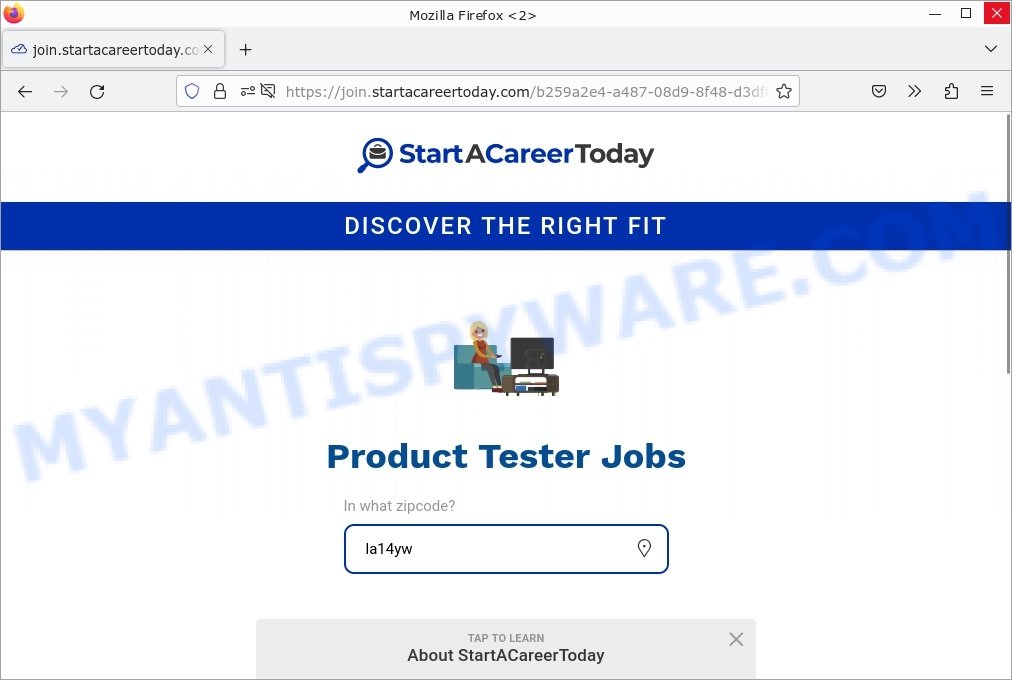 The site does not check the entered data in any way, so users can enter anything in each field. Nowhere on the site does it mention that it is associated with Purple or is looking for employees for Purple. In fact, the site claims that it is not connected to any employer.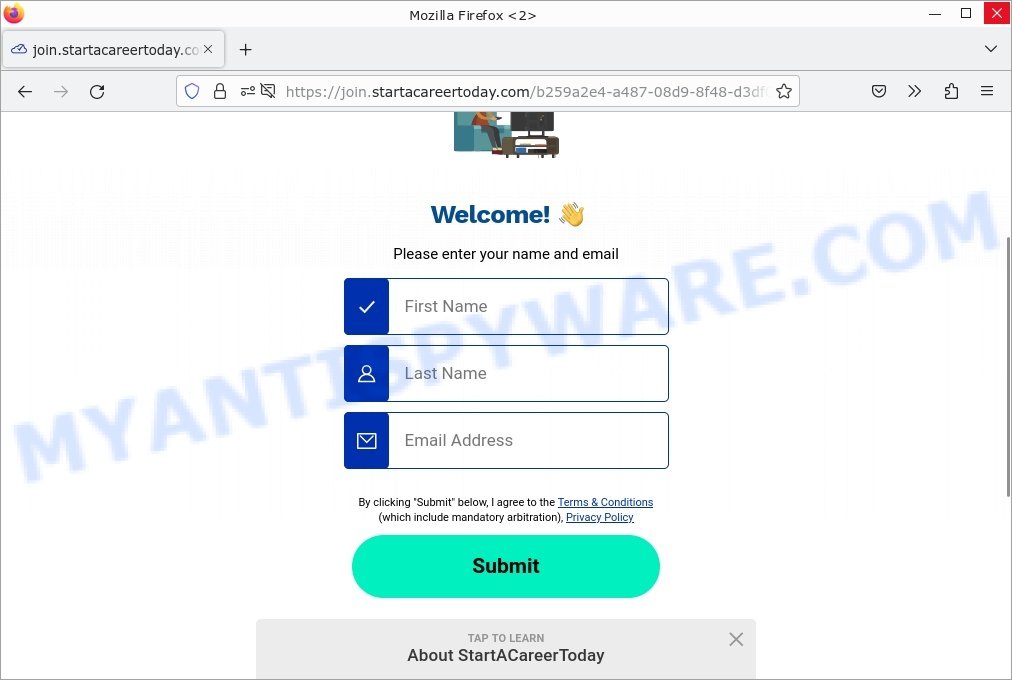 After answering a few more questions, the site offers to open a sponsor site. Once the user agrees, they are taken to a list of jobs that are completely unrelated to the initial proposal of becoming a Pillow Tester.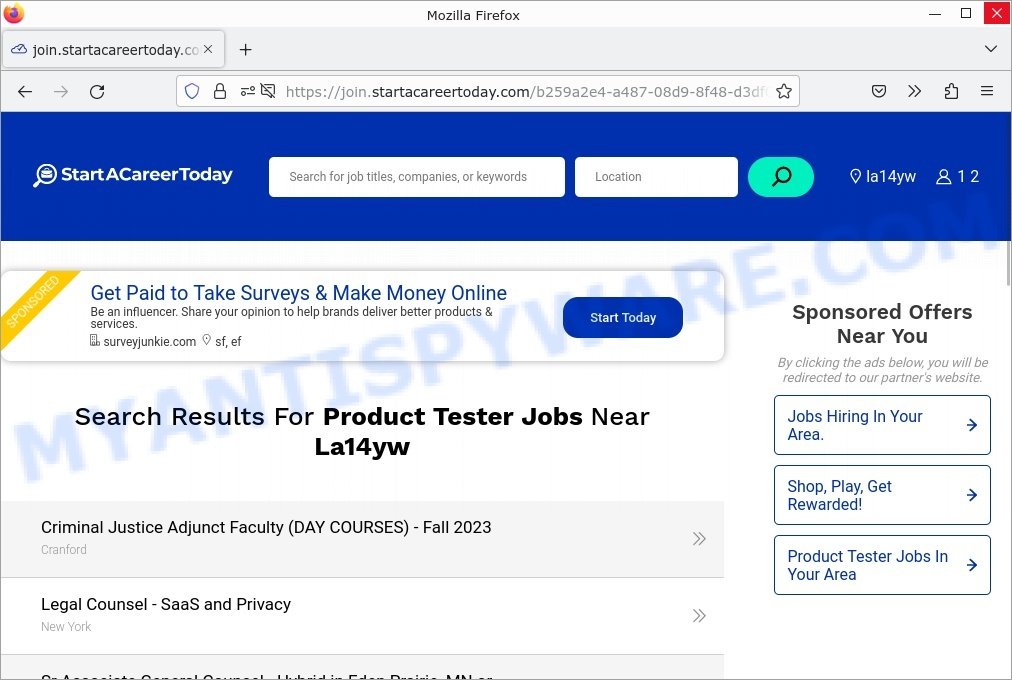 The whois information for Testpurple.com reveals that the site was created on 2023-03-27 and will expire on 2024-03-27. The registrant information is also private, indicating that the site owner is trying to remain anonymous.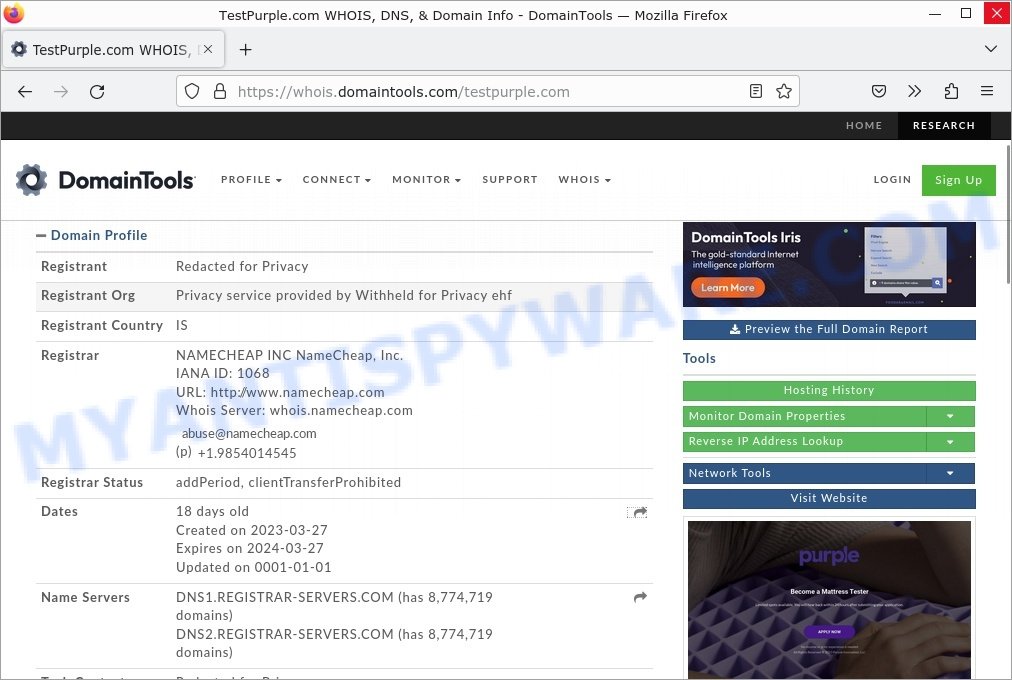 In summary, Testpurple.com is a fraudulent website that uses false promises of a pillow testing job to redirect users to an unrelated job search engine, which does not have any connection to Purple or any other legitimate employer. There is no actual job opportunity to become a Pillow Tester! Users are prompted to enter their personal information, and in return, they are offered irrelevant job postings that have nothing to do with the initial offer. The site is designed to deceive users and is likely a phishing scam to obtain personal information that can be used for fraudulent purposes.
Examples of Job Scams Like Testpurple.com
Unfortunately, the Testpurple.com scam is not an isolated incident. There are many similar websites and scams out there that promise easy money or jobs with popular companies like Amazon, Disney or Netflix, but are actually just trying to trick people out of their personal information or money. Below we'll take a look at some other examples of these scams, so you can be better prepared to spot and avoid them in the future: Testoutbasics.com Amazon Product Tester Scam, Magicbinge.com, Basics Program Scam, and Flixtagger.com Netflix Tagger Scam.
Remember, if something seems too good to be true, it probably is. Always be cautious and do your research before giving out personal information or paying for any job opportunities online
How to Spot Fake Job Offers
If you're interested in working from home and stumbled upon Testpurple.com or similar websites that offer seemingly easy and high-paying jobs, it's important to be cautious. Unfortunately, many of these sites turn out to be scams, designed to deceive unsuspecting individuals looking for employment opportunities. In this section, we'll provide you with some tips on how to spot these types of scams and avoid falling victim to them.
Scammers often use vague or unrealistic job descriptions to lure people into their trap. If a job posting sounds too good to be true or lacks details about the position, it's best to be cautious.
Legitimate companies always provide contact information such as an email address, phone number, or physical address. If a company doesn't provide any contact information, it's a red flag.
Take some time to research the company and read reviews from other people who have worked with them. If there are a lot of negative reviews or the company doesn't have much of an online presence, it's best to steer clear.
If a company asks you to pay for training or materials to do the job, it's likely a scam. Legitimate companies will provide all the necessary tools and training for free.
If something feels off or too good to be true, it probably is. Don't ignore your instincts and always err on the side of caution.
Conclusion: Don't Fall for Job Scams like Testpurple.com
In summary, job scams like Testpurple.com lure unsuspecting job seekers with promises of easy, high-paying jobs. These scams are designed to steal personal information, money, or both. To avoid falling prey to these scams, it's important to be vigilant and do your research before accepting any job offers. Look out for warning signs like unsolicited job offers, requests for personal or financial information, and promises of unrealistic pay or work hours. By staying informed and cautious, you can protect yourself from job scams and find legitimate employment opportunities online.