Stanley1913us.com is a website that claims to sell high-quality Stanley tools and products at affordable prices. However, after conducting a thorough investigation, it has become clear that Stanley1913us is not a legitimate website. Instead, it is a part of a larger network of fraudulent websites that operate under the guise of selling brand-name products. The website uses deceptive tactics to trick users into making purchases, including an inconsistent design and a fake "About Us" page. Furthermore, the website is associated with the Bin Estrella GmbH company, which has been linked to numerous other fraudulent websites.
It is crucial for consumers to be aware of the signs of a scam and to avoid websites like Stanley1913us.com at all costs. Read on for a detailed review of this fraudulent website. For a quick summary of our findings, please refer to the table Summary of Stanley1913us.com Review below.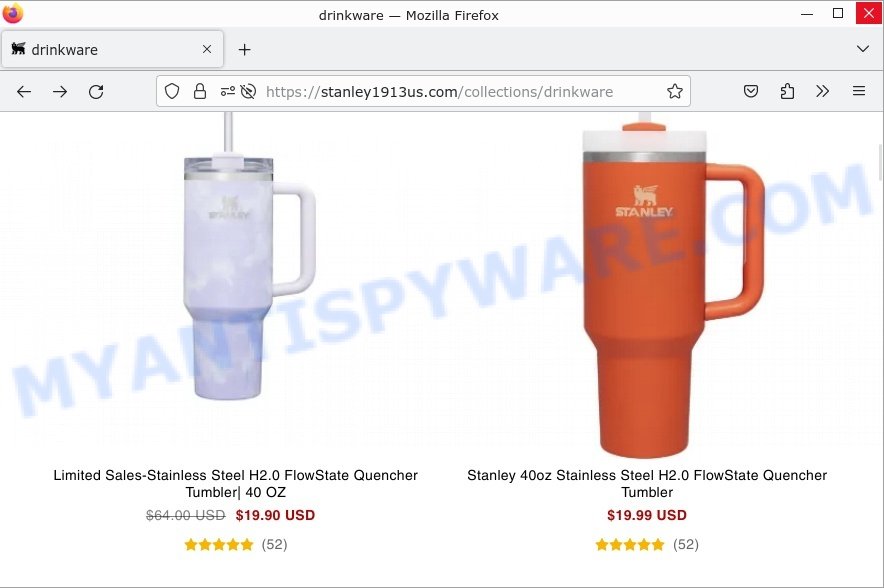 Stanley1913us.com Review
Website Design and Impersonation
Stanley1913us.com is designed with a template that is commonly used by many fraudulent e-commerce websites. The website design and layout are strikingly similar to that of Ruksdle.online, and it is evident that the scammers have replicated the website structure.
Furthermore, the scammers have used the same logo and photos of the legitimate Stanley1913 store to make the website appear more credible. However, the products sold on Stanley1913us.com are priced significantly lower than the retail price, raising suspicions of a possible scam.
The scammers have also made efforts to impersonate a legitimate business by using the name of the actual Stanley1913 store in the domain name. This is an attempt to mislead unsuspecting customers into believing that they are purchasing products from the authentic Stanley1913 store.
Facebook ads
Upon further investigation, it was found that scammers are using Facebook ads to promote their fake Stanley websites, including Stanley1913us.com. These ads typically feature heavily discounted products and attractive offers to entice unsuspecting customers into making purchases. The scammers use sophisticated tactics to make their ads appear legitimate and trustworthy, such as using high-quality images and professional-looking logos.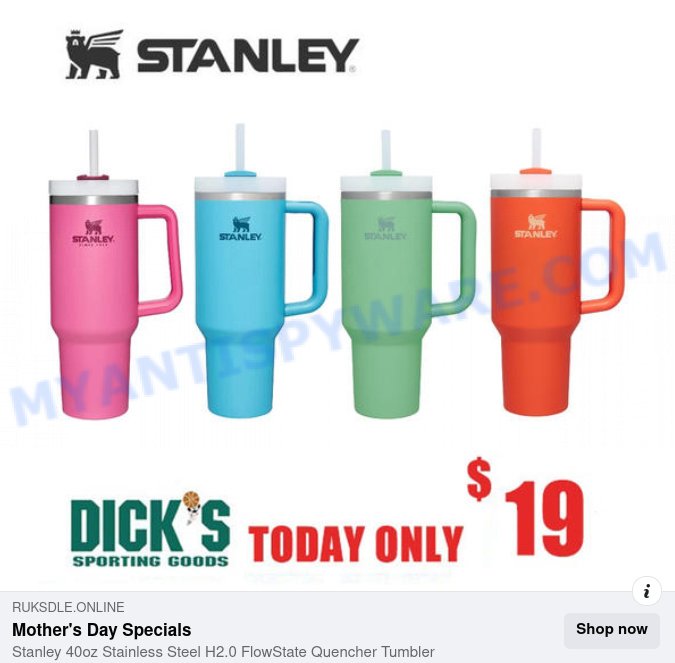 However, it is important to note that these ads are not affiliated with the legitimate Stanley brand, and are simply a ploy to trick people into giving away their personal and financial information. Customers should exercise caution when clicking on ads and only purchase products from verified and reputable websites.
Product Pricing
Stanley1913us.com claims to sell products related to drinkware and food storage, including vacuum bottles, water bottles, tumblers, mugs and cups, barware, and food storage containers. However, similar to Ruksdle.online, the website features suspiciously low prices for high-end products from the reputable brand Stanley, such as the 40oz Stainless Steel H2.0 FlowState Quencher Tumbler, which is listed for only $19.90 while its retail price is $50.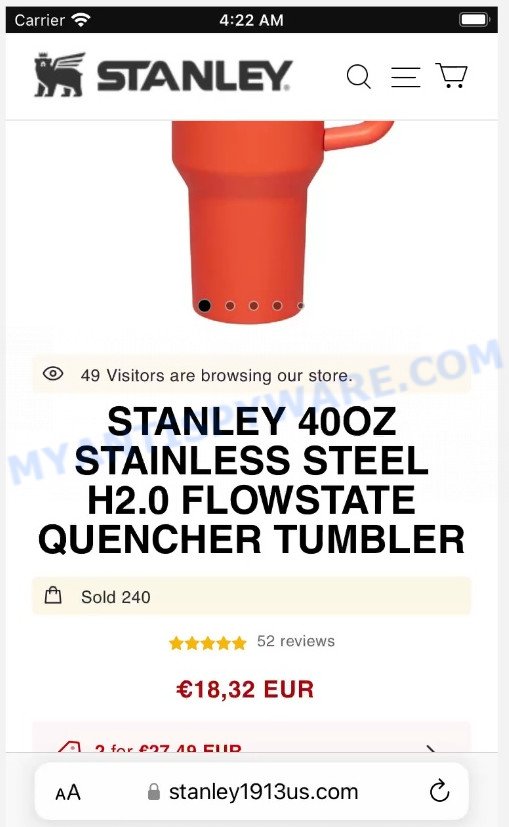 The website offers a total of 61 products in various categories. Additionally, it should be noted that the product images used on the website appear to have been taken from other sources.
Customer Reviews
Customer reviews are a crucial factor in determining the legitimacy of an e-commerce website. However, Stanley1913us.com has no positive reviews online. In fact, some reviews suggest that the website is a scam, which is a red flag that cannot be ignored.
Contact Information
Stanley1913us.com provides an email address – jessie@peachcher.com – as its only contact method. There is no phone number provided, and there are no links to pages on social networks.
The company name listed on the website is Bin Estrella GmbH, and the company number is 064110000. The company address is listed as Pallaswiesenstraβe 180, 64293 Darmstadt, Germany.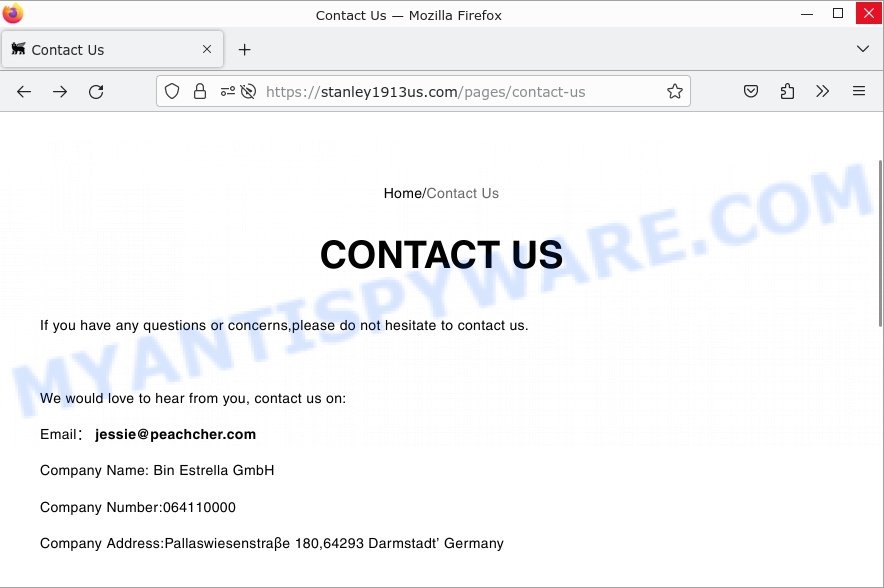 In fact, there is a large network of fraudulent websites that share the same characteristics as Stanley1913us.com and are operated under the name of Bin Estrella GmbH. This is a major red flag and suggests that Stanley1913us.com may be a scam website.
Whois information
According to the WHOIS information, Stanley1913us.com was created on May 06, 2023, and its registration is set to expire on May 06, 2024. The registrant information is hidden, which is not uncommon for websites that are potentially involved in fraudulent activities.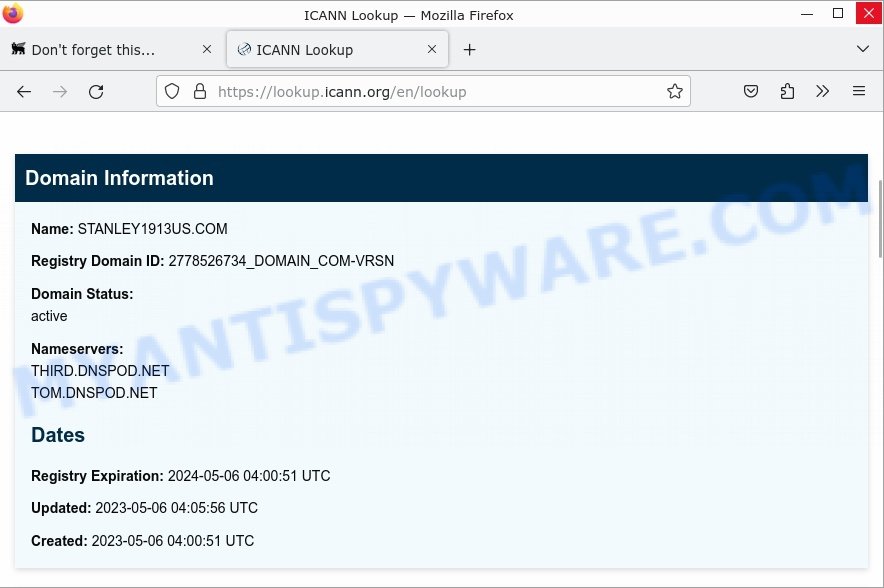 It is important to note that the fact that the website is relatively new and the registrant information is hidden raises concerns about the legitimacy of Stanley1913us.com. Legitimate websites typically provide more transparency and information about their ownership and registration.
Furthermore, the short registration period is also a common tactic used by scam websites to avoid being caught or reported. It is worth noting that scam websites often operate for a short period of time before disappearing with their customers' money.
Site Obfuscation Techniques Used by Stanley1913us.com
Stanley1913us.com uses a Java script to detect the device from which the user accesses the website. If the user enters the site from a mobile phone, they are able to view the main page and product pages. However, if the user accesses the site from any other device, such as a computer, they are automatically redirected to an error page with the URL "https://www.compliment-cite.com/pages/404". This page displays the message "Error 1014 Ray ID: 7c677aa3da334257 • 2023-05-13 02:30:22 UTC CNAME Cross-User Banned".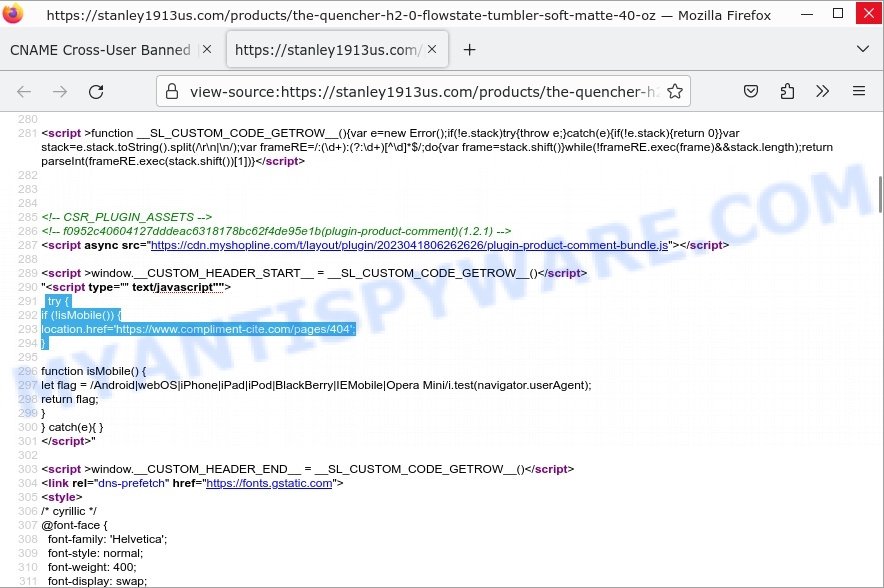 This technique is known as device targeting and it is often used by fraudulent websites to prevent analysis by security researchers or law enforcement agencies. It is possible that the creators of Stanley1913us.com are trying to make it difficult for authorities to investigate their activities by using this technique. This raises suspicion about the legitimacy of the website and the products being sold on it.
Conclusion
In conclusion, Stanley1913us.com is a fraudulent online store that attempts to deceive shoppers by impersonating the legitimate Stanley brand. The website design and content are almost identical to the real Stanley website, and the scammers have even gone as far as using the same product images and descriptions. The prices are incredibly low, which is a common tactic used by scammers to lure in unsuspecting shoppers. There are no social media accounts or customer reviews for the site, and the only contact information is an email address associated with the known scamming company Bin Estrella GmbH. The WHOIS information shows that the domain was created very recently and is set to expire in a year, which is another indication of a scam.
We highly recommend avoiding Stanley1913us.com and any other suspicious websites associated with Bin Estrella GmbH.
Summary
| | |
| --- | --- |
| Store Name | Stanley1913us.com |
| Categories | HOT SALE, Mugs & Cups, Vacuum Bottles, Water Bottles, Tumblers, Barware, Food Storage |
| Products | Rinkware and Food Storage |
| Pricing | Very low, with products sold at a fraction of their real cost |
| Examples | STANLEY 40oz Stainless Steel H2.0 FlowState Quencher Tumbler for $19.90, real price $50 |
| Reviews | No positive reviews found online, some reviews suggest that the site is a scam |
| Logo and Design | Uses the logo and photos of the legitimate Stanley1913 store, but sells the same products at a fraction of the cost. The website has a typical template design. |
| Contact Information | Email: jessie@peachcher.com. No phone or social media links. Managed by Bin Estrella GmbH, which is associated with a network of fraudulent websites. |
| WHOIS Information | Created on 2023-04-25, expires on 2024-04-25. Registrant information is hidden. |
| Recommendation | It is recommended to avoid making purchases from Stanley1913us.com. |
Other Suspicious Online Shops to Avoid
It's important to be vigilant when shopping online, as fraudulent websites can easily deceive customers into making purchases that result in financial loss. Unfortunately, Stanley1913us.com is not the only suspicious online shop out there. In fact, there are many other online shops with similar characteristics and practices that should also be avoided. In this section, we will highlight some of these other suspicious online shops to help you stay informed and avoid becoming a victim of online scams.
Here are a few examples of the suspicious online shops: Naughtyslid.com, Ticsdes.shop, and Blevie.com.
How to spot and avoid a fake online store?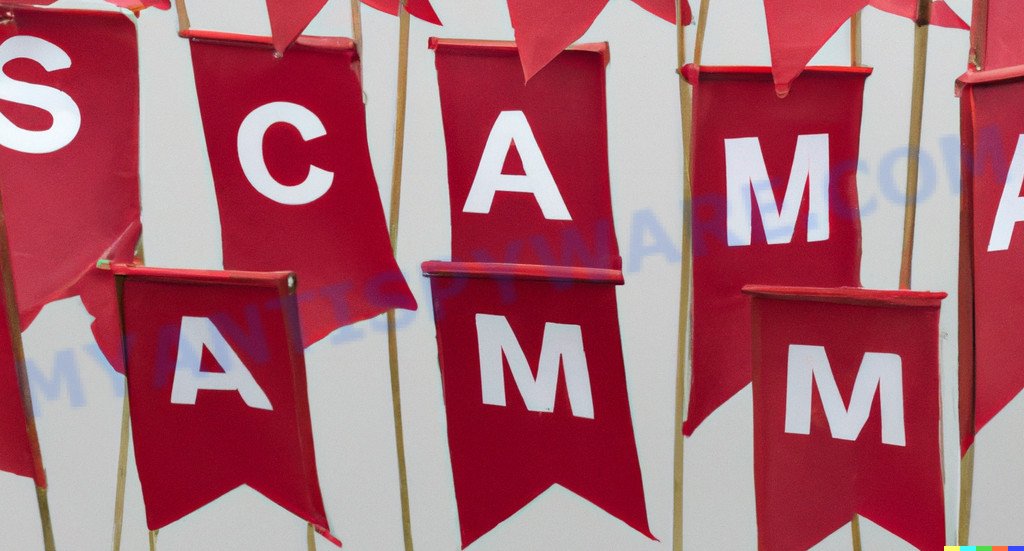 Online shopping has become increasingly popular, but it also carries certain risks, particularly when it comes to fake or fraudulent online stores. Here are some tips on how to spot and avoid a fake online shop:
Check for HTTPS and a padlock symbol in the URL bar. This indicates that the website is using encryption to protect your data.
Look for reviews and ratings of the website. Genuine websites will usually have positive feedback from customers, while fake ones may have little to no reviews or negative feedback.
Check the website's contact information. A legitimate online store will have a physical address, phone number, and email address for customer support.
Research the website on the internet. Search for the website's name and reviews, complaints or any warning signs about it before making a purchase.
Be wary of deals that are too good to be true. Fake online stores may offer steep discounts to lure in customers, but these deals may be a ploy to steal your money.
Avoid using payment methods that are not secure. Use payment methods such as credit card, PayPal or other payment methods that provide buyer protection.
Be wary of pop-ups or unsolicited emails directing you to a website. This may be a phishing attempt to get your personal and financial information.
By taking these precautions, you can reduce the risk of falling prey to fake online stores and ensure a safe and enjoyable online shopping experience.
What to do if you ordered something from a fake online store?
If you have already ordered something from a fake website and you suspect that it may be a scam, there are several steps you can take:
Contact the website's customer support.
If the website has provided contact information, try reaching out to their customer support to inquire about the status of your order. If the website does not respond or gives you unsatisfactory answers, it could be a sign that it is a fake website.
Check your payment method.
If you have paid for your order with a credit card, check your statement to see if the payment has gone through. If it has not, then you may have caught the scam in time, but if it has, you may need to dispute the charge with your bank.
File a dispute or chargeback with your payment provider.
If you have paid for your order with a credit card or other payment method that offers buyer protection, you may be able to dispute the charge or request a chargeback to get your money back. Use the steps (https://consumer.ftc.gov/articles/what-do-if-you-were-scammed) to try to stop a transaction, get a transaction reversed, or get a refund.
Report the fake online store.
You can report the fake website to authorities such as the Federal Trade Commission (FTC) at https://ftc.gov/ or the Internet Crime Complaint Center (IC3). This can help prevent others from falling victim to the same scam.
Learn from your experience.
Be more cautious in the future and take steps to ensure that you are shopping on legitimate websites that are secure and reputable.