TeslaXSwap.com is a cryptocurrency exchange platform that claims to offer a free Bitcoin giveaway. It appears to be an enticing opportunity, but as you'll read below, it is a scam that you should avoid. Keep reading for an in-depth review of why TeslaXSwap.com cannot be trusted.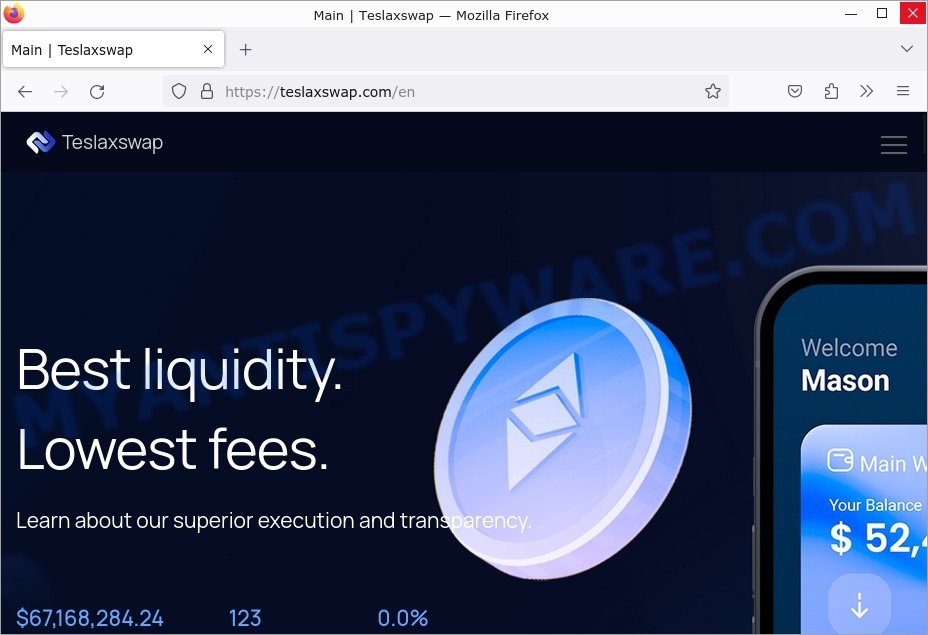 Quick links
Is TeslaXSwap.com a Scam?
TeslaXSwap.com is undoubtedly a scam. Here are some telltale signs:
Recently created domain.
Lack of contact information. No business address or phone number is provided.
No real info about the company behind the website.
Uses enticing slogans like "Free Bitcoin giveaway" and "Limited Time Sale."
No social media presence.
Duplicate content and no trading certifications on the website.
Requires a deposit to withdraw free Bitcoin, which it then steals.
How the TeslaXSwap.com Scam works
TeslaXSwap.com lures in victims through TikTok videos that falsely claim Elon Musk is giving away free Bitcoin. The site requests users to make a deposit before they can withdraw the "free" Bitcoin, which is never actually given. In the end, the site simply steals the deposit and disappears without a trace.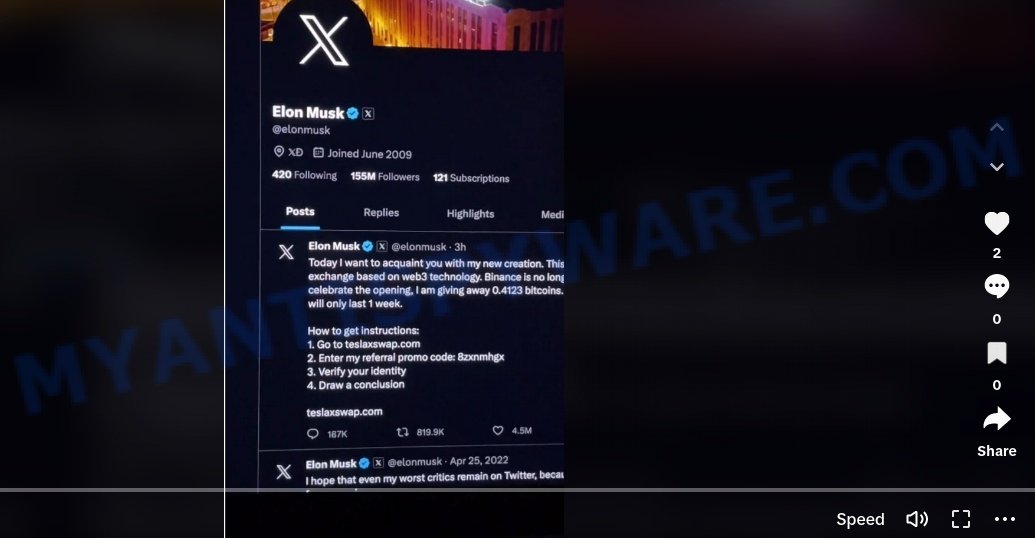 What to do if you become a victim of TeslaXSwap.com
If you've fallen victim to this scam, take the following steps immediately:
Contact your bank and report the transaction as fraudulent.
Report the scam to the Federal Trade Commission at reportfraud.ftc.gov.
Leave a comment on this review to help others be aware of this scam.
Other Online Scams to Avoid
As part of our ongoing effort to protect readers from potential scams, be aware of these other suspicious online platforms that also use deceptive tactics. Here are a few examples: Luvasti.com Silver Jewellery Store Scam, Fake Wilko Clearance Sale: Wilko Discounts Scam Stores Review, Luggagebigsale.com Review: Don't Fall for the Luggage Big Sale Scam.
Summary table for TeslaXSwap.com
| | |
| --- | --- |
| Name | TeslaXSwap.com |
| Type | Cryptocurrency Scam |
| Damage | Financial loss |
| Distribution | TikTok |
| Tactics | Free Bitcoin Giveaway |
| Prices | N/A |
| Contacts | No contacts available |
| Prevention Tips | Verify platforms before investing, avoid clicking suspicious links |
| Reporting Info | FTC |
Conclusion
TeslaXSwap.com is a deceptive cryptocurrency exchange platform that lures people in with the promise of a free Bitcoin giveaway but ultimately steals their money. Always research platforms before you decide to invest, and be cautious when dealing with offers that seem too good to be true.
FAQ About the TeslaXSwap.com Scam
Why does TeslaXSwap.com require a deposit to withdraw the free Bitcoin?
The deposit requirement is a tactic to get the user to part with their money, at which point the scammer takes the funds and disappears.
Can TeslaXSwap.com be reported to any authority?
Yes, scams like this can be reported to the Federal Trade Commission through their website, reportfraud.ftc.gov.
Is it safe to click on TikTok ads promoting platforms like TeslaXSwap.com?
Not all TikTok ads are scams, but in the case of TeslaXSwap.com, the ad is part of a fraudulent scheme designed to steal money from unsuspecting victims.